Tuesday baseball
Spring Garden stops slow-starting Donoho, Oxford clinches playoff berth behind Turner gem, Weaver erupts on PV; scores, line scores and more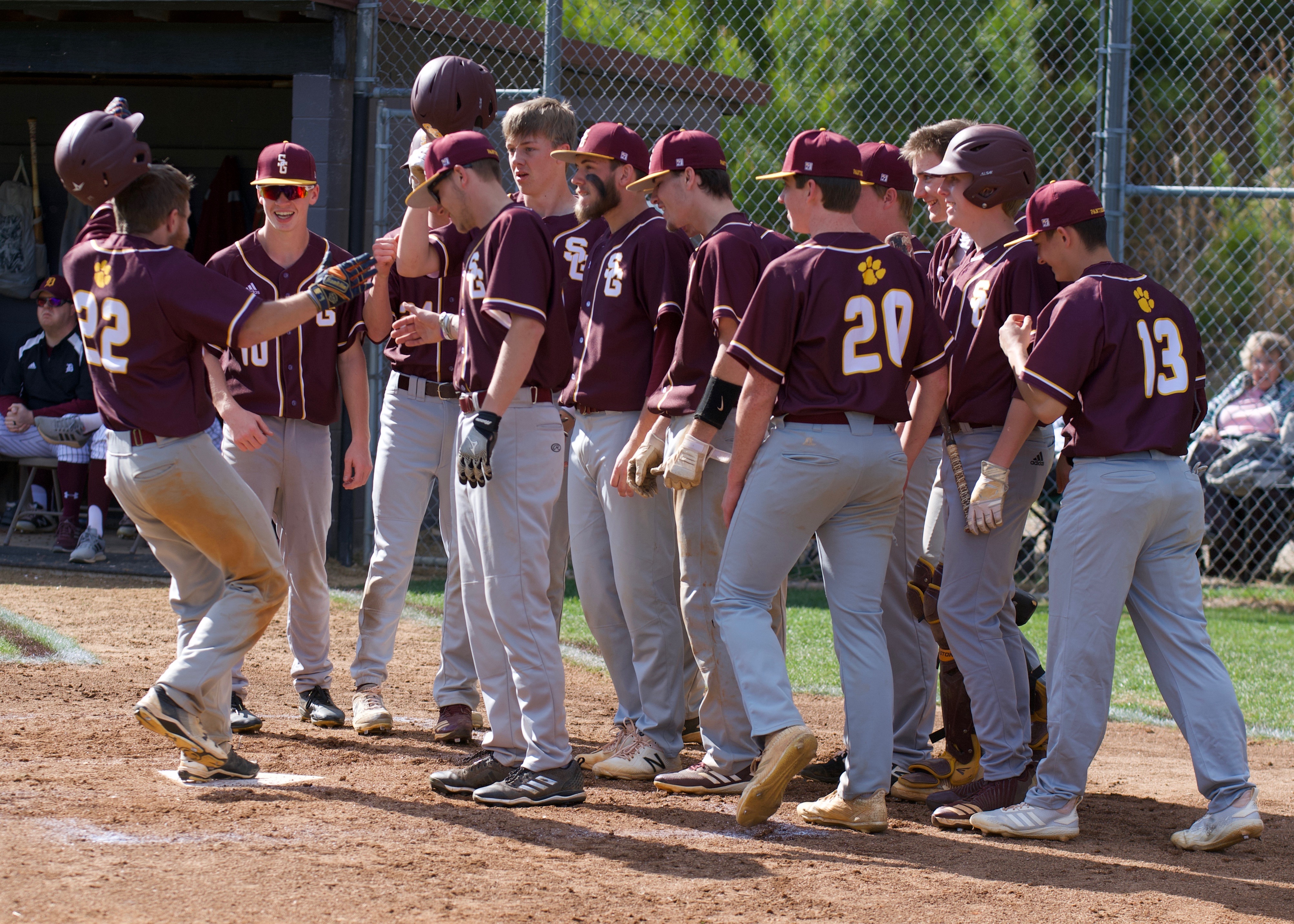 Tuesday's games
Cherokee County 6, White Plains 5
Hokes Bluff 9, Jacksonville 0
Ohatchee 14, Gaston 0
Oxford 5, Fort Payne 0
Piedmont 10, Saks 5
Southside 11, Alexandria 1
Spring Garden 4, Donoho 2
Sylacauga 15, Munford 1
Weaver 22, Pleasant Valley 4
 
To see a gallery of photos from the Spring Garden-Donoho game visit www.bjfranklin.smugmug.com

By East Alabama Sports Today

Neither coach had to tell their team what was at stake. One team just got off to faster start.
 
Spring Garden rode Nathan Law's two-run homer to an early lead and Colby Slaton made it stand with one-hit pitching as the Panthers edged Donoho 4-2 in the first game of what amounts to the area championship series.
 
"They understood the playoff implications so they came here, were prepared and ready to play today and did what I asked them," Spring Garden coach Barrett Ragsdale said. "It was a team effort."
 
Donoho must sweep Thursday's doubleheader at Spring Garden to have any hope of winning the area championship, but the Falcons can at least secure a Class 1A playoff berth by beating Coosa Christian Wednesday. The Falcons beat the Conquerors 10-0 Monday.
 
"I told the guys to turn the page real quick, this game's over, come to the yard ready to play tomorrow," Donoho coach Steve Gendron said. "I think tomorrow would be a good day for us to get our bats going again, get some confidence going again."
 
The only hit the Falcons got off Slaton was Seth Ford's RBI double on an 0-2 pitch that made it 3-1. Slaton was one pitch away from a fifth strikeout in the inning. He struck out 14 in the game.
 
"Colby's had some arm issues this year, so he's been held out a little bit off the mound," Ragsdale said. "But I've been working him back in and he has looked like he looked today the last couple times.
 
"He was strong, very confident and handled pressure situations. We put him in some real bad spots today because we couldn't make some routine plays, but he handled it and took care of it like a veteran pitcher."
 
Law's homer off the scoreboard was part of a three-run third inning and really the only mistake Donoho starter Seth Ford made on the mound. He actually got stronger as the game went on, allowing only one run and two hits over the last four innings. He got out of a bases-loaded no-out situation with only the one run in the fifth.
 
The Falcons got more comfortable as the game went on, too; they just didn't capitalize on their opportunities. They made it 3-2 in the fourth and had runners in scoring position each of the last three innings, but couldn't get them home.
 
"I think we were a little timid to start the game and then I think our guys realized we could hang with them and we started to do some real nice stuff," Gendron said. "I told the guys after the game I was disappointed how we came out and once we started doing some things, making some plays and got into a better rhythm of the game, they started believing they can play and they can beat these guys. I'm definitely looking forward to Thursday, weather permitting."

Spring Garden 4, Donoho 2
Spring Garden          003 010 0 – 4 6 4
Donoho                       001 100 0 – 2 1 1
WP: Colby Slaton. LP: Seth Ford. 2B: Chaz Pope (SG), Luke Welsh (SG), Seth Ford (D). HR: Nathan Law (SG)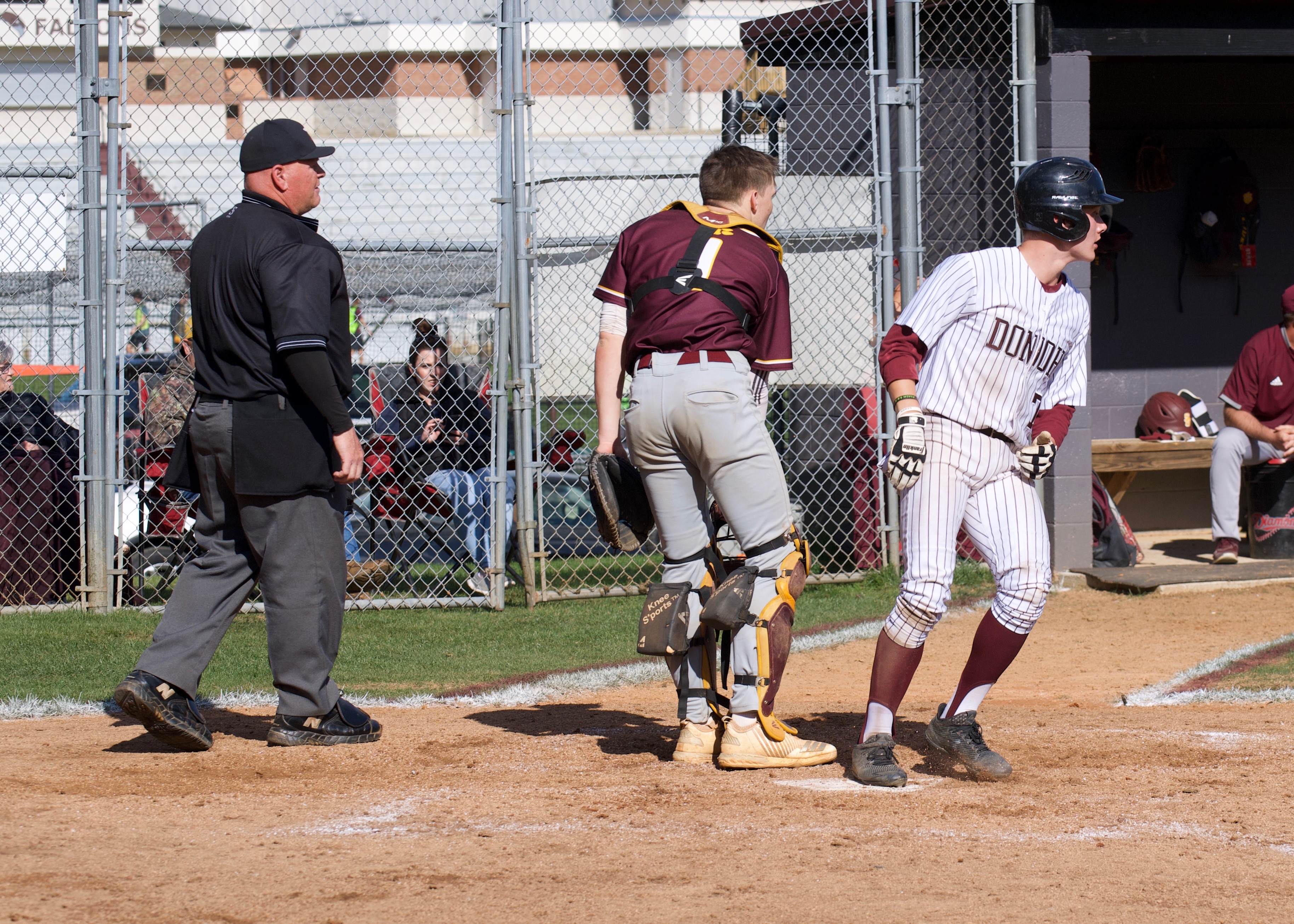 Oxford 5, Fort Payne 0: Jarin Turner pitched a complete-game two-hitter with 15 strikeouts as the Yellow Jackets clinched a spot in the Class 6A playoffs.

Turner gave up singles in the third and fifth, walked one, hit two and faced only four over the minimum. His first eight outs came by strikeout and he struck out the side in the first, second, sixth and seventh. He struck out every batter in the Fort Payne lineup at least once except one. He never allowed a runner past first base.

Chadd Adams went 3-for-3, Trey Mooney went 2-for-3 and both drove in two runs. Mooney's two-run single in the fourth broke a scoreless tie. Adams hit a two-run triple in the fifth shortly after Jake Spivey delivered a double to extend his hitting streak to nine games (13-for-31, 16 RBIs).

Oxford 000 230 0 – 5 8 0
Fort Payne 000 000 0 – 0 2 1
WP: Jarin Turner. LP: Brody Gifford. 2B: Chadd Adams (O), Jake Spivey (O). 3B: Chadd Adams (O).

Piedmont 10, Saks 5: The Bulldogs moved closer to clinching an area title by bunching all their runs into three innings and getting another solid pitching performance from Bryce Walter.

The Bulldogs took the lead with four runs in the third inning on only one hit, their only hit through the first three innings. They tacked on three in the third and fourth.

Mason Mohon (two doubles), Sean Smith and Nick Johnson had two RBIs apiece for the Bulldogs. Walter pitched the first five innings, allowing four hits one earned run and striking out nine.

Saks 000 210 2 – 5 6 2
Piedmont 004 330 x – 10 7 4
WP: Bryce Walter. LP: Jaylen Childs. 2B: Jaylen Childs (S), Mason Mohon 2 (P). 3B: Brant Deerman (P).

Weaver 22, Pleasant Valley 4: Taylor Thompson hit a three-run homer and drove in four runs in a 10-run seventh inning and Colby Thompson went 3-for-4 with three RBIs as the Bearcats erupted for 19 hits to stay alive for a playoff berth.

Every player in Weaver's lineup had at least one hit. Dylan Deloach had three, while Drake Monroe, Taylor Thompson, Jadon Calhoun, Austin Bryant and Ethan Moncus had two each. Calhoun had a double and triple.

The Bearcats already were leading 12-4 when they came to bat in the seventh. Their first 12 batters all reached base safely.

Bryant pitched the whole game for Weaver. He gave up five hits, one earned run and struck out six.

Weaver 105 051 (10) – 22 19 1
Pleasant Val. 200 002 0 – 4 5 3
WP: Austin Bryant. LP: Jackson Almaroad. 2B: Jadon Calhoun (W). 3B: Jadon Calhoun (W). HR: Taylor Thompson (W).

Ohatchee 14, Gaston 0: Grayson Alward allowed just one hit and Larry Noah highlighted an eight-run fourth with a three-run homer as the Indians opened their area schedule with a run-rule victory.

Alward allowed only a bloop single in the fourth inning, two base runners total and faced the minimum 15 batters in five innings. The first runner was erased on an inning-ending double play and the other was caught stealing. All of the outs were in the infield.

Baylee Graham went 3-for-4 with two RBIs to lead Ohatchee's 10-hit attack. Konnor Baswell and Josh Lipham each had two hits and Cade Williamson had two RBIs.

Gaston 000 00 – 0 1 3
Ohatchee 042 8x – 14 10 1
WP: Grayson Alward. LP: Baylor Reaves. HR: Larry Noah (O).

Cherokee County 6, White Plains 5: Connor Wilson's two-run homer in the fifth inning broke a 4-4 tie and put the Warriors ahead for good. Ethan Johnson homered in each of his first two at-bats to give the Warriors a 4-0 lead in the second and also pitched a complete game.

White Plains tied the game with four in the home second, capped by Jaden Chatman's two-out RBI single. The Wildcats made it 6-5 in the sixth, but Johnson set them down in order in the seventh to close out the victory.

Johnson gave up three singles and struck out nine.

Cherokee County 6, White Plains 5
Cherokee County 130 020 0 – 6 8 4
White Plains 040 001 0 – 5 3 2
WP: Ethan Johnson. LP: Brendan Roper. HR: Ethan Johnson 2 (CC), Connor Wilson (CC)

Hokes Bluff 9, Jacksonville 0: Dylan Teague scattered four singles and struck out eight in a complete-game shutout. The Eagles scored eight runs in the first four innings.

Brandon Heard had two of Jacksonville's hits. Houston Edwards, Drake Rainey and Clay Rainey all had two hits for Hokes Bluff. Carson Eubanks had three RBIs and Clay Rainey knocked in two.

Jacksonville 000 000 0 – 0 4 4
Hokes Bluff 113 301 x – 9 11 1
WP: Dylan Teague. LP: Brandon Charping. 2B: Dylan Teague (HB), Houston Edwards (HB), Drake Rainey (HB).

Southside 11, Alexandria 1: Sam Raines, Brennan Stokes and Ryan Martin had three hits apiece and Jacob Little limited the Valley Cubs to three hits. Jacob Little drove in three runs for Southside without getting a hit. Noah Primm tripled home Alexandria's only run in the fifth inning.

Alexandria 000 01 – 1 3 2
Southside 303 32 – 11 11 1
WP: Jacob Little. LP: Dylan Digangi. 2B: Tyler Roberts (S), Connor Johnson (S), Ryan Martin (S). 3B: Noah Primm (A), Brennan Stokes (S).

Sylacauga 15, Munford 1: Anderson Wyroff and Luke Hunnicutt both hit two-run doubles in the first inning to get the Aggies off to a fast start. Brady Davis and Hunnicutt both drove in three runs and Tyler Thompson gave up an unearned run on four hits.

Sylacauga 520 80 – 15 10 1
Munford 100 00 – 1 4 7
WP: Tyler Thompson. LP: Payton Graben. 2B: Luke Hunnicutt (S), Andrew Scumit (S), Brady Davis (S), Anderson Wyroff (W), Dakota Green (M).