Early success
UPDATED Wigington tops Pannell with birdie on third playoff hole to get his earliest Tour win, first Cane Creek crown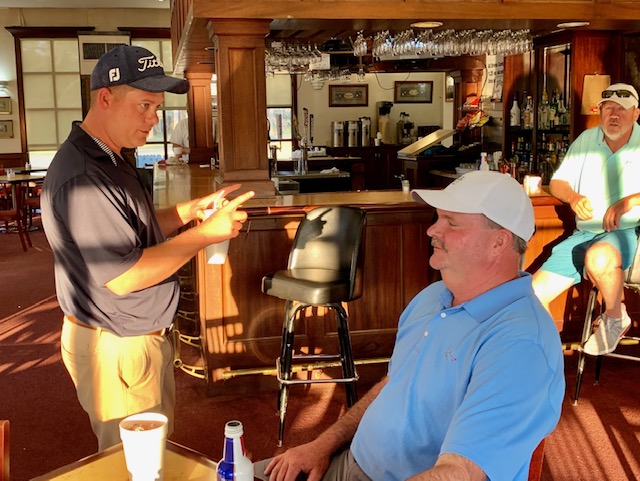 By Al Muskewitz
East Alabama Sports Today

For all the winning Gary Wigington has done in his record-setting local amateur golf career, he pulled off something Sunday he rarely has ever done.

He won a significant individual stroke-play tournament in March.

Wigington sank a four-foot putt for birdie on the third hole of sudden death to win the Cane Creek Invitational, the opening event of the 2019 Calhoun County Golf Tour season.

He shot 2-under-par 70 in the final round to finish at 2-under 142 in regulation.

It was Wigington's 13thwin in a County Tour points tournament and his 16thoverall (counting his three Match Play titles). But it was his first in the Cane Creek Invitational and never this early.

Wigington has won in March before, but only once. He won the 2015 King of the Hill Invitational at Anniston Municipal (March 28-29), but suffice to say this is his earliest victory.

"That was very unusual, that's for sure," he said.

He doesn't usually play in an individual event this early in the year and when he does play at all he's not as sharp as he'll be when, say, the Sunny King rolls around. He and Ty Cole have won the Two-Man at Silver Lakes that usually falls during this weekend, but that's partner golf.

"Practiced last couple weeks and starting hitting some shots pretty good, " he said, "and I thought I'm a little bit ahead of where I usually am at this time."

There was still some rust. He played the four holes in The Hollow in 8-over-par and had four three-putts over the weekend, but he did what was required to climb to the top of the leaderboard early when everyone in the leaders' foursome was struggling in front of him and was as sharp as he could be in the playoff.

Wigington thought he was heading to a playoff when he shook hands with Jeremy McGatha on the 17thgreen, but the opponent wasn't the Jeremy he expected.

Instead of McGatha, it was Jeremy Pannell, a 36-year-old former junior college and mini-tour player from Tallassee.

The reason for the confusion was the final round's shotgun start that had their group teeing off on No. 18. They were so focused on the battle for the lead when it became one coming out of The Hollow it was forgotten Wigington birdied 18 to McGatha's par on that first hole of the day.

"That's a rookie mistake and I'm not a rookie," McGatha said.

It impacted the way he played and putted on the 17thhole. He ultimately missed the playoff by one shot and shared third-place Tour points with Adrian Geeting.

Meanwhile, Pannell climbed into the playoff by shooting a 67, sharing low round of the day and the tournament with Daniel Black. He had a torrid late-round push with five birdies in a row and six birdies in seven holes from 7 through 13.

On the first playoff hole Wigington hit his drive almost into the No. 2 fairway, but put his second shot from 85 yards into the wind on the collar left of the hole location. His birdie putt hopped coming out of the fringe and he tapped in for par. Pannell's second shot ran through the green and he had to make a 10-footer to extended the playoff.

Both players hit amazing shots into the second green to set up birdies. Pannell hit what he called his best shot of the tournament when he flipped a wedge over the greenside bunker and got it to stop five feet behind the hole. Wigington's drive caught a tree and left him another 85-yard shot to the green. He hit an L-wedge that stayed on the upper level about six feet from a hole that was cut just inside the edge of the tier.

On the decisive 130-yard par-3 third, Pannell punched a 9-iron into the wind that was a little too solid and settled into the back fringe. Wigington put his shot about four feet behind the hole.

Pannell was a little tentative with his downhill putt and left it short. Wigington confidently stepped up to his putt and knocked it down to win.

"Just got beat by a great iron shot and a great player," Pannell said.

So, does this early season success have Wigington rethinking the idea of more March golf in the future? He'll see.

"I'm getting to where I'm probably going to have a little more time," he said.

NOTES: Wigington, who turns the big 5-0 in August, has now won Invitationals at five courses in the county (defunct Stoney Brook, Anniston Municipal, Cider Ridge, Pine Hill (five times) and Cane Creek). All that's left is Indian Oaks (not in the rotation), Silver Lakes (runner-up twice) and Anniston CC (runner-up four times) … Cole has won 13 times on the County Tour … Wigington made an eagle for the second day in a row, this time on No. 2, chipping in from just off the fringe. Chad Calvert and Randy Lipscomb both eagled No. 5. … Every hole had at least one birdie … Black's 67 featured six birdies … How close was Geeting to joining the playoff? He missed three putts inside five feet and had eagle putts on 14 and 18 lip out. "It'll work on your nerves," he said. "They'll wear you out."

CANE CREEK INVITATIONAL
Final scores
Championship flight
x-Gary Wigington 72-70—142
Jeremy McGatha 73-70—143
Adrian Geeting 73-70—143
Ott Chandler 71-74—145
Caleb Bowen 71-75—146
Brennan Clay 69-78—147
Jacob LeCroy 68-80—148
Justin Graveman 72-80—152
Tim Turner 74-79—153
Lewis LeCroy 74-79—153

First flight
Jeremy Pannell 75-67—142
Ty Cole 77-70—147
Lance Evans 77-75—152
Tyler Dopson 75-78—153
Matt Rogers 76-77—153
Chad Calvert 77-76—153
Harrison Hughston 77-76—153
Clay Calkins 78-75—153
Landon Straub 76-79—155
Tanner Wells 79-77—156
Caleb McKinney 79-81—160

Second flight
Daniel Black 81-67—148
Randy Lipscomb 84-74—158
Sean Hayes 81-78—159
Chris Maye 81-79—160
Nick Pollard 83-80—163
Jonathan Vines 83-82—165
Casey Harmon 83-83—166
Al Johnson 81-86—167
Vince Floyd 83-91—174
Landon Holley 86-89—175

Third flight
Dennis Austin 89-80—169
John McKenzie 91-85—176
Mike Hughston 89-89—178
Tyler Teneyck 95-83—178
Kelly Rogers 95-86—181
Rocco D'Gomez 90-92—182
Kaine Gibson 93-89—182
Justin Goree 92-92—184
Justin Dopson 96-94—190
Lee Edge 99-92—191
Adam Benefield 114-101—215

Senior flight
Chip Howell 71 -80—151
Ted Heim 80-84—164
Mike Granato 84-80—164
Larry Whitman 86-81—167
Jimmy Jackson 85-94—179
Danny Stephens 86-95—181
William Barker 97-88—185
Thomas Potterfield 112-101—213

x-Gary Wigington (4-3-2) wins championship on third hole of playoff over Jeremy Pannell (4-3-3).