Jackets sting ACA
Oxford stages seventh-inning rally, Piedmont sweeps area opening series, Wellborn-PV split twinbill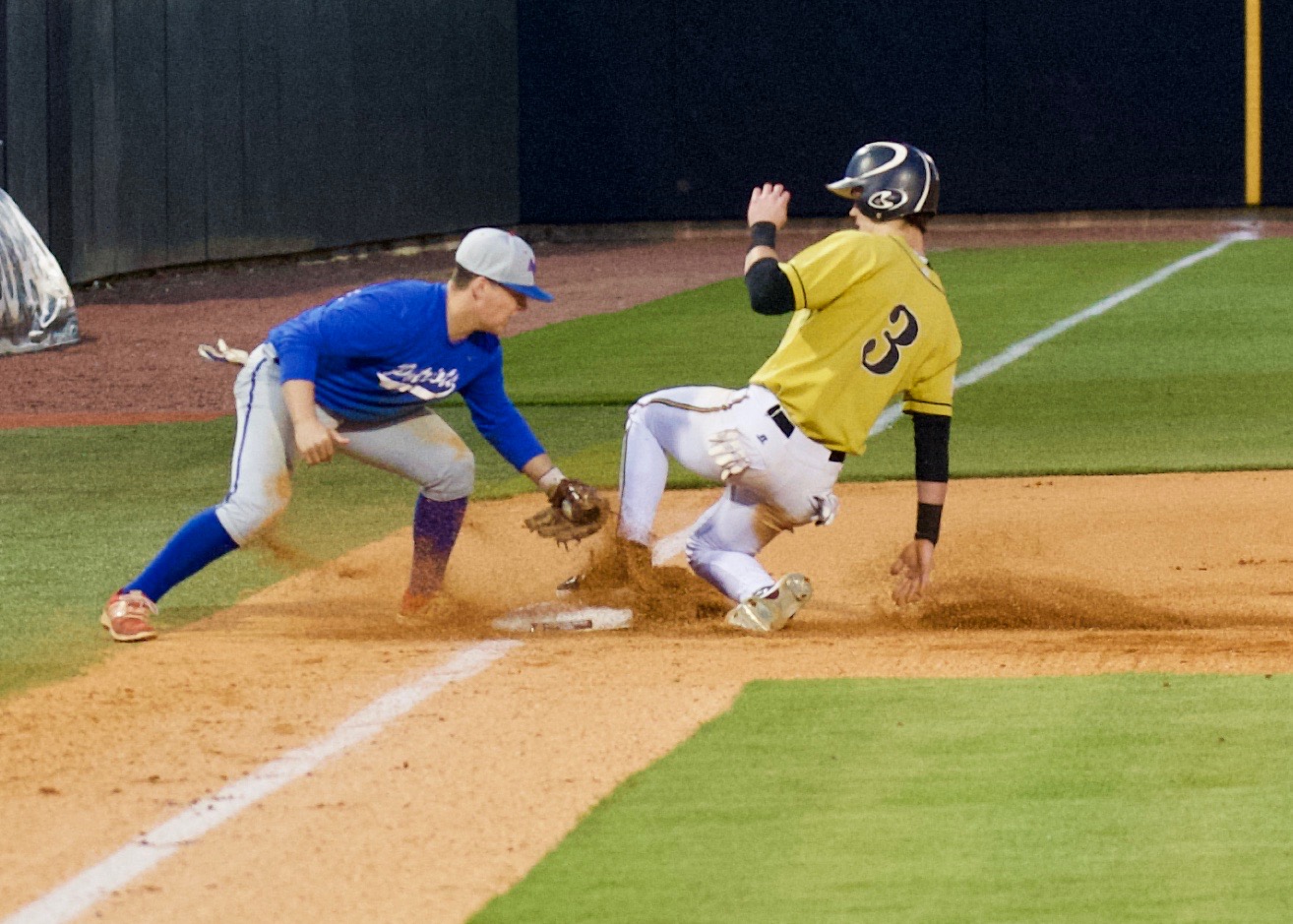 Friday's games
Munford 4, Handley 0
Jacksonville 11, Montgomery Catholic 10
Oxford 10, American Christian 9
Piedmont 15-14, Weaver 1-5
Wellborn 8-1, Pleasant Valley 7-5

By East Alabama Sports Today

OXFORD – Chadd Adams hit a ball to right field with none out in the bottom of the seventh that got through and allowed the tying and winning runs to score and give Oxford a 10-9 victory over American Christian.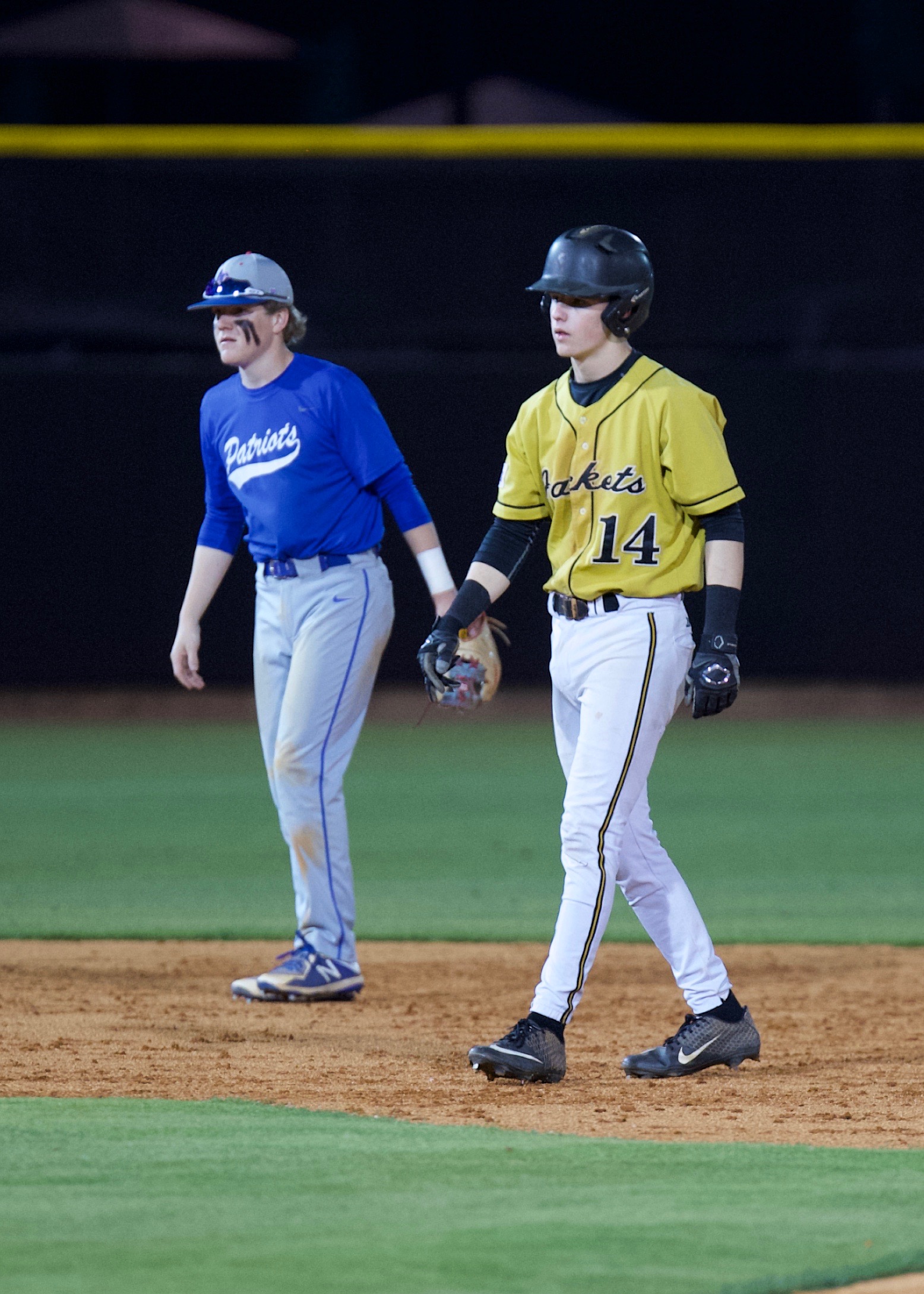 The Yellow Jackets trailed 9-7 going into the home sixth. Trey Higgins got the Jackets a run closer with an RBI double in the sixth. Wesley Sparks got the seventh-inning rally started with a single and Dawson Winningham walked. Both runners came around when Adams hit a liner to right and the ball got past ACA outfielder Gray Williams.

Sparks gave the Jackets another strong outing on the mound. On the heels of two wins in the county tournament, he pitched the final 3 2/3 innings Friday, giving up three hits, an unearned run and striking out six to get the win.

Trey Higgins went 3-for-4 with two doubles and three RBIs for the Jackets.

Oxford 10, American Christian 9
ACA 303 201 0 – 9 6 3
Oxford 240 101 2 – 10 7 5
WP: Wesley Sparks. LP: Paul Vercher. 2B: Perdue (A), Trey Higgins 2 (O).

Piedmont sweeps Weaver
PIEDMONT – Freshman Austin Estes allowed one base runner in four innings of nightcap relief as Piedmont rallied for a 14-5 victory to complete a sweep its doubleheader and the series with Weaver to open its area schedule. The Bulldogs won the opener 15-1.

Estes came on after Weaver scored five in the third to take a 5-4 lead in the nightcap. The only runner he allowed reached on a two-out infield error in the seventh. He threw 46 pitches, 37 for strikes. He struck out seven.

The Bulldogs tied the game on Jack Hayes' RBI double in the fourth, then broke it open with five in the fifth. Mason Mohon's three-run single highlighted the outburst. Piedmont had only five hits in the game, but took advantage of 12 walks and five errors.

The Bulldogs actually trailed in the opener as well. Weaver got a run in the first on Taylor Thompson's RBI single, then it was all Piedmont.

Sean Smith went 2-for-3 with three RBIs, Brant Deerman, Logan Pruitt and Nick Johnson each drove in two runs, and Mohon, Hayes and Johnson had two hits. The Bulldogs had five doubles in the game.

Bryce Walter allowed four hits and struck out seven in five innings for the win.
Game One
Piedmont 15, Weaver 1
Weaver 100 00 – 1 4 1
Piedmont 532 5x – 15 12 1
WP: Bryce Walter. LP: Austin Bryant. 2B: Dylan DeLoach (W), Jadon Calhoun (W), Nick Johnson (P), Logan Pruitt (P), Sean Smith (P), Mason Mohon (P), Austin Estes (P).

Game Two
Piedmont 14, Weaver 5
Weaver 005 000 0 – 5 6 5
Piedmont 130 154 x – 14 5 1
WP: Austin Estes. LP: Drake Monroe. 2B: Silas Thompson (P), Mason Mohon (P), Jack Hayes (P). 3B: Austin Bryant (W).
Wellborn, PV split
JACKSONVILLE – Wellborn scored five runs in the sixth inning to take the lead, then held off threats in the home sixth and seventh to earn an 8-7 victory over Pleasant Valley and gain a split of their area series.

PV bounced back to win the nightcap 5-1, split the doubleheader and get what could be a valuable tiebreaker in their five-team area race.

Tanner McQueen's go-ahead two-run double highlighted the Panthers' sixth-inning rally in the opener. Winning pitcher Evan Beadles and Will Waldrop singled home runs in the inning and what proved to be the winning run scored on a wild pitch.

McQueen was 2-for-4 with three RBIs in the game. Beadles and Jett Smith were both 3-for-4.

PV grabbed an early 3-0 lead in the game despite several regulars being held out for team reasons. The Raiders scored three in the bottom of the sixth after Wellborn went ahead and then put the tying run in scoring position with one out in the seventh, but couldn't get it home.

"That was big to us," Wellborn coach Nick Burns said. "It put us 2-2 in the area and puts us in a position to control our own destiny. We've got to pick up some more area wins, but we can still make it."

The Raiders came back in the nightcap behind Austin Johnson's complete-game five-hitter with 10 strikeouts.

The meat of their lineup – Skyler Mcleod, Alex Parris and Garrett Cranmer – all went 2-for-3. Cranmer drove in their first two runs.

"It was a big win and gives us the upper hand in the series," PV coach Chris Youngman said. "It was a tough call (in the first game), but we tell our guys we want them to be men of character and have high standards and don't compromise those standards.

"We didn't meet the standard and so it is what it is. The guys who sat showed great leadership and owned up and supported the guys who had to step in."
Game One
Wellborn 8, Pleasant Valley 7
Wellborn 001 115 0 – 8 11 2
Pleasant Val. 120 103 0 – 7 8 1
WP: Evan Beadles. LP: Colby Nelson. 2B: Garrett Cranmer (P), Triston Salster 2 (P), Jett Smith 2 (W).

Game Two
Pleasant Valley 5, Wellborn 1
Wellborn 000 010 0 – 1 5 1
Pleasant Val. 100 310 x – 5 8 2
WP: Austin Johnson. LP: JoJo Wyatt. 2B: Sammy Cotton (W). 3B: Skyler Mcleod (P).
Oliver delivers for J'ville
JACKSONVILLE – Coleman Oliver's fly ball with two outs in the ninth inning was misplayed in the outfield and it allowed Taye Loud to race home with the winning run in Jacksonville' 11-10 victory over Montgomery Catholic.

The Golden Eagles trailed 7-0 and 10-6 in the game. They forced extra innings with three runs in the seventh, with Oliver singling home the tying run with two outs.

Oliver also was the winning pitcher. The last of four Jacksonville pitchers, he threw three innings of one-hit relief and allowed only three base runners.

Brandon Heard had two hits in the game for Jacksonville. Brandon Charping and Josh Joiner each drove in a pair of runs.

Jacksonville 11, Montgomery Catholic 10
Mont. Cath. 030 430 000 – 10 11 8
Jacksonville 000 601 301 – 11 8 4
WP: Coleman Oliver. LP: Ivey. 2B: Taye Loud (J).
Munford blanks Handley
ROANOKE – Drew Harkins had two hits and three pitchers combined on a two-hit shutout as the Lions beat Handley 4-0 to snap a four-game losing streak.

Dawson Strickland worked the first three innings, Dakota Green the last three and Collin Sirmon the one in between. Each of them struck out three and walked two. Green got out of a bases-loaded no-out jam in the sixth with a force out, pop out and strike out.

The Lions (3-5) scored all four of their runs without a hit. The first scored on a passed ball, the second on a wild pitch, the third on a bases-loaded walk to Dakota Green and the fourth on a passed ball.

This story will be updated. To see a gallery of photos from the ACA-Oxford game visit www.bjfranklin.smugmug.com