Weaver falls
Updated: February 18, 2019
Glencoe topples Weaver in girls regional semifinal; Lady Bearcats proud to reach top of their mountain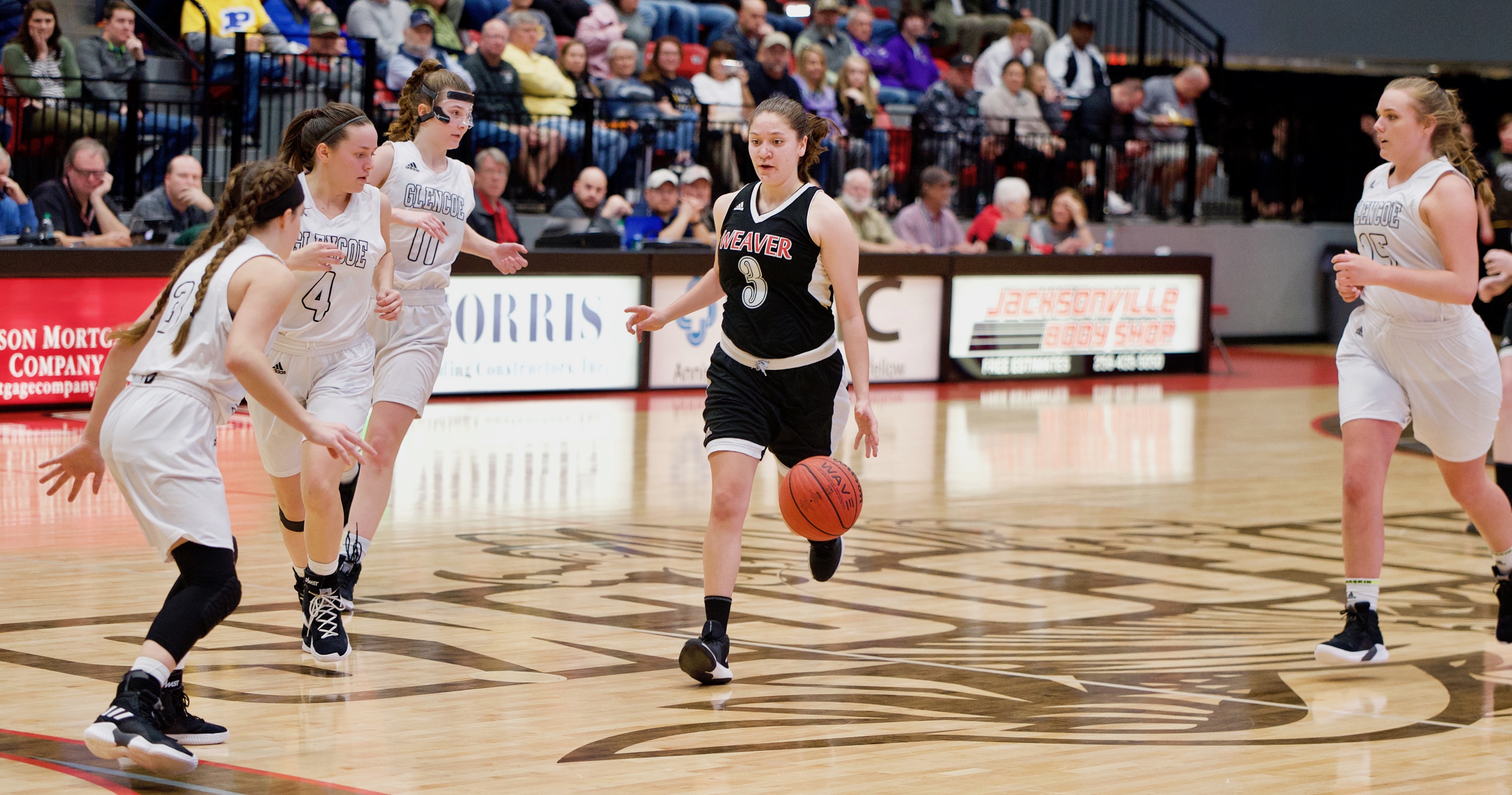 NORTHEAST REGIONAL
CLASS 3A GIRLS
Glencoe 67, Weaver 39
Pisgah 71, Susan Moore 56
Finals, Wednesday, 4 p.m.
Glencoe (21-9) vs. Pisgah (31-1)

By Al Muskewitz
East Alabama Sports Today
JACKSONVILLE— Gary Atchley is probably the most visibly expressive basketball coach in Calhoun County. You can tell what's going on in the game just by looking his way.

Atchley's Weaver girls lost to Glencoe 67-39 in the Class 3A Northeast Regional Monday and of all the frames you could take to depict the action two late in the first half told the whole story.

With about 75 seconds left in the half Glencoe's Abby Vice drained a 3-pointer from the right corner. Atchley slumped in his seat on the baseline end of the bench and glumly raised his palms from extended arms as if to shrug "what else?"

Maybe 20 seconds later, Anna Beth Giles drove the lane and got fouled. Atchley lifted his head and buried his face in his hands.

The Lady Bearcats basically had no answer for a team that was in the regionals for the third year in a row.

"They kind of shot me out of our game plan," Atchley said. "We knew we were going to have to play for 32 minutes. We couldn't take any breaks. They just keep coming at you. We were trying to swap punches with them but they caught us. They got us. But we played as hard as we could play."

The Lady Bearcats (21-10) never led in their first regional appearance in 15 years and first at Jacksonville State. When they went in 2004, eventually to the Final Four, their regional was in Troy, even though their campus is maybe 15 minutes from JSU.

It was 14-2 at the start and Glencoe kept applying the pressure and making shots to take control. The Lady Jackets forced Weaver into 23 turnovers, off which they scored 29 points. All five starters wound up scoring at least nine points. Ashley Morgan led all scorers with 14 points.

"This is what I expect from a team that's been here for three straight years," Glencoe coach Daniel Cook said. "Being here three straight years I believe was a big advantage for us."

Atchley agreed the Lady Bearcats were a bit shellshocked at first. They did get it back to 29-20 with just under three minutes left in the first half, but then Glencoe scored the next seven points, capped by the 3-pointer that brought the "what else" pose, and were up 40-23 at halftime.

"They didn't seem nervous," Giles said, "I think we were just ready."

"I told coach Cook when we were sitting there I just felt the most ready," Morgan said. "I felt calm because we'd been here twice … and I really felt comfortable in this gym."

Atchley, and the players who came into the interview room with him, Caleigh Cortez and Trinity Pulliam, all said the loss doesn't diminish what the Lady Bearcats accomplished this season. They won 20 games, won their area and hosted (and won) the area tournament, won their home subregion game and got to the regionals, which they said was getting to the top of their mountain.

"If you had asked anybody five years ago if we'd have been here they'd have all laughed in your face," Atchley said. "This is a big deal for us to be here. A lot of these teams take it for granted, I think, that we're just going to get to the regionals every year. We fought our tail off the last 3-4 years just to get here. This is the top of the mountain for us. Would we have liked to gone further, yeah, but this was our goal.

"I can't be more tickled to death and proud (of what they accomplished). There were a lot people in those stands cheering for Weaver. That means a lot to me. They know what we've been through."

Glencoe (21-9) will play Pisgah (31-1) in the regional finals Wednesday at 4 p.m.

This story will be updated. To see a gallery of photos from the game visit www.bjfranklin.smugmug.com

Glencoe 67, Weaver 39
WEAVER (21-10) —Caleigh Cortez 5-14 2-5 12, Maleah Foster 1-3 0-0 2, Trinity Pulliam 3-8 5-5 11, Abby Gaines 0-3 0-0 0, Amira Carter 0-5 0-0 0, Madison Atchley 0-0 2-2 2, Kiese Hubbard 2-2 0-0 4, Loralei Brown 0-0 0-0 0, Dijinea Anderson 0-0 0-0 0, Tiana Lawrence 0-1 0-0 0, Haley Homesley 3-6 1-1 8. Totals 14-42 10-13 39.
GLENCOE (21-9) —Anna Beth Giles 3-8 3-3 9, Abby Vice 3-7 2-2 9, Ashley Morgan 5-8 4-4 14, Lauren Cole 2-5 5-6 9, Cami Zahorscak 3-5 0-0 9, Anna Claire Hipps 0-0 0-0 0, Adley Massenburg 0-0 0-0 0, Anna Gare Goodwin 2-4 1-2 6, Alicia Silvey 0-0 0-0 0, Asia Dennis 0-3 0-0 0, Lexi Gray 1-2 0-0 2, Crimson Silvey 1-4 0-0 3, Aubrey Gray 3-5 0-0 6. Totals 23-51 15-17 67.
Weaver 10 13 6 10 – 39
Glencoe 18 22 16 11 – 67
3-point goals: Weaver 1-7 (Foster 0-2, Gaines 0-2, Carter 0-1, Homesley 1-2); Glencoe 6-18 (Giles 0-3, Vice 1-2, Cole 0-1, Zahorscak 3-5, Goodwin 1-3, Dennis 0-1, L. Gray 0-1). Rebounds: Weaver 32 (Cortez 7); Glencoe 25 (Zahorscak 4). Fouled out: Pulliam. Total fouls: Weaver 16, Glencoe 15. Officials: Greg Farris, Craig Graves, Sonny Jackson.