Line 'em up
Piedmont goes 10-for-10 at line in fourth quarter, holds off Hanceville in 3A regional semifinal; draws Plainview in finals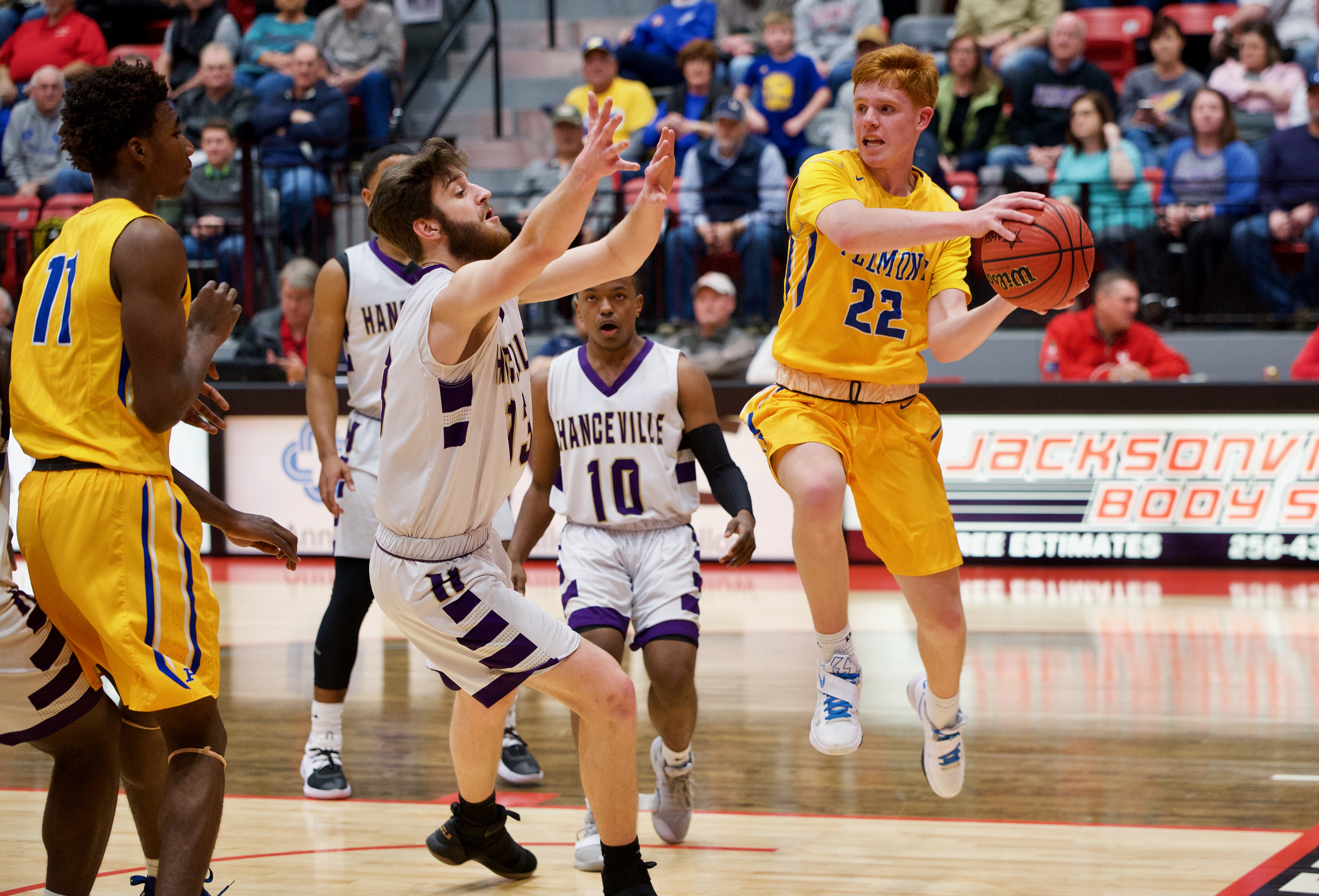 NORTHEAST REGIONAL
CLASS 3A BOYS
Piedmont 59, Hanceville 48
Plainview 68, Fultondale 53
Finals, Wednesday, 5:45 p.m.
Piedmont (23-5) vs. Plainview (29-4)

By Al Muskewitz
East Alabama Sports Today

JACKSONVILLE — If it were the intention of Piedmont's regional opponent to put the youngest player on the floor at the foul line with the game in doubt they either didn't watch film before coming to Jacksonville State or just weren't paying attention.

Piedmont's Alex Odam isn't your ordinary eighth-grader, and with the game still in doubt Monday he delivered like a savvy veteran.

Odam went 8-for-8 from the line in the final 77 seconds to help the Bulldogs secure a 59-48 win over Hanceville in the Class 3A Northeast Regional semifinals.

They will face defending state champion Plainview in Wednesday's 5:45 p.m. regional final.

Odam was 8-for-8 down the stretch, 9-of-10 in the game, and finished with a game-high 21 points. He made his last nine in a row carrying over from the first half.

"It was nothing different than shooting them in the backyard," Odam said. "Just free throws. I shot a million of them. Same old, same old.
 
"It is a huge stage, but I don't think it meant any different. I think they knew I was one of the better free throw shooters on the team because they kept yelling don't foul him, don't foul him, but I stayed strong."

Kudos to the Bulldogs (23-5) for knowing whose hands needed to be on the ball when it came to one-and-one.

"Give credit to these guys," coach JoJo Odam said, referring to the non-Alex Odam players who joined him in the post-game interview. "They don't have problems with throwing him the ball. They have confidence in him and I think that gives him confidence in knowing his teammates want him to shoot them."

Piedmont led 51-46 at the time Odam started his march to the line with 1:17 left in the game.

The Bulldogs were 10-for-10 as a team from the line in the fourth quarter. Carl Myers and Delo Foster had the other two free throws to complete three-point plays.

Sixth-man spark plug Silas Thompson had 18 points for Piedmont and Foster had five points, seven boards and five blocked shots. Myers had six points and six rebounds and took a finger in his right eye late in the game that still had him blinking during the post-game interview.
 
"I don't know if Delo understands how much he affects the game," JoJo Odam said. "These guys know if I get beat, it's not the end of the world, I've got Delo standing behind me. He affects the game in so many ways. Glad to have Delo on our side. He means a lot to us."

Thompson also means a lot to the Bulldogs in the sixth-man role. Odam is glad he doesn't have to decide who to replace among his starters to fit Thompson into one of those slots. 

Thompson did start the first four games this season, subbing for Foster, who was in post-football concussion protocol.
 
The game was tight in the first half, with Piedmont taking a 30-29 lead at the break. The Bulldogs pulled away in the third quarter, holding Hanceville to just a pair of Raider Morgan 3-pointers.
 
"We knew it was going to be a battle and the guys stepped up, especially in the second half," JoJo Odam said. "I think we rebounded better in the second half and played a little better defense. I think that was the difference."
 
And don't forget about the guy who kept going to the to line.

To see a gallery of pictures from the game visit www.bjfranklin.smugmug.com.

Piedmont 59, Hanceville 48
PIEDMONT (23-5) —Carl Myers 2-4 1-1 6, Kaedon Jenkins 2-4 0-0  5, Delo Foster 2-5 1-1 5, Alex Odam 5-13 9-10 21, T.J. Fairs 2-8 0-0 4, Silas Thompson 8-12 1-1 18, Malachi Jackson 0-0 0-0 0, Jakari Foster 0-0 0-0 0, Sean Smith 0-0 0-0 0. Totals 21-46 12-13 59.
HANCEVILLE (23-7) —Fred Ellis 4-14 0-0 11, R.J. Evans 4-12 0-0 9, Romain Pochon  0-4 0-0 0, Zeke McDonald 0-4 0-0 0, Raiden Morgan 6-12 2-2 18, Ramael Simmons 0-0 0-0 0, Tyson Bellmon 2-4 0-0 6, Zach Campbell 0-0 0-0 0, Izaya Johnson 0-1 0-0 0, Damion Johnson 2-3 0-0 4. Totals 18-54 2-2 48.
Piedmont    16  14  11  18  —  59
Hanceville  14  15  6    13  —  48
3-point goals: Piedmont 5-15 (Myers 1-2, Jenkins 1-3, Odam 2-5, Thompson 1-2); Hanceville 10-27 (Ellis 3-7, Evans 1-5, Pochon 0-1, McDonald 0-1, Morgan 4-7, Bellmon 2-4, I. Johnson 0-1, D. Johnson 0-1). Rebounds: Piedmont 33 (D. Foster 7, Fairs 6); Hanceville 28 (Evans 6, Pochon 6). Total fouls: Piedmont 4, Hanceville 14. Officials: Jerry Callahan, Shawn Greenhill, Ken Washington.