Knop on top
Alexandria senior makes history with fourth straight undefeated state title season; 1A-5A MVP Swindall, New also bring Valley Cubs state titles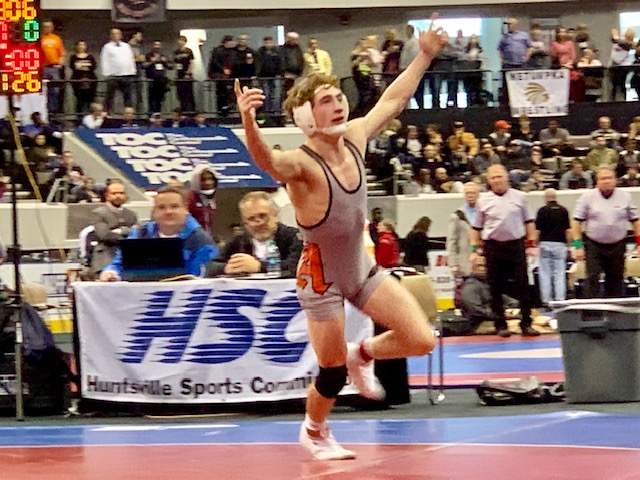 By Al Muskewitz
East Alabama Sports Today

HUNTSVILLE – Compared to some of Christian Knop's celebrations of his other state championships, this one was rather subdued.

In the past the Alexandria senior jumped into the arms of an assistant coach waiting at the side of the mat or he'd flex and let out a roar they could hear in the upper deck. Lately, he's been known to come off the mat and pretend to break something over his knee to indicate another record broken.

This time, after pinning Corner sophomore Cole Fuller in the second period to complete a record-setting fourth straight undefeated state championship season, he kept it simple. He got up from the mat, spread his arms as he ran forward with four fingers extended on each hand, flexed once towards the crowd and then quietly left the competition zone to join the Alexandria contingent on the mezzanine.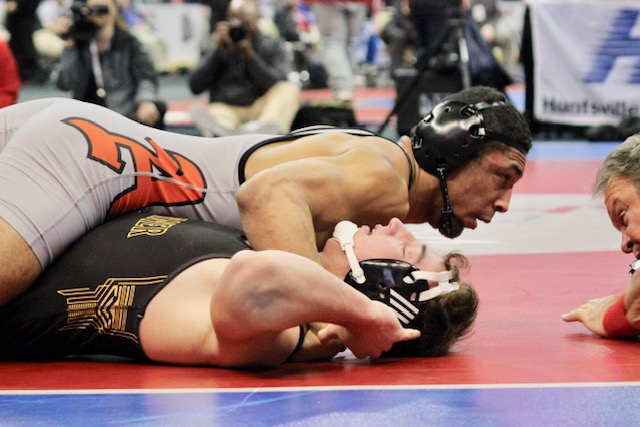 "The celebration was kind of what I expected it to be," Knop said in an even quieter moment on the Von Braun Center concourse. "It was an in-the-moment kind of thing. In my mind I plan what I'm going to do and it never really happens. Coach (Frank) Hartzog is kind of small and I didn't want to throw 195 pounds of excitement on him. I was sticking to a simple celebration, didn't want to seem too overly excited."

Just another thing for the coach to be appreciative of his star.

"He probably would have crushed me," Hartzog said.

Somewhere away from it all, though, you know Knop was jumping through the roof.

Knop made Alabama wrestling history Saturday when he became the first wrestler in the state to win four straight state titles without losing a match. His 235 wins in a row are a state record and the third-longest streak nationally. The North Carolina State signee – he wore a Wolfpack red T-shirt during warmups – leaves his high school career with 321 total victories.

He had undefeated seasons of 56, 58, 50 and, this year, 71 matches this last four years. His last loss came in the state third-place match as an eighth-grader. He hadn't been taken down to the mat by an opponent since the ninth grade.

"It's just amazing," Hartzog said. "It's that internal drive he has. I can't take credit for it. No one can take credit for that, that's all him. It's just that he has that passion to push himself. Some people stop; he keeps pushing."

Knop pushed himself to pin all four of his opponents this week (in a total time of 8:40), winning the Class 1A-5A Pins Award to complete the career awards triple crown. He won best match here as a freshman, most valuable wrestler last year and the pins prize Saturday.

"Man, these last four years have been fun," he said. "Definitely had some ups and downs, but all in all it's been a great high school career and I couldn't have ended it any way better … Now, as you say it's on to bigger and better things; can't wait for the future."

As for the title match, he played a cautious first period not wanting to risk a mistake and fall behind early with so much on the line. He was more aggressive in the second period, got Fuller on his back and waited for the referee to slap the mat.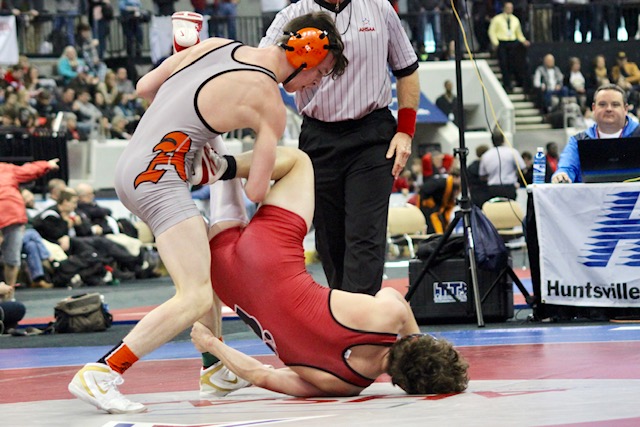 Knop's victory was part of a triple play for the Valley Cubs this week.

Jaden New and Fletcher Swindall also won state titles. Swindall got the party started with a 7-0 victory over St. James' Jackson Howard at 126 and New followed with a 15-3 major decision over Weaver's Cody Souder at 132 to win for the second year in a row. A fourth Alexandria wrestler who made it to Saturday, 285 Skyler Payne, won his fifth-place match, making the Valley Cubs 4-for-4 on the day. The Cubs finished a solid fourth as a team.

"It was a pretty good day," Hartzog said. "To see guys who kill themselves, who do the extra, get the accolades they deserve, that's huge. Everybody wants to win and several people work to win, but the truth is it's not a guarantee … so to see those kids who deserve it win, that's what makes coaching worth it."

Swindall was voted most valuable wrestler for 1A-5A. He allowed one point in his four matches and that was letting up his opponent so he could make another move.

Together, the three Alexandria champions were a combined 200-3 this season.

"When we started our program before we even knew we were going to have a varsity program it was me, Jaden and Christian ever since and to finish like that is pretty awesome," Swindall said. "I've been working with them since I was in third grade and just seeing them all at the top of the podium is awesome."

Swindall and New both said Knop's influence had a huge impact on them becoming better wrestlers. Hartzog acknowledged Knop's work ethic is the foundation of the program.

"He's an athletic guy, but his work ethic has put him up over the top as one of the best, probably, wrestlers to go down in the history of Alabama," Swindall said.

Swindall has been trying for years to break through at state but he could never seem to get past the semifinals. In the four state appearances prior to Saturday, he finished third three times and fifth once. This year he got through the semis with a pin and controlled the match in the finals.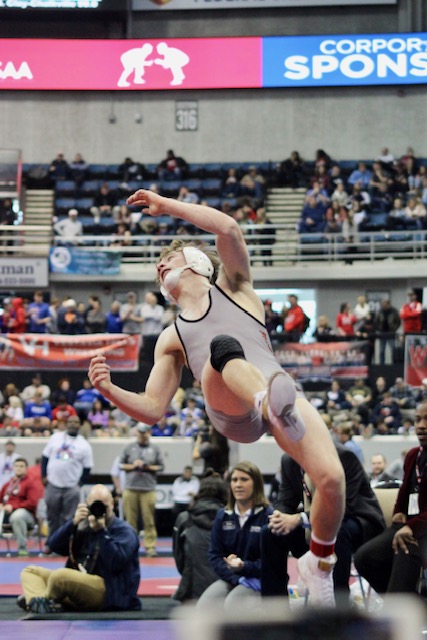 After winning the title match he did a big flop on the mat like a fish falling back into the lake.

"It's just a lot of relief," he said. "I've been in the running for it the last couple years and finally getting it feels so good."

"He's been that kid whose always here and always in contention but something always goes wrong," Hartzog said. "He's been injured and battled through it and still placed. Just getting through that semifinals match I told him you're over the hump and now you deserve it, and he did. I knew he was still at his best and he dominated. It's good to see a kid win who deserves it."

Swindall finished the season 63-1. His only loss came to McAdory's 91-0 Steven Bell in the Coosa Clash – a tournament he was MVW the year before – and was the turning point in his season.

"I wish I would've wrestled him again at the end of the season," Swindall said. "I don't think I had my mindset right going into matches when I wrestled him and I'm kind of glad I lost that match because it helped me get my head straight for the rest of the season."

New repeated as champion with a dominating performance in the final. Souder courageously fought through a shoulder injury mid-match to go the distance.

The two had a strong rivalry during their youth wrestling days, with Souder actually getting the better of it. They only met one other time this season – Fletcher wrestled him five times – last week when New took a 5-4 decision in the sectional final.

New finished 66-2 and makes no bones about his long-term goal.

"I'm trying to be the best at Alexandria High School," he said. "I'm going to try for a five-timer."

He knows being the best at Alexandria means beating the records of you-know-who. The undefeated part of those records would be nice, New would "rather have five rings."

Knop has some friendly advice for anyone wishing to chase those dreams.

"I definitely didn't start being undefeated by waking up one day and saying I'm going to wrestle," he said. "It takes countless hours sometimes, sometimes it makes you want to quit, but if you're able to push past the wall and get past those roadblocks you can do anything you put your mind to."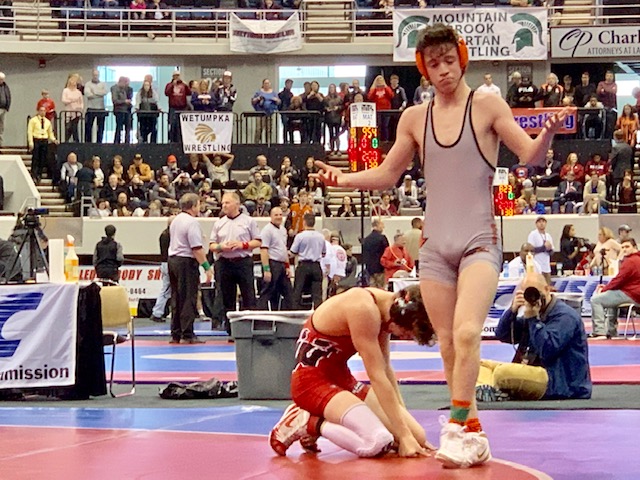 To see more Angela Trapp pictures from the tournament visit her Facebook page at www.facebook.com/AngelaTrappPhotos.