Vets score for Jackets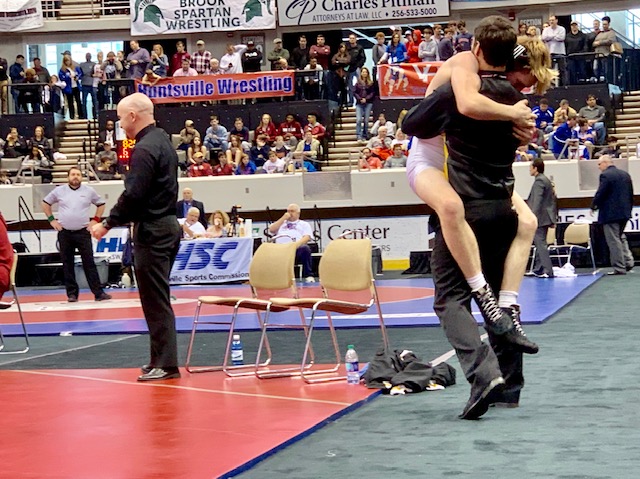 Chisolm, Reed bring Oxford state titles, but Yellow Jackets finish fourth as a team, ending their string of titles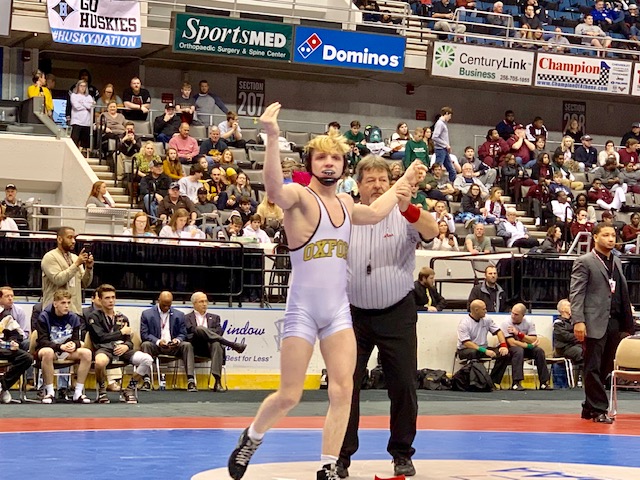 By Al Muskewitz
East Alabama Sports Today

HUNTSVILLE – When Jakob Chisolm was younger, he used to sit in the stands at the state wrestling tournament and dream of one day beating the top wrestlers in the field.

He no longer sits in the stands when the tournament comes around or has to dream the big dream. After standing on the top step of the podium two years in a row, he has become one of those top wrestlers in the field young wrestlers in the stands aspire to be.

Chisolm won a state championship for the second year in a row Saturday when he scored an 8-4 decision over Desmond Pearson of Mae Jemison to win the Class 6A 145 title.

"When I was little I used to dream about coming up here and beating guys like that and coming out here and proving a point that anybody can come and do it," the sophomore said. "When I was in the seventh grade and I was wrestling on the varsity I would watch the finals and see all those guys win and … I always knew one day I was going to be up here with them doing what they were doing making history."

Chisolm (59-4) was one of two Yellow Jackets to win state championships Saturday. Reed Hill (59-3) followed Chisolm to the middle mat in the Von Braun Center and beat Saxon Coker of Benjamin Russell 3-0 at 152, delivering the winning moves in the final 10 seconds of the match.

"They've been our most consistent all year; I think their records are just about identical," Oxford coach Kyle Routon said. "They rose up there at the end."

Chisolm won his last year at 126, handing McAdory's Steven Bell his last loss; Bell went a record 91-0 this season. This year, wrestling three classes higher, Chisolm led from start to finish. Before he came off the mat he offered up the Sloth Salute, an homage to the 2015 Oxford team he was one year from joining.

He's looking to win two more titles before he's done.

"The first one is unforgettable," he said. "The second one makes it so much sweeter because everyone says the second one is the hardest one, and I can see why. There's a lot of mental battles that's going through the second one … but (if) you just go out there and win your matches it doesn't matter how you do it as long as you win."

It's a good thing Hill is a patient person. His match went down to the last moments of regulation.

He already had overtime in his mind – Routon did, too – when the wrestlers rolled off the mat mere inches from Reed scoring off his tilt. With Reed on top on the restart, Coker tried a Granby escape, but Hill caught his hip and got him down for the winning points, the wrestling equivalent of a basketball player hitting one at the buzzer.

"It's a lot better," Hill said.

The junior called it his most intense match ever. The Class 6A coaches called it the best match in the tournament.

"I knew it was (a good match), I didn't know it was this good," he said. "I knew I had a good chance at winning the tournament, but I didn't think I'd get this. I've never won anything like this at a tournament."

The Yellow Jackets were denied a third straight state team title. They finished fourth with 122 points, 32 behind winner McAdory. Wetumpka was second (137), followed by Benjamin Russell (136).

The Jackets qualified 10 out of the sectional, but five were first-year wrestlers.

"We knew that was going to be our issue," Routon said.

Landon Burrage lost a 6-0 decision in the 126 final. Octavious Adair was third at 195 and Wesley Slick was fourth at 132 after nearly taking out Bell in the semifinals, losing 3-2, and coming within seconds of the takedown that would've given him win Routon had predicted in his circle of coaches – "he's 91-0, he was really close to being 90-1," Routon said.