Nothing but net
Weaver's girls cut down the nets after beating Pleasant Valley for 20thwin, second straight area crown; and more
 
Friday's girls games
CLASS 3A
Area 11 Championship
Weaver 50, Pleasant Valley 39
Area 12 Championship
Susan Moore 59, Glencoe 51
CLASS 4A
Area 10 Championship
Cherokee County 44, Jacksonville 31

By Al Muskewitz
East Alabama Sports Today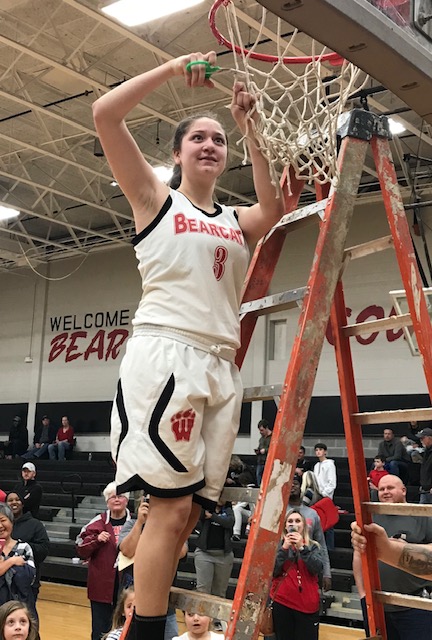 WEAVER – Weaver coach Gary Atchley was talking to Brad Hood before the game and playfully told his Pleasant Valley counterpart to not even think about cutting down the nets in his house if his team was fortunate enough to win.
 
You could bet the house, though, the Lady Bearcats would be doing it if they did.
 
Weaver won the area title last year but didn't get to punctuate it by cutting down any nets because they did it in somebody else's gym. It didn't take them long to bring out the ladder and scissors Friday after beating the Lady Raiders 50-39 for their 20th win of the season and the Class 3A Area 11 title.
 
"That's the first time I've ever cut a net down; that means a lot to us," Atchley said. "I told them a 20-win season, back-to-back area championships, we're going to cut these dad-gum nets down.
 
"I wanted to cut all six of them down, on all of (the gym's hoops). We might have stayed til 10 o'clock tonight cutting every one of them down. I might stay when they leave and cut them all down."

Now the Lady Bearcats will host Area 15 runner-up Sylvania (15-11) in the sub-regional round Monday at 7 p.m. with an eye towards securing the program's first trip to the regionals since 2004. PV, meanwhile, will travel to defending state champion Pisgah (29-1), the once-beaten juggernaut both teams here wanted to avoid at all costs.
 
"That played a lot into (wanting to win)," tournament most valuable player Caleigh Cortez said. "We talked about it and said Pisgah's going to be a hard game if we go. Plus, the travel; we didn't want to travel. We were like let's stay home, let's have the atmosphere we need here instead of having that big ol' crowd at Pisgah. We kept that in the back of our minds playing today and we just kept striving."

Weaver trailed only briefly early in the game. The Lady Bearcats took control in the second quarter under a hail of 3-pointers and maintained it by hitting their free throws in the second half.
 
The Lady Bearcats were 14-of-20 from the line in the second half, 8-of-12 in the fourth quarter. Abby Gaines made seven in a row at one point and, in just her second game back from a high ankle sprain, wound up being Weaver's leading scorer with 15 points.
 
"I felt like we really needed it," Gaines said. "During practice we shoot free throws a lot. At practice, I don't really make them but I felt like we really needed them."
 
There was a tense moment midway through the third quarter when Hood was hit with a technical foul. He was seated on the floor in line with the bench – a position that seemed to relax both him and his players – when he was told by an official he either had to stand or take a physical seat while coaching.
 
Hood protested and, confident there was no rule outlining that particular bit of protocol, openly requested to see the rule book, at which time he was T'd for what the officials said later was "poor sportsmanship."
 
Hood said there wasn't much he could do except scratch the officials from future PV games, but he did plan to contact the state association about it. As for any impact on future action regarding the game, Hood doubted anything more would come from it.
 
It had little to do with the outcome other than add two points to the Lady Bearcats' total. Weaver did extend its lead to 13 a few minutes later, but that could have happened anyway given the state of the Lady Raiders' play.
 
"We just mentally weren't in it," Hood said. "Every time I'd see somebody make a mistake they're looking over to the bench."

When it finally was over, it was time to celebrate. One-by-one the Weaver players made their way up the ladder to snip their own personal piece of history they couldn't get a year ago.
 
"It was like a redeemer right there," Cortez said. "It was a great feeling, seeing all my teammates go up there and cut it down. It was a surreal moment. We're making history."

ALL-TOURNAMENT TEAM
Itiania Weatherly, Wellborn
Teana Edwards, Saks
DeAvian Stewart, Saks
Sydney Prater, Piedmont
Kayley Kirk, Piedmont
Lindsey Pritchett, Pleasant Valley
Brooke Perry, Pleasant Valley
Trinity Pulliam, Weaver
Amira Carter, Weaver
Abby Gaines, Weaver
Haley Homesley, Weaver
Caleigh Cortez, Weaver (MVP)
 
Weaver 50, Pleasant Valley 39
PLEASANT VALLEY – Lindsey Pritchett 1 0-0 3, Rylee Haynes 1 1-2 4, Chandler Dorsett 1 2-2 5, Emma Hood 5 1-5 11, Karmyn Sparks 3 3-7 9, Brooke Perry 3 0-3 7. Totals 14 7-19 39.
WEAVER – Caleigh Cortez 4 3-7 11, Kiese Hubbard 1 0-0 2, Maleah Foster 3 0-3 7, Trinity Pulliam 2 0-0 4, Abby Gaines 3 8-10 15, Amira Carter 1 3-4 5, Haley Homesley 2 0-0 6. Totals 16 14-24 50.
Pleasant Valley          7          6          16        10        –          39
Weaver                        9          15        14        12        –          50
3-point goals: Pleasant Valley 4 (Pritchett, Haynes, Dorsett, Perry); Weaver 4 (Foster, Gaines, Homesley 2). Technical fouls: PV coach Hood. Fouled out: Foster. Total fouls: Pleasant Valley 16, Weaver 18. Officials: Hall, Stone, Morehouse.
Lady Warriors Centre stage
CENTRE – Cherokee County outscored Jacksonville 18-2 in the second quarter and with the second half being even it made all the difference in the Lady Warriors winning the Class 4A Area 10 championship game, 45-31.

The Lady Warriors will now host Talladega in Monday's subregion round, while Jacksonville will travel to Anniston.

Jordyn Starr and Laney Johnson led Cherokee County with 17 and 14 points, respectively. Kayla Broom led Jacksonville with 13 points and 10 rebounds.

Jacksonville was really impacted by a 1-for-22 showing from 3-point range. Rebekah Gannaway had its only 3-pointer.

Class 4A Area 10
Cherokee County 45, Jacksonville 31
JACKSONVILLE – Kayla Broom 5-12 3-6 13, Rebekah Gannaway 3-4 0-0 7, Patience Carr 2-16 3-4 7, Amia Montgomery 1-4 0-0 2, TiAsia Williams 1-4 0-0 2, Brenna Stone 0-4 0-0 0, Amarie Curry 0-1 0-0 0, Malijah Goggins 0-3 0-0 0, Aly Meagher 0-0 0-0 0. Totals 12-48 6-10 31.
CHEROKEE COUNTY – Jordyn Starr 7-21 1-1 17, Laney Johnson 4-14 4-4 13, Crimson Mahannah 3-13 1-2 8, Kayleigh Hunter 2-3 1-2 5, Karlee Perry 1-2 0-0 2, Aubrie Williams 0-0 0-0 0, Belle Mahannah 0-2 0-0 0. Totals 17-55 7-9 45.
Jacksonville 8 2 9 12 – 31
Cherokee County 6 18 9 12 – 45
3-point goals: Jacksonville 1-22 (Broom 0-4, Gannaway 1-2, Carr 0-10, Williams 0-3, Goggins 0-3); Cherokee County 4-20 (Starr 2-7, Johnson 1-6, C. Mahannah 1-6, Perry 0-1). Rebounds: Jacksonville 36 (Broom 10, Stone 8); Cherokee County 36 (Johnson 8, C. Mahannah 8). Total fouls: Jacksonville 9, Cherokee County 8.