Z's 3 inspirational
Updated: January 26, 2019
Garrett opens the game with a 3, Oxford opens big lead, then holds off Piedmont to reach boys finals vs. Sacred Heart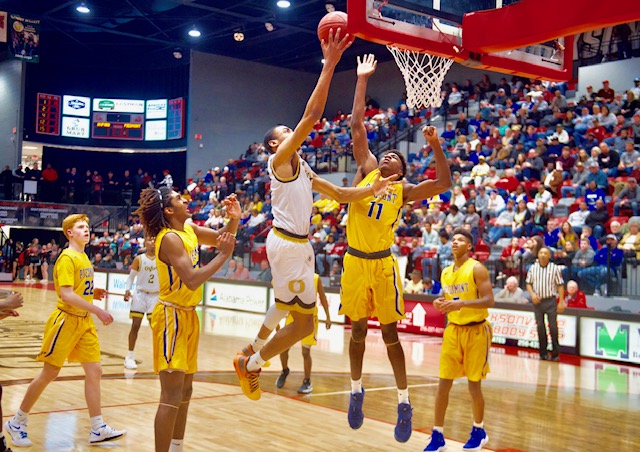 CALHOUN COUNTY TOURNAMENT
At Jacksonville State
Friday's games
Oxford 63, Piedmont 47
Sacred Heart 55, Anniston 52
Saturday's game
Boys championship, Oxford vs. Sacred Heart, 8 p.m.

By Al Muskewitz
East Alabama Sports Today

JACKSONVILLE — When Zondrick Garrett opens the game with a 3, you know it's going to be Oxford's night.

It's not that the big guy isn't capable of hitting one from beyond the arc – he has several bonus balls this season – you just don't expect him to get the game started from out there.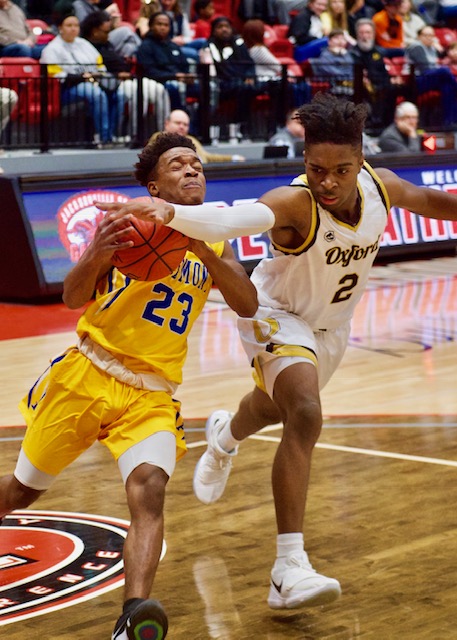 Well, he did Friday night on the big floor at Jacksonville State and it sparked the top-seeded Yellow Jackets to open a big lead before finally putting away Piedmont 63-47 to reach the Calhoun County Tournament title game for the third year in a row. They will play second-seeded Sacred Heart – for the third straight year – Saturday at 8 p.m.

"Usually, Z's the type where his 3s come in the second half, at least it seems like it's been that way this year," Oxford coach Joel VanMeter said. "We played at Plainview, he made some big 3s in the first half there, but most of the games his 3s have come in the second half when maybe he's gotten in foul trouble and he's come back out and been really focused.
 
"You hope anything you do on the first couple of possessions really sets the tone. I thought at times we played well, at other times the game was so choppy you couldn't get a rhythm, but when you're good enough to fight through that and figure out how to win, make free throws down the stretch, it's a way to learn."
 
Garrett finished with 17 points and 12 rebounds. He was one of two Yellow Jackets with a double-double. Roc Taylor had 16 points and 11 rebounds.

Getting to the championship game means a lot to Garrett. He was the county tournament MVP as a freshman two years ago when he helped the Jackets win their first county title since 2013, but he missed last year's title game loss after transferring back from his brief stay at a Georgia prep school.

Now that he's back in black (and gold), he's eager "to show everybody what I can do. I missed it, missed being around all this. I just hope we go out there and do what we need to do and get a win."
 
"It's all motivation for him," VanMeter said. "I think this is where he wanted to be along with the rest of our team. I think there's a ton of motivation for them; they wanted to get to the finals. They want to have the opportunity to play for the county championship and whether it's him or anybody else, that's our goal. I think there's a lot of pride in that and I think we'll be ready to play."

The Yellow Jackets gained control of Friday's game early. After Garrett's game-opening 3 – he actually scored the first five points of the game – the Jackets roared to a 20-4 lead in the second quarter and held the Bulldogs to 12 points in the first half. They held a 17-point lead early in the fourth quarter, but Piedmont staged a rally and got it back to within nine with 3:28 to play.

That's when Oxford began a slow march to the free throw line. After some initial balkiness, the Jackets wound up hitting nine of their last 12 to keep the Bulldogs at bay. Kobe Warren hit six of the free throws down the stretch.

"We shoot shots like that in practice all the time so we were confident," Warren said.
 
The loss snapped Piedmont's 11-game winning streak and was its first loss of the new year.
 
Alex Odam led the Bulldogs with 13 points. Silas Thompson had 11.
 
This will be the Jackets' eighth trip to the title game in 11 years. Last year, without Garrett, they lost 66-61. They beat the Heart 76-68 two years ago.
 
"When you play in a tournament you want to put yourself in position to play in a championship game with a chance to win it.," VanMeter said. "I don't think anything about last year. Last year was last year.
 
"The biggest concern is getting our team to play as well as we can play. We struggled tonight in the third quarter. We struggled in the first half Tuesday night (in beating Alexandria). We just have to do a better job of seeing what the defense is doing and making plays off that."

Oxford 63, Piedmont 47
PIEDMONT – Carl Myers 2 4-8 9, Kaedon Jenkins 1 0-0 2, Delo Foster 3 1-4 7, Silas Thompson 4 3-4 11, Alex Odam 4 3-4 13, T.J. Fairs 1 0-2 2, Jakari Foster 1 1-2 3, Sean Smith 0 0-0 0. Totals 16 12-24 47.
OXFORD – Rylan Houck 0 0-0 0, Zondrick Garrett 7 2-2 17, Eugene Leonard 1 5-6 8, Mont McClendon 4 0-0 8, Kobe Warren 2 8-12 12, Roc Taylor 6 4-8 16, Justin Moore 1 0-2 2, Milas Jackson 0 0-0 0. Totals 21 19-30 63.
Piedmont       4          8          18        17        –          47
Oxford            16        13        16        18        –          63
3-point goals: Piedmont 3 (Myers, Odam 2); Oxford 2 (Garrett, Leonard). Fouled out: D. Foster, J. Foster. Total fouls: Piedmont 24, Oxford 22. Officials: Whitten, Williams, Hughes.