Bring 'em on
Updated: January 26, 2019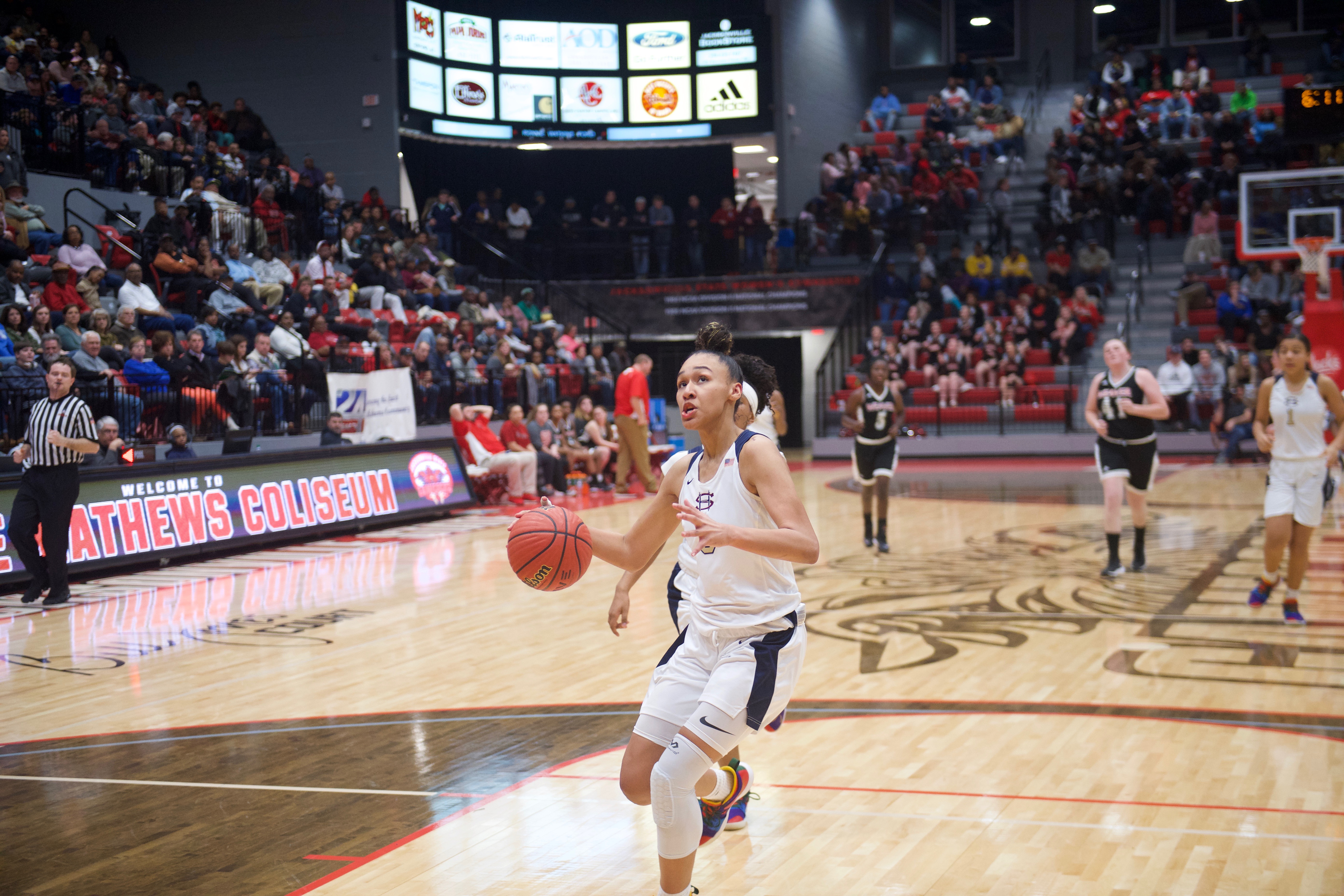 Sacred Heart girls earn first trip to Calhoun County Tournament finals, looking forward to matchup with Annistonent will be posted in this space

CALHOUN COUNTY TOURNAMENT
At Jacksonville State
Friday's games
Anniston 52, Oxford 18
Sacred Heart 48, Weaver 32
Saturday's game
Girls championship, Anniston vs. Sacred Heart, 6 p.m.

By Al Muskewitz
East Alabama Sports Today

JACKSONVILLE – For most of the year the Sacred Heart girls basketball team has been silently desiring a game with Anniston.

There's no publicly stated reason why the teams don't play – the boys play a regular-season game and met in their county tournament semifinals Friday – it just hasn't happened.

But the Lady Cardinals got their wish for an audience with the current queens of the county court when they survived a late rush and beat Weaver 48-32.

It sets up a game between the top two teams in town Saturday at 6 p.m. for the title. Anniston has won the county tournament 18 times, twice in a row and nine of the last 12 years. Sacred Heart is making its first appearance in the championship game.

"That's a huge accomplishment, for sure," Sacred Heart coach Marcus Harrell said. "It's good for us to be able to advance in these kinds of events and this kind of atmosphere and as big of a tournament as this. I know it's just the county tournament but this is one of the best tournaments in the state.

"We were worried maybe the stage would be too big, but our girls handled the adversity that hit us both games and overcame the things they needed to and we're in the finals."

Friday game between seeds 2 and 3 was anticipated by both sides, but it was all Sacred Heart early. The Lady Cardinals (21-2) used their athleticism and quickness to hold Weaver (14-6) without a field goal for the first 6:30 of the game. They jumped out to a 19-2 lead and led 23-6 with the first basket of the second quarter.

Weaver's Ayanna Foster had 10 points in the first quarter and 21 in the game.

"I knew I had to do something because they wanted it just as bad as we did," Foster said.

But Weaver came back. With Sacred Heart top defender Jordan Sabree in foul trouble, the Lady Bearcats went over the top to beat the press and went on a 12-0 run behind Carleigh Cortez and Trinity Pulliam to draw within 23-19. Cortez and Pulliam combined for 11 of Weaver's 14 points in the second quarter.

"It was a very great start," guard Myiah Harris said. "I don't know what happened in the second quarter. Our mindset just wasn't ready. We thought we had the game put away earlier, but it backfired on us."

It was nothing a halftime break couldn't correct. The Lady Cardinals turned Weaver back in the second half and maintained a lead of 10 or more the rest of the game.

"I worked so hard for my team and myself, I couldn't let it go like that," Foster said.

And now they face their biggest challenge of the season on the biggest stage to date.

"Anniston is the top dog around here; they always have been," Harrell said. "They've dominated county for as long as I can remember. Anytime you're trying to get up toward the top tier of any classification you want to play the best people. Anniston's the best, so we get our shot at them.

"I'd like to play them because we have to work on some things and we can see where we measure up to. Also, it's going to prepare us for the bigger things down the road. The environment we'll have here tomorrow night and against a great team like we're going to play, what else can you ask for."

Sacred Heart 48, Weaver 32
WEAVER (14-6) – Caleigh Cortez 5 4-6 14, Kiese Hubbard 1 1-2 3, Maleah Foster 0 0-2 0, Trinity Pulliam 4 0-2 8, Haley Homesley 3 1-2 7. Totals 13 6-14 32.
SACRED HEART (21-2) – Alisia Person 1 1-2 4, Myiah Harris 4 0-0 9, Ayanna Foster 10 1-6 21, Cearia Jenkins 0 0-2 0, Jordan Sabree 2 1-2 5, Sevria Hardy 1 2-2 5, Taysia West 2 0-0 4. Totals 20 5-12 48.
Weaver 6 14 7 5 – 32
Sacred Heart 21 5 13 9 – 48
3-point goals: Sacred Heart 3 (Person, Harris, Hardy). Fouled out: Pulliam, Total fouls: Weaver 9, Sacred Heart 14. Officials: Bright, Shivers, Woods.