Falcons break through
Updated: January 20, 2019
Donoho wins its first Calhoun County Basketball Tournament game in 17 years with assortment of athletes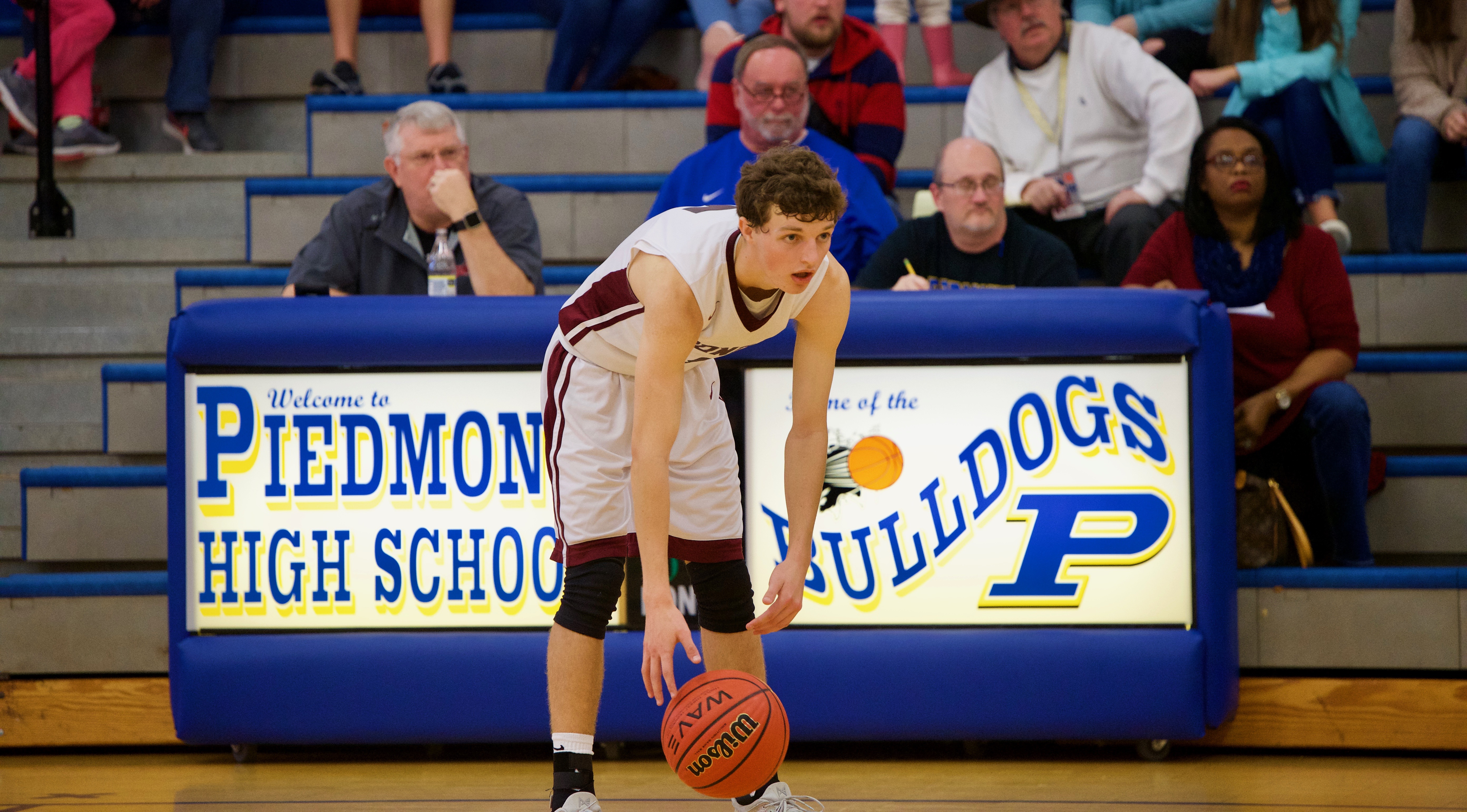 By Al Muskewitz
East Alabama Sports Today

PIEDMONT — Basketball teams get made in all kinds of ways. Some find the best players in their community, attract them with life-changing educational opportunities and social experiences and beat everybody's brains in.

Others open the gym to all comers and hope they can cobble together enough players to make a competitive lineup.

The Donoho team that made a little history Saturday is a unique in-house blend of players from different sports where basketball is a second language.

The Falcons won their first Calhoun County Tournament game in 17 years Saturday when they used a big third quarter to get a lead and then held on down the stretch to beat Pleasant Valley 62-55 in a first-round game at Piedmont High School.

They advance to face No. 5 White Plains, an undisputed basketball pedigree, at 1:30 p.m. Monday at Jacksonville State.

"It's big; it's good for the program," Donoho coach Jeremy Satcher said of the accomplishment. "We haven't won a county game in a long time, haven't gone to the next round in a long time, so for us to have that it gives us confidence so we can get ready for the (area and Class 1A) playoffs."

The Falcons' last win in the County Tournament came over Pleasant Valley in the opening round of 2002. Many of the players in the program now weren't even born yet. It may have been a while, but Satcher stopped short of calling it historic.

"It'd be historic if we beat like an Anniston or Oxford, that would be historic," he said. "That would be in the USA Today."

Most of the Falcons' fate during the drought was tied to a bracketing system that would pair teams based on their seeding and the Falcons had typically been stuck playing one of the top seeds in their opening game. A recent format change has given the bottom seeds a chance to advance but even then the Falcons simply got outplayed by one of the bottom six they were paired with.

But it's the makeup of the group that makes it unique. Their leading scorer is a Division I golfer (Jacob LeCroy), there's a baseball player (Seth Ford), an all-state running back (Rod Elston) and a bunch of other football players and even a couple guys who just want to participate in athletics.And tying them all together is an award-winning assistant football coach.

"Being at a small school everybody steps up and plays multiple sports," Ford said. "Everybody is really dedicated to helping each other out. It's really a brotherhood between us. Basketball is a different kind of sport; for everybody to be able to join in and help on a collective level is really awesome."

"We just want to win," Amari Smedley said. "The different sports we play teach us different things and it goes into basketball."

The most important elements participating in those others sports bring to the basketball team, Satcher said, is a winning attitude and extreme confidence. And both were necessary to get the Falcons through Saturday.

The game was expected to be tight and was tied at 31 at halftime.

Behind an inspired Smedley, the Falcons went on a 13-0 run to erase a 36-35 deficit and take a 48-41 lead into the fourth quarter.Smedley, a sophomore, had 10 points in the run and 12 in the quarter.

"My seniors, they've never won a County game and I've never played at Jacksonville State, so I was determined to win so we could get there," he said. "I just tried to help out my team."

PV, the No. 13 seed, cut it to 59-55 with 51.3 seconds left on Coleman Haynes' 3-pointer.

It stayed that way through a few empty possessions until Donoho closed it out with three free throws by Smedley with 5.3 seconds left.

Smedley, a football player, finished with 19 points. LeCroy had 16 and Elston 13.They were a combined 22-for-31 from the free throw line

Jake Malsy was hot early for PV and finished with 13 points. Josh Ballew had 12.

Donoho 62, Pleasant Valley 55
PLEASANT VALLEY – Jake Malsy 4-11 5-6 13, Josh Ballew 5-20 0-0 12, Wyatt Ingram 2-10 4-6 9, Colby Gaines 4-6 0-1 8, Coleman Haynes 2-3 2-6 7, Garrett Cranmer 3-6 0-2 6, Austin Johnson 0-0 0-1 0, Brayden Wright 0-2 0-0 0, Trent Findley 0-0 0-0 0, Jackson Almaroad 0-0 0-0 0, Connor Wolfe 0-1 0-0 0. Totals 20-59 11-22 55.
DONOHO – Amari Smedley 4-9 9-11 19, Jacob LeCroy 5-9 6-10, Rod Elston 3-8 7-10 13, Reid Williamon 3-5 2-4 9, Seth Ford 1-12 2-2 5, Dekerri Garrett 0-2 0-2 0, Connor Goodson 0-0 0-1 0, Chandler Armstrong 0-0 0-0 0. Totals 16-45 26-40 62.
Pleasant Valley 14 17 10 14 – 55
Donoho 16 15 18 13 – 62
3-point goals: Pleasant Valley 4-24 (Malsy 0-3, Ballew 2-11, Ingram 1-6, Haynes 1-1, Cranmer 0-1, Wright 0-1, Wolfe 0-1); Donoho 4-16 (Smedley 2-4, Elston 0-2, Williamon 1-2, Ford 1-8). Rebounds: Pleasant Valley 44 (Gaines 10); Donoho 37 (Ford 8). Technical fouls: Ballew. Fouled out: Johnson, Williamon. Total fouls: Pleasant Valley 29, Donoho 21.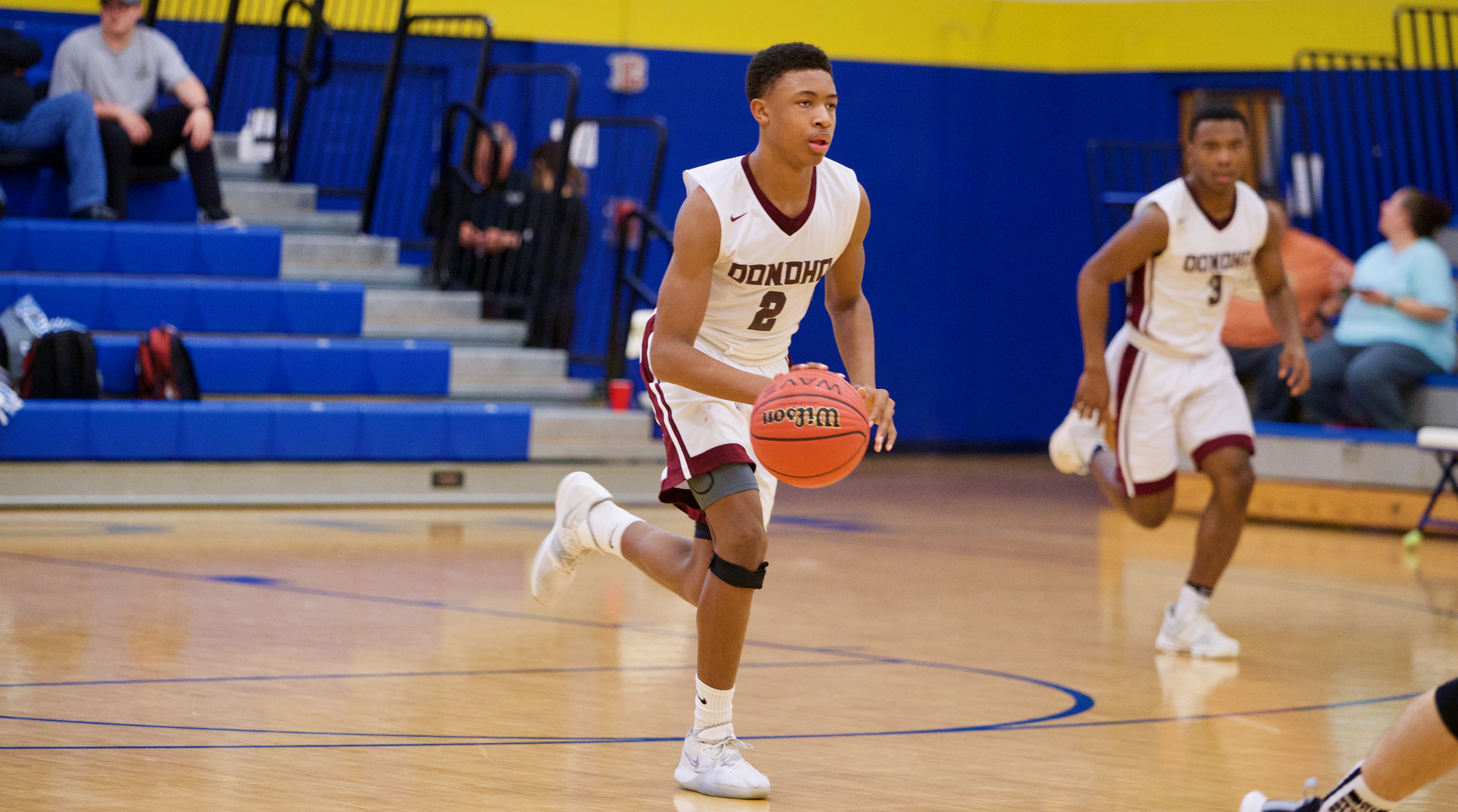 To see more pictures from this game visit www.bjfranklin.smugmug.com