Familiar feeling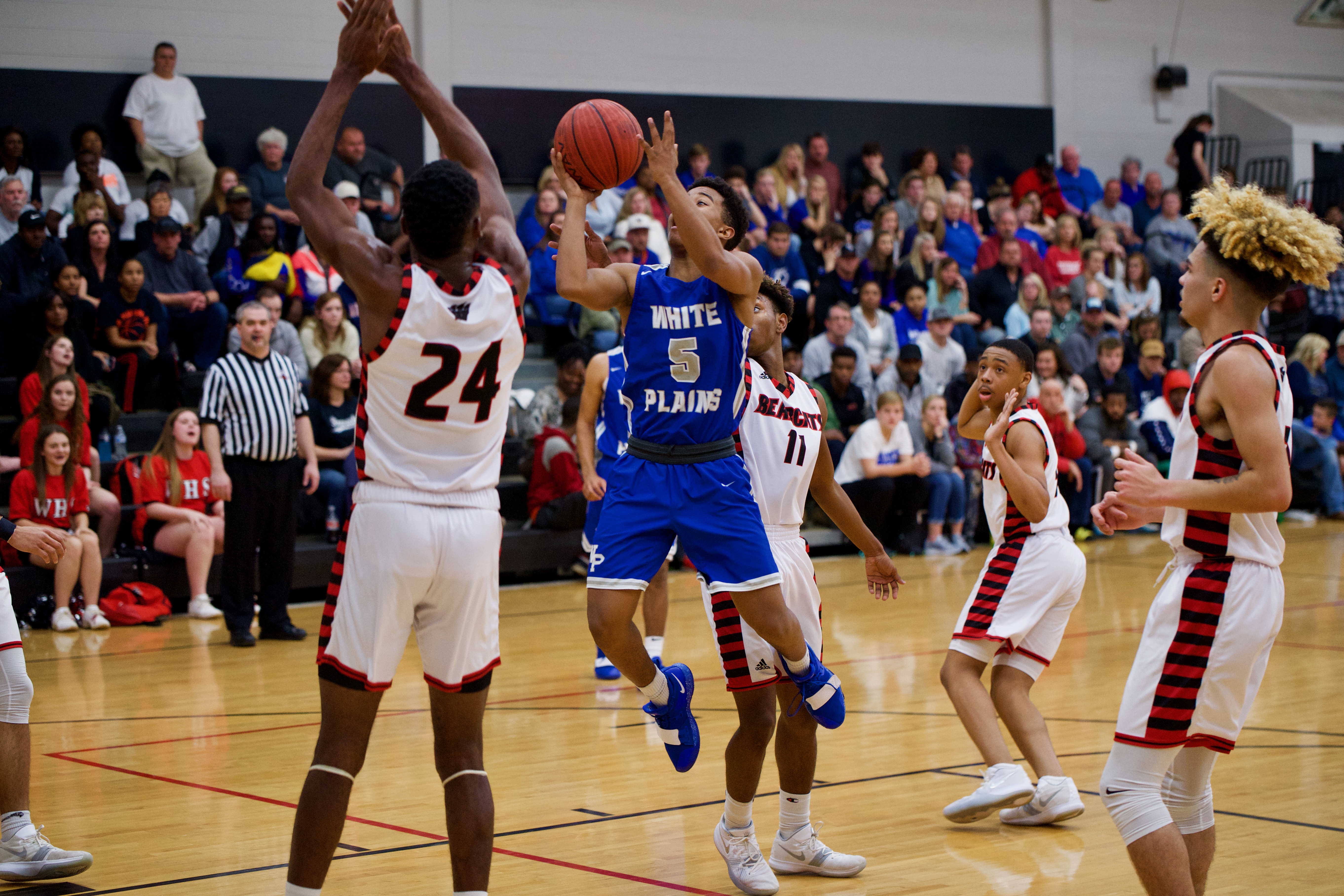 By Al Muskewitz/East Alabama Sports Today
WEAVER – DeAndre McCain wasn't nervous when things got really tight in the closing seconds Friday night because he had this feeling before.
McCain hit a huge 3-pointer from the top of the key with 17.3 seconds to play that gave Weaver its first lead of the night and then he made the defensive stop on Jaden Chatman's driving layup with two seconds left to secure a 61-59 victory over White Plains that's sure to stimulate some conversation at Sunday's county tournament seeding meeting.
The end-game scenario was so familiar to McCain. He hit a similar game-winning 3 at the buzzer last year against Hokes Bluff in the area championship game when he played for Jacksonville. Interestingly, Golden Eagles coach Cordell Hunt was standing in the corner watching McCain's shot Friday night.
The shot came right after White Plains' Brody Baker missed two free throws with 25.3 seconds left, and just like that McCain had flashbacks to last year.
"It felt the same, my body felt the same," he said. "When he missed both those free throws I just felt exactly how it felt in that other game. My face just got real hot and I blacked out; that's how it happened.
"At Hokes Bluff they missed the free throws and my face got hot. I looked at my assistant coach and was like I've got to shoot this. My face got the same feeling, like my body just got hot all of a sudden."
The shot for the lead was set up for McCain all the way. Bearcats coach Marcus Herbert said when McCain's feet are set and his eyes are on basket "he's deadly from out there." White Plains coach Chris Randall needed no reminder. McCain came off a screen by Shamar Spinks, let it fly and the shot found its mark.
It brought everyone in the gym to their feet – well, almost everyone. Herbert couldn't enjoy it as much as he might have liked as he was confined to coaching from his seat by a technical foul midway through the second quarter.
"You knew before he turned it loose it was going in," Randall said. "That's what you get when you have somebody on the ropes and you don't knock them out. We had numerous chances to put the game away and didn't do it."
Indeed. The Wildcats missed seven free throws in the final 2:45 and five in the final 1:10 after holding a five-point lead. Robert Gaines, meanwhile, was 6-for-6 from the line for Weaver in the fourth quarter and Shamar Spinks scored six points in the final 2:33 after being held scoreless to that point in the game.
There was still plenty of time after McCain's basket for White Plains to regain the lead. Chatman drove into a crowded lane and McCain was there to turn his shot away. Amardric Elston was fouled chasing down the loose ball and he made the second of two free throws to make it 61-59. Chatman launched a shot from near midcourt at the buzzer that caught front and back iron before bounding away.
"I was guarding 11 (Simeon Shadrix) and then switched to 10 (Chatman)," McCain explained. "He kind of beat me off the dribble and he was kind of hooking me so I stepped in front of him, put my hands up and he put the ball right in my hands and I barely tipped it. He got it over me and I thought he made it, but it rolled out and Amardric secured it."
Both coaches said Friday's game – Weaver's first home game of the year – was more about getting better for February than anything, but it was hard to ignore how much the game could determine where both teams will fall on the upcoming county tournament bracket.
Had White Plains won, it would have two wins over the Bearcats and a clear edge if the teams came up for the same spot in the bracket. Now that they've split, the scrutiny of their body of work goes deeper.
Weaver is now 12-4 overall, 6-1 against in-county competition. White Plains is now 4-3 in-county with wins of potential top-seed Oxford and Jacksonville, but losses to Anniston, another potential No. 1, and Piedmont.
Herbert said there should be some "good dialogue" at Sunday's meeting in Piedmont, but stopped short of campaigning or speculating on a specific spot for his team; McCain hopes the win puts the Bearcats at least in the top five. Randall said after the game he was more concerned about upcoming area games with Hokes Bluff and Cherokee County next week than the tournament seedings.
"It's going to be great discussion," Herbert said. "I'm going to voice my opinion and I'm sure coach Randall and the rest of the coaches will. We'll see how the dominoes are going to fall."
Weaver 61, White Plains 59
WHITE PLAINS – Coleman Messer 0 0-0 0, Houston Conger 0 0-0 0, Quin Wilson 3 4-6 11, Jaden Chatman 3 3-4 9, Simeon Shadrix 3 1-2 8, Jacob Wheeler 2 0-0 6, Brody Baker 3 0-0 6, Matthew Clay 6 2-4 16, Jaden Harris 0 1-2 1, Kahlil Williams 0 1-2 1, Gavin Burrage 0 1-2 1. Totals 20 13-22 59.
WEAVER (12-4) – Brandon Heath 1 1-2 3, Robert Gaines 7 9-10 24, Shamar Spinks 3 0-0 6, Gary Wallace 0 1-2 1, Marcello D'Ambrosia 0 0-0 0, DeAndre McCain 4 0-0 11, Amardric Elston 6 4-10 15, Colby Thompson 0 0-0 0. Totals 21 15-24 61.
White Plains 16 14 15 14 – 59
Weaver 12 13 13 23 – 61
3-point goals: White Plains 6 (Wilson, Shadrix, Wheeler 2, Clay 2); Weaver 4 (Gaines, McCain 3). Technical fouls: Weaver coach Herbert. Fouled out: Burrage. Total fouls: White Plains 20, Weaver 16. Officials: Morriss, Brown, Roberts.