Wigington wins
Big hitter uses soft touch around the greens to get back in Pine Hill winner's circle
PINE HILL LEADERBOARD
Gary Wigington 64-67—131 (-13)
Ott Chandler 67-65—132 (-12)
Ty Cole 63-70—133 (-11)
Brennan Clay 67-68—135 (-9)
Josh Poole 67-69—136 (-8)
By Al Muskewitz
East Alabama Sports Today
Gary Wigington has long been recognized as one of the biggest hitters in Calhoun County golf, but it was his buttery touch around the greens that saved his bacon this weekend.
Wigington birdied both par-5s on the back nine Sunday with the help of soft pitches around the green and held off a threat from playing companion Ty Cole and an unseen charge from Ott Chandler to win the Pine Hill Invitational for the fourth time in the last five years.
Wigington shot a final-round 67 for a bogey-free two-day total 13-under-par 131. He won by one over Chandler, who shot the best round of the day (65), and two over Cole, his Sunny King Charity Classic partner and defending tournament champion.
It was Wigington's second win on the Calhoun County Golf Tour this season and series-leading 12th all-time. He also won the Pine Hill Invitational in 2013, 2014 and 2015.
Short wedges were the key for his latest victory. On Saturday, he chipped in from just off the green for an eagle on his first hole of the tournament and nearly chipped in a closing eagle on his last hole of the day. He missed only three greens in regulation Sunday and got up and down each time for par; he was 8-for-8 in those situations this weekend. He came within inches of holing out for eagle from just off the green on 15 and 18.
"My chipping has been great all weekend; I got up and down a bunch of times," Wigington said. "I got over it and I felt like a lot of them I had a chance of making them. I've been chipping great all weekend and that's what won it for me. I hit it good, didn't make any bogeys, but if I hit a bad shot I hit a great chip and made par."
That wasn't always the case, especially early in the year, but like anything, the more he worked on it, the better it became. Since the final round of the Wilfred Galbraith ACC Invitational, he has gotten up and down for par or better after missing the green 21 of 24 times.
"I was doing some things bad and in the last few weeks I've been working on it," he said. "It was kind of like my putting. I was aiming way right and pulling all of them, so I was just totally going through a different stroke.
"I had been mis-hitting a lot of chips all year and I just knew I had to work on it and try something different if I was going to get better in the short game. I just started hitting them solid and it felt more comfortable. Every day this weekend I hit all good chips. Randy (Reaves) was kidding me today that I was the shortest hitter in the group and I was like, yeah, I am, so it was the short game that kind of pulled me through and saved the weekend."
As it turned out, Wigington needed to make birdie on the final hole to avoid a playoff. As he was negotiating the final two holes, Chandler was sitting on the porch with 12-under already posted.
"I didn't realize Ott was playing as good as he was until after I hit my second shot (on 18)," Wigington said. "It made me be a little more aggressive on trying to get it up and down. I thought I had just had to par to win because I was thinking Ty was the one to beat. I had no idea Ott played that well. That 65 out there today from the blues is a hell of a score."
Chandler, 53, actually held the lead on the front nine with five birdies over his first seven holes, but he bogeyed No. 8 after over-swinging off the tee to take advantage of a favorable tailwind and never got back on track until closing with three birdies in his last four holes. He had eagle putts on both of the par-5s.
"Had a lot of chances, I just didn't make them; you've got to make them," Chandler said. "Playing against those good players you've got to make the putts. I had a birdie putt on every hole, just didn't make them.
"But I put myself too far in a hole yesterday; I played good, I just didn't make any putts. Today, I made a couple more than yesterday, but, still, you've got to play good to win one of these things. We've got a lot of good players around here. But to shoot 7-under from these back tees is good for me. I ain't no spring chicken."
Cole entered the day with a one-shot lead. He made 10 birdies on Saturday, but had only half that many in the final round. He regained a share of the lead with a 20-foot birdie putt on 12, but fell off the pace when he three-putted for par on 15 to Wigington's birdie. He dropped another shot when his short par putt on 17 horseshoed the hole.
Brennan Clay made a late run at the leaders with back-to-back birdies on 14 and 15 to get to 9-under, but parred each of his last three holes. He finished fourth.
The next event on the Calhoun County Golf Tour is the Fort McClellan Credit Union Pro-Invitational at Cane Creek Aug. 4-6. The pros and championship flight amateurs will play three rounds, the remainder of the field will play two rounds with all flight winners advancing to a net playoff. Call the pro shop for registration details.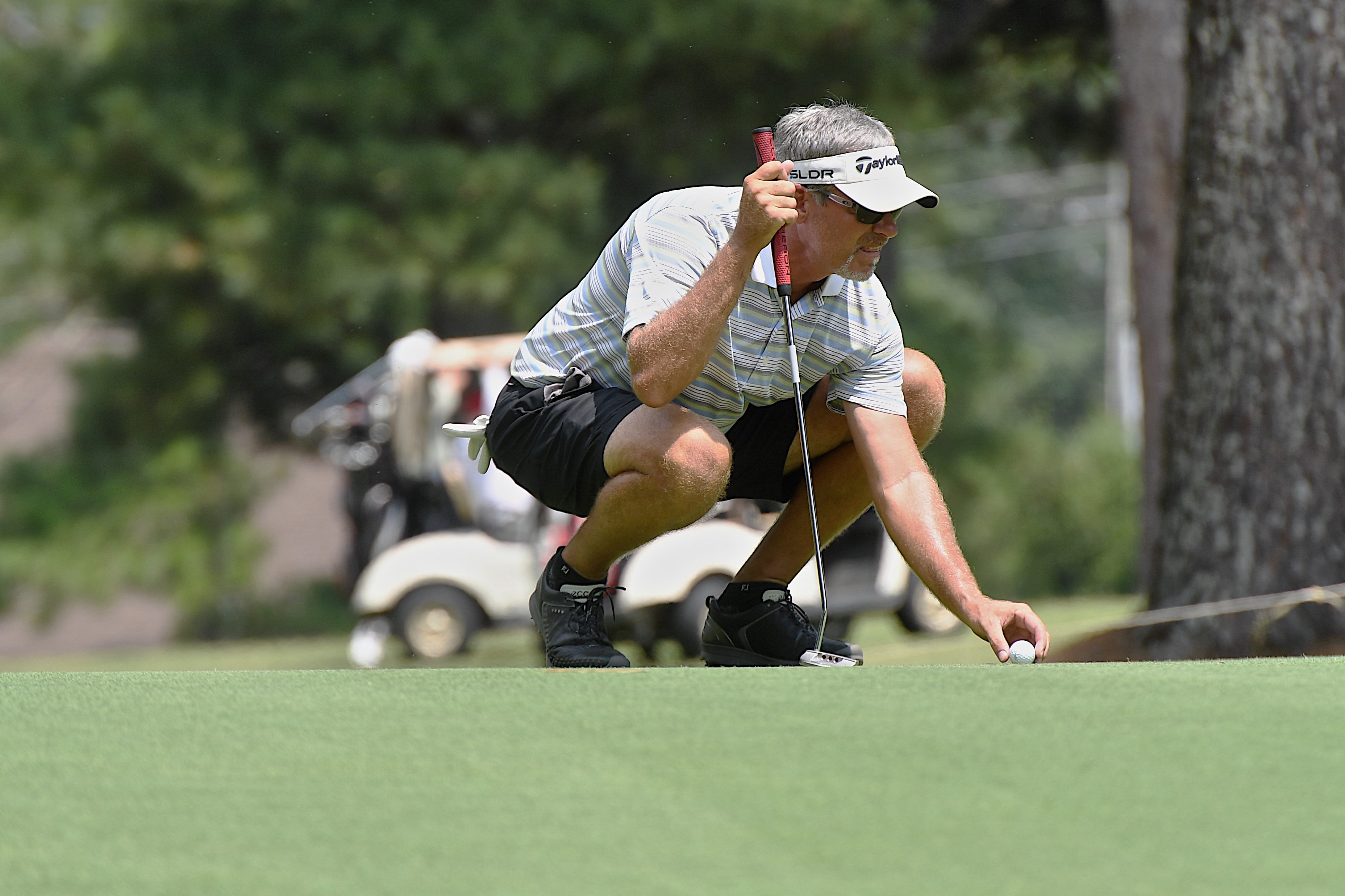 PINE HILL INVITATIONAL
Final scores
Championship flight
Gary Wigington 64-67—131
Ott Chandler 67-65—132
Ty Cole 63-70—133
Brennan Clay 67-68—135
Josh Poole 67-69—136
Andrew Brooks 65-73—138
Jeremy McGatha 67-73—140
Caleb McKinney 69-71—140
Matt Rogers 70-71—141
Chad Calvert 68-73—141
Jonathan Pate 68 -73—141
Kaine Gibson 69-73—142
Dalton Chandler 67-75—142
First flight
Caleb Bowen 71-68—139
Janson Wilborn 72-68—140
Billy Thompson 71-69—140
Scott Martin 71-70—141
Adrian Geeting 75-67—142
Grant Hockman 76-68—144
Tyler Dopson 73-71—144
Nick Pollard 73-73—146
Clayton Chandler 71-76—147
Chad Watson 73-75—148
Graham Morrow 71-78—149
Tony Hicks 76-74—150
Frank Brady 75-76—151
Chip Howell 74-78—152
Timmy Woodard 76-80—156
Tanner Wells 74-82—156
Second flight
Chandler Wilborn 78-70—148
Jeff Noah 77-73—150
Daniel Black 78-73—151
Ted Heim 79-74—153
Luke Armstrong 79-74—153
Benji Turley 80-75—155
Rick Okins 81-74—155
Dustin Viehe 77-79—156
Jim Corby 79-78—157
Andrew Miller 79-78—157
Tim Steward 77-80—157
Josh Davis 81-77—158
Chance Harris 80-79—159
Josh Hicks 81-79—160
Charlie Smith 77-85—162
Kenny Okins 79-83—162
Caleb Morrow 81-82—163
Jimbo Phillips 80-84—164
Wesley Jenkins 79-85—164
Third flight
Kenny Fulmer 86-77—163
Steve Taylor 84-82—166
Marc Gaines 88-83—171
David Gattis 90-82—172
Kelly Rogers 84-89—173
Heath Waldrop 87-87—174
Hayden Crowe 92-83—175
Tim Davis 91-85—176
Austin Roberts 89-90—179
Ricky Carden 90-89—179
David Stephens 96-83—179
Brad Hardin 86-94—180
Greg Goodwin 93-97—190
Austin Minter WD
Senior Division
Dennis Austin 66-72—138
Jerry Irwin 70-68—138
Carter Gable 75-71—146
Morris Mink 76-72—148
J.H. Connell 76-78—154
John Wood 77-79—156
Robbie Robertson 77-82—159
Senior B
Horace Rosamond 79-80—159
Rickey Hurst 79-83—162
Randall Doss 81-81—162
William Patterson 80-84—164
Lamar Ward 78-88—166
Paul Dorsey 87-96—183
CALHOUN COUNTY GOLF TOUR
POINTS STANDINGS
(Through Pine Hill Invitational)
Dalton Chandler 1315
Gary Wigington 1172.5
Jeremy McGatha 972.5
Andrew Brooks 957.5
Ty Cole 925
Chad Calvert 892.5
Matt Rogers 825
Brennan Clay 810
Caleb McKinney 702.5
Jonathan Pate 677.5
Billy Thompson 660
Adrian Geeting 627.5
Clay Calkins 522.5
Caleb Bowen 485
Grant Hockman 457.5
Tanner Wells 445
(Projected cut for County Match Play)
Janson Wilborn 437.5
Kevin Daugherty 415
Jeremy Willis 412.5
Austin Minter 390
Kenny Wright 380
Frank Brady 380
Kelly Rogers 372.5
Jason Brinkley 370
Logan Archer 350
Chad Watson 337.5
Chris Cox 327.5
Luke Armstrong 312.5
Scott Martin 310
Chase Hollingsworth 305
Chad Reavis 300
Layton Bussey 292.5
Chip Howell 282.5
Brad Hardin 255
Chance Harris 245
Casey Harmon 227.5
Rob VanGorder 200
Clinton Ramey 160
Casey McGinnis 147.5
Landon Straub 147.5
Tim Turner 117.5
Dan McClellan 95
Walt Drake 95
Chris Maye 87.5
Brandon Roberts 75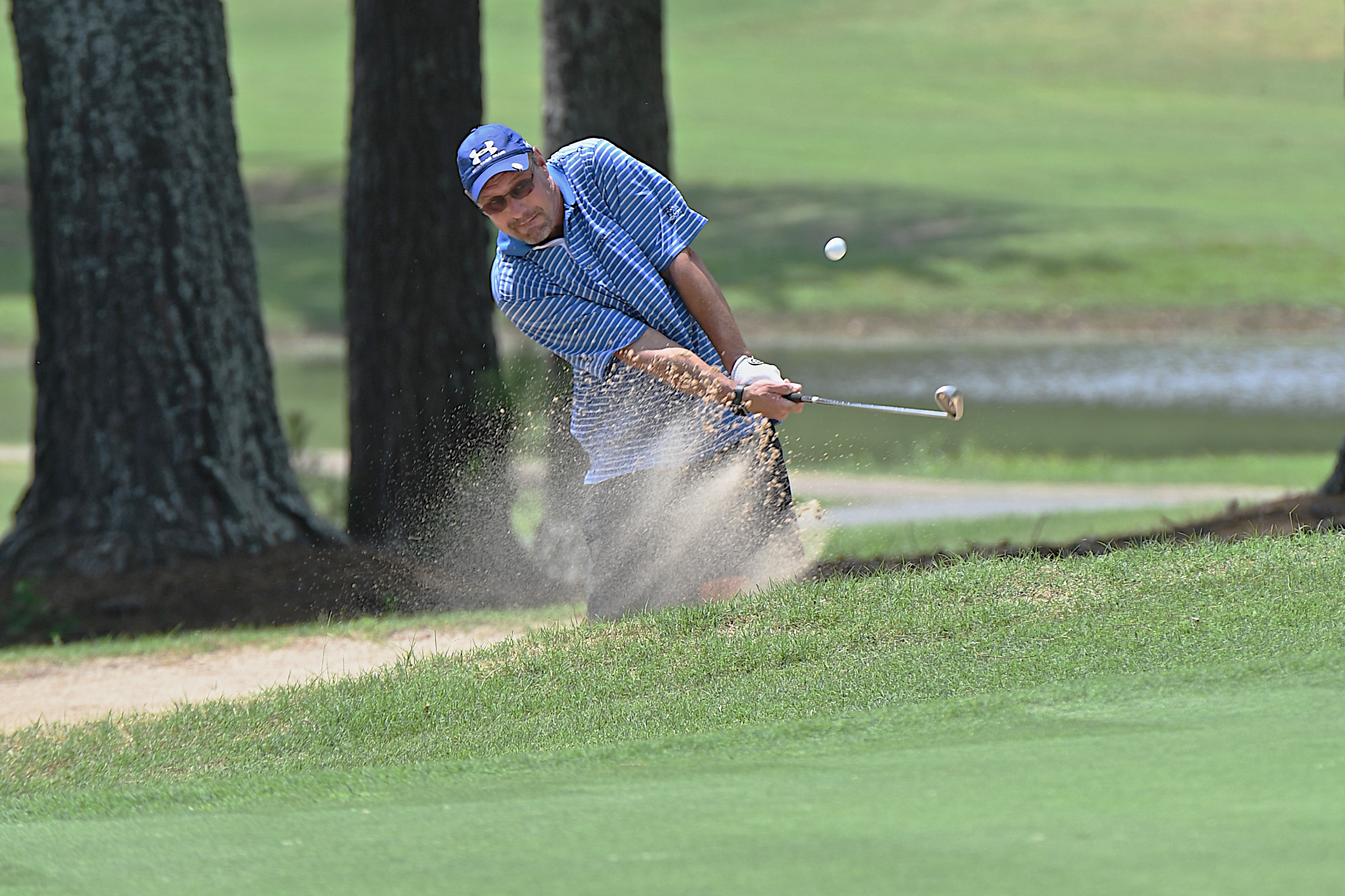 To see more B.J. Franklin photos from the tournament, visit www.bjfranklin.smugmug.com and open the "Golf" file and proceed to Pine Hill Invitational.