Staying in front
Eagle on final hole at Cider Ridge sends Shields, Ellison to 2-shot lead entering final round of Sunny King Charity Classic
SKCC LEADERBOARD
P.J. Shields-Jaylon Ellison -29
Cory Etter-Caleb Bowen -27
Ty Cole-Gary Wigington -27
Logan Archer-Randy Archer -25
Jake Nichols-Randy Lipscomb -25
Lance Evans-Chandler Wilborn -22
Andrew Brooks-Matt Rogers -22
By Al Muskewitz
East Alabama Sports Today
OXFORD – The groundwork for the lead of the 39th annual Sunny King Charity Classic was laid on the 16th tee Saturday at Cider Ridge Golf Club.
P.J. Shields and Jaylon Ellison were getting ready to hit in hopes of chasing down the leaders at the time when Ellison turned to his partner and imparted the words that would carry them to the top of the leaderboard heading into Championship Sunday at Anniston Country Club.
"We had a little talk there on 16 tee and basically I said I need the best out of you and you need the best out of me," Ellison said. "Then on 17 I told him we needed a strong finish. I knew where the numbers were … and I feel like we finished strong."
Ellison made a birdie on 17 to pull the team into a share of the lead, then Shields sank a six-foot eagle putt on 18 to give it a two-shot lead in the tournament, finally solving the mystery of the Oxford course that has vexed them each of their previous three Classics together.
The first-round leaders shot 12-under-par 60 in the modified scramble format Saturday for a two-day total of 29-under 115; the all-time scoring record is 43-under. Shields' eagle at 18 pulled them away from a three-way tie with record-holding defending champions Ty Cole and Gary Wigington and Cory Etter and Caleb Bowen, who for the second day in a row posted the early number to chase.
Jake Nichols and Randy Lipscomb shot the best round of the day, 13-under 59, to pull into a tie with Logan and Randy Archer for fourth place. They played the middle eight holes of their round in 8-under with six birdies and an eagle.
Ellison-Shields and Etter-Bowen will be in the final group Sunday for the decisive best-ball round at Anniston Country Club. Cole-Wigington will be paired with Nichols-Lipscomb in the next-to-last group.
Ellison, a four-time past champion seeking his first crown since 2011, made a birdie on 17 that pulled the team into a tie for the lead. Both partners then hit long drives about two yards apart on the par-5 18th before Shields ripped a 4-iron from 215 yards to within six feet of the favorable front left pin location on the two-pin green. He made his eagle after Ellison's eagle attempt from the front fringe slid just below the hole.
"We knew we were tied and we want to birdie 18 to secure that one shot going into tomorrow because that's huge," Shields said. "Jaylon just stepped up to the tee and ripped one down the middle and that freed me up a lot. It allowed me to go after one and get a decent iron in our hands. I finally got one to turn over right at the stick and I made the putt.
"We've always struggled here, so to get one back from the best today, normally we don't do that here, so that was huge. Instead of having one shot going in, we have two going into tomorrow, that's the biggest thing because anything can happen at Anniston. I think it's big, but we can't let up because we have a two-shot lead."
Ellison and Shields finished second last year and third in 2015, and both times lost ground in the second round here. Last year they shot 62, the year before 59. They shot 61 in the format their first year together in 2014.
This year, with the course stretched to more challenging distance, they shot 5-under on the front and 7-under on the back. They got off to a fast start with four birdies in their first five holes, then hit a lull before surging back with four birdies in a five-hole stretch. They had two birdies and an eagle in the final four holes.
"We didn't do anything special, but we stayed after it," Shields said. "We knew what we needed to do and stepped up and did it."
Cole and Wigington faced their own drama on 18 to earn a temporary share of the lead with Etter and Bowen. They needed to birdie the last to make it happen, but Cole's drive went out of bounds and Wigington's found the fairway bunker.
Wigington used an 8-iron to get out, while Cole went out of bounds, leaving his partner to play the hole without help. Wigington hit the green with his third shot from 95 yards to 10 feet and then made the clutch birdie.
"I hadn't done anything all day long, to finally come through on a hole there," Wigington said. "We just had to have birdie on that one, somehow or another. We were thinking it was going to be a lot easier than that.
"That drive kind of put us in a bad situation; if I'd have been in the fairway and he could've swung freely we could've been putting for eagle, had a good chance to make eagle. Fortunately, we made a birdie."
In their defense, neither felt 100 percent when they got to the golf course Saturday morning. Cole simply ran out of stamina at the end of his round after a restless night battling suspected food poisoning. It affected him all day; he hit it to three feet on the first hole and burned both of his mulligans to make it. The team also failed to birdie 7 after hitting it to right in front of the green.
"I'm just exhausted, but Twig held us in there," Cole said, "As bad as I feel physically, you feel even worse (emotionally) because you've left the man one-legged on the last hole that's a par-5 knowing that we need to be at 11 to tie what's already in.
"To be honest, the way we felt today, 11-under, we'll take it and we'll tee that thing up tomorrow because I'm fixin' to go die. Do not look for Ty at the A-C-C (social function) this evening."
Bowen and Etter remained in contention through the familiar theme of Bowen being sharp with the driver and putter and Etter being there with a sharp short game. Both made three birdies on the front and they were 8-under through 11 holes.
"We didn't make anything we weren't supposed to make, we made a lot of 8-, 10-, 12-foot putts," Etter said. "He played so good yesterday, I putted really good today.
"Our goal (Sunday) is to go out and try to make birdies early in the round. I really think after seeing things if we can get to 36, 37 (under) we have a real good chance. This is a huge tournament and to get a victory in this would mean a lot."
LEADERS SCORECARDS
Cider Ridge 443 454 435 36 443 445 435 36 72
Shields/
Ellison 333 344 434 31 333 344 423 29 60 (115)
Etter/
Bowen 433 344 324 30 333 344 425 31 61 (117)
Cole/
Wigington 333 444 324 30 343 344 424 31 61 (117)
Nichols/
Lipscomb 432 453 323 29 432 344 424 30 59 (119)
Archer/
Archer 442 444 334 32 433 345 324 31 63 (119)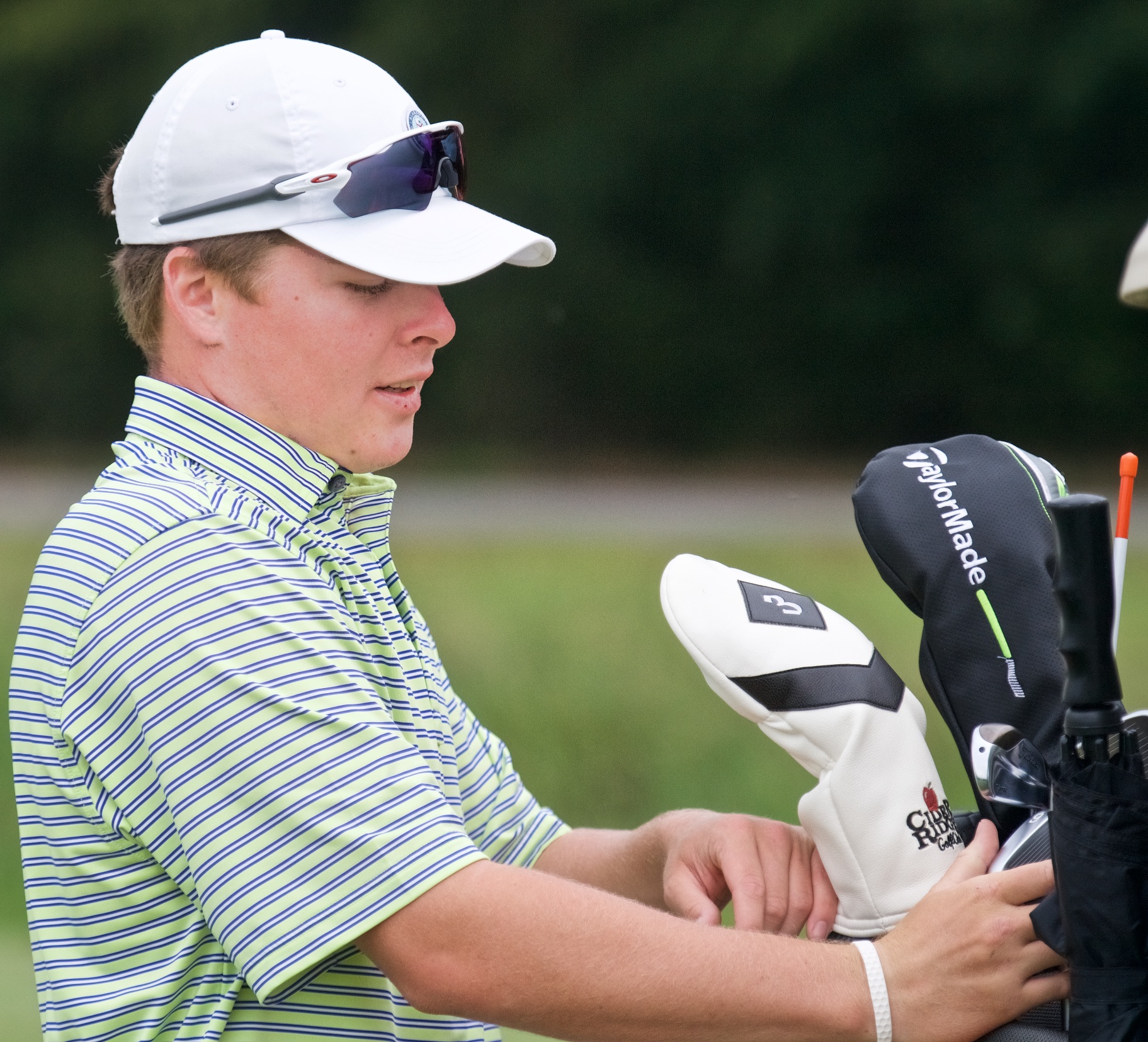 To see more B.J. Franklin photos from Saturday's round at Cider Ridge, visit www.bjfranklin.smugmug.com and click on the Golf file.