Future is now
Fun-loving off the field, all business in the circle, Alexandria seventh-grader Rolfe emerges as pitcher with bright future
By Al Muskewitz
East Alabama Sports Today
When Emmah Rolfe was younger, not much younger than today, she would excitedly watch the Alexandria softball team play and dream of someday being part of it. Someday came a lot sooner than she could have ever imagined.
As a seventh-grader – yes, seventh – much of the success the third-ranked Lady Cubs have experienced this year and will going through the playoffs will ride on Rolfe's marvelous 12-year-old right arm. Through a series of events that can only be described as fate, she has gone from a young pitcher brought into the fold just to provide some depth in the circle to her team's most dependable arm.
After today's 8-2 win at Handley, Rolfe is 16-4 with 1.85 ERA in 33 appearances. She has 83 strikeouts in 132 1/3 innings.
"She's pitched really, really well, just to have the poise to be able to stand out there as a seventh grader and be able to pitch against these kids," Lady Cubs coach Brian Hess said. "You have older kids at their age who don't have the poise that she does. Everything we've asked her to do this year she's done it and done a great job doing it, even in some of the most pressure situations."
The youngest pitcher Hess had ever relied on before Rolfe's arrival was a ninth-grader, Jordan Brown, his first year as coach; the Lady Cubs rode her arm to the state semifinals. Rolfe is two years younger than that, and amazingly won't even become a teenager until June.
Rolfe finds the prospect of playing on the varsity at such a young age both "exciting" and "pretty intimidating" at times, but she has handled it in a way that belies her years. When things start getting a little dicey in the game she turns to the veterans for support.
"I look at Timberlyn (Shurbutt) and Jess (Jessica Shaw), our two seniors, and they make me laugh a lot," Rolfe said. "They call me 'Em,' like 'C'mon, M&M' in like a country accent and it makes me laugh."
That encouragement really helped during a county tournament game last week against eventual champion Oxford. The Lady Jackets put their first two runners on in one particular inning, but Rolfe looked over at Shurbutt for reassurance and got the next hitter out. "It helped me relax," she said.
With area tournaments right around the corner, Rolfe is not a secret any more. Coaches ask Hess all the time how old his pitcher is, typically after she has dispatched them with another loss, and they don't usually believe the answer. He went to a state coaches meeting the other day and when his regional counterparts asked about Rolfe, they told him not to sandbag because they knew all about her.
"A lot of different folks we've faced will ask what grade's your pitcher in and I'll say 'seventh grade' and they're like there's no way," Hess said. "I tell them you can go ask her parents. I don't have a birth certificate. I don't know what you want me to do. She is that young."
Rolfe's emergence reminds the county softball community of Anna Snider, the pre-teen pitcher White Plains hung their future on several years ago.
But it didn't start out that way. Rolfe tried out for the Valley Cubs late in the team-building process because she had been attending an LSU camp, but it didn't take long for Hess to put her on the varsity roster. The Lady Cubs had only one pitcher and Leighton Sparks was just an awkward move away from leaving them in a pickle.
Hess eased her into things a couple innings at a time. Rolfe made her varsity debut with two outs in the sixth inning of the season opener against Southside and struck out the first batter she faced, cleanup hitter Lauren Hunt, on four pitches. She gave up a leadoff homer in the seventh and hit the next batter, but retired the next three batters without a ball leaving the infield.
She got her first varsity win the next game in five innings of relief against Wellborn.
"I've learned it's not all on my shoulder," Rolfe said. "If I had a bad inning I'd get kind of upset or down on myself, but Coach Hess and Mrs. (Toni) Hess told me I don't have it all on my shoulders; I need to let our defense work and our offense will hit."
Soon she was getting thrown into it against some of the top and most veteran teams on the schedule. Then Hess started alternating her with Sparks every nine batters – similar to what Oxford's Wendy McKibbin did with her pitchers last season – and that proved effective, but when Sparks had to leave the circle when her back injury flared again, it left Rolfe as the Valley Cubs' only available option.
Help arrived during spring break when Maggie Phillips transferred over from Ohatchee, but Rolfe is the ace.
She was particularly sharp against Westminster Christian, throwing a five-inning, two-hit shutout, and after each inning came into the dugout as if it was no big deal.
"I don't think she really realized who she was pitching against," Hess said. "I think at the time they were ranked in the top 15 in the nation. It was one of those moments you look and go she's a seventh grader and has no clue what just happened and she doesn't realize she just outdueled Annie Willis in a 2-0 game. Little things like that, other kids would get caught up in the moment; she just plays. It was a good win, but to her it was just another game."
That's the thing you learn about Rolfe. Away from the field she's your typical 12-year-old, but when she steps inside the circle it's all business.
"She's just a kid who loves to play softball," Toni Hess said. "She's just out there doing what she loves to do."
"She's always happy-go-lucky and we hope she stays like that," assistant coach Whitney Welch added. "She's fun."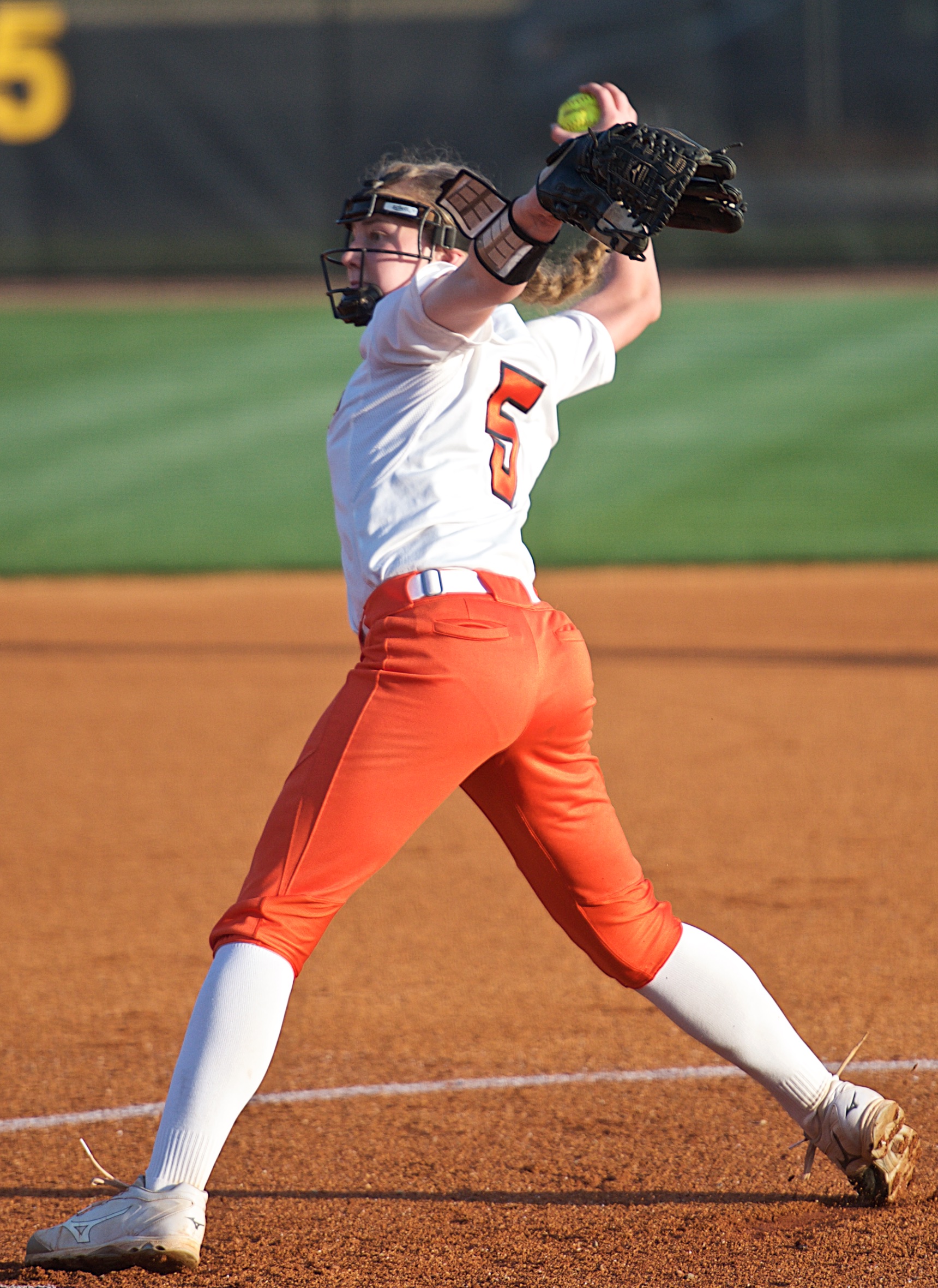 [table id=39 /]