Title tracking
Here's a capsule look at the Final Four match-ups in Class 1A and 5A in the state basketball tournament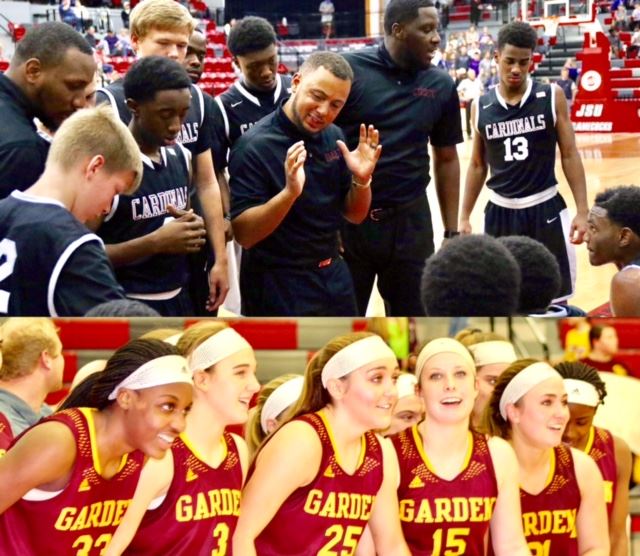 By East Alabama Sports Today
CLASS 1A
GIRLS
2016 Semifinals: Linden 58, #3 Decatur Heritage 44; #4 Spring Garden 50, #1 Keith 34
2016 Finals: #4 Spring Garden 64, Linden 38
#9 Westminster Oak Mountain (21-4) vs. R.A. Hubbard (19-8), Monday, 9 a.m. Last year the Lady Knights from Westminster were ousted by then #2 Loachapoka 42-20 in sub-region play. R.A. Hubbard was a region finalist in 2016. The unranked ladies from Courtland were stopped a game short of Birmingham by No. 3 Decatur Heritage.
Westminster is led by Morgan White (341 points, 55 assists, 84 steals); Rachel Price (219 points) and Anna Rebekah Richburg (171 points, 151 rebounds, 39 blocked shots). Hubbard has four players averaging in double figures, led by A'Nautcia Bibbs (20 ppg) and Kee-Undria Bolden (15 ppg, 10 rpg).
#4 J.F. Shields (22-3) vs. #3 Spring Garden (25-7), Monday, noon. Ain't nothing better than a high noon showdown on Day One. Last year, unranked Linden was a surprise 56-36 winner over J.F. Shields in the South Region finals. The loss didn't sit well with Shields Mar'quaja Brown. She was named to the All-Tournament team and promptly ripped up her certificate in front of the bench and headed off the court. Brown powered the Lady Panther attack this year, as they turned the tables in the region championship besting Linden 57-48.
On the other side of the scorer's table, what more can be said about Coach Ricky Austin and his Lady Panthers? Austin conveys a unique coaching perspective that makes the Garden Girls a premier program. If you gave Austin a lemon he would probably create a high-energy protein drink and bring it to market at a reasonable cost.
In conflict resolution the ultimate outcome is WIN-WIN-WIN. Spring Garden's first championship banner came in 1987 with Bright twins' — Jana (McGinnis) and Dana (Austin) — contagious energy, spirit and smiles providing the cornerstone of the Lady Panther sport programs. Jana would later claim a 4A state title in 1993 as head coach at Cherokee County. At JSU, McGinnis has collected over 800 victories as the Gamecocks softball coach. WIN.
In 2016, Ricky Austin garnered his 500th win with the Garden Girls. Additionally, at that time, Austin had 88 boys' varsity victories to his credit. Couple that with his volleyball ball record (yes, there's a blue banner from 2007 in Welsh gymnasium) and it's got to be over a 1,000. WIN-WIN. Dana has been by Ricky's side the entire time. WIN-WIN-WIN.
SPRING GARDEN PLAYERS TO WATCH: A.J. Broome (5.0 ppg, 143 rebounds, 143 assists); Payton McGinnis (10.4 ppt, 119 rebounds); Tiyonna Rogers (15.4 ppt, 234 rebounds); Kerstin Bryant (6.4 ppg, 118 rebounds, 87 assists); Savannah Dempsey (12.6 ppt, 107 3PFG).
PLAYOFF PATH TO THE 2017 FINAL 4 (sub-regional; regional semi-final; regional final)
#9 WESTMINSTER OAK MOUNTIAN KNIGHTS (21-5): Westminster 52, Autaugaville 18; Westminster 49, Talladega County Central 16; Westminster 51, #1 Loachapoka 40
R.A. HUBBARD CHIEFS: Hubbard 56, Belgreen 47; Hubbard 58, Pickens County 34; Hubbard 57, Phillips 53
#4 J.F. SHIELDS LADY PANTHERS: Shields 75, Marengo 55; Shields 56, Kinston 32; Shields 57, #5 Linden 48
#3 SPRING GARDEN LADY PANTHERS: Spring Garden 75, Appalachian 35; Spring Garden 61, Cedar Bluff 25; Spring Garden 46, #7 Skyline 25
BOYS
2016 Semifinals: #2 Georgiana 86, Marion County 58; #1 Sacred Heart 75, #3 Keith 67
2016 Finals: #1 Sacred Heart 95, #2 Georgiana 75
Cornerstone (15-9) vs. South Lamar (24-6), Monday, 10:30 a.m. Last year unranked Cornerstone was halted by #3 Keith in the region championship while the then-ninth ranked Stallions of South Lamar fell to Decatur Heritage 66-50. Still unranked, head coach Ronald Steele is looking for that signature victory to send the Eagles into rare air. It's hard to believe the Stallions were overlooked in the 2017 final sports writers' basketball poll.
South Lamar is led by Malik Cox (18 ppg, 14 ppg); Chase Gore (14 ppg, 4 rpg, 5 apg); and Carson Lindsey (12 ppg, 6 rpg, 4 apg). Cornerstone, which follows the Sacred Heart philosophy of playing a challenging out of area schedule, is led by D.J. Grayson (14.3 ppg, 3.4 rpg, 6.1 apg) and Joel Merchant (12.4 ppg, 7.5 rpg). John Stanford (11.4) and Eriq Williams (10.6) are also averaging double figure scoring.
#2 Georgiana (27-2) vs. #1 Sacred Heart (26-8), Monday, 1:30 p.m.
Classifications be damned. There is no doubt the Cardinals can play with any in state squad as well as any challenger beyond the Bama border. Also bear in mind that Georgiana has a very good Class 1A team. Two years ago the Panthers nearly punched a Final 4 ticket losing 72-68 to A.L. Johnson in the region finals. Then, in 2016, they got the invite to the big dance but their dates rudely left them on the championship doorstep as the Cardinals were a full 20 points better. Fast forward to 2017, it's a rematch of Alabama's top two small ball squads.
If a 1A in-state team is going to challenge the Cardinals – and Sacred Heart has a 44-game winning streak against in-state 1As — it could happen Monday. Keep in mind things that might make teams a little tight at the BJCC: It's the first day of the week and the state finals. Even with previous postseason appearances, players haven't yet settled into the vast confines of Legacy Arena. Individually and collectively they have to re-adjust to the sounds, depth perception, tightness/looseness of rims, colors, officials/officiating, etc. Don't overlook the fact you've got a classic confrontation with the Cardinals high-octane offense testing the Panthers stifling defense.
Lastly, don't buy into the hype that "anyone" could coach this Cardinal team. Well, actually, that is true. Anyone COULD coach this Cardinal team. But, not ANYONE could do what Ralph Graves has done with these Cardinals. Hoops fans should keep their eye on this game. Just don't be surprised when the Redbirds reign on the competition's parade for a third consecutive year.
BIG RED MACHINE – CARDINALS PLAYERS TO WATCH AT THE 2017 AHSAA FINALS
Diante Wood (1), 6-4, 175, Jr. (18.5 ppg, 9.2 rpg) – Wood can light up a gym simply by opening the door. The highly coveted junior garnered MVP honors at the NE Regional – and last year's 1A Final Four. His bottom line at the Pete was simply 17-of-25 from the field plus 20 rebounds.
Murdock Simmons (4), 6-0, 180, Jr. (8.2 ppg, 4.7 rpg)– Simmons is the ultimate role player. He claimed an all-tournament spot on the Northeast Regional all-tourney team with his solid skill set and balanced bottom line (22 points, six rebounds, three assists, one steal). He got the Cardinals' big third-quarter run going in the regional championship game.
D.J. Heath (5), 6-1, 180, Sr. (20.8 ppg, 3.2 rpg, 5.1 apg)– No doubt that Heath poured in the points at the Pete but how about the dishes he served up. In the all-too-overlooked category heading titled assists, Health dealt 14 into the hands of his playing partners. Along with Kevion Nolan, the duo joined forces to feed the entire Cardinals flock a four-course gourmet meal. Sweet.
Dakota Myers (11), 6-7, 220, Jr. (8.8 ppg, 5.0 rpg)– Surprising that someone so big can so often be overlooked. Myers, a transfer from Grissom, was 8-of-16 from the field at the NE Regional and a stout 9-of-12 from the free throw line. His boards (14 at JSU) trigger the break if the Cardinals are on the run. If you think you're going to rip it out from Myers hands, think again. Strong hands and a savvy court presence means the Sacred Heart tempo can be controlled off the boards.
Kevion Nolan (23), 6-2, 170, Sr. (21.9 ppg, 5.3 rpg, 4.0 apg)– In one word, smooth. Yeah, Nolan totaled 36 points and pulled down 19 rebounds to go along with nine assists against #7 Skyline and #10 Decatur Heritage, but how about the 15 steals. Nolan reads opposing players thoughts quicker than a psychic hotline. He's an actor, director, and producer, a true triple threat.
GEORGIANA'S PROJECTED STARTERS: JaMichael Stallworth (17.7 ppg, 5.3 rpg, 5.8 apg); DeAarion Squaire (9.5 ppg, 3.3 rpg, 2.9 apg); Nizaiah Smith (13.0 ppg, 10.4 rpg, 2.2 apg, 3.8 bpg); Clarence Curry (7.0 ppg, 5.5 rpg, 1.7 apg); Keinderus Mobley (7.5 ppg, 2.8 rpg, 3.4 apg).
PLAYOFF PATH TO THE 2017 FINAL 4 (sub-regional; regional semi-final; regional final)
CORNERSTONE EAGLES (15-9): Cornerstone 71, Autaugaville 58; Cornerstone 85, Wadley 78; Cornerstone 60, #8 Ellwood Christian 55
SOUTH LAMAR STATLLIONS (24-6): South Lamar 113, Meek 61; South Lamar 87, Belgreen 73; South Lamar 59, Pickens 58
#1 SACRED HEART CARDINALS (26-8): Sacred Heart 102, Ragland 65; Sacred Heart 98, #7 Skyline 53; Sacred Heart 75, #10 Decatur Heritage 49
#2 GEORGIANA PANTHERS (27-2): Georgiana 64, Houston County 45; Georgiana 53, J.F. Shields 44; Georgiana 62, #4 Pleasant Home 44
CLASS 5A
GIRLS
2016 Semi-finals: #1 Wenonah 63, #3 Charles Henderson 51; #4 Central-Tuscaloosa 39, #9 Anniston 37
2016 Finals: #1 Wenonah 58, #4 Central-Tuscaloosa 33
#9 Sylacauga (25-5) vs. #2 Wenonah (29-3), Wednesday, 3 p.m. What did Sylacauga do to deserve this? The Aggies' boys and girls basketball teams both make the state tournament and both face the defending state champs in the semifinals.
Last year the Lady Aggies were a 45-33 sub-regional loser to eventual runner-up Central Tuscaloosa. They took care of Central in the South Regional finals, bouncing the No. 5 Lady Falcons 52-37. Kayla (13.9 ppg) and Tierra (19.4) have combined for 1,002 points and 405 rebounds this season. Best case scenario: The Lady Aggies are moving forward with confidence against the three-time reigning champion Lady Dragons, who have won 14 in a row. Worst case scenario: Those Lady Dragons can burn you bad.
#3 Charles Henderson (29-5) vs. Arab (21-13), Wednesday, 6 p.m. Wenonah put out Charles Henderson in the state semifinals last year 63-51. The Lady Trojans have toppled #1 Faith (62-45) and #4 Carroll (51-40) and have their sights set on the #1 target in the Lady Dragons.They are led by Maori Henderson (16.4 ppg, 14.1 rpg, 181 blocked shots). Charles Henderson can't get caught peeking ahead or unranked Arab may become the Cinderella of the 5A ball.
PLAYOFF PATH TO THE 2017 FINAL 4 (sub-regional; regional semi-final; regional final)
#9 SYLACAUGA AGGIES: Sylacauga 58, Booker T. Washington 35; Sylacauga 63, Demopolis 27; Sylacauga 52, #5 Central-Tuscaloosa 37
#2 WENONAH DRAGONS: Wenonah 83, West Point 54; Wenonah 59, #7 Jemison-Huntsville 37; Wenonah 67, #10 Fairview 46
#3 CHARLES HENDERSON TROJANS: Charles Henderson 51, #4 Carroll 40; Charles Henderson 62, #1 Faith 45; Charles Henderson 56, Eufaula 55
ARAB ARABIAN KNIGHTS: Arab 68, Alexandria 19; Arab 59, #8 Talladega 46; Arab 63, Mortimer-Jordan 35
BOYS
2016 Semi-finals: #5 Faith-Mobile 52, Ramsay 50; Jemison-Huntsville 87, #2 Sumter Central 43
2016 Finals: Jemison-Huntsville 71, #5 Faith-Mobile 50
Sylacauga (26-7) vs. #1 Mae Jemison (32-4), Wednesday, 4:30 p.m. If you're going to be the best you've got the beat the best. For the Aggies the challenge is to knock off the reigning Class 5A champions. Alabama signee John Petty (20.7 ppg, 268 rebounds, 196 assists, 43 blocks) and the Jaguars suffered two Thanksgiving losses to Tennessee opponents (Cordova and Blackman). The other two Jags setbacks came beyond the Bama border at Christmas. Sure, the Aggies will have their hands full — that's an understatement — but they already have taken out the #3 Sumter Central Jaguars. The hunt continues when they toss that ball in the air Wednesday. Big blue won't be handed over until the 5A final has been completed on Saturday. Till then, game on.
Faith Academy (21-8) vs. Talladega (26-8), Wednesday, 7:30 p.m. Three unranked teams and the current No. 1 and reigning champs comprise the Class 5A field. Maybe now we know the teams that didn't read the memo "Skip the basketball playoffs and move on to baseball or track." Faith is hoping for a semifinal victory and a championship rematch with Mae Jemison. Logan Foutz averages 13.5 ppg and shoots 42 percent from 3-point range. Dejonte Thomas averages 16.8 ppg. The Tigers, making their first Final Four appearance since 2009 and third under 700-win coach Chuck Miller, sent #7 Guntersville and #8 Corner packing in the regional. Their bigs, Robert Houston (5.3 ppg, 210 rebounds) and Jae-Lyn Russ (11.2 ppg, 275 rebounds), took turns dominating inside in the regional, regional MVP Fred Dickerson (13.3 ppg, 173 assists) is active from the start, and Ashton Duncan (17.1 ppg, 81 3PFG) can shoot the eyes out of it when he's on. The Tigers are trending. Good game here.
PLAYOFF PATH TO THE 2017 FINAL 4 (sub-regional; regional semi-final; regional final)
SYLACAUGA AGGIES: Sylacauga 96, Beauregard 71; Sylacauga 80, #3 Sumter Central 65; Sylacauga 72, Booker T. Washington 57
#1 MAE JEMISON JAGUARS: Jemison 72, East Limestone 24; Jemison 64, Fairfield 49; Jemison 60, #4 Lee-Huntsville 51
FAITH ACADEMY RAMS: Faith 65, Jackson 28; Faith 63, Greenville 55; Faith 63, #5 Eufaula 46
TALLADEGA TIGERS: Talladega 64, #8 Corner 44; Talladega 61, Scottsboro 56; Talladega 96, #7 Guntersville 57
Photo credits: Greg Warren (top), Shannon Fagan (bottom)