Heard, Handley slam door
Updated: February 15, 2017
Post's backboard-rattling dunk highlights a late run that lifts Tigers to victory and a spot in the Northeast Regionals
By Al Muskewitz
East Alabama Sports Today
Practically every dunk Handley's Tyrese Heard has thrown down this season has left some kind of impression, but none have had the impact of his fourth-quarter slam against White Plains Tuesday night.
It was delivered with such force the backboard was still vibrating when Heard went to the line for free throws some 30 seconds later. It may not have brought the house down, but it certainly shut the door on the home team's bid for advancing in the state playoffs.
It was the exclamation point to a final run White Plains star Michael McGuirk said his team simply couldn't answer and propelled the Tigers to a 67-59 victory that sent the Tigers and first-year coach Blake Smalley to the Class 4A Northeast Regional next week at Jacksonville State.
"Any time you can get a dunk at any point in the game it gives the team that does it a little more hype, a little more energy," Smalley said. "It's one of those plays that gets everybody fired up, not just the guy who's scoring.
"You hit a layup, yeah everybody's cheering, but people are jumping up and down usually when they hit a dunk, or even a 3."
The dunk gave the Tigers (23-5) a 58-51 lead with 2:10 to play after they had trailed the entire game. When the rim stopped shaking and Heard hit one of his two free throws the lead was eight with 1:37 to go and the Tigers could feel what was coming.
"Obviously, it's a big win," Smalley said. "Everybody wants to make it to a regional. Jacksonville State's in my opinion the best site in the state as far as regional's go. We've got four or five days to prepare and get ready to go."
The Tigers will play Madison Academy Monday at 10:30 a.m.
Handley did a nice job bottling up McGuirk. The Lee University-bound senior who literally became the ace of the White Plains program scored 26 points, but Darius Joiner, Jay Brown and later Dre Watkins made him work for them. They held him to six points in the middle two quarters as they fought back to tie the game.
"It was just a battle," McGuirk said. "They were stuck on me like glue."
"He's a great player, so you're never going to completely shut him out," Smalley said, "but trying to contain him and making every shot he shoots at least contested is the goal. They both did a good job on him."
The Wildcats (23-7) were in position often to command of the game, but could never put Handley away. They had an eight-point lead at halftime and coach Chris Randall said "we couldn't play any better," but he never believed the margin was large enough.
When the Tigers opened the second half with a five-point possession, Randall knew the game was afoot.
The game was tied at 44 after three quarters. White Plains led 49-46 with 6:20 to play, but then Handley went on the 13-2 run that included Heard's dunk the Wildcats just couldn't answer. Heard finished with 17 points. Joiner led the Tigers with 18.
"I've had dunks like that before," Heard said. "All I was thinking was don't try to dunk it too hard or too soft; dunk it so it won't pop off. This was very big because we were coming off that very tough loss the last game."
Handley 67, White Plains 59
HANDLEY (23-5) – Darius Joiner 5 7-8 18, Gabe Gates 1 0-0 2, Jay Brown 3 2-4 8, Dre Watkins 3 1-2 9, Tyrese Heard 6 5-7 17, Kadarius Foster 4 3-5 11, Mykeirston Trammell 1 0-0 2. Totals 23 18-26 67.
WHITE PLAINS (23-7) – Jaylon Jackson 0 0-0 0, Peyton Morgan 1 1-2 3, Dylan McCareeth 0 0-0 0, Michael McGuirk 8 8-8 26, Macey Carr 7 1-2 16, Gavin Burrage 2 0-0 5, Matthew Clay 0 0-0 0, Brett Beaver 4 1-1 9. Totals 22 11-13 59.
Handley 13 12 19 23 — 67
White Plains 18 15 11 15 — 59
3-point goals: Handley 3 (Joiner, Watkins 2); White Plains 4 (McGuirk 2, Carr, Burrage). Total fouls: Handley 13, White Plains 19. Officials: Lybrand, Young, Sparks.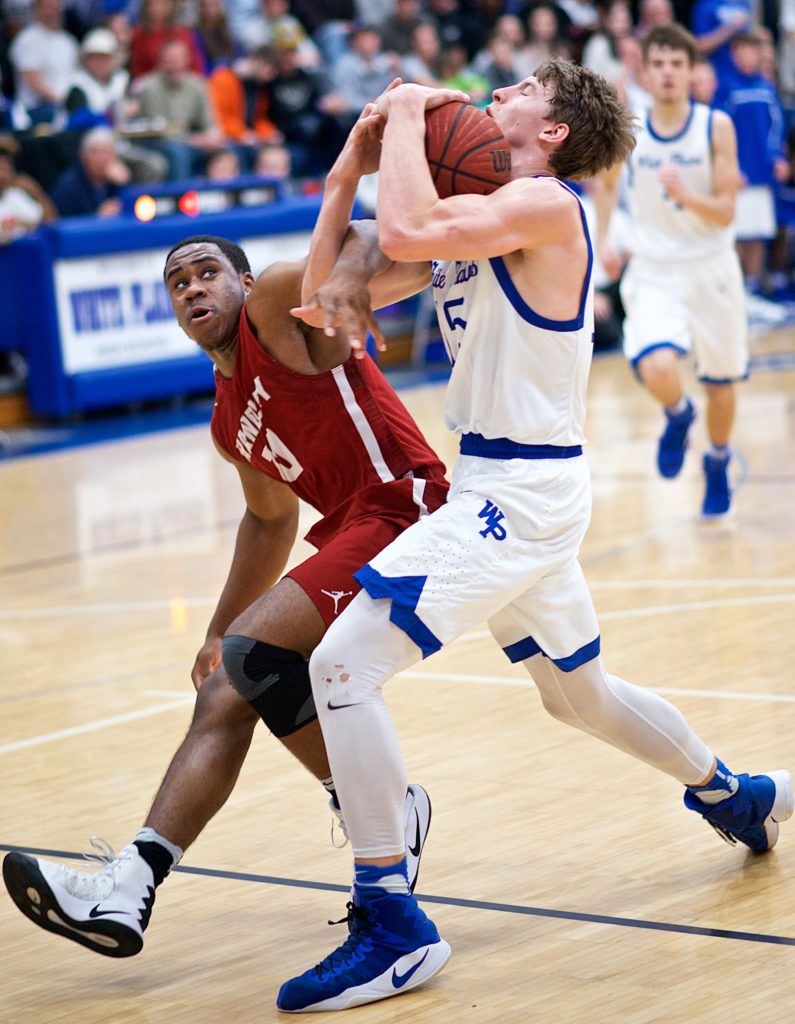 To see more B.J. Franklin photos from the Handley-White Plains game, visit http://bjfranklin.smugmug.com