Heart-broken
Updated: November 14, 2016
Cardinals give reigning Class 5A state champs a battle in the Von Braun Center only to lose on a pair of dunks in the final 30 seconds
By Al Muskewitz
East Alabama Sports Today
HUNTSVILLE (Nov. 14) — Jemison's Devonte Lanier broke free from scrambles at midcourt to throw down two snowbird dunks in the final 27 seconds to break Sacred Heart's heart Monday 57-53 in a showcase of defending state champs at the Von Braun Center.
The two-time reigning 1A champion Cardinals had the 5A Jaguars on the run all game — leading 24-19 at halftime and 52-45 with 4:18 to play — and were on the verge of taking down another giant in the only games they can get that will challenge their talent-laden lineup.
In the end it wasn't Lanier's two dunks that did in the Cardinals, but the turnovers that led to them.
The game was tied at 53 when D.J. Heath was denied on a layup with 37.8 second left. Lanier actually got caught not getting back on defense as that play was developing and was in the perfect position for a wide open dunk with 26.4 seconds to play that gave the Jaguars the lead.
The second dunk, with 2.4 seconds left, came after the Jags trapped Heath in the forecourt. Heath got the ball to Diante Wood underneath, but it was stolen by Jamar Jackson, who got it to Brandon Crosby, who broke up court and found the 6-7 Lanier open in the same place he was for the first dunk.
Sacred Heart's only point in the final 4:18 was a free throw with Diante Wood that gave the Cardinals a 53-51 lead with 1:26 to play.
"The turnover got the dunks, so it doesn't have anything to do with the dunks," Sacred Heart coach Ralph Graves said. "When you turn it over, it's going to be so free down there.
"We've got to become a better team. We've got to close games better. These are two games we played against two top-50 teams in the country and we're leading in both of them and lose. Everybody is like 'well, y'all are good, but y'all were not better than them.' That's not what we're selling. We are who we are and we know who we want to be."
The Cardinals lost to Pebblebrook (Ga.) 90-88 on Friday.
Lanier finished with 17 points, 15 in the second half. Alabama signee John Petty had 19.
Heath led Sacred Heart with 23 and hit three of his four 3-pointers in the first quarter, but Graves lamented not getting much elsewhere.
It didn't help that post Wood and guard Kevion Nolan were playing much of the second half in foul trouble. Nolan, who will sign with the Bulldogs Wednesday morning, had 12 points but Wood only had five — all in the fourth quarter.
"It took all our aggression away defensively," Graves said of the key players' foul trouble. "That hurt us."
The Cardinals held the Jemison to only 19 points in the first half, but the Jags got more aggressive defensively in the second half and that led to 19 points in each of the last two quarters.
"Defensively, it was there," Graves said. "What we said happened was going to happen. It's a matter of rebounding the basketball, taking care of the ball offensively. Without what Petty did, it was going to be hard for them to score.
"They don't score it well. Petty scores it well, the rest of them don't. They only score off turnovers and rebounds. When we go back and watch the film, we're going to count how many points were on second-chance shots and turnovers. Petty had like 20 (points), 18-19 points don't beat you."
See more of Kristen Stringer's photo work from this event at www.krisppicsphotography.photoreflect.com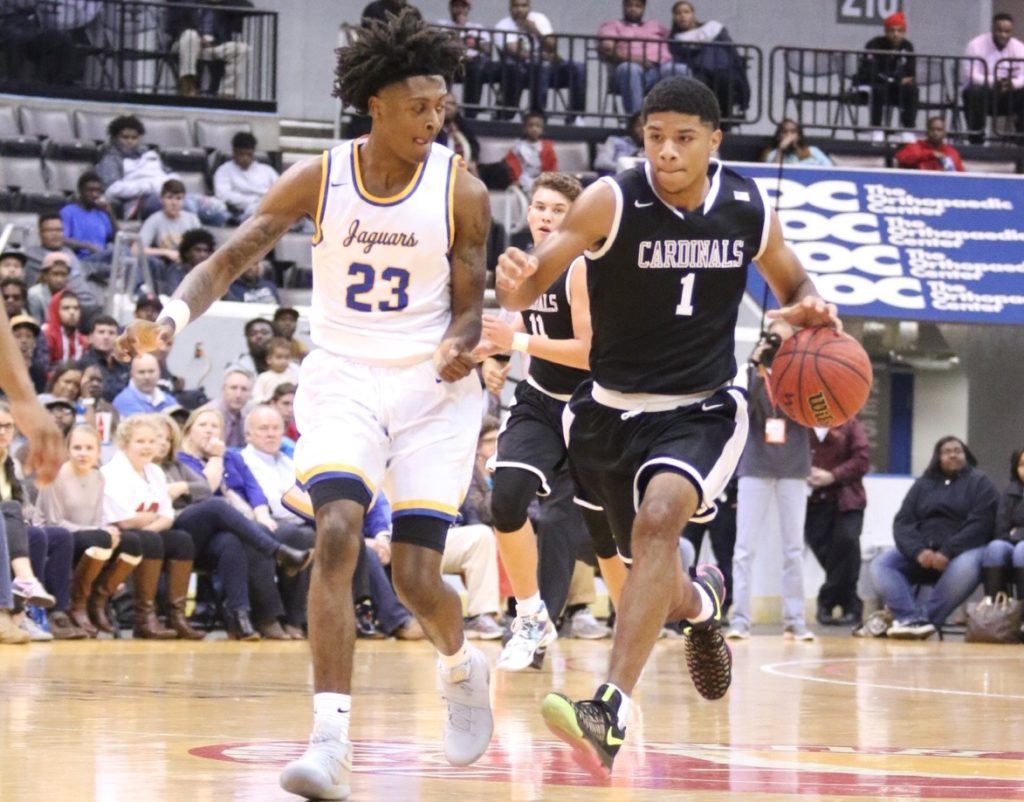 MAE JEMISON 57, SACRED HEART 53
SACRED HEART (0-1) – Diante Wood 1 3-6 5, Murdock Simmons 3 1-1 7, D.J. Heath 7 5-6 23, Dakota Myers 1 0-0 2, Kevion Nolan 5 0-0 12, Khalil Watkins 2 0-0 4. Totals 19 9-13 53.
MAE JEMISON (2-0) – Lajarrod Davis 0 1-2 1, Brandon McCarver 2 0-1 4, Brandon Crosby 0 0-0 0, Jaquavious Horton 0 0-2 0, Jamar Jackson 5 1-2 13, Devonte Lanier 7 3-6 17, Brandon Nicholas 0 3-3 3, John Petty 7 4-6 19. Totals 21 12-22 57.
Sacred Heart 11 13 14 15 — 53
Mae Jemison 12 7 19 19 — 57
3-point goals: Sacred Heart 6 (Heath 4, Nolan 2); Jemison 3 (Jackson 2, Petty). Total fouls: Sacred Heart 17, Mae Jemison 12. Officials: David Gregg, Art Young, Melvin Willis.