Taking a stand
Notes from AHSAA Media Day: Putting teeth in the recruiting rule, Mark Jones settling in, random notes
By Al Muskewitz
East Alabama Sports Today
MONTGOMERY — The Alabama High School Association introduced a harder line on the scourge of recruiting in high school athletics Tuesday, although some language in its rule could be interpreted to the contrary.
The new wording says a school "may be placed" on restrictive probation – effectively a one-year ban from the playoffs — if found in violation of the rules against recruiting. In addition, the coach doing the recruiting would be suspended by the AHSAA for a year and the player permanently ineligibility at the offending school.
The previous language said a school will face the restrictive probation sanction and a $300 fine, the player had to sit out one year to regain his eligibility and nothing happened to the coach.
The wording was changed to avoid punishing current players who likely had nothing to do with the infraction while increasing the burden of accountability on principals and coaches. Several programs have avoided the harsh sanction by relieving the offending coach of their duties.
"I was very thankful our schools changed the rule for one part of the rule when it said 'may be placed on restrictive probation,'" executive director Steve Savarase said during Tuesday's AHSAA Media Day. "We think our recruiting rule, if we compare it to those across the country, is one of the toughest recruiting rules.
"Is that going to stop recruiting in this state? Absolutely not. The only thing that will stop recruiting in this state is integrity of the people running the schools and the coaches of those teams."
How serious is the AHSAA about curbing recruiting. It has budgeted $100,000 for a five-person investigative team "strategically placed all across the state" whose primary focus is evaluating transfers "to make sure there was no third party involved in encouraging them to come to their schools."
Savarese declined to identify the members of the team, but described them as a private investigator, a former chief investigator for the attorney general's office, a retired Highway Patrol investigator, a retired school administrator and an investigative journalist. He said the team has been out twice already.
"This part is the part I never thought I'd ever see in education because we should not have to have an investigative team," Savarese said. "The administration and coaches at the schools should uphold the bylaws of this association, and it should not be that we have to send in the police to make sure they do. I'm embarrassed to even tell you that."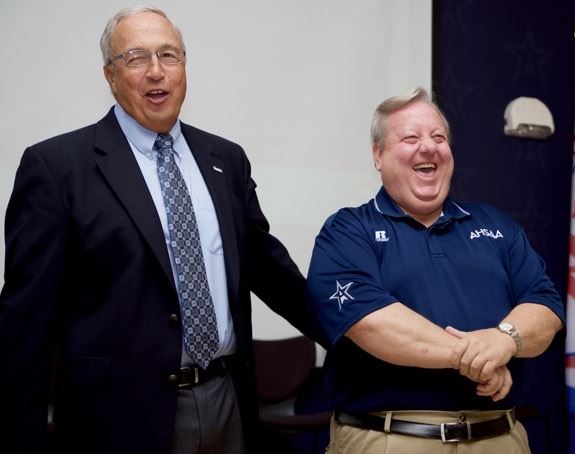 SETTLING IN: When Mark Jones takes over, he really takes over.
The longtime Calhoun County game official is coming to the end of his first month as the AHSAA's new director of officials, succeeding retired 30-year veteran Greg Brewer. He has gotten Brewer's position, his company car and was buying his house.
"Somebody said 'Thank goodness he was single,'" Jones said.
There are a lot of things Jones has been getting used to moving from Jacksonville to the state capital to oversee the administration of all the state's high school game officials.
He knows there are challenges as he moves officiating forward. One of the biggest planks in his platform is the recruitment and retention of officials; to that end, he hopes former players would begin getting involved in officiating.
"It's growing on me more and more every day that this was a good decision," he said. "Even though I've been in officiating a long time, being in this role it's a new job, a new learning experience. I told Coach Savarese in the interview my plan is to evaluate this first year of what all we're doing and how we're doing it and make adjustments after that."
LOOSE PAGES: The AHSAA has returned nearly $10 million in revenue sharing to its schools over the last seven years. Speaking of revenue, 279 of the AHSAA's 411 high schools participate in the NFHS trademark logo program, which returns about $100,000 to the schools … Savarese and AHSAA director of championships Marvin Chou are expected to meet with Alabama Golf Association executive director Andy Priest "pretty soon" to discuss the future of high school golf. Expect a procedure for resolving championship ties to be in the conversation. Twice in the last three years Calhoun County golfers – Alexandria's Jordan Gregoria and White Plains' Layton Bussey — finished tied for individual medalist in their classifications and were declared co-champions. … Savarese said instant replay in AHSAA games was in the "very embryo stage" and at least two years from being implemented in Alabama. … All three games in this year's Champions Challenge at the Cramton Bowl count as regular-season games. The series starts Thursday with Hillcrest-Tuscaloosa playing Demopolis. The other games are Hoover vs. Central-Phenix City Friday and Brooks-Andalusia Saturday.