Piedmont takes out nemesis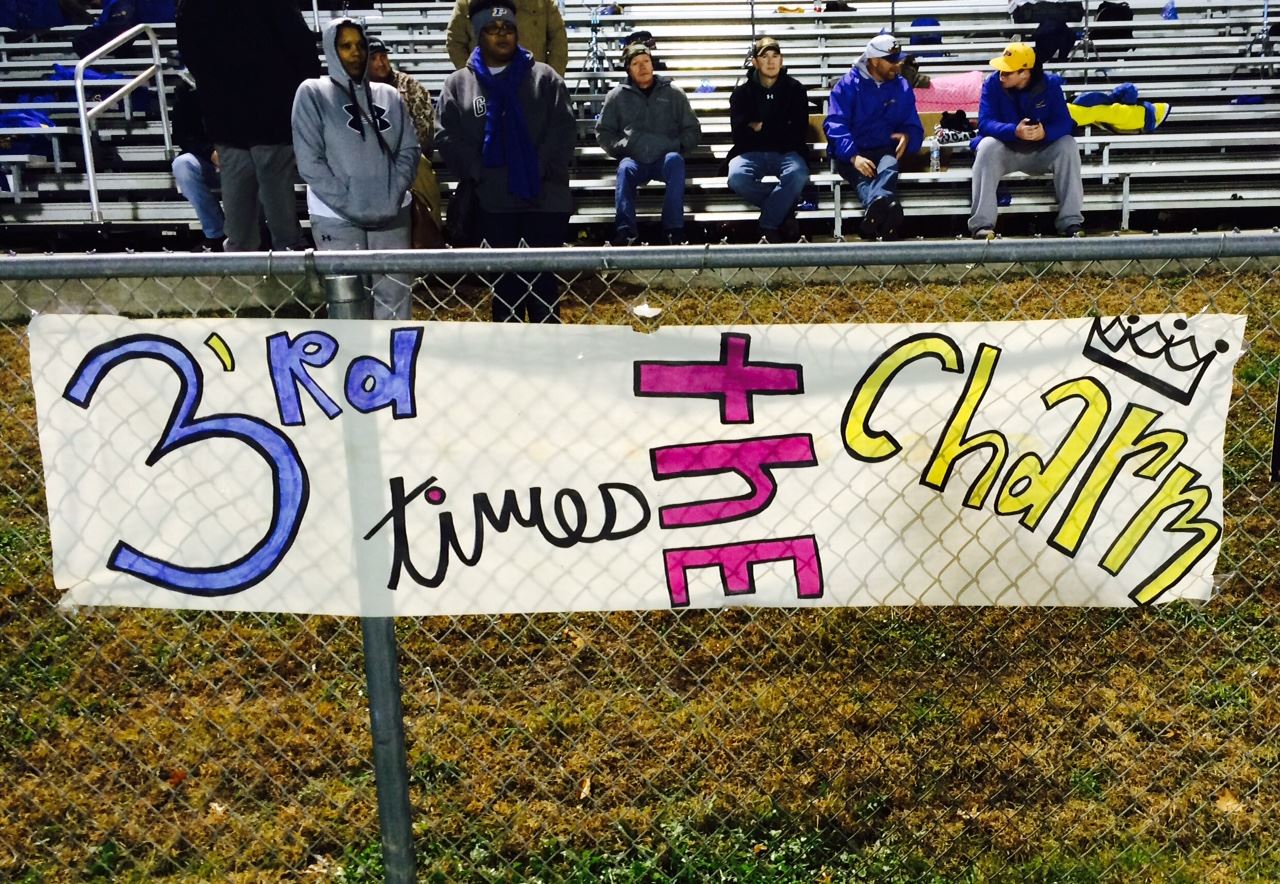 Bulldogs get physical with Madison Academy, put together a 'championship caliber drive' to secure 'one of the bigger wins we've had in a long time'
By Al Muskewitz
East Alabama Sports Today
HUNTSVILLE — The banner that hung on the fence behind the Piedmont bench said it all.
"Third times the charm," it read.
Truer words from a Bulldogs perspective may have never been spoken.
Each of the last two seasons the Piedmont football season ended bitterly in the playoffs against Madison Academy, but Friday night the Bulldogs got some payback.
They played a physical brand of football very much within their character and earned a 35-21 win over the three-time reigning state champions to reach the Class 3A semifinals for the first time since 2010.
"That was our motivation," Bulldogs quarterback Taylor Hayes said. "We knew we'd be back here. We've been marking this game down since last year … I've been with these guys since I was 9 years old, since my first snap of football. I'm not letting the seniors go out in the third round. We're going to fight til the end and that's what we did."
The Bulldogs (12-1) will play at Colbert County (10-3) next week in the state semifinals. Madison Academy made its earliest exit from the playoffs since 2010 and finished 11-2.
Hayes rushed for 128 hard yards and two touchdowns on 27 carries in the game. He was particularly impressive in directing an 80-yard, 17-play drive – all on the ground — he capped with a 9-yard touchdown run to give the Bulldogs a 28-14 lead with 6:32 to play.
Hayes had 41 yards on 10 carries in what Bulldogs coach Steve Smith called a "championship caliber drive" and Madison Academy coach Eric Cohu called the turning point of the game.
"I'm going to give all I got for my teammates because I know they were giving all they had for me," Hayes said.
Darnell Jackson picked up the rest of the yards in the drive. He rushed for 142 yards and two touchdowns on 19 carries, playing through a painful shoulder injury he sustained at the end of a 35-yard run late in the first quarter.
"We feel like we're a lot more physical football team," Smith said. "We didn't do anything real fancy there, but our line of scrimmage came off the ball and controlled the line, our backs ran extremely hard and we blocked well for each other. It was just an outstanding drive, a championship caliber drive."
The drive came after Bayley Blanchard intercepted a fourth-and-20 Grayson Edgemon pass in the end zone and helped the Bulldogs re-establish their dominance after losing some momentum late in the second quarter. The Mustangs had gotten inside Piedmont's 15 when Tyler Bobbitt threw Edgemon for a huge loss on third down.
Blanchard also intercepted Edgemon with 12 seconds left to secure what Smith called "probably one of the bigger wins we've had in a long time."
Blanchard was a factor on offense, too. He scored the game's first touchdown on a 53-yard pass from Hayes. The Bulldogs led 20-7 midway through the second quarter when Madison Academy tightened things on a 35-yard punt return for touchdown right before the half.
"This feels great, especially in this big of a stage, at their place, No. 1 and No. 3," Blanchard said. "Our coach did a great job of preparing us. We just came out and played."
Piedmont 35, Madison Academy 21
Piedmont 6 14 0 15 — 35
Madison Acad. 7 7 0 7 — 21
P – Bayley Blanchard 53 pass from Taylor Hayes (kick failed), 5:36 1Q
MA – Cole Tomlinson 38 pass from Grayson Edgemon (Michael Worley kick), 1:24 1Q
P – Darnell Jackson 6 run (run failed), 9:48 2Q
P – Hayes 8 run (Jackson run), 6:16 2Q
MA – Jaelin Ferdinand 35 punt return (Worley kick), 2:03 2Q
P – Hayes 9 run (Hayes run), 6:32 4Q
MA – Jordan Garrett 5 run (Worley kick), 3:54 4Q
P – Jackson 2 run (Kirk kick), 0:56 4Q
Team stats Pied MA
First downs 19 12
Rushes-yds 47-266 29-28
C-A-I 2-4-0 11-18-2
Passing yds 62 184
Fumbles-lost 1-0 0-0
Punts-avg 2-19.5 2-29.0
Penalties-yds 11-94 4-34