Saks rallies to sting Yellow Jackets
Lady Wildcats rally from match point in second set to win battle of top two county tournament seeds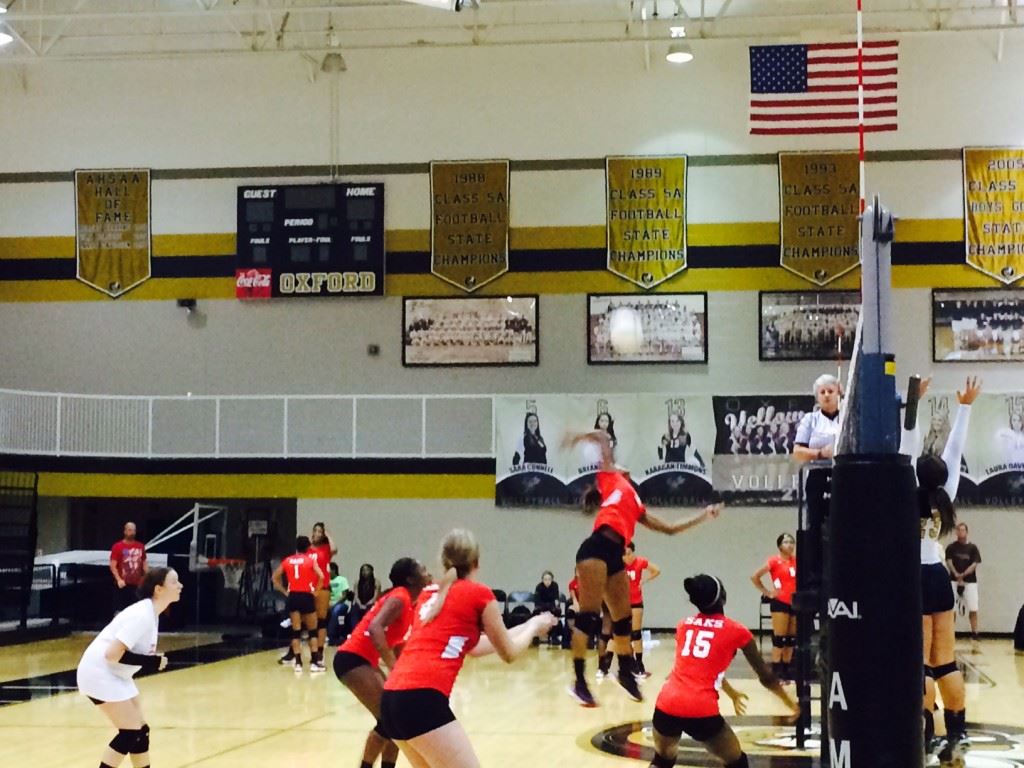 By Al Muskewitz
East Alabama Sports Today
OXFORD – Saks added a little more drama to an already anticipated Calhoun County Volleyball Tournament when it beat tournament top seed Oxford in three sets 2-1 Monday night.
The Lady Wildcats lost the first set 25-20, rallied from triple match point to win the second 26-24 when they were awarded the clinching point on a referee's red card, and rallied again from seven down to win the third 15-13.
"They're great kids; they've got a lot of character," Saks coach Randy Law said. "It wasn't our best game we played all year long, but they battled through and did what they had to do to win. They got in a big hole but they kept battling."
The match had everything you would expect from the two teams the county coaches considered this year's best in town — strong play at the net, dramatic digs, long rallies, even a little controversy. Oxford was installed as the No. 1 seed largely behind its then 7-1 in-county record.
Both teams beat Piedmont in two sets later in the evening.
This was the first time Saks and Oxford met this season, and it came five days after the county tournament seeding meeting. The earliest they could meet again is in next Monday's county tournament final at Jacksonville State, but as close as the tournament is to call there are no guarantees it will happen.
The Lady Wildcats (30-4) are on the apparent tougher side of the bracket, a side that includes No. 3 defending champion and area rival Jacksonville and arguably underseeded No. 6 Pleasant Valley.
"This could've gone either way and there's a lot of games (in the tournament) Saturday that can do the same thing," Law said. "We know we can beat them and we know there's a lot of teams that are going to be tough, and when the going gets tough we get going."
Oxford (25-11) took control of the first set with a 5-0 run that broke the ninth tie of the match. The Yellow Jackets appeared home free for a sweep opening a five-point lead late and leading 24-21 with Sara Connell serving for the match, then things got interesting.
The Jackets appeared to score the clinching point near the referee's chair at 25-23, but the play was negated. The Lady Wildcats eventually tied it, then took the lead 25-24 on a Baylee Snider kill.
At that point, with Jordan Briskey serving for the win, referee Becky Deeth issued the Oxford bench a red card for unsportsmanlike conduct in the gallery, awarding a point – the set clinching point – to Saks. The officials warned the crowd about artificial noisemakers earlier in the match.
"The way we played, we'll take a win any way we can get it," Law said. "We fought back to get back in the game and I hate that we won it that way, but we'll take a win. Then they came out and were just blocking everything we hit, but they just kept battling."
The red card seemed to motivate the Yellow Jackets. They scored the first seven points of the third set and appeared on the way to an finish win, but Saks rallied with the next seven points to tie it and the match went back and forth the rest of the way.
The match was tied five times after that, the last at 13-13. Winter Taylor's serve into the net put Saks ahead 14-13 and the Lady Wildcats ended it on a kill by Tayler Teague.
"I'm almost speechless the way we came back in that last one," Teague said.
Briskey had 11 kills in the match to lead Saks. Teague had nine kills, Snider had six and Jaelyn Wilson had 27 assists.
Breanna Nolan had 10 kills for Oxford, while Nyia Archie and Taylor had eight each. Archie had seven blocks, Timmons had 16 digs and Chloe Stone had 28 assists.
"I'm proud of my kids for fighting," Oxford coach Wendy McKibbin said. "Coach Law and his group are a good team and it was a good match; we've just got to learn to finish.
"We made too many mistakes at a costly time and we've got to learn when you're ahead with somebody you've got to finish the set. We've got to learn to play aggressive through the whole match."
The Yellow Jackets bounced back to beat Piedmont 25-8, 25-9. Laura Davenport had three kills and three digs, Taylor Ellison had three kills and five digs, Abby Bussey had three digs and an ace, and Timmons had seven digs.
DONOHO 2, GADSDEN CITY 0
DONOHO 2, SPRING GARDEN 0
Madison Gaines had nine kills and five aces as the Lady Falcons (24-6) swept their two matches.
They beat Gadsden City 25-9, 25-9, and Spring Garden 25-21, 25-18.
Katie Brown had five aces and 21 assists, Camille Fink had nine kills, Anna Marie Woodfin had 13 digs and Kayla Wallace had 10.
The Lady Falcons entertain Sacred Heart Tuesday with a shot to clinch their area title.