EASportsToday Cup finals set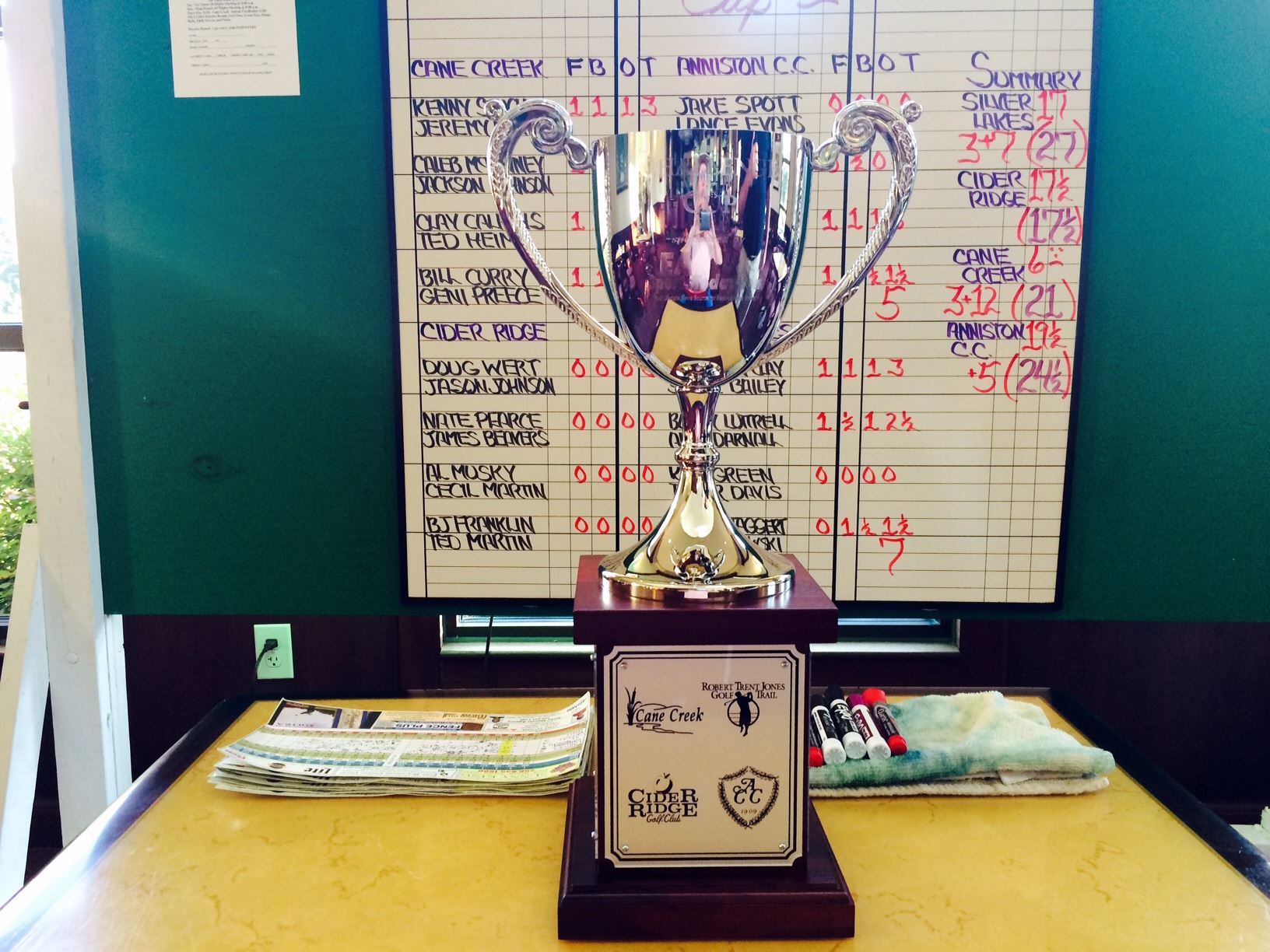 [corner-ad id=2]Silver Lakes, ACC to vie for inaugural championship in rematch of Friday's top match
By Al Muskewitz
East Alabama Sports Today
Silver Lakes captain Brennan Clay was convinced if his team took care of its business Friday everything would take care of itself.
The championship match for the inaugural EASportsToday Challenge Cup is set and it's a rematch of Friday's marquee matchup at Cane Creek.
Silver Lakes and Anniston Country Club will go into next month's finale at the RTJ Trail facility as the championship finalists after Silver Lakes beat top-ranked ACC 10-5.
The win gave Silver Lakes 27 points for the round-robin portion of the schedule, 2.5 points ahead of second-seeded ACC. Cane Creek pulled into third with a 15-0 sweep of Cider Ridge, which dropped from second to fourth.
"I didn't expect to be leading, but like I said yesterday, we just wanted to take care of what we could and we did, and now we're leading," said Clay, the Silver Lakes pro and captain. "It's been a really good last two events. We really circled the wagons."
The new No. 1 entered the day 2.5 points behind the Country Club. It picked up three points from Clay and first-time partner Steve Bailey and 2.5 points from Bobby Luttrell and Alan Darnall that proved to be the difference.
Senior partners Ted Klimasewski and Tim MacTaggart remained unbeaten in three Cup matches, but halved their match. They might have gone 3-0 for the third time in as many matches, but lamented incurring a penalty shot on one hole and picking up on another hole where they had a handicap stroke. Still, they remain the highest scoring players in the competition (7.5).
"We are very pleased with the way we played; however, we are two stupid men," Klimasewski said.
ACC's only win on the day came from the three points they got from Ryan Abernathy and John Lindsey.
"We're fortunate to be there; we didn't play our best today," ACC pro Jake Spott said. "I'm happy to be where we're at but we're obviously at a huge disadvantage at Silver Lakes (in the final). It's at their place playing us, but thankfully the points reset and if we have a good day we can still win the thing."
Cider Ridge had a chance to secure a spot in the championship match but was blanked by Cane Creek's first sweep in the series history. Cane Creek entered the day with only six points.
"I think they all are, as everybody is, comfortable on their own course," Cane Creek pro and captain Kenny Szuch said. "I'm happy for them. It's a shame they can't put on a last-minute surge next month."
SILVER LAKES 10, ANNISTON CC 5
Brennan Clay-Steve Bailey (SL) def. Jake Spott-Lance Evans (ACC), 3-0
Bobby Luttrell-Alan Darnall (SL) def. Don Whitlow-Bob Kennamer (ACC), 2.5-0.5
Ryan Abernathy-John Lindsey (ACC) def. Ken Green-Tyler Davis (SL), 3-0
John Carrozza-Bob Orchid (ACC) halved with Ted Klimasewski-Tim MacTaggart (SL), 1.5-1.5
CANE CREEK 15, CIDER RIDGE 0
Kenny Szuch-Jeremy McGatha (CC) def. Doug Wert-Jason Johnson (CR), 3-0
Caleb McKinney-Jackson Johnson (CC) def. Nate Pearce-James Beavers (CR), 3-0
Ted Heim-Clay Calkins (CC) def. Al Muskewitz-Cecil Martin (CR), 3-0
Bill Curry-Geni Preece (CC) def. Ted Martin-B.J. Franklin (CR), 3-0
NOTE: Winning teams receive an additional 3 points for the team victory.
EA SPORTS TODAY CHALLENGE CUP
Team standings
Silver Lakes 27.0
Anniston CC 24.5
Cane Creek 21.0
Cider Ridge 17.5
Individual points leaders
PLAYER, Club Total
Ted Klimasewski, SL 7.5
Tim MacTaggart, SL 7.5
Jake Spott, ACC 5.5
Brennan Clay, SL 5.5
Clay Calkins, CC 5.5
Landon Straub, CC 5.5
Don Whitlow, ACC 5
John Carrozza, ACC 5
John Lindsey, ACC 5
Lance Evans, ACC 4
Bob Kennamer, ACC 4
Jackson Johnson, CC 4
Kenny Szuch, CC 3.5
Jeremy McGatha, CC 3.5
Brian Woodfin, ACC 3
Jake Goggans, CR 3
Ted Martin, CR 3
Ralph Carter, CR 3
Frank Toland, CR 3
Landon Winfrey, CR 3
Mark Lee, CR 3
Austin Minter, SL 3
Ron Borchelt, SL 3
Ryan Abernathy, ACC 3
Steve Bailey, ACC 3
Geni Preece, CC 3
Ted Heim, CC 3
Caleb McKinney, CC 3
Bobby Luttrell, SL 3
Bill Curry, CC 3
Bob Orchid, ACC 2.5
Dustin Travis, SL 2.5
Alan Darnall, SL 2.5
Nate Pearce, CR 2
Jordan Evans, SL 2
Zach Contris, SL 2
Eric Stringer, ACC 1.5
Jeff Bain, CR 1.5
Don Maddox, CR 1.5
Chip Howell, CC 1.5
Tim Turner, CC 1.5
Tom Roberts, ACC 1.5
Jason Johnson, CR 1
Doug Wert, CR 1
Janson Wilborn, CC 1
James Rainwater, CR 0.5
Tim Steward, CR 0.5
Ken Green, SL 0.5
Dennis Moyer, CC 0.5
Bo Savage, CC 0.5
John Gasser, CR 0
Tyler Davis, SL 0
Dillon Davis, SL 0
Matt Rogers, CC 0
Grant Hockman, CC 0
John Michael Russell, CC 0
James Beavers, CR 0
Al Muskewitz, CR 0
Cecil Martin, CR 0
B.J. Franklin, CR 0