Svensen, Donoho win substate titles
[corner-ad id=1]Mid-week meeting sets Falcons on right path, Svensen shares medalist honors; PV's Turner advances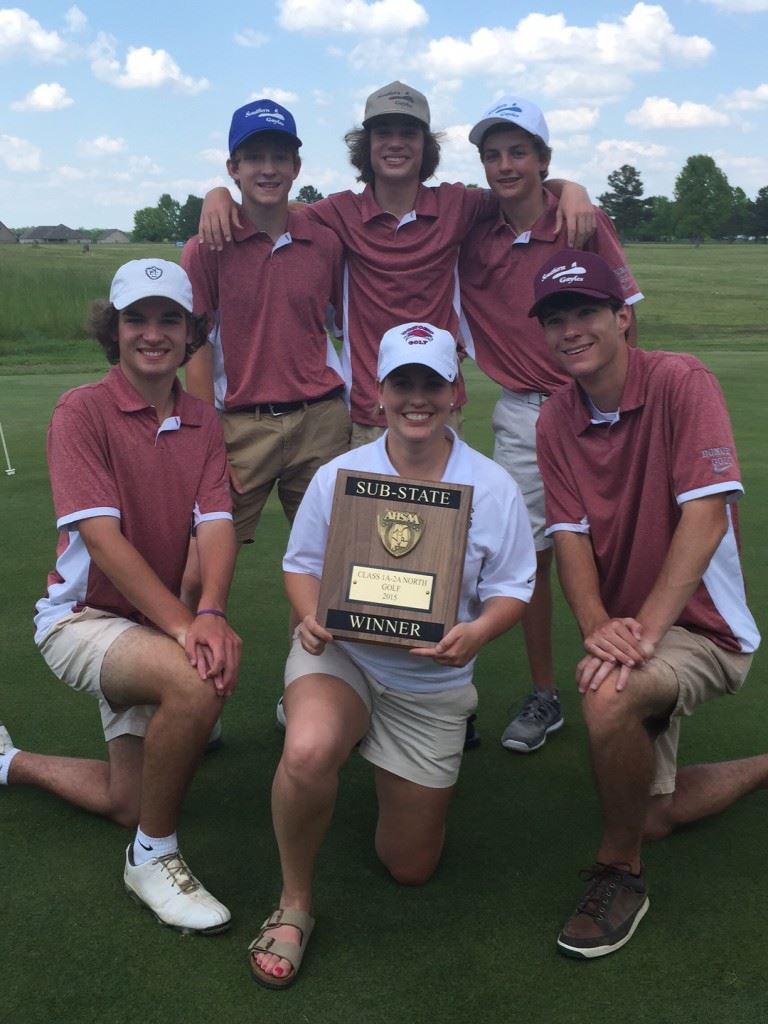 By East Alabama Sports Today
ATHENS — The Donoho golf team went from perhaps its worst collective round to its best in a matter of a week and won a substate championship Monday.
The Falcons posted 316 as a team and won the Class 1A-2A substate at Southern Gayles GC by 10 shots to advance to the state championship at Magnolia Grove for the first time in eight years. Junior Ross Svensen shared low medalist honors with Red Bay's Isiah Jackson after shooting 2-over-par 74.
Donoho also counted a 76 from eighth-grader Jacob Lecroy, an 82 from ninth-grader Jack Svensen and an 84 from junior Robert Clausen. Sophomore John Hutto shot 96.
A week ago, the Falcons won their sectional with a 340 and had no scores in the 70s. In their two previous tournaments, they finished ninth in the Oxford-Gadsden Invitational and third in the County Championship. A year ago they missed qualifying for the state by a shot.
"I feel the sectional was probably our worst round of the year altogether and today was probably our best as a team," co-medalist Svensen said. "We're all super excited about going to state; it's our first time for everybody on the team. Being low medalist was just kind of the cherry on top."
The key was what first-year coach Madison Williams called a "little motivational meeting" in the middle of the previous week to reaffirm expectations and get their priorities straight.
Svensen was 2-under through five holes Monday.
"I think we all were kind of going through the motions in practice and stuff," Svensen said. "The meeting kind of refocused everybody and made them a little more determined for the postseason. I think it was all kind of things we knew, somebody needed to say it to straighten us all up.
"At sectionals nobody really played their best; we all kind of did all right. I think today we all just knew we had a chance of winning if we played well and focused on every shot we had a chance at it. I think we all played pretty well today."
Elsewhere, the Oxford boys shot 353 in its 6A substate in Spanish Fort and failed to qualify.
1A-3A Girls: PV's Turner makes state
GADSDEN — Pleasant Valley junior Madilyn Turner shot 79 to advance as low individual in the 1A-3A girls North substate at Gadsden Country Club.
JCA's Chloe Borders was in a playoff for the second individual spot, but lost on the second extra hole to Westbrook's Hope Cone. They both shot 80.
Turner played the back nine in 2-over-par and birdied 18 to avoid the playoff some three hours after she finished her round.
"I am very excited," she said. "I thought I ended on a good note to get a birdie to draw my score down; I didn't know that I had won (low individual)."
Sometimes it's just better not to know. She had been playing the 18th as a par-4 throughout the weekend, but the tournament committee backed it up to a par-5 Monday — so boys and girls would both play at a par-72 — and she knocked in a three-foot birdie putt in the tournament round.
"I hit my second shot and it was about 30 yards from the pin and I started thinking this is crazy, it's a par-4," she said. "I asked (Cone) is this really a par-4 and she said no it's a 5. I was rather ecstatic I made that putt."
She said even if she knew she'd have probably played it the same way.