The swagger's in the dagger
Quirky talisman gives No. 3 Alexandria confidence entering the playoffs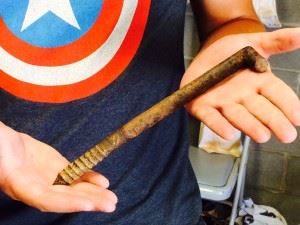 By Al Muskewitz
East Alabama Sports Today
ALEXANDRIA – The Alexandria baseball team has its dagger back — and its swagger.
The Valley Cubs (27-3) go into their opening-round series in the Class 5A playoffs against Springville (16-12) Friday with a No. 3 ranking, loads of confidence and one special piece of equipment you'll never find in your local sporting goods store.
They call it a "dagger," but it's actually a rusted 12-inch threaded spike. Call it what you want, but you can't argue with what it has come to represent.
The eerie thing is the Cubs haven't lost when it has been with them. They haven't won when it's not.
It has been lost, forgotten or hidden several times in the three seasons since Austin Wells found it somewhere he can't remember where now, but finding it has been like pulling the sword from the stone. The Cubs didn't have it with them three times this year and – yup – those were the three games they lost.
Wells usually takes it with him everywhere, but he left it behind Tuesday night and the Cubs lost at Oxford in eight innings on a walk-off dropped fly in the infield. The loss snapped a 20-game winning streak.
"The dagger is really important," catcher Derrik Turner said. "We take that stuff very serious.
"Most people don't believe luck's a big deal in this sport, but I'm a big believer in luck. Luck is you preparing yourself to get in that situation and if that situation is there the luck just happens to be there with you.
"Coach (Andy) Shaw tells us the reason we play good is because of all the hard work we do and all we put into it. I agree with that because we do put a lot of extra hours in … but it's always good to have a little bit of voodoo on the team."
Pitcher Justin Whitley called it "scary" the dagger's record of success. It has gone beyond coincidence now. It's borderline magical.
Wells found it before the playoffs in 2013. He took it with him in the first series and the Cubs won. He didn't have it for the opener against Jacksonville and they lost, but they came back to win the series. Shaw took it from them before the third game against Ardmore because shortstop Dalton Cobb agreed "it sort of looked like a weapon" and they lost ending their season.
It remained hidden last year until Wells found it in the middle of last season and the Cubs promptly went on an eight-game winning streak. It went missing again before Wells found it right before this year's season opener under a box while cleaning out the press box.
Each player makes sure they touch it before every game and they stick it in the ground during pre-game warm-ups. It's such a revered talisman it even has a special place in the Cubs' home dugout. It fits nicely in a knothole in one of the helmet rack and nothing but the dagger can be placed in there with it.
When someone gets a big hit or makes a big play, they'll take it out of the stall and bang it on the dugout to keep the rally going.
"When it's there, we win," Wells said. "If the dagger's not there everybody's asking 'Where's it at, where's it at;' we've got to go find it. It's like we think of it like psychological intimidation, like 'we've got it' or it's powerful or something. It doesn't lose."
Shaw is a man of science (he teaches physics) and begs off any responsibility for the dagger's powers or hiding it from the boys. He's glad the players have found something to rally around, but he's all about actions and reactions impacting the outcome of the games they play.
"I didn't know anything about it," he said. "I know a little metal thing they have, but I don't anything about that other stuff. I'm not very superstitious, but that's all them. As long as it's not a distraction, I don't mess with it."
Why tempt fate?
AHSAA Baseball Playoffs
County teams series
Friday's games
1A: JCA at Decatur Heritage, 1 p.m.
1A: Meek at Donoho, 2 p.m.
3A: Glencoe at Piedmont, 5 p.m. (3 p.m. Saturday, if necessary)
3A: Wellborn at Westbrook Christian, 5 p.m. (1 p.m. Saturday, if necessary)
4A: Cherokee County at Jacksonville, 4:30 p.m. (3 p.m. Saturday, if necessary)
5A: Springville at Alexandria, 4:30 p.m. (1 p.m. Saturday, if necessary)