Honoring the fallen
Updated: December 17, 2014
PV coach Davis pays moving tribute to fallen soldiers at Arlington
By Al Muskewitz
East Alabama Sports Today
Jeff Davis has lived what he would consider an average life that has had a good amount of travel. He has been to some of the most awe-inspiring and moving places in the United States, but he had never been to Washington, D.C., before this weekend.
The experience the Pleasant Valley football coach had on the trip would place it at the top of his list of all-time favorites.
Davis and his wife, Dotty, went to the Nation's Capital to participate in the Wreath's Across America program at Arlington National Cemetery, where, along with more than 25,000 others, they laid holiday wreaths at the gravesites of the nation's fallen soldiers.
"My wife and I love to travel together and we've been several places since we've been married, but what we did Saturday ranked maybe tops on our list," Davis said. "I considered it more of a privilege to do something in return for the sacrifice that those people who are interred there did for me, did for us."
Davis was similarly moved by a visit to the Oklahoma City bombing site. That experience moved him to tears and he still has trouble talking about it today.
Coach and the Mrs. laid wreaths at more than two dozen graves at Arlington. They were hopeful of placing one on the grave of James Arthur Preston, the uncle of Raiders' offensive line coach Ronnie Preston killed flying a combat mission over Laos, and either through fate or good fortune came upon it almost immediately upon entering the grounds.
While there, they also visited the John F. Kennedy gravesite and watched the changing of the guard at the Tomb of the Unknowns.
"It was very touching, very rewarding," Davis said.
The couple already has plans to return in 2015, and this time they plan to take in the rest of the sites in the Capitol district.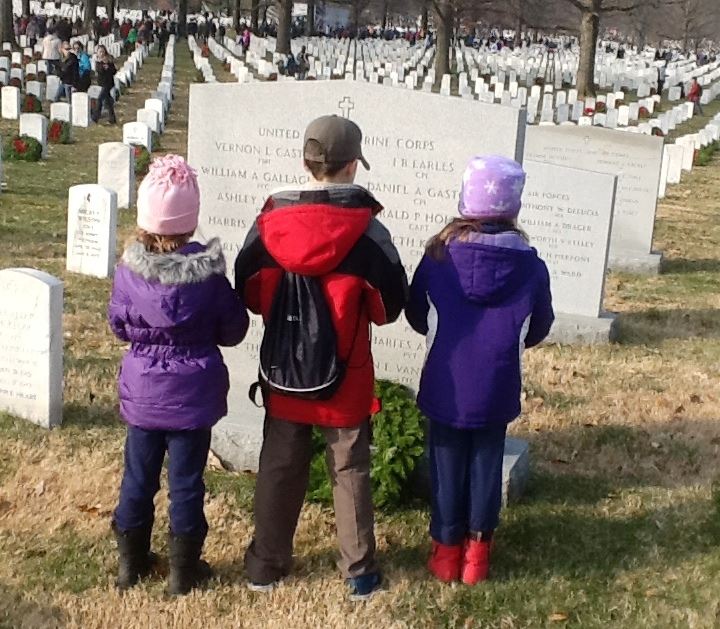 LOOKING FOR A HOME: The shuttering of Indian Oaks Golf Club has impacted a lot more than just local recreational golfers. Three high school golf programs in Calhoun County are now looking for a home course after the Saks area layout closed earlier this fall.
The teams from Alexandria, Saks and Weaver are all looking to get back in the fairway. Alexandria, it's believed, is likely to end up at Silver Lakes, but the other two programs – one with a first-year head coach – is still searching in the rough.
Stoney Brook and Cane Creek are the nearest full-service facilities to their campuses and coaches from Saks and Weaver are considering them, but Saks coach Michael Easley said he might even approach Anniston Country Club and Anniston Municipal as a solution. Anniston Municipal does not have a driving range.
"It's going to be harder on some of our students, but you've gotta do what you've gotta do," new Weaver coach J.D. Phillips said. "We haven't really nailed down a final decision yet, but I'm sure we'll come up with something."
Easley is even thinking outside the box for his practice options. While the possibility exists to play all his matches "on the road," he may ask for permission to turn an old schoolroom into a hitting bay so his players can groove their swings.
"I don't know what we're going to do," Easley said. "It's going to hurt us. It's going to be a hardship."
MYRTLE BEACH DAYS: Former Sylacauga standouts Brantley Carr and Jeremy Murphy, along with Huntingdon College teammate Zach Brownell of Prattville, are headed to Myrtle Beach this weekend to play in the fifth annual Division III Football Classic.
The game, ostensibly the D3 Senior Bowl, brings together the top Division III NFL prospect as part of the National Scouting Showcase and Collegiate Development Football League. The players report Thursday.
Carr caught 20 passes this season for 410 yards and six touchdowns. He had 50 catches for 975 yards and 13 touchdowns in his career and holds the Hawks' all-time record for yards per catch. His twisting touchdown catch on a reverse flea-flicker this season was named USA South Conference Play of the Year.
Murphy, a cornerback, had five interceptions this season and tied for the Division III lead with four blocked kicks. Brownell, a linebacker, was the conference Defensive Player of the Year with 99 tackles in eight games.