(Not so) Small Wonder
Updated: October 31, 2014
JCA's Brackett putting up big-time numbers in small-school world
By Al Muskewitz
East Alabama Sports Today
JACKSONVILLE — Daylon Brackett moves through the halls between classes at Jacksonville Christian Academy and there are no strangers. He's like the walking embodiment of the theme song from "Cheers." Everybody knows his name. Sure, JCA is a small school, but at 6-foot-3 Brackett is easy to spot.
Take him out of those halls, though, and beyond getting noticed as the tallest guy in the room, the Thunder senior quarterback might not get a second glance.
It always gives his father some quiet satisfaction when someone he meets from out of town, after finding out he's from Jacksonville, asks him if there isn't "some kid at a small Christian school up that way" lighting up the competition.
Those conversations by themselves tell you Daylon Brackett may be the best-kept secret in Calhoun County football the last two years.
His career numbers would make players at bigger schools envious — 101 touchdowns accounted for and nearly 10,000 all-purpose yards — but he has produced them in virtual anonymity, playing in the vacuum of a smallest school in the state and often in a lineup that includes a handful of seventh- and eighth-graders beside him.
"The one word that comes to mind (when he ponders his production) is just blessed," Brackett said. "Blessed to be out there with the guys every week and to have the ability to lead them, not just throw and run some touchdowns.
"Being at the smaller school, you don't get as much exposure, not many writers, you don't go on TV, not too much on the radio, but I don't think about that. I just go out there every week and play. I just do my thing and whatever happens happen."
Usually whatever happens has Brackett right in the middle of it.
Going into next week's playoff game at third-ranked Hubberville, Brackett has produced 9,540 career all-purpose yards – ninth on the AHSAA's career list — and accounted for 101 touchdowns. He has 39 TDs this season after scoring once Friday night against Verbena.
He already has passed the prolific Brodie Croyle on the all-purpose list, needs five yards to pass Tim Castille for eighth place and 314 yards to pass Jameis Winston for seventh. He is one of eight players to account for at least 100 career touchdowns — four shy of passing Winston on that list — and one of only five with 100 TDs and 9,000 all-purpose yards.
He had 3,548 all-purpose yards last year when he was the Class 1A all-state quarterback and with 3,404 yards this year he is only the second player with back-to-back seasons of 3,000 yards or more.
You want balance? He has 1,558 yards rushing and 1,530 yards passing.
If you're looking for comparisons, he has the stride of Matt Jones, runs the read option like Colin Kaepernick and, if you hold your eyes just right, he looks a little like Andrew Luck.
Thunder coach Tommy Miller doesn't hesitate in calling Brackett "the most impactful high school football player" he has ever coached, and he has been around a while. But he quickly adds the quarterback is just as impactful off the field as a student leader as he is inside the lines.
"He has had a big impact on our athletic program, period," Miller said. "I do think he is a well-kept secret. When he was a sophomore I knew he had potential to play college ball, but I didn't know if he would at quarterback. But he could play quarterback for a lot of people and he could play tight end or a slot or a safety for a lot of other people."
The college recruiters are starting to come around, but so far the only offer he has is from Division II Shorter, which wants him as a quarterback.
Brackett has been building his JCA resume since the seventh grade — amazingly, never missing a practice — and that longevity is part of the reason he's still in the program today, but his touchdown count didn't start until the ninth grade. And he actually began as a receiver, but he came in at quarterback at the end of the first quarter of the last game of his freshman year and hasn't come out since.
That first game under center was at homecoming against Meek and the senior in place was having trouble with the handle. They told Brackett to go in and make the handoff and the Thunder came back to win 20-19 on a two-point conversion at the end. Brackett scored the first of his 101 touchdowns that night.
And, yes, he knows the number.
"It's 100," Brackett said. "Not too many people get to do that. I can't think of better guys to play with and just thank the Lord for the chance to be out there and show my ability."
When one enjoys the production Brackett has in his small-school surroundings, the question invariably is asked how might he do in a bigger classification with larger player pools and potentially stronger competition.
Miller insists – and Brackett modestly agrees – the quarterback would have success on any level and, in fact, would be even more prolific playing up.
It's not like the public schools haven't pursued him. Jacksonville is said to have made a run at him this summer, but he remained at JCA – a tribute to his loyalty to Miller and character of commitment. The only way he would've left, it was said, is if Miller had decided not to coach the Thunder this season.
"We really believed what the school was doing here," Brackett said. "I love the school. I love how the coaches treat the players; they put us first and are always putting more God in us. To get that experience is not what you're necessarily going to get at public school. We just believed in staying here."
BEING (TD) ACCOUNTABLE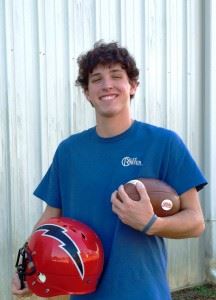 Here is a breakdown of Daylon Brackett's touchdown ledger
(By means)
Punt return – 1
Receiving – 6
Passing – 44
Rushing – 50
(By year)
Freshman — 6
Sophomore — 18
Junior – 38
Senior – 38