Donoho takes down No. 1
Updated: September 18, 2014
Second-ranked Donoho swept Sacred Heart 3-0 to clinch hosting its area tournament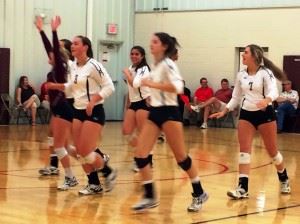 By Al Muskewitz
East Alabama Sports Today
Second-ranked Donoho played volleyball Thursday like there was more on the line than overtaking the No. 1 ranking in the state. And for the Falcons there really was.
Hosting the area tournament again was more on their minds than any poll and they played like it, driving with their families a couple miles down Golden Springs Road to sweep Sacred Heart — the No. 1 team in Class 1A — 3-0.
The game scores were 25-17, 25-19, 25-22.
"I haven't emphasized that at all; in fact, I kind of play down the polls," Donoho coach Janice Slay said. "I look at them every once in a while, but I don't live and die by those things. I think the girls do more than I do, so I don't talk about it with them.
"One of the things I do talk about is we have hosted the area for like a bezillion years. That's a huge deal, a huge honor, and this match determined if we were going to host the area or not."
The Falcons (10-7) came out like a team mad that the team on the other side of the net had its No. 1 ranking and opened a fast 15-3 lead in the first game. They closed out the match just as strong, much in the manner they beat Ohatchee earlier this week, rallying from a 20-10 deficit in the third game.
"Honestly, (the rankings) did have a lot to do with (the Falcons' play), but I feel more like we came together as a team and we knew what we had to do and pushed through to do it," junior outside hitter Kayla Wallace said. "We didn't really talk about how they were No. 1 and we were 2. We more talked about how we have to do what we have to do to push through and that we knew we could get through this."
Wallace had 11 aces, five kills and 15 digs. Senior middle Hannah Christian had eight kills and three blocks. Jordan Ray had four kills, 17 assists and 15 digs; Peyton Suco had eight kills and two blocks; and Anna Marie Woodfin had 16 digs.
Zainab Sanusi had eight kills for Sacred Heart. But the Cardinals made enough errors in the match to win a game.
For the Cardinals (15-8), the match represented a chance to stake their claim as new top kid on the block and set the tone for the rest of their season. They overtook Donoho for the top spot in the Class 1A poll two weeks ago, but they had never beaten the Falcons in the six years their respective coaches were in place and once again struggled in the face of the rivalry.
"We were really excited coming in here, (but) we have a hard time with the name 'Donoho'," Cardinals senior setter Anna Kerper said. "We've never beaten them before and it's just that name, Donoho, it haunts us."
"I really thought this was the first team I'd ever had that 'Donoho' wouldn't make a difference who was over there, but it absolutely did," Sacred Heart coach Robin Coplin said. "We just are not past it – and we may never be. I would've bet anything we were past it."
The Cardinals took their first lead of the match with a six-point run midway through the second game, but it didn't last long. With the score 16-14, Donoho scored eight of the next nine points to forge ahead.
The Cardinals looked like they were going to climb back into it in the third game. They opened leads of 10-2, 18-7 and 20-10, but couldn't finish. Donoho scored 11 of the final 12 points to complete the sweep.
"This team has been hard for me to figure out," Slay said. "Sometimes we go like a house afire and sometimes we plod along alike two mules pulling against each other in the field. It's hard to figure when they're going to do it and when they're not.
"We had a tight match with Ohatchee the other night and they came back from being really far down and kind of dug in. I think they're kind of getting the whole idea now that if they pull together rather than pull separately good things happen. You don't always win, but good things happen. We're kind of catching onto that now."
Al Muskewitz is Content Editor/Senior Writer of East Alabama Sports Today. To comment on this story or pitch a story idea, contact him at musky@wrightmediacorp.com and follow him on Twitter @easportstoday1.