Familiar team leads Buddy Moore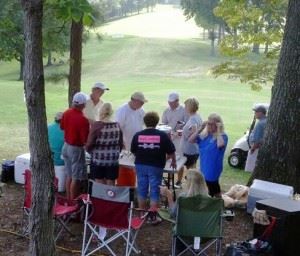 McGatha, Rogers team for 55, lead by 5 after first round
By Keith Robertson
Special to East Alabama Sports Today
Jeremy McGatha and Matt Rogers birdied 15 of 18 holes, shot 15-under-par 55 and opened a five-shot lead after the opening round of the Buddy Moore Charity Classic Saturday at Anniston Municipal Golf Course.
Benji Turley and Eric Cannington are second after posting a 10-under 60. Four other teams are tied at 61.
"Mama's calling" is what Coach Bear Bryant is famous for saying when he first agreed to become the head coach at the University of Alabama. The golfers who came to play this weekend at The Hill might say in the same revered tones, "Buddy's calling."
Golfers from throughout Calhoun County, Ranburne, Pell City, Lineville, Tuscaloosa, South Carolina. and Tennessee make the journey to "The Hill" to honor the longtime pro and Calhoun County Sports Hall of Fame inductee.
"I wouldn't miss this tournament for anything in the world," said Keith Gann of Old Hickory, Tenn. "I'm coming no matter what!"
The sentiment was the same throughout the 80-player field, which included Buddy's granddaughter, Ashley Bussey.
"My dad grew up on The Hill, and both my uncles have played golf here all their lives and I grew up playing golf here," said Will Mullendore, who came in from Columbia, S.C. "Buddy was good to all of us and there is no way I'm not playing in this tournament. That's the very least I could do."
No matter where you were on the course Saturday, you heard "Buddy stories" followed by laughter.
Tom Sawyer, who has played at the Hill almost 50 years, remembers, golfers asking Buddy what kind of shape the course was in and the response regularly was a jokingly "better than the golfer."
But the tournament is about more than retelling stories of the past. It has raised more than $30,000 over the previous five years to help families with extremely ill children. This year's goal is $10,000.
"One hundred percent of the proceeds go to help the families," committee treasurer Pat O'Brien said. "We could not have reached or goal without the support of our sponsors and the golfers who give so much in the name of Buddy Moore."
"At the end of the day, we come together to honor our friend and pro by helping severely ill children in his name," committee member Steve Mullendore said. "Buddy loved children and we know this is what he would want."
The tournament concludes Sunday with the 80-player field going off in two shotgun starts. No doubt they all will carry one of Moore's favorite sayings in mind.
He often would say, "May the Lord be with you and the wind at your back."
Here are the scores and Sunday's tee assignments:
Buddy Moore Charity Classic
First round scores
Buddy Flight
McGatha-Rogers 55
Turley-Cannington 60
Shockley-Poole 61
Brooks-Akers 61
Clonts-Key 61
Watkins-Lee 61
McGatha-Martin 62
Johnson-Salmon 62
Herndon-Strickland 62
Maryann Flight
Bonner-Hunter 63
Calkins Howell 63
Szuch-Hathorn 63
Sawyer-Tyson 63
Geeting-Davie 63
McClellan-Lane 64
Jackson-Preston 64
Whitaker-Thomas 65
Mullendore-Braxton 65
Collins-Wade 65
Carter-Carter 65
Scott Flight
Heim-Davis 65
Zinn-Whitley 65
Montgomery-Minter 66
Oswalt-Thomas 66
Bussey-Mangham 66
Jackson-Gilley 68
Mooneyham-Randall 68
Rogers-Gann 68
Mcginnis-Tanner 69
Cleghorn-Cleghorn 69
Moore-Prickette 69
Angie Flight
Hill-Davis 70
Mullendore-Mullendore 70
Ray-Renfroe 71
Pope-Pope 71
Dingler-Wray 72
Bass-Bass 73
Adcock-Hughes 75
Mullins-Higginbotham 75
Lewis-Lewis 76
Sunday's tee assignments
AM Shotgun
Hole 1A — Heim-Davis, Zinn-Whitley
1B — Montgomery-Minter, Oswalt-Thomas
2 — Bussey-Mangham, Mooneyham-Randall
3 — Jackson-Gilley, Rogers-Gann
4 — McGinnis-Tanner, Cleghorn-Cleghorn
5 — Moore-Prickette, Hill-Davis
6 — Mullendore-Mullendore, Ray-Renfroe
7 — Pope-Pope, Dingler-Wray
8 — Bass-Bass, Adcock-Hughes
9 — Mullins-Higginbotham, Lewis-Lewis
PM Shotgun
Hole 1A — McGatha-Rogers, Turley-Cannington
1B — Shockley-Poole, Brooks-Akers
2 — Clonts-Key, Watkins-Lee
3 — McGatha-Martin, Johnson-Salmon
4 — Herndon-Strickland, Bonner-Hunter
5 — Calkins Howell, Szuch-Hathorn
6 — Sawyer-Tyson, Geeting-Davie
7 — McClellan-Lane, Whitaker-Thomas
8 — Jackson-Preston, Mullendore-Braxton
9 — Collins-Wade, Carter-Carter