Piedmont: All about winning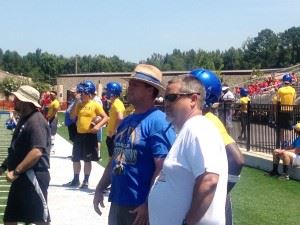 Bulldogs have won 79 games in last seven seasons, own county's longest active streak of non-losing seasons
By Al Muskewitz
East Alabama Sports Today
PIEDMONT – When a team has had as much success as Piedmont has under coach Steve Smith, there comes a reasonable expectation of winning.
The Bulldogs may not have as many players as they've had in the past and there may be some new faces in the lineup, but the program has progressed to the point that nothing short of continuing to win will be acceptable.
"We're definitely known for winning," receiver-cornerback Cody Daughtry said. "Everybody in the town has high hopes for us. We've got fans who come out there expecting a winning season each year. Even if we only have 11 people who have to play both ways every snap, they expect a winning season.
"And we've got people out there who want to win just as bad. They give 100 percent effort on the field. We come out prepared to win."
The Bulldogs certainly haven't missed the mark. They've enjoyed double-digit victories seven years in a row and have won at least 11 games every year from winning the Class 3A state championship undefeated in 2009.
They've never had a losing season or missed the playoffs in Smith's eight seasons. Their current run of eight straight winning seasons is the longest active streak in the county.
"When you get to a certain point, you want to have a level of expectation for your program," Smith said. "You want to have a situation where your kids are expected to be competitive every year and you expect to win.
"At small schools you have some cycles to go through. Part of coaching is adjusting to what you have and the make-up of your team each year."
The challenge this year is to keep the train moving in spite of what Smith called some "noticeable differences."
Most noticeable is a smaller group of players dressing out – 47 as opposed to the typical 60. And the Bulldogs won't be as big across their two lines.
"But that does not indicate the level of commitment the kids have this year," Smith said. "This is probably the hardest working bunch of kids I've seen in the summer and early part of practice. Even though we're smaller and smaller numbers, this may be the best group of football players we've ever had.
"It's all in the eyes of the beholder how you choose to view things, but I would not trade our kids for anybody else's."
Whether it's reputation or insight, the Bulldogs were installed as No. 2 in the Class 3A preseason poll despite the perceived shortcomings.
Dadeville coach Richard White isn't selling them short. His Class 4A team plays them in the Champions Challenge Saturday in Montgomery and he said "we just hope we can make a game" of the exhibition.
"We've seen some film on them and I don't know if we can stop them," White said, "but we're going to give it a shot."
Many have tried and failed. The Bulldogs have lost only four regular-season games over the last seven years. They haven't had a non-losing season since their current seniors were second-graders.
"We're really not that used to losing," said C.J. Savage, another receiver/cornerback. "We went undefeated in junior high. It feels good to have a winning season each year.
"I'd hate to be the one (that ends the run), but that's not on our mind. Our mind is about winning. All we do is win. That's what we're going to keep doing."
Al Muskewitz is Content Editor/Senior Writer of East Alabama Sports Today. He can be reached at musky@easportstoday1.

CONSECUTIVE NON-LOSING SEASONS
(Calhoun County schools)
Team Current (Most)
Anniston 1 (22)
Alexandria 0 (12)
Donoho 4 (6)
Jacksonville 2 (5)
JCA 0 (1)
Ohatchee 0 (12)
Oxford 6 (14)
Piedmont 9 (9)
Pleasant Val. 0 (2)
Saks 3 (6)
Weaver 0 (4)
Wellborn 4 (9)
White Plains 2 (2)
PIEDMONT BULLDOGS
Aug. 23 — vs. Dadeville (Champions Challenge, Montgomery)
Aug. 29 — Cherokee County
Sept. 5 — at Ashville
Sept. 12 — Ohatchee
Sept. 19 — at Glencoe
Sept. 25 — Leeds
Oct. 3 — Pleasant Valley
Oct. 10 — at Wellborn
Oct. 17 — at Westbrook Christian
Oct. 24 — Weaver
Oct. 31 — at Oneonta