'Twig' leads County by 3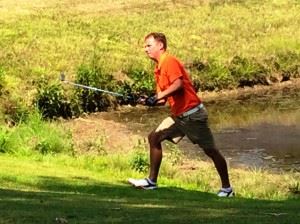 COMPLETE SCORES AND SUNDAY TEE TIMES INCLUDED
Wigington's mid-round birdie barrage puts him in position for 6th title, 3rd top player award
By Al Muskewitz
East Alabama Sports Today
Gary Wigington spent the final few moments before his second-round tee time Saturday chipping on the practice area adjacent to the first tee.
Each of the last two balls he pitched onto the green rolled toward the hole, hit the little flagstick and bounced inches away. It proved to be a good omen.
Wigington chipped in twice for birdie – and made another from off the green – during an eight-hole birdie barrage that helped him come back from an early disaster and open a three-shot lead going into Championship Sunday of the 78th Calhoun County Championship.
"One thing I've practiced real hard on the last month has been my short game," Wigington said. "Every course you play, that's the most important part of the game, but especially Pine Hill and out here, because you're going to miss some greens out here.
"You're at 7,000 yards, you're hitting longer irons (into greens), you're going to miss some greens. Whoever gets up and down the most, saves those shots, has a great chance of winning so I've been working on it more than probably any part of my game the last month.
"It's a big relief knowing that if you miss the green you have the confidence you're going to get it up and down or possibly better. It's just been a real plus for my game for the short game to be as good as it has been."
On a day of big swings, Wigington shot 3-under-par 69 at Cane Creek for a two-day total of 9-under 135. He is three shots ahead of Jeremy McGatha and five ahead of Cypress Hathorn. McGatha shot 72, while Hathorn shot 70 for the second day in a row.
At the current projections, Wigington would win his fourth County Championship title in five years and an unprecedented third straight Calhoun County Player of the Year award Sunday. Expectations are high.
"I can't win it, he's got to lose it; it's gonna be that way," said Hathorn, one of only two players in the field with two rounds under par. "He's got to do something out of character for him, and so will Jeremy.
"I didn't play with him today, but I talked to Jeremy and Matt (Rogers) and both said (Wigington's round) could've been better. Yesterday I played with him and it could've been better. I think we're looking for second."
If Wigington does win, it will be his sixth Calhoun County title, tying him with Chris Banister and Eric Hamilton for most in tournament history. Banister won in 1955, 1961, 1969-71 and 1973. Hamilton won in 1981-84, 1994 and 1996. Wigington also won in 1999, 2004 and 2010-12.
Wigington's Saturday chip-ins — on 8 with an L-wedge and 10 with a 9-iron, both from just off the green — were part of six birdies in eight holes that followed a disastrous double-bogey on the par-3 sixth. The run started when he putted in for birdie from off the green on 7.
The double-bogey was the key element in a four-shot swing over two holes that gave McGatha a three-shot lead. Wigington's 6-iron found the greenside bunker off the tee; he left his second shot in there and two-putted once he found the green. McGatha, meanwhile, made long birdie putts on 5 and 6 to make the misfortune even more painful.
From there, Wigington refocused and birdied 7, 8, 10, 12, 13 and 14 to go four ahead with four holes to play.
"I was 3-over after 6 and really hadn't hit a bad shot," Wigington said. "(The double) did make me mad, but I knew I had to be patient because I was hitting the ball good. I knew I still had some good holes in me if I'd be patient and not let it blow my whole round up. … I was really proud of coming back after being 3-over after 6 and not letting it just kill my day."
While Wigington was stepping on the gas, McGatha couldn't find the brake to keep pace. He bogeyed 10 after barely clearing both hazards to lose the lead and played catch-up the rest of the day.
He did clip two shots off the lead on 16 with a birdie to Wigington's bogey, but dropped another stroke back on the last hole when Wigington birdied and he missed a six-foot uphill putt for birdie.
Ironically, it was the same putt, to the same hole location, he missed on the final day of the 2010 County to win; he wound up losing to Wigington on the fourth playoff hole. He admitted those ghosts probably played on his mind too much standing over Saturday's opportunity.
"To beat Twig you can't miss short putts and you've got to capitalize," McGatha said. "When he's hitting his driver and 3-wood as straight as he is, it's hard to beat him. If I'm gonna beat him, I can't miss four-footers, I can't three-putt from 10 feet, I can't miss the six-footer straight up the hill on the last hole. You've got to play perfect to beat him and I didn't."
McGatha still has a chance to win his own third Player of the Year award by coming back and winning Sunday. But the tournament is his only focus.
"I've caught myself in this thing before worrying too much about Player of the Year," he said. "I need to win the County so I can get my third one (of those). I've been stuck on two since '07. (He has been runner-up four times) I've been playing decent out here and coming too close. It's going to be tough being three back, though."
Al Muskewitz is Content Editor/Senior Writer of East Alabama Sports Today. He can be reached at musky@wrightmediacorp.com and followed on Twitter @easportstoday1.

78th Calhoun County Championship
At Cane Creek GC
Championship flight A
Gary Wigington 66-69—135
Jeremy McGatha 66-72—138
Cypress Hathorn 70-70—140
Jaylon Ellison 68-74—142
Ty Cole 71-72—143
Grant Hockman 73-70—143
Andrew Brooks 73-73—146
Lance Evans 74-73—147
Nick Pollard 71-76—147
Matt Rogers 70-78—148
Jason Johnson 72-76—148
Scott Smith 74-75—149
Scott Eaton 73-76—149
Jeff Borrelli 74-76—150
Kenny Wright 77-74—151
Ott Chandler 77-75—152
Championship flight B
Adrian Geeting 74-79—153
Billy Thompson 74-79—153
Jameson Deering 75-79—154
Caleb McKinney 75-79—154
Landon Straub 75-79—154
Allen Mangham 77-77—154
Keith Raisanen 71-84—155
Josh Poole 74-81—155
Daniel Black 74-81—155
Benji Turley 78-78—156
Clay Calkins 75-81—156
Robin Wood 76-81—157
Tim Steward 75-82—157
Frank Toland 74-83—157
Layton Bussey 76-84—160
Mike Lett 75-87—162
Dan McClellan 78-86—164
First flight
Dalton Chandler 72
Janson Wilborn 72
George Salmon 74
Dakota Yawn 75
Chip Howell 76
Jacob Lecroy 77
David Sanders 79
David Martin 79
T.J. McGatha 80
Second flight
Mark Cotton 83
Bo Savage 83
Ted Heim 83
Justin Bates 84
Austin Minter 84
Steve Davis 84
Tim Davis 85
Rick Dickson 85
Rocco D'Gomez 86
Johnny Barnes 86
Jimbo Phillips 88
Kelly Rogers 88
Heath Waldrop 89
Jackson Johnson 90
David Gilley 93
Mike Scales 94
Sunday's tee times
9 a.m. – Jackson Johnson, Caleb McKinney, Landon Straub, Mike Scales
9:10 – David Gilley, Heath Waldrop, Kelly Rogers, Jimbo Phillips
9:20 – Johnny Barnes, Rocco D'Gomez, Rick Dickson, Tim Davis
9:30 – Steve Davis, Austin Minter, Justin Bates
9:40 – Ted Heim, Bo Savage, Mark Cotton
9:50 – T.J. McGatha, David Martin, David Sanders
10:00 – Jacob Lecroy, Chip Howell, Dakota Yawn
10:10 – George Salmon, Janson Wilborn, Dalton Chandler
10:20 – Dan McClellan, Mike Lett, Layton Bussey, Keith Raisanen
10:30 – Robin Wood, Tim Steward, Frank Turley, Benji Turley
10:40 – Clay Calkins, Daniel Black, Josh Poole, Allen Mangham
10:50 – Jameson Deering, Billy Thompson, Adrian Geeting
11:10 – Ott Chandler, Kenny Wright, Jeff Borrelli, Scott Eaton
11:20 – Scott Smith, Jason Johnson, Matt Rogers, Lance Evans
11:30 – Nick Pollard, Andrew Brooks, Grant Hockman, Ty Cole
11:40 – Jaylon Ellison, Cypress Hathorn, Jeremy McGatha, Gary Wigington