Wigington, McGatha grab County lead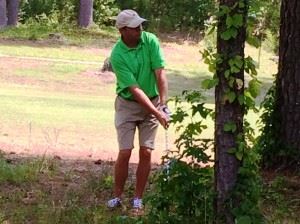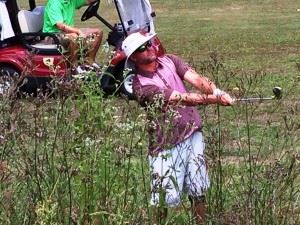 SCORES, PAIRINGS INCLUDED
Tournament pace-setters shoot 6-under 66s, lead by 2 shots
78th Calhoun County Championship
Saturday's pairings
9 a.m. – Jeremy McGatha, Gary Wigington, Jaylon Ellison, Matt Rogers
9:10 – Cypress Hathorn, Ty Cole, Keith Raisanen, Nick Pollard
9:20 – Jason Johnson, Andrew Brooks, Grant Hockman, Lance Evans
9:30 – Frank Toland, Jeff Borrelli, Adrian Geeting, Josh Poole
9:40 – Billy Thompson, Scott Smith, Mike Lett, Caleb McKinney
9:50 – Landon Straub, Clay Calkins, Daniel Black, Jameson Deering
10:00 – Tim Steward, Robin Wood, Ott Chandler, Allen Mangham
10:10 – David Sanders, Chip Howell, Dalton Chandler, Tim Davis
10:20 – Mark Cotton, David Martin, George Salmon, Janson Wilborn
10:30 – Dakota Yawn, Heath Waldrop, Justin Bates
10:40 – Austin Minter, David Gilley, Jimbo Phillips
11:10 – Rocco D'Gomez, Bo Savage, Kelly Rogers, Jackson Johnson
11:20 – Rick Dickson, Steve Davis, Ted Heim, T.J. McGatha
11:30 – Johnny Barnes, Mike Scales, Jacob Lecroy, John Lindsey
1:30 p.m. – Dan Griffin, Dan McClellan, Scott Eaton, Kenny Wright
1:40 – Benji Turley, Layton Bussey
By Al Muskewitz
East Alabama Sports Today
Gary Wigington was alone and diligently working on the practice putting green when Jeremy McGatha was coming off the 18th green with the low round of the morning.
He was told 6-under-par 66 was the number to match and he just continued working on his stroke as if he were told dinner was being served at 5 o'clock.
Then, when his tee time arrived, he went out and matched the 66 — making eagle on the last hole — to tie McGatha and grab a share of the first-round lead in the 78th Calhoun County Championship at Cane Creek Golf Course.
The pace-setters lead by two shots over Jaylon Ellison and four over Matt Rogers and Cypress Hathorn. Three other players, including County Tour points leader Ty Cole, were at 71.
"I knew there was going to be some pretty good scores today, because they had it playing up," Wigington said. "And I figured there would be two or three in the 60s, and if somebody played real good they could get it 65-ish. So, I was kind of expecting something like that, especially because Jeremy's playing good and it's his home course. It didn't surprise me at all.
"I knew what I had to do. You just don't want to shoot yourself out the first day and I knew I just had to do what I planned on doing, stick to my game plan and let it happen. And fortunately it did."
Wigington made his move with three straight birdies coming to the turn. He was in position to overtake the lead after getting it to 4-under through 15, but pushed a five-foot birdie putt on 16 and had to make an incredible par save on 17 after hitting it over the green from fairway bunker.
That led him to 18, where he drew even with an eagle, nearly holing a 7-iron from 185 yards for double eagle.
"I killed it; I hit it just as solid as I could hit it," he said of the approach shot. "I didn't think that could get me in any trouble, over in the hazard there. I was trying (to make eagle); I was wanting to give myself a putt at it anyway."
With all that's at stake this weekend, McGatha knew the importance of posting a low number early.
Cole, Grant Hockman and McGatha – currently 1-2-3 in the County Tour points race – all could become County Player of the Year if they win this weekend. Wigington can as well – for a third year in a row – if he wins the tournament and Cole and Hockman don't finish higher than third.
Cole and Hockman fell back Friday, shooting 71 and 73, respectively. All the contenders are concentrating on the tournament, saying if they win it, the rest will take care of itself.
"It's a long tournament," McGatha said. "The next two days from the blues are going to be even tougher because it's so dry.
"So, saying that, I knew it was important to get a good round today. I didn't come out here expecting anything. Honestly, it all fell together."
McGatha's round featured five birdies, one bogey and an eagle. He did most of his damage on the front nine, playing the first four odd-numbered holes in 5-under, including a chip-in eagle on No. 5.
"I just wanted to start off good and not do anything crazy," he said. "Being 5-under through seven I actually got in my own way a little bit. I got a little nervous, thinking I've got a chance to make a good score."
That kind of thinking bit him on 9 when he made his only bogey after finding hard-pan off the tee and the greenside bunker. He did have two birdies on the back, but said his play on that side was "nothing spectacular."
Rogers had a share of the lead at 4-under after a birdie on 10, but he then suffered back-to-back bogeys. The first bogey was set in motion by a tee shot into the left trees on 11. Then he missed the green on 12, chipped up and two-putted.
"That tee shot on 11 always gets in my head," Rogers said. "I'm always thinking about it. I've pulled it a lot there over the years.
"Other than maybe three shots, I played steady. I wanted to shoot something in the 60s, but I missed it by one. I'll take it."
Ellison climbed into contention on the strength of a 5-under back nine. He made four birdies in row (11, 12, 13 and 14).
Cole had a frustrating day, although he did finish eagle-birdie to get his round under par. He was 2-over coming to 17, drove the green and made a 12-foot putt for the eagle. He entertained thoughts of 2-3 eagle-eagle finish but hit his second shot on 18 left of the green.
"I'm mad," he said. "When you've got to go eagle-birdie on the last two holes to even get under par it's a bad day. The bogeys I made today were dumb bogeys. They weren't bad-shot bogeys, they were dumb bogeys."
Perhaps no round was a wild as Hockman's. He didn't make a par until the sixth hole – starting with two birdies, two bogeys and a double – then he closed with birdies on each of his last two holes to keep from falling farther off the pace.
"I was nervous on the first tee and it followed me around the whole day," Hockman said. "That's why I made that reference to Bernd Wiesberger (in an East Alabama Sports Today story earlier this week). These guys who have been here before, they're comfortable, they don't get nervous. I was nervous as hell. They could see it."
Wiesberger, of course, is the little-known Austrian golfer who was paired with tournament leader (and eventual winner) Rory McIlroy in last Sunday's final round of the PGA Championship.
If there's a redeeming moment, it's that the nerves came in the first round with room to recover. Hockman isn't sure there's enough time.
"You ain't going to catch Jeremy," he said. "I hung there — it was good for me — but you're not going to catch him at 6-under."
A few hours later, Wigington did.
Al Muskewitz is the Content Editor/Senior Writer of East Alabama Sports Today. He can be reached at musky@wrightmediacorp.com and followed on Twitter @easportstoday1.
78th Calhoun County Championship
At Cane Creek GC
Championship flight qualifying
Jeremy McGatha 32-34—66
Gary Wigington 33-33—66
Jaylon Ellison 37-31—68
Matt Rogers 33-37—70
Cypress Hathorn 36-34—70
Nick Pollard 39-32—71
Ty Cole 37-34—71
Keith Raisanen 36-35—71
Jason Johnson 36-36—72
Andrew Brooks 36-37—73
Grant Hockman 38-35—73
Scott Eaton 38-35—73
Scott Smith 38-36—74
Frank Toland 37-37—74
Lance Evans 38-36—74
Daniel Black 36-38—74
Billy Thompson 36-38—74
Jeff Borrelli 39-35—74
Adrian Geeting 39-35—74
Josh Poole 36-38—74
Mike Lett 36-39—75
Jameson Deering 38-37—75
Tim Steward 37-38—75
Clay Calkins 36-39—75
Caleb McKinney 36-39—75
Landon Straub 36-39—75
Layton Bussey 37-39—76
Robin Wood 38-38—76
Kenny Wright 38-39—77
Ott Chandler 38-39—77
Allen Mangham 39-38—77
Failed to qualify
Chip Howell 39-39—78
David Sanders 39-39—78
Dalton Chandler 39-39—78
Benji Turley 44-34—78
Dan McClellan 38-40—78
George Salmon 41-38—79
David Martin 42-37—79
Janson Wilborn 39-42—81
Austin Minter 43-39—82
Dakota Yawn 40-42—82
Heath Waldrop 42-42—84
Justin Bates 46-46—92