Piedmont, Dadeville set for Challenge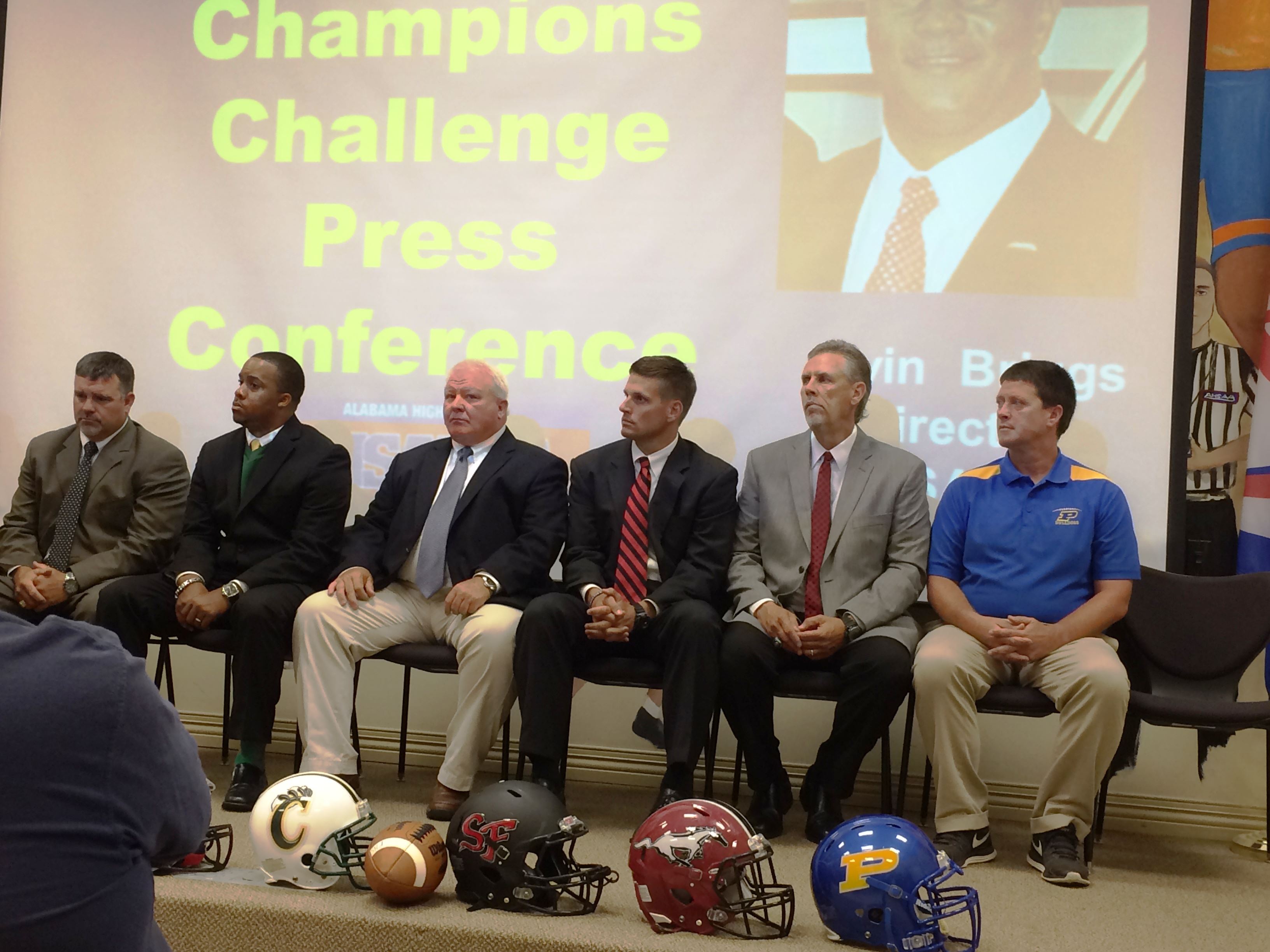 UPDATE
Teams with similar recent histories meet in Cramton Bowl preseason game
By Al Muskewitz
East Alabama Sports Today
MONTGOMERY – Steve Smith may have come in a little underdressed for the occasion, but there was no disputing he deserved a seat at the table.
The Piedmont football coach had to apologize for his attire Wednesday at the press conference for next week's Champions Challenge at the Cramton Bowl where the Bulldogs play Dadeville at 5 p.m. Aug. 23.
The five other head coaches on the stage – from Stanhope Elmore, Carver-Montgomery, Spanish Fort, Opelika and, of course, Dadeville — were all decked out in coats and ties, while Smith sat on the far right in a Piedmont blue-and-gold coach's polo and khakis.
"I'm going to ask our local media to not take a group picture, please, because the last thing out of my wife's mouth was, 'You're not going to wear your suit?'" Smith said as he opened his remarks. ""When they sent us the instructions they gave us an 'either or' — you can wear a suit or you could wear your coaching attire.
"When I got up this morning I tried to think like a coach … because they asked that the kids wear their jerseys (so) if they're going to do that I'm going to wear my coaching attire. I figured I'd get up here and if anybody was in a suit, that would be the odd person … but I thought wrong. I'm going to have to do a lot of apologizing when I get home, I'm sure."
That was the last thing he apologized for. His team may be in what he called a "transitional state," but it still goes into the game ranked second in the Class 3A preseason poll. Dadeville is ranked preseason No. 3 in Class 4A.
"I'm not going to sell my guys short," Smith said.
The Piedmont captains in attendance with him – quarterback Tyler Lusk, receiver-cornerbacks Cody Daughtry and C.J. Savage and running back-safety Dreek Thompson – all got a charge out of their coach's unintentional fashion faux pas. They just couldn't understand the fuss.
"That's his usual look," Savage said. "That's the way Coach Smith dresses every day. I never see Coach Smith in a tie or a suit."
Dadeville coach Richard White had an apology to make, too. He arrived at the AHSAA headquarters without a Dadeville helmet, leaving only five on display on the stage. He explained he left it in his truck after going round-and-round deciding which vehicle to transport his entourage to the meeting.
"I got an email yesterday that said you need to bring a helmet," White said. "I jumped in my vehicle, went down to the field house and got a brand new helmet, striped it up, put the logo on it and put it in the back seat of my truck. That's what I thought we were coming in.
"My wife gets home and says you can go in the other vehicle; it has more room. So, I put the helmet in it. But then she had to have the vehicle, so I put it back in the truck. Well, this went back and forth. Well, guess what? I got to bring her vehicle, but the helmet's in my truck. I knew I forgot something."
White had been looking for a game at the time he received the call to play in the Champions Challenge. There was no opponent when Smith was asked but he had gotten assurances organizers strove for equitable matchups, yet the 4A Tigers weren't one of the teams on the list of prospective opponents. Still, he was appreciative of the opportunity to give his players a new experience.
"Being a small school, a rural community like we are in Piedmont, the opportunity to come to Montgomery and let our kids experience Cramton Bowl and … play someone quality like Dadeville we otherwise wouldn't see is just a great opportunity for us … to get outside the box a little bit," he said. "it was something I didn't feel like we needed to pass up. I felt we'd be cheating our kids and our school and our community if we didn't take advantage of the invite that was extended."
Even though the teams play in different classifications, there are some similarities between the programs – particularly in the way their seasons ended a year ago. Over the last six seasons both teams have won at least 10 games and made the playoffs. Last year both went 11-2 and lost to private school powers by similar one-point scores in the third round of the playoffs.
"We've seen some film on them and I don't know if we can stop them, but were going to give it a shot," White said. "Their program has been there in the playoffs, deep in the playoffs, for the last eight or 10 years so we know what our challenge is ahead of us. We just hope we can make a game of it."
The game will not count in the standings for either team – the participants were left the option to count it as a regular season game or an exhibition — but that doesn't take away from the either teams' approach to it.
"Our coach told us if they're keeping score then it's a game," Savage said. "It doesn't count on our record, but we don't win, we're still going to look back on it and say we lost."
Al Muskewitz is Content Editor/Senior Writer of East Alabama Sports Today. He can be reached at musky@wrightmediacorp.com and followed on Twitter @easportstoday1.Piedmont