Standing tall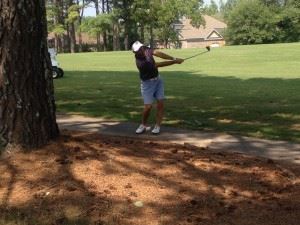 Wigington overcomes early bogey, shoots 63, wins Pine Hill with record-tying score
WRITE-THRU WITH SCORES
By Al Muskewitz
East Alabama Sports Today
CHOCCOLOCCO – Gary Wigington refused to let one bad swing – his first swing of the round – ruin his day.
In fact, those who spent the rest of the day chasing him might have thought it lit a fire under him.
After flaring a 3-wood into the trees off the first tee, Wigington proceeded to make 10 birdies, shoot 9-under-par 63, tie the Calhoun County Tour tournament scoring record and win the Pine Hill Invitational by six shots.
Wigington shot 16-under 128 for the weekend – the same 65-63 he shot in winning here last year to tie Jaylon Ellison's 2010 record at Indian Oaks. And he parred the last three holes – a drivable par-4 and a par-5 among them – or it would've been even lower.
"Thanks for coming to the Twig Invitational," one of the players shouted during the awards ceremony.
Talk about a wake-up call. After the bad tee shot produced a bogey and two-shot swing that cut his lead to one, Wigington birdied the next four holes in a row (including a 50-footer from off the green at No. 4), five of the next six and 10 of his next 14 – and he missed two short putts in between. He made five birdies in a row on holes 11 through 15.
"I hit a 3-wood yesterday (on 1) and hit it right up there just off the edge of the green," he said. "I thought that would be a good, safe play today and I just hit it a little right, caught a limb and … I didn't have any choice other than chip out.
"I didn't let it bother me because I felt like I was swinging good; any other hole that shot is fine. It was obviously an eye-opener; you're going to have to get with it now, you can't just limp through it and not play decent and win, you're going to have to play good. Fortunately, I was able to come back after that."
The 63 matched his Tour-best round and tied for second lowest round ever on the County Tour – Garrett Burgess did it in 2008 at Cane Creek, Ellison in 2010 at Indian Oaks and Ty Cole last month at Silver Lakes. The 10 birdies tied the single-round Tour record set by Marcus Harrell at Pine Hill in 2012 and his 18 for the event tied the Tour's 36-hole tournament record, one shy of the all-time mark.
He only failed to birdie three holes during the weekend – Nos. 9, 16 and 18.
"I didn't even know what I shot until we did the math," he said. "I was so focused on hole-by-hole, doing what I needed to do per hole."
More importantly, he stays on track for a third consecutive Calhoun County Player of the Year Award. He figured he had to win each of the last two events to do it and now he is fourth in the standings, only 85 points behind leader Cole going into the series-ending County Championship, where points are multiplied 1.5 times.
His last three starts on the Tour have been a second, T-3 and a first.
With the standings adjusted to reflect a player's top four finishes heading into the County Championship, Cole's lead is only 7.5 points over Grant Hockman and 62.5 on third-place Jeremy McGatha.
"I think Twig's found his stride right now and I think he's going to be hell to beat in three weeks (at the County)," Cole said. "To come out here 16-under two years in a row … that's crazy."
Wigington's game was so strong Sunday, Ellison shot an equally impressive 6-under 66 to finish second at 134 but was three shots farther back than he started the day. Ott Chandler was third (137), followed by McGatha and Billy Thompson (138) and Cole (139).
At least five times in the round Ellison made a birdie and Wigington put one right on top of him. There was a stretch he birdied three of his first six holes on the back nine and still lost two shots to the lead.
"Twig's play today doesn't surprise me; he's a seasoned player and brings a lot of experience to the table," Ellison said. "We exchanged a few jabs there, but coming in he closed the door and that's what it takes to win in this area. I gave him all I had. … Maybe next time."
The tournament was staged over five flights. The other flight winners were Lance Evans, in a playoff over Andrew Brooks; Jeff Borrelli; Dan Griffin; and Rick Okins and David Stephens split the prize in the fourth flight.
The biggest turnarounds belonged to Borrelli (76-68), Trevor Lane (77-68) and Carter Gable (90-79).
Al Muskewitz is Content Editor/Senior Writer of East Alabama Sports Today. He can be reached at musky@wrightmediacorp.com and followed on Twitter @easportstoday1.

PINE HILL CC INVITATIONAL
Final scores
Championship flight
x-Gary Wigington 65-63—128
x-Jaylon Ellison 68-66—134
x-Ott Chandler 69-68—137
x-Jeremy McGatha 68-70—138
x-Billy Thompson 69-69—138
x-Ty Cole 70-69—139
x-Grant Hockman 70-70—140
x-Josh Poole 71-69—140
x-Chris Hubbard 70-71—141
x-Scott Martin 70-71—141
x-Clay Calkins 70-72—142
x-Matt Rogers 68-76—144
x-Nick Pollard 70-74—144
Jeff Bain 69-77—146
Caleb McKinney 70-78—148
Andrew Lee 71-81—152
First flight
x-Lance Evans 74-69—143
x-Andrew Brooks 72-71—143
x-Adrian Geeting 72-73—145
Lewis Lecroy 72-73—145
x-Daniel Black 74-71—145
x-Landon Staub 73-73—146
Jason Johnson 72-75—147
Randy Liles 75-72—147
Eric Cannington 75-72—147
Jeff Watkins 72-76—148
x-Jonathan Pate 72-76—148
x-Brandon Roberts 73-75—148
x-Dustin Travis 73-76—149
x-Layton Bussey 75-74—149
Scott Eaton 75-76—151
Doug East 74-78—152
x-David Martin 74-80—154
Second flight
x-Jeff Borrelli 76-68—144
Trevor Lane 77-68—145
x-Chandler Wilborn 76-73—149
x-Tony Hicks 77-72—149
Brad Baird 78-72—149
x-Austin Minter 76-74—150
x-Janson Wilborn 76-75—151
x-Jake Goggans 78-74—152
Luke Armstrong 77-76—153
x-Benji Turley 79-74—153
x-Dalton Chandler 79-74—153
Jon Bailey 77-78—155
x-Kenny Wright 77-79—156
Chase Hollingsworth 78-78—156
Tanner Wells 79-79—158
Chris Holderfield 80-78—158
x-Dan McClellan 79-80—159
Lenn Coffey 80-81—161
Ben Surrency 79-83—162
Mark Durden 80-82—162
Doug Sears 80-84—164
Tom Liles 80-87—167
x-T.J. McGatha 80-87—167
Graham Morrow 80-WD
Third flight
x-Dan Griffin 82-76—158
Dakota Yawn 81-78—159
Heath Waldrop 81-81—162
Dylan Griggs 81-81—162
Rickey Hurst 82-80—162
Steve Taylor 83-80—163
Kyle Weathers 81-83—164
Buddy Eiland 82-82—164
Eddy Cofield 83-82—165
Glenn Heathcock 81-84—165
Rick Taylor 81-85—166
x-Jimbo Phillips 84-84—168
Carter Gable 90-79—169
Rickey Hairston 83-87—170
Randall Doss 85-85—170
Dennis Austin 84-87—171
Scott Watson 81-91—172
Brad Hardin 86-86—172
Mike Patey 85-90—175
x-Kelly Rogers 85-93—178
Fourth flight
Rick Okins 89-82—171
David Stephens 89-82—171
David Merrill 91-83—174
Greg Rainey 90-88—178
John Gaddy 89-91—180
Dustin Baird 94-97—181
Wayne Boyd 93-89—182
Alex Taylor 97-86—183
x-Calhoun County Tour player