Howard, Evans win SKCC in playoff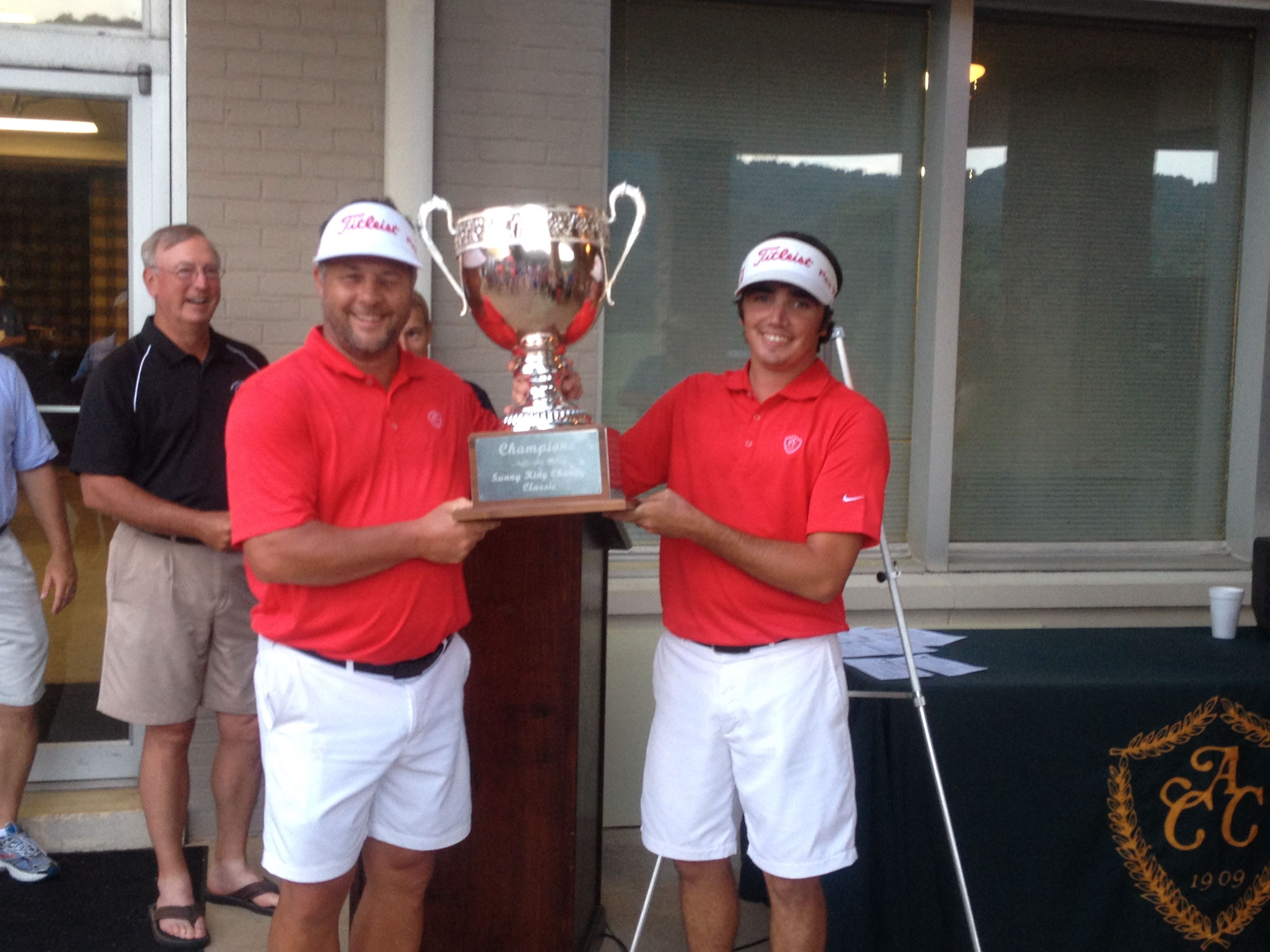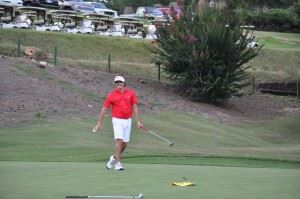 UPDATE
By Al Muskewitz
East Alabama Sports Today
Lance Evans just had a feeling this was going to be the year he and Ryan Howard would be raising the Sunny King Charity Classic championship trophy, and he was right on the money.
Howard sank a 25-foot birdie putt on the first playoff hole Sunday at Anniston Country Club to send the partners past Gary Wigington and Freeman Fite for their first ever SKCC crown.
Both teams finished the 54 holes of regulation in 38-under-par 176, the winning score each of the last three years. They were two shots clear of defending champions Garrett Burgess and Cypress Hathorn, who were bidding to become the first team in nearly a decade to go back-to-back.
Ott Chandler and Nathan Bennett charged from the middle of the pack to finish fourth. The teams of Randy Lipscomb-Jake Nichols and Jeremy McGatha-Brennan Clay tied for fifth.
"For two or three weeks we've texted back-and-forth that we just had a feeling this year," Evans said. "Ryan sends me a text three days ago and says it's just not fair to everybody. The way we're both playing right now, it's not fair to anybody.
"I said, yeah, I know, but we can't say anything right now. We just have to keep our mouths shut until we win. It was one of those things we just kind of had a feeling we would play good."
The winners, residents of Oxford, shot 10-under 60 in the best-ball round, while Wigington and Fite shot 62. Chandler and Bennett had the best round of the day – for the second day in a row – a 12-under 58 that at one stretch included seven birdies in a row.
The playoff was the eighth in tournament history and first since 2010. Three of the previous seven also lasted only one hole.
Howard's clinching stroke came on the 18th green — after a "pretty poor" pitch from 82 yards — with a putter the 28-year-old cut down from a belly style only two days before the tournament began. No one could argue with the results – he made nine birdies in the final round, including the playoff.
"The first two days we brother-in-lawed well; that's what it takes," Evans said. "Today, he played lights out. It was all him today."
Howard may have made a majority of the scoring putts, but Evans made big contributions on 9 and 13. On 9, he made a bending eight-footer for birdie Howard said convinced him it could be their day. Then on 16, after topping his drive off the tee, hit a 6-iron from 195 yards to just off the green, and then putted it in for birdie to momentarily retie the lead.
"That kind of changed the momentum a little bit," Evans said.
But not as much as what happened two holes later.
The final round was an intense shootout that lost some of its verve by the decision to not allow spectator carts on the course. For several holes in the middle of the round three teams were tied for the lead and battling.
Burgess-Hathorn, who started the day three shots back, climbed into with an eagle-birdie-birdie run through 7-8-9. When they didn't birdie 14 and 15 Burgess thought "it was over" for them.
Wigington and Fite were looking to go wire-to-wire in their first year together as partners and maintained the lead with six birdies in seven holes midway through the round. But they ultimately lost the lead on a two-shot swing with their playing companions at 15.
Wigington made his team's only bogey after hitting his 120-yard approach long and left of the green and then chipping past the hole while Howard made a swinging 10-foot birdie putt.
"I knew when I hit it that it was in, and I knew that was going to be the biggest point of the golf tournament for our sake," Howard said. "When we made and they missed, our fate was in our hands at that point."
"That hole was definitely the game changer," Evans said.
Wigington's third shot ran 12 feet past the hole and he missed the putt. He may have been distracted on the pitch by a man in the gallery near the 16th green yelling about a ball Burgess hit over the green that was rolling down the public street. Wigington said he didn't hear it, but it's not his nature to admit it even if he did.
"I just hit it too hard," he said. "I shouldn't have been there in the first place."
Still, it wasn't the play on 15 that did them in, he said. The partners missed a couple short birdies on 3 and 4 that potentially would have eliminated the shootout.
"You make those, you're off to the races, you kind of take the wind out of their sails and it would have been a total different story," Wigington said. "We were struggling all day long to make one, but I think the holes that hurt us most were 3 and 4."
"You have to start fast or you give them hope," Fite said.
Wigington and Fite birdied their last two holes of regulation to force the playoff. Wigington nearly holed his sandie from the greenside bunker for eagle on 17 and Fite sank a five-foot putt on 18 to draw them even.
"I felt like I owed him that," Fite said.
Just as Evans thought Howard carried their team Sunday, Fite felt he let his partner down the way he played. The six-time ACC Invitational champion did make a long lead-grabbing birdie putt on 12 and the tying putt on 18 in regulation, but that was about all he felt he contributed to the cause on Sunday.
"I played really bad yesterday and even worse today," he said. "I left him by himself. Two-man tournaments when you have to shoot that many under par, you can't do it by yourself. I didn't help him."
Wigington suggested the partnership would continue next year.
Howard's clinching putt came after a "pretty poor" wedge shot from 82 yards. He was the second to play on the green and initially thought his putt was going to miss on the high side before falling it at about 1 o'clock. Fite then missed his 10-footer on the right side of the hole.
"Freeman was probably 6-8 feet in front of me and Lance wanted to go first because Freeman wouldn't be able to see my putt if Lance made it," Howard said. "Then he came back to me and said if you make the putt, it's going to put more pressure on Freeman.
"I told him Freeman knows that putt whether he sees mine or not. We decided for me to go first and fortunately I was able to roll it in."
The winners were sponsored by Elite Home Theaters.
Al Muskewitz is Content Editor/Senior Writer of East Alabama Sports Today. He can be reached at musky@wrightmediacorp.com

SKCC LEADERBOARD
x-Howard-Evans 56-60-60–176 (-38)
Wigington-Fite 54-60-62–176 (-38)
Burgess-Hathorn 58-59-61–178 (-36)
Chandler-Bennett 63-58-38–179 (-35)
Nichols-Lipscomb 60-60-60–180 (-34)
McGatha-Clay 59-58-63–180 (-34)
x-Won on first playoff hole
LEADERS FINAL-ROUND SCORECARDS
ANNISTON CC 444 334 444 34 453 444 354 36 — 70
Howard-Evans 343 333 343 29 343 343 344 31 — 60
Wigington-Fite 434 334 334 31 342 345 343 31 — 62
Burgess-Hathorn 444 224 233 28 443 344 344 33 — 61
Chandler-Bennett 334 324 333 28 342 343 344 30 — 58
Nichols-Lipscomb 444 233 344 31 343 334 243 29 — 60
McGatha-Clay 444 333 333 30 443 443 344 33 — 63
The complete list of scores can be found at the tournament website – www.kingclassic.com