Stage set for Sunday shootout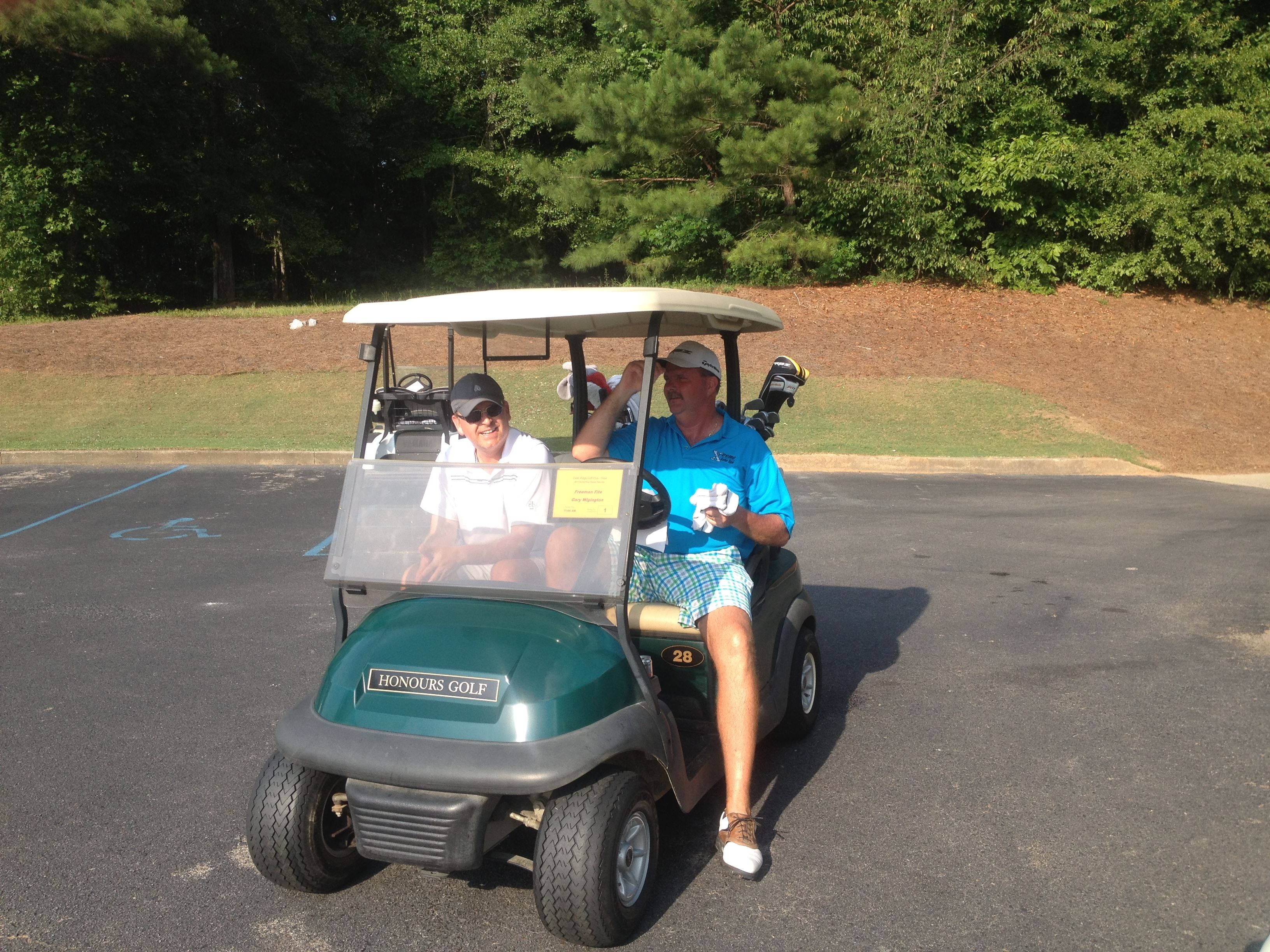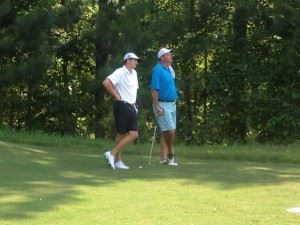 By Al Muskewitz
East Alabama Sports Today
OXFORD – Lance Evans and Ryan Howard may be highly skilled teammates focused on what it takes to bring home a Sunny King Charity Classic championship, but they take vastly different approaches when it comes to watching the leader board.
Evans never wants to know what's happening around him; says it might influence his approach to the shot in the moment. Howard, on the other hand, wants to know every move in every group.
Sometimes they even argue about it.
Whether they want to know or not, they won't be able to avoid it Sunday at Anniston Country Club when they'll be paired with the tournament leaders, Gary Wigington and Freeman Fite, in the final round of this year's event.
"We'll know pretty much regardless," Evans said. "There's no getting away from it at the Country Club. When you get to 17 you're going to know.
"If we're in the final group, whoever we're playing with, we just know we've got to beat them by a couple shots. That's what I'm concerned about. We said all week if we can stay within three or four of the lead going to the Club, we can make up some ground – we should be able to."
The stage is set. Wigington and Fite maintained their two-shot lead over Evans and Howard after both teams shot 12-under-par 60s in Saturday's scamble round at Cider Ridge Golf Club. The leaders are at 30-under 114 for 36 holes.
The teams of Jeremy McGatha-Brennan Clay and defending champions Garrett Burgess-Cypress Hathorn are another shot back at 117, followed by three teams at 119. McGatha and Clay climbed into contention with a 14-under 58, tying Ott Chandler and Nathan Bennett for the lowest rounds of the day.
Brandon Roberts and Mike Lewis scored holes-in-one in back-to-back groups on No. 17 at Cider Ridge.
After the round, the Ford Mustang Championship flight was split into A and B Divisions. Scores of 126 and better — 21 teams — will play in the Championship A flight.
Wigington and Fite may not have played as well as the day before in the scramble at Silver Lakes, but they backed their record-tying round with one that featured three eagles on the front nine and six birdies on the back.
They left the course a little disappointed about not making eagle or birdie on 18 that would've padded their lead after both players hit into the hazard from 205 yards out in the fairway. Still, Wigington said, he was "very happy" with the lead.
"We probably got the most out of this round that we could," he said. "Neither one of us played as we could, but we probably got the most out of it we could as well as we played."
It was a team effort on the eagle at 5; Fite's drive, Wigington's 4-iron from 215 yards to 15 feet and Wigington's putt. Wigington holed out on the par-4 sixth with an L-wedge from 65 yards. And it was all Fite on 9 – driver, wedge from 105 yards to five feet and putt.
"We didn't make any birdies on the front nine; we didn't hit good shots, the first four holes we're not within 20 feet," Wigington said. "We just weren't hitting it close or too good and just scraping it around. Getting those eagles back-to-back was a big shot in the arm to get us going."
With the leaders fighting to stay in front, Evans and Howard easily could have grabbed the lead. They left eagle putts a combined two inches on 11 and 18 and Evans missed a five-footer on 6 for birdie. And they burned a mulligan trying to hit it close on 2.
So now it falls upon Wigington and Fite to see if they can become the first wire-to-wire winner since 2011.
"It's great to have a two-shot lead, no doubt, and with the way (Fite) plays (at ACC) and his experience in tournaments and mine as well I think we've got a real good shot," Wigington said. "Obviously, I'd rather be two up than two down, but I feel good about it. If we go play our game, I feel we have a real good shot of winning it."
Their missed opportunity on 18 killed any chance of them posting three rounds in the 50s, but they can still break the tournament scoring record if they were to post a 10-under 60. Sunday Wigington said it would take "a great round" to do that, though, because he said there aren't many birdie opportunities playing your own ball at ACC, but he knows the first-year partners will have to play "real good" to have a chance to win.
If they do hang on Sunday, it will be Wigington's sixth SKCC crown (and Fite's first), tying with him former partner Randy Reaves for most titles by an individual in tournament history.
"I'm not thinking about that right now, but if it does (happen), it'd be nice," he said. "That's what (Reaves) was wanting because he's not able to do it any more and that's what he's pulling for me to do. And I'd love to, but it's just not what I'm thinking about when I go out there teeing it up tomorrow."
Al Muskewitz is Content Editor/Senior Writer of East Alabama Sports Today. He can be reached at musky@wrightmediacorp.com
SKCC LEADERBOARD
Wigington-Fite 54-60–114 (-30)
Evans-Howard 56-50–116 (-28)
Burgess-Hathorn 58-59–117 (-27)
McGatha-Clay 59-58–117 (-27)
Cole-Rogers 60-59–119 (-25)
Ellison-Shields 58-61–119 (-25)
Bryan-Weaver 57-62–119 (-25)
LEADERS SATURDAY SCORECARDS
CIDER RIDGE 443 454 435 36 443 445 435 36 – 72
Wigington-Fite 443 432 433 30 333 335 325 30 – 60
Evans-Howard 443 344 323 30 433 334 424 30 – 60
Burgess-Hathorn 343 444 323 30 332 434 334 29 – 59
McGatha-Clay 342 343 423 28 433 334 424 30 – 58
Cole-Rogers 333 353 334 30 432 344 324 29 – 59
Ellison-Shields 433 443 334 31 333 444 324 30 – 61
Bryan-Weaver 422 444 334 30 442 434 335 32 – 62