Early risers ready for Classic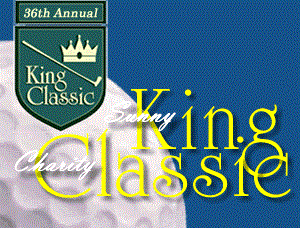 By Al Muskewitz
East Alabama Sports Today

There are at least three things you can count on every year in the Sunny King Charity Classic:
A late afternoon thunderstorm on Sunday at Anniston Country Club to send the finish of the championship flight past sundown, the tournament chairman showing off a $100,000 check for charity, and Robert Houston and David Bautista hitting the first shot every round.
For almost as long as they've played in the tournament — certainly as long as they can remember – Houston, 61, and Bautista, 44, have been the unofficial dew-sweepers of the Classic. They always play in the first group of the day.
This year, they go off at 7:30 a.m. Friday at Anniston Country Club, 8 a.m. at Silver Lakes on Saturday and 7:30 a.m. Sunday at Cider Ridge.
"Basically it was (because of) the heat," said Bautista, a human resources manager for BAE Systems. "When we first started playing, 10 or 12 years ago, I think we probably had some later tee times, but Robert wasn't able to finish some of the second- and third-day rounds.
"We asked if we could get one of the earlier tee times and it just happened to be the first tee time each day. I don't think we ever said to go first; it just kind of happens that we get it."
It's not really a stretch for them. They usually get a 7 or 7:30 tee time in their regular weekend game at Cider Ridge.
"It's something we're just used to," Bautista said.
And, luckily for the crowded tee sheet, they play at a good pace; a slow starter can bog down an already long day.
Bautista doesn't ever recall his group creating any delay and they move along so well, in fact, there have been times during Silver Lakes' two-tee start they have had to wait making the turn.
"Sometimes when we get done we'll go to the putting green and we'll see people we've met over the years and ask if they've finished and they'll say they haven't even started yet," Bautista said.
The only drawback at the hour they play, of course, is the wake-up call comes a little early when they have to head across county to Silver Lakes. But they even have a plan for that.
They meet for breakfast at McDonald's and roll into the course together just as the workers are setting up their stations for the day. That helps reduce a lot of pre-round tension.
"One year when Pine Hill was in the rotation we were the first group to go off and I had to call Robert," Bautista said. "He wasn't there yet and I thought I had to play the first hole by myself. He showed up right when we were on the tee box."
Al Muskewitz is Content Editor/Senior Writer of East Alabama Sports Today. He can be reached at musky@wrightmediacorp.com. Follow him on twitter for updates during the tournament.