100 and counting
Updated: November 10, 2023
Jacksonville's Ogle throws 100th career TD pass as Golden Eagles dispatch Bayside to reach second round. Includes first-round scores and second-round pairings for area teams.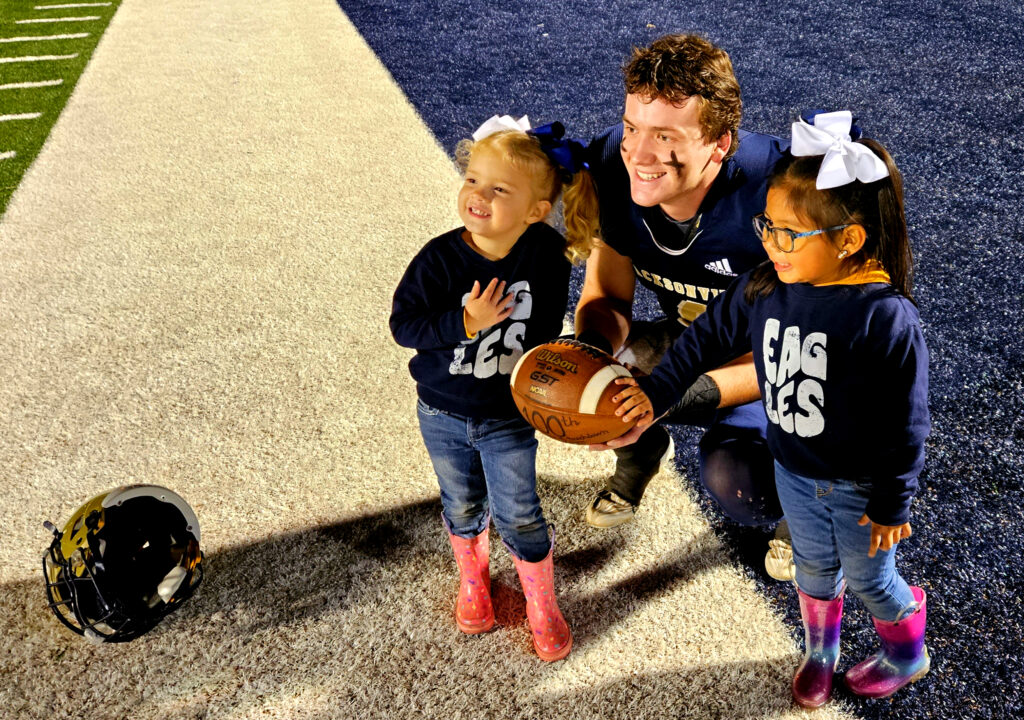 Area scoreboard
THURSDAY, Nov. 9
CLASS 5A
Boaz 10, Southside 7
CLASS 4A
Cherokee County 56, Central Florence 28
CLASS 1A
Wadley 62, Cedar Bluff 10
FRIDAY, Nov. 10
CLASS 6A
Oxford 45, Athens 27, FINAL
CLASS 5A
UMS Wright 7, Central-Clay 0, FINAL
CLASS 4A
Handley 68, St. Michael 38, FINAL
Jacksonville 35, Bayside Academy 7, FINAL
T.R. Miller 20, Anniston 16, FINAL
Jackson 44, Cleburne County 7, FINAL
CLASS 3A
Flomaton 34, Wellborn 0, FINAL
Randolph County 48, W.S. Neal 36, FINAL
Piedmont 44, J.B. Pennington 14, FINAL
Madison Academy 57, Hokes Bluff 20, FINAL
CLASS 2A
Pisgah 44, Pleasant Valley 20, FINAL
CLASS 1A
Coosa Christian 28, Spring Garden 0, FINAL
Valley Head 30, Ragland 14, FINAL
Second-round pairings
FRIDAY, Nov. 17
CLASS 6A
Oxford at A.H. Parker
CLASS 4A
Haleyville at Cherokee County
Jacksonville at Bibb County
Handley at Booker T. Washington
CLASS 3A
Randolph County at St. James
Lauderdale County at Piedmont
CLASS 1A
South Lamar at Wadley
By Joe Medley
East Alabama Sports Today
JACKSONVILLE — Jim Ogle laughed Friday when asked to recall his first high school touchdown pass.
For the record, the receiver was Omarion "Peanut" Adams, and it wasn't exactly a passing situation.
"It was my freshman year, and the ball was on the inch line," Ogle said. "Of course, me being a freshman, I threw it, and we scored."
That was was 99 touchdown passes ago for the senior and Troy commit. He hooked up with Damonte Sinclair for a 68-yard touchdown pass to reach No. 100 in Jacksonville's 35-7 rout of Bayside Academy in Friday's first-round playoff game in Golden Eagle Stadium.
Ogle went on to complete 13 of 18 passes for 166 yards and two touchdowns as the Golden Eagles (9-2) earned a second-round shot at Bibb County on Nov. 17. Bibb County beat Montgomery Academy 56-6 on Thursday.
Ogle, who hopes to complete his fourth season as Jacksonville's starter in the Super 7 at Bryant-Denny Stadium on Dec. 8, also threw a 10-yard touchdown pass to Ky'dric Fisher on Friday as Jacksonville rolled to a 28-7 halftime lead.
Ogle thanked teammates in the postgame huddle and offered tribute to receivers who have caught his touchdown passes.
"They're gonna be mad at me after this," he said. "Obviously, Ky'dric and Monte with me now, and Imoree (Young). There's Jackson Bonner.
"My sophomore year, I had Jaboby Zackery, who's like a brother, 'Q' Long, who's coaching with us, Drew Pridgen, Peanut, Brody Bean. There've been so many guys, and I wouldn't have done it without any of them."
As for the guy who caught No. 100, Sinclair covered nearly 50 yards after the catch. Ogle scrambled right and found Sinclair, who started up field, cut in, broke a tackle and sprinted home, crossing the goal line at 1:18 of the first quarter for the game's first points.
"I saw I had a lot of green (turf)," Sinclair said. "I saw I had one person to beat, and I was like, I'm gonna get into that end zone.
"But I can't speak more highly about Jim, man. Great guy, great player, leader, he gets after it every day. It's just a pleasure to be able to catch balls from him day in and day out."
Ogle has been Jacksonville's starter through its current Class 4A South existence. He hopes to lead the Golden Eagles past the second round for the first time since the AHSAA realigned them from North to South after their run to the 2019 Class 4A final.
With the victory over Bayside, Jacksonville has won at least one playoff game seven consecutive years.
Ogle and the offense got help from special teams and the defense Friday. Running back Zae English returned a kickoff 70 yards for a touchdown, and Fisher returned a tipped-ball interception for a score as Jacksonville reeled off 21 points in a 49 second span between 1:27 and 38.9 seconds of the second quarter.
Jacksonville's defense also came up with a goal-line stand at its 2-yard line, after Bayside converted a third down and long and a fourth down to take the game's first drive there.
"It was a great night for us," Jacksonville coach Clint Smith said. "It was a special night for Jim, individually, and a great night for our team.
"We played well. The big key early was them driving it down and us stopping them on the goal line right there and getting the ball and going and scoring, and then right there before the half we kind of had a point explosion."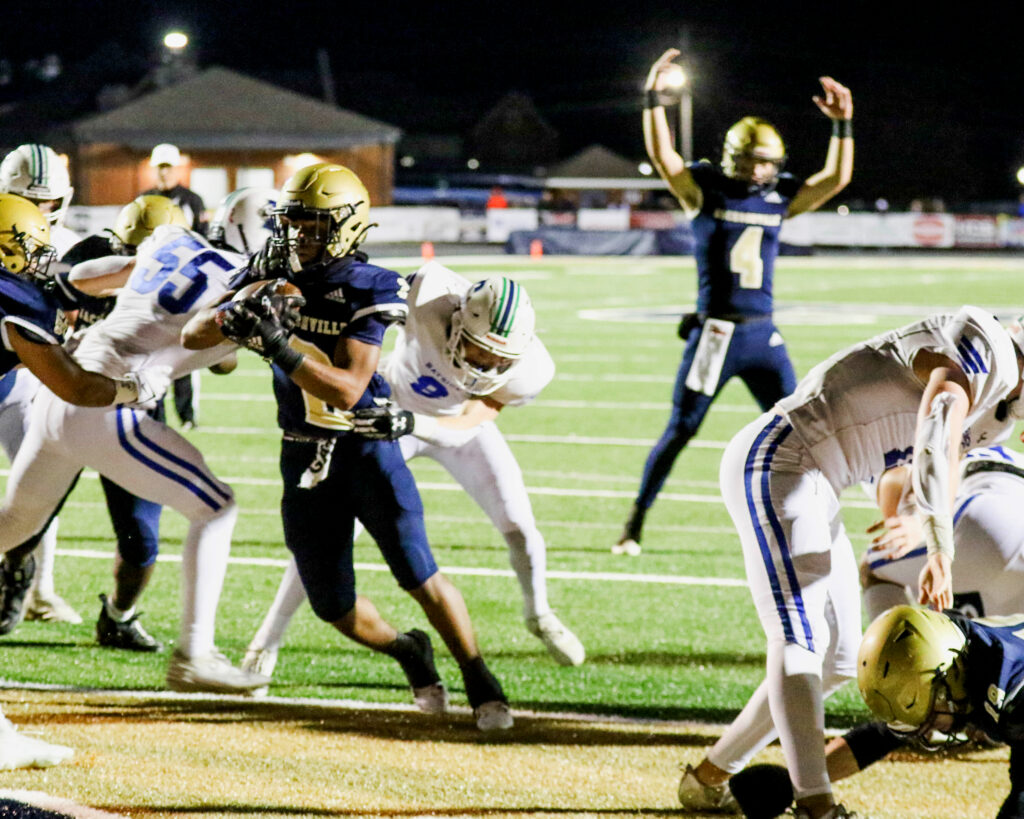 Bayside Academy-Jacksonville
FIRST QUARTER
–Jacksonville with a goal-line stand, stopping Bayside on fourth and goal from the 2.
–Jim Ogle scrambles right, passes to Damonte Sinclair, who breaks a tackle and goes for a 70-yard, catch-and-run TD. PAT good at 1:18: JAX 7, BAYSIDE 0
SECOND QUARTER
–Ogle with a 10-yard TD pass to Ky'dric Fisher. PAT good at 10:06. JAX 14, BAYSIDE 0
–Broadhead with a 1-yard TD run. PAT is good at 1:27. JAX 14, BAYSIDE 7
–Zae English returns the ensuing kickoff 70 yards for a TD. PAT good at 1:10. JAX 21, BAYSIDE 7
–Fisher with a pick-6. PAT good at 38.9 seconds. JAX 28, BAYSIDE 7
THIRD QUARTER
–English with a 1-yard TD run. PAT good at 7:15. JAX 35, BAYSIDE 7