D-I dreams
Updated: November 9, 2023
Piedmont's Smith completes one journey, begins another one while signing to play softball for Jacksonville State.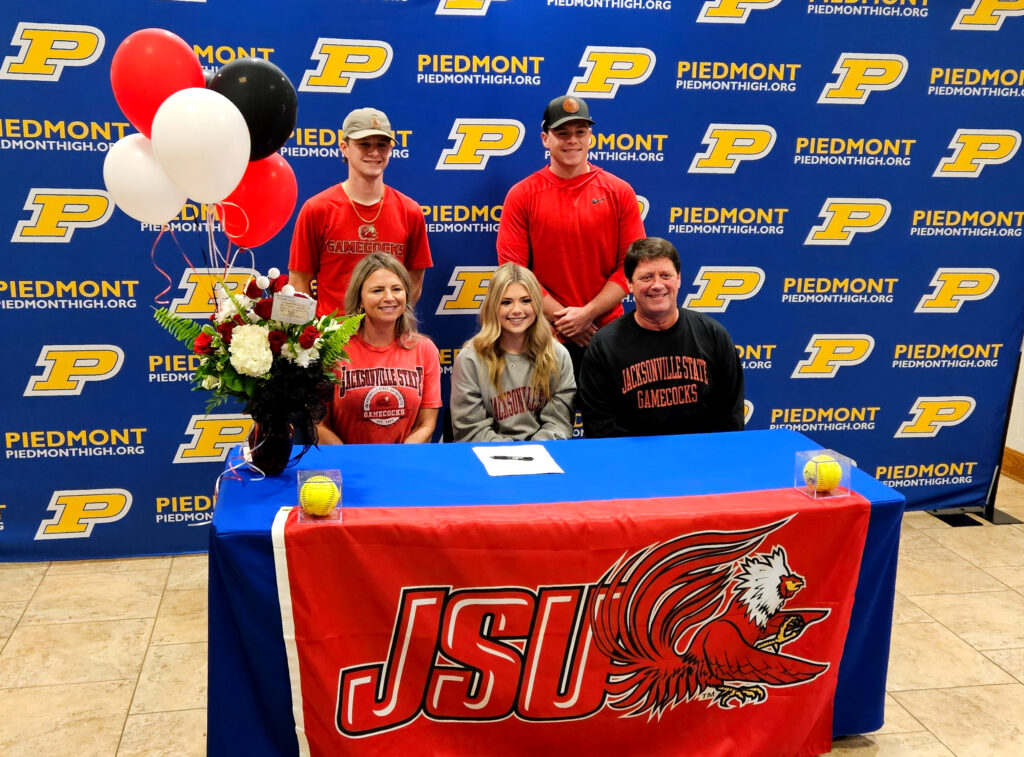 By Joe Medley
East Alabama Sports Today
PIEDMONT — Savannah Smith has lived the life of the younger sister to highly accomplished older brothers. If ever she wanted to see decorated walls, she could walk down the hallway.
It had a way of making her want to make her own mark, and she made it on paper Thursday. "Baby Gronk," as her brothers sometimes call her, made official the start to her journey as a Division I athlete.
Smith affirmed her commitment to play softball for Jacksonville State University. Like mom in softball and dad in football were, she'll be a Gamecock.
"I do have the bragging rights now, according to Sean and Sloan," Savannah Smith said with a laugh.
She'll follow in the footsteps of her mom and high school head coach, the former Rachel Stone, who played for JSU from 1994-96. Rachel Smith was a senior during Jax State's first season to be eligible for the Division I NCAA Tournament.
Her dad, Steve, lettered in football at Jax State from 1989-91, just ahead of the school's move up from Division II.
Savannah Smith announced her commitment to Jax State on July 13, just after completing her junior season at Piedmont. She batted .458 with a .525 on-base percentage, six home runs, six triples, 18 doubles and 40 RBIs. In the circle, she was 14-5 with two saves, a 1.43 ERA and 124 strikeouts in 100 2/3 innings pitched.
She was the Class 1A-3A All-Calhoun County player of the year, and Piedmont has made its first three state tournament appearances of the program's fastpitch era during her time as a starter.
Savannah Smith is a three-time Alabama Sports Writers Association all-state selection. She was also recently voted Piedmont's homecoming queen.
Like the walls to her brothers' rooms, the walls to hers filled up quickly. Rachel Smith borrowed some pictures for her daughter's literally-lit memorabilia display, which sat directly across the Piedmont High School gymnasium lobby from the head table Thursday.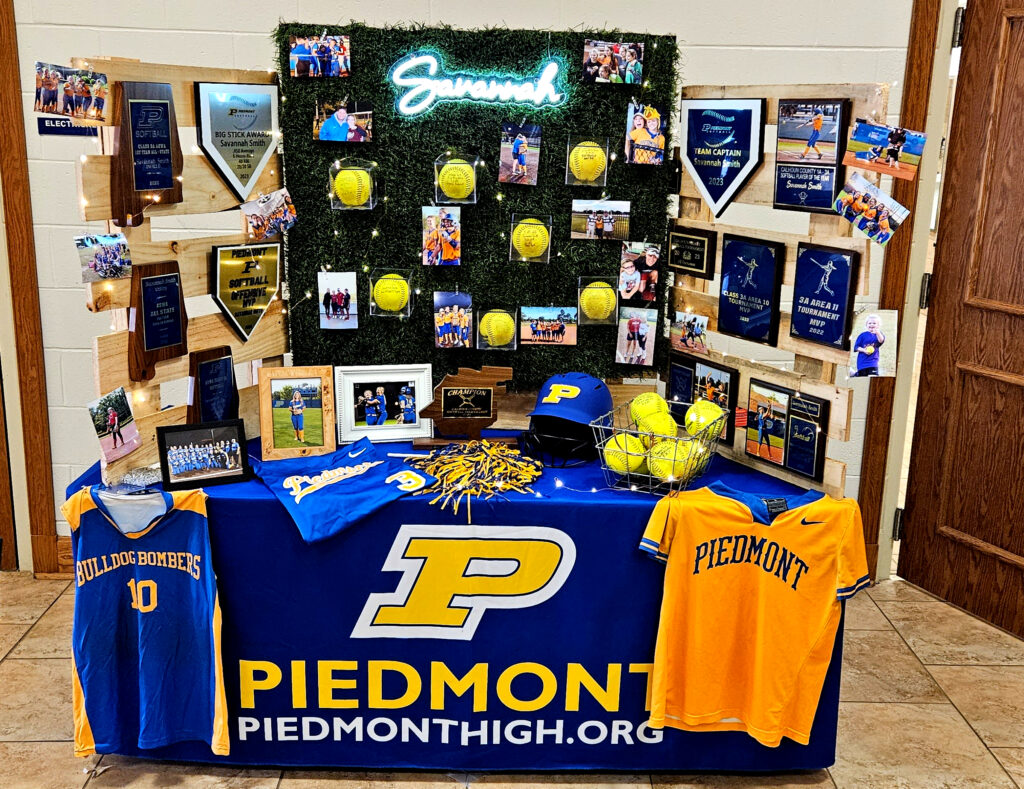 Jonathan Miller, hired as Piedmont's athletics director and head football coach after Steve Smith left for the same jobs at Westbrook Christian, led off the ceremony with a short speech similar to the one Savannah Smith's dad gave at Piedmont signing ceremonies for 17 years.
Miller raised the often quoted stats … seven percent of high school athletes become college athletes, and two percent make it to Division I.
As the room digested those numbers, Savannah Smith put pen to paper. Pictures followed, starting with mom and dad, who sat either side of her in Jax State gear. Her brothers followed, then extended family, coaches and teammates.
Her journey filled the room in the form of people who know the quiet parts.
"No one has any idea about the hours of work that she's put in on her skill set, except for me and her and her immediate family," Rachel Smith said. "Just to see the dedication that she's put in, the sacrifices that she's made, because she's missed a lot of things with her friends and, sometimes, at school, missing social events and things for softball tournaments, just the time that she's put in is something to admire. That's for sure."
Rachel Smith recalled a conversation from early in her daughter's double-digit years, laying out how things would move forward.
"I said, 'This is not going to be what I want for you. This has got to be what you want for you,'" Rachel Smith said.
Mom retains goal sheets Savannah Smith filled out in those years … short-team goals like throwing a changeup with confidence, reaching a velocity of 55 mph and allowing no hits with an 0-2 count; and long-term goals like earning a college scholarship or attending the College World Series.
"She's always been like that, though," Rachel Smith said. "I've got stuff from when she was in kindergarten and she wrote goals for herself."
Savannah Smith also got lots of toughening from her brothers. It came from dish-breaking snowball fights in the house, when mom and dad were gone. It came from contests like "Death Pong," where the loser must turn around and take the winner's best ping-pong shot in the back.
They nicknamed her "Baby Gronk" after Piedmont won last season's Calhoun County softball tournament. She caught a short pop for the final out then spiked the ball like former NFL tight end Rob Gronkowski.
"I guess I did a pretty good 'Gronk' on it," she said.
It hasn't all been sibling rivalry and gentle ribbing. While filling up their letterman jackets through exploits in football and baseball, Sean and Sloan made themselves available for Savannah.
"They're really been the ones who have helped me the most and pushed me," Savannah said. "They were always there. If I needed somebody to take me up to the cage, one of them would always be willing to. If I needed one of them to catch one of my bullpens, one of them would. One of them was always there, even if it meant they took a couple off the shins.
"They would always be there with a smile on their face."
It didn't hurt having parents who coach for a living.
"I'm extremely happy, but most of all, I'm just grateful for the love and support I've had from my family over the years," Savannah Smith said. "I can't tell you how much money they've poured into me and the sport, the hotel rooms, the gas driving to tournaments. We've traveled all over the country.
"I just wouldn't be where I'm at without them, and today means a lot to them, and I would like to dedicate today more to them than to me."