It just hit different
Updated: October 25, 2023
Thanks to Jax State's quick success in FBS life, a brag win three years ago turned into a sometimes-anxious blowout at Florida International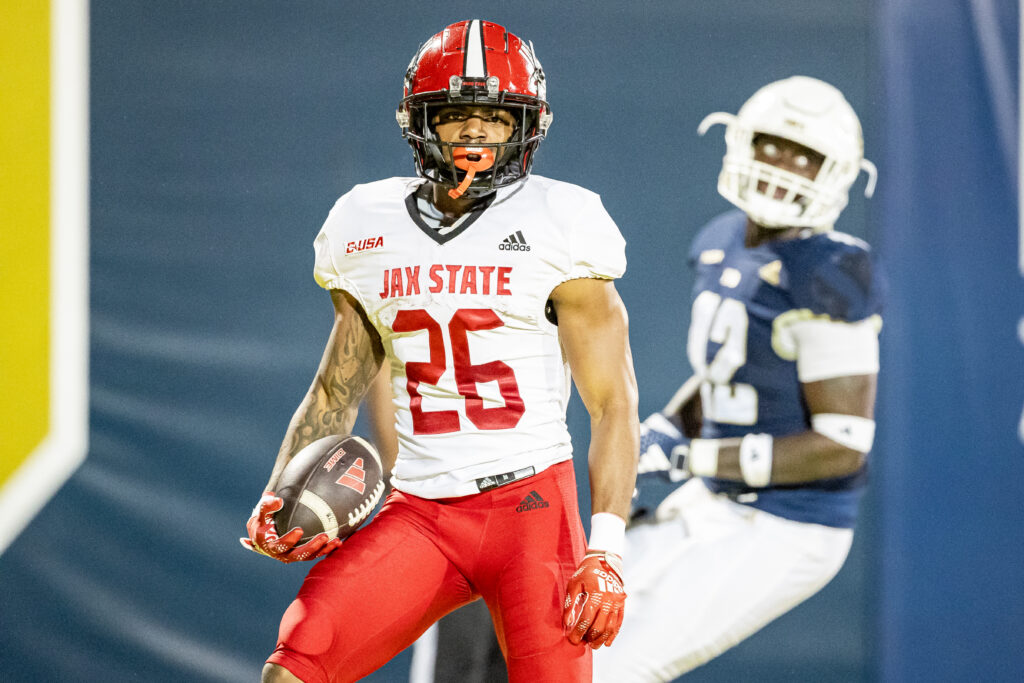 Editor's note: Statistics from Jax State's 41-16 victory at Florida International can be found at this link. Column to follow shortly, and game details are below.
Who remembers fall of 2020, when Zion Webb came off the bench for an injured Zerrick Cooper and quarterbacked Jax State to a program-puffing victory at Florida International?
The Gamecocks adding to their total of Football Bowl Subdivision opponents beaten was a brag in 2020. They'd beaten name-brand FBSers, like Ole Miss in 2010. They would go on to beat Florida State in 2021, but beating an FBS program, even bad one, still hit that way when Jax State remained in the 65-scholarship set.
Jax State went to back FIU on Wednesday, seven wins into its first season as an FBS program, and don't expect any brags following the Gamecocks' 41-16 victory.
Anything less would've constituted a disappointment, and the Gamecocks have quickly grown into the bittersweetness of having such wins dissected.
No, they weren't dominant all four quarters., and a controversial call helped fourth-quarter Jax State reclaim first-quarter Jax State.
Dare we consider it workmanlike for a program that has quickly, and somewhat surprisingly, established itself as a solid No. 2 in Conference USA?
Yes, it kinda was, and Jax State has earned that. So, let's kvetch.
It started off with the Gamecocks seemingly on their way to a game that looked like its second half a Middle Tennessee State. With running back Ron Wiggins back from injury, they scored at will, stacking a 21-0 lead in the first quarter.
It took almost that long for FIU to get into positive yardage. That's how dominant Jax State looked.
Then FIU won the next two quarters. Jax State didn't see the end zone again until the fourth.
Grayson James took over as FIU's quarterback in the second half and hit a deep ball, the one thing that has consistently given Jax State fans angst this season. Jax State's island-dwelling corners have a way of letting receivers get behind them. That issue showed against UTEP, Middle Tennessee and Liberty.
Not all circumstances led to big plays or points. Gamecock corners didn't give up on the plays, to their credit, and managed to dislodge the ball from of the wrong hands before frightening moments became completed catches.
Still, those angsty moments with a ball hanging in the air as a Jax State corner plays catch-up have been a thing.
That thing showed Wednesday, in the form of James launching a 60-yard bomb to Kris Mitchell. Kekoura Tarnue got Mitchell to the ground, but the play to set up FIU's first touchdown.
One touchdown made it 27-9, which quickly became 27-16, and Jax State's last game before Halloween suddenly looked scary. It looked scariest when Sterling Galban muffed a punt that could've given FIU a chance to forge a one-score game.
Replays showed no apparent contact, but officials saw Galban's sudden lurch backward, just as an FIU defender ran by him. A ball Galban clearly misjudged and dropped on a windy, sometimes-rainy night became kick-catch interference and spotted Jax State at midfield.
Webb's 30-yard run set up Wiggins' second touchdown run, and that lump in the collective throats of Jax State fans jumped down FIU coach Mike McIntyre's throat. No amount of arguing could change the call that so clearly reminded momentum that Jax State was once its best friend.
Another touchdown later, the score looked like a score Jax State fans expected when their newby FBS success story returned to Miami to play a four-win CUSA team.
A 19-10 brag score from 2020 grew to an expectation-satisfying, 41-16 spread in three years, and Jax State's performance came with just enough angst in the middle. Gamecock faithful could indulge in the kind of hand wringing that comes with discerning expectations.
Dare we say they spent two quarters sounding a lot like other fans in this state, who yell at the help when the dominance tap momentarily spits foam?
Congrats, Jax State. You were today years old when a beating an FBS team like FIU ceased being a brag.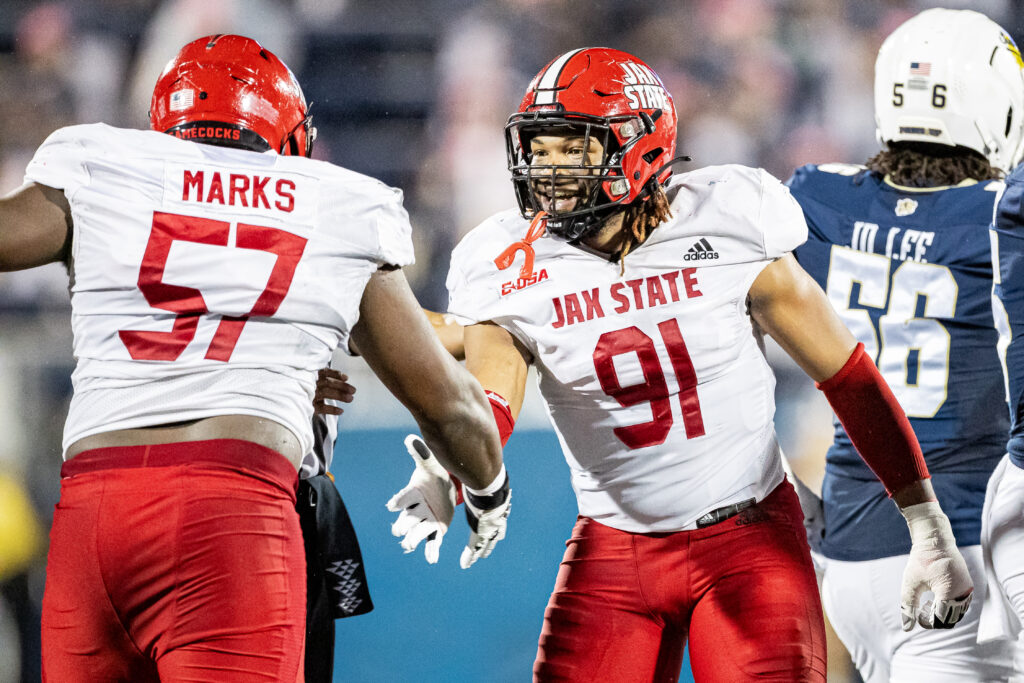 Game updates
FIRST QUARTER
–Zion Webb's 13-yard keeper plus Alen Karajic's PAT puts Jax State up 7-0 at 9:17. Drive: 6 plays, 60 yards, 2:23. JAX STATE 7, FIU 0
–Jacksonville grad Ron Wiggins in the game, seeing his first action after an injury earlier this season, and he's in the end zone for an apparent 22-yard TD run. Karajic PAT is good at 6:23. Drive: 5 plays, 61 yards, 1:22. JAX STATE 14, FIU 0
–Webb with a 9-yard TD pass to TE Sean Brown, capping a drive of 9 plays, 60 yards, 4:20. Karajic's kick is true, and the route appears to be on at 1:14. JAX STATE 21, FIU 0
SECOND QUARTER
–Chase Gabriel gets FIU on the board with a 50-yard field goal at 7:13. Drive: 10 plays, 48 yards, 4:17. JAX STATE 21, FIU 3
–Karajic adds a 28-yard field goal with five seconds left in the half. Drive: 7 plays, 64 yards, 1:23. Webb with a 29-yard run and big pass completion to Quinton Lane to get Jax State inside the FIU 15. JAX STATE 24, FIU 3
THIRD QUARTER
–A J-Rock Swain fumble recovery spots Jax State at FIU's 20, sets up Karajic's 38-yard field goal at 12:23. JAX STATE 27, FIU 3
–FIU"s Grayson James hits a 60-yard bomb to Kris Mitchell to Jax State's 12. Sets up James' 1-yard tush push for a TD. Shomari Lawrence stopped on the conversion attempt at 9:32. JAX STATE 27, FIU 9
–James to Mitchell, 8 yards and a one-handed catch on the edge of the end zone for a touchdown. Gabriel's PAT is good. Drive: 11 plays, 58 yards, 5:31. JAX STATE 27, FIU 16.
FOURTH QUARTER
–After a bad kick catch interference call bails out Sterling Galban on a muffed punt, Webb breaks a 30-yard run to FIU's 19, setting up Wiggins' 16-yard TD run at 12:04. Karajic's PAT is good. JAX STATE 34, FIU 16
–Swain chases James from the pocket, appears to fumble. Jax State's Quae Drake recovers. Play is under review. Looks like it was an attempted pass. Ruled incomplete.
–Webb scores untouched for a 3-yard TD run. Karajic's kick is good. Drive: 8 plays, 39 yards, 3:18. JAX STATE 41, FIU 16
FINAL: JAX STATE WINS 41-16, IMPROVES TO 7-2, 5-1 CUSA.