Navy man
Updated: September 28, 2023
Newly announced Annapolis commit Doss comes up with big plays to help Anniston hold off Piedmont in rematch of 2022 classic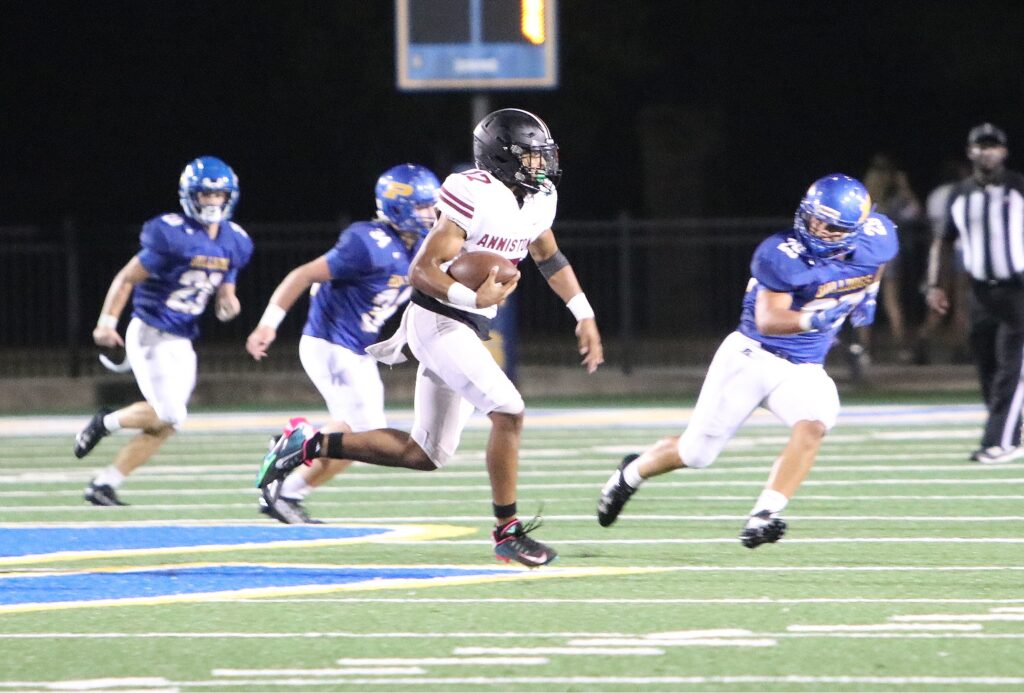 By Joe Medley
East Alabama Sports Today
PIEDMONT — Gavin Doss' commitment to play football for Navy means he plans on singing "Anchors Aweigh" a lot in the coming years.
His rendition of ankles away Thursday put the cap on his big week.
Doss' scramble and throw against his body, and T.K. Downie's equally elusive finish on the play, provided the difference as Anniston beat Piedmont 14-9 on the Field of Champions.
Doss hit 12 of 14 passes for 117 yards and a touchdown and rushed for another 64 yards as Anniston improved to 4-2. All in all, first-year Anniston coach Rico Jackson said, it was an officer-material performance.
"He's tough, man, just tough," first-year Anniston coach Rico Jackson said. "He's level-headed. He don't get too high or too low. He's always focused on the moment.
"I mean, the Naval Academy got a good one."
Doss made his announcement via social media Tuesday. The son of a Navy man, he chose Midshipmen life over possibilities with Troy and UAB.
"It was just the atmosphere," he said. "When I went to Navy, it was like no other college out there. I went on a visit, and it just felt like home, even though I had never been there."
Doss said he sees the Navy as a career path, though he's not sure what kind of job he'll pursue in the Navy.
When he dropped back on what proved to be the game-winning play Thursday, he was like a fighter pilot, surrounded by bogeys. A host of blitzing Piedmont defenders got through, forcing him to scramble back and to his left.
The right-hander did his best to square his body while on the move and pass to the left flat for Downie, who adjusted back to meet the ball, eluded defenders and covered the final 15 yards on foot.
Add Caleb Wynn's conversion run, and Anniston led 14-3 with 18.9 seconds left in the third quarter.
"It was just a magical type play," Doss said. "I threw it off of my back foot. I had an open receiver down the field, and he made a good play."
Doss also had a 13-yard scramble and 25-yard pass to Downie to set up Anniston's other touchdown, a 1-yard Jayden Lewis run for a 6-0 lead at 2:32 of the second quarter.
Anniston's two touchdowns stood up in a rematch of one of Calhoun County's best games in 2022. On the same field a year ago, Anniston held off Piedmont's fierce fourth-quarter rally to win 30-28.
A lot has changed since last year. The quarterback and receiver on Thursday's decisive play didn't play for Anniston a year ago. Downie played for Alexandria, and Doss played at Saks, under now-Piedmont coach Jonathan Miller.
"I'm really proud of him," Miller said. "He is a great kid that has worked extremely hard to get where he has this opportunity."
Anniston had big graduation losses from a team that reached the Class 4A quarterfinals, including Alabama offensive lineman Roq Montgomery, who attended Thursday's game. Other Bulldogs followed former Anniston coach Rico White to Mae Jemison.
Piedmont lost 15 starters from last year's Class 3A runner-up, most notably quarterback Jack Hayes, who rewrote the Alabama High School Athletic Association's record book with career marks for passing yards, total yards, touchdown passes and total touchdowns.
The Bulldogs have suffered three surgical injuries in one half of a season, including receiver/running back/kick returner Rollie Pinto, who suffered an non-contact ACL tear in last week's loss to Ohatchee.
Piedmont's challenges don't end with injuries and graduation losses. Their first-half schedule included reigning 4A runner up Cherokee County, 3A sixth-ranked Sylvania, Plainview, Ohatchee and Anniston.
"I'm telling you, they are the best 1-4 team in Alabama," Jackson said. "They are gritty, man."
Cole Wilson completed seven of 13 passes for 172 yards, including consecutive big passes to McClane Mohon in the fourth quarter. Their 39-yard hookup came right before their 36-yard touchdown connection, which closed the gap to 14-9 with 3:16 to play.
Piedmont tried to narrow the gap to a field goal's difference with two shots at a two-point conversion. Anniston drew an interference penalty on the first try, but the Bulldogs stopped Hayes Gunn on the second try.
Piedmont's attempt at an onsides kick didn't go the necessary 10 yards.
Dontavious Jordan rushed for 70 yards, and Gunn added 58.
Chase Cardelli kicked a 35-yard field goal to bring Piedmont within 6-3 at halftime but missed from 34 yards in the third quarter.
"I'm proud of our kids and coaches," Miller said. "We came out and played extremely hard. We didn't play well at times, but we played hard.
"We had a couple of opportunities. We got in the red zone in the first half and again there, early in the third. Third quarter, we had to settle for a field goal and missed, and in the first half, we didn't convert a fourth and one. In a sense, that was the ballgame, right there."
Thursday's scoreboard
Anniston 14, Piedmont 9, FINAL
Cherokee County 56, Munford 10, FINAL
Jax State 35, Sam Houston State 28, FINAL (OT)
Anniston-Piedmont updates
–Piedmont wins the toss, defers. Anniston will receive the opening kickoff.
FIRST QUARTER
–On fourth and goal from Piedmont's 15, Piedmont's Demetrius Owen intercepts a Gavin Doss pass in the end zone, returns 100 yards for would-be TD. Flag at the Piedmont 20-yard line, holding, Piedmont will start on its 10.
–Cole Wilson completes a 22-yard pass to Ish Bethel, but Anniston strips the ball and recovers at Piedmont's 44.
SECOND QUARTER
–Bad handoff exchange, and Piedmont recovers an Anniston fumble at the Piedmont 48.
–Anniston defense stops Piedmont on downs at the Anniston 8.
–After a couple of nice plays by QB Gavin Doss, Jayden Lewis powers in for a 1-yard TD run. PAT no good. Anniston leads 6-0 at 2:32. Doss had a 13-yard scramble plus a 25-yard pass to TK Downie to the Piedmont 5.
–Cole Wilson with four pass completions, two for 25 yards each, to set up Chase Cardelli's 35-yard field goal at 21.6 seconds to bring Piedmont within 6-3.
THIRD QUARTER
–Anniston drives from its 10 to Piedmont's 11, but a low snap on fourth down and incomplete pass completes a Bulldog stand.
–Gavin Doss makes a spectacular play, scrambling to avoid three rushers, throws to Downie, who makes spectacular moves of his own to elude defenders to complete the 27-yard TD. Caleb Wynn's conversion run puts Anniston up 14-3 at 18.9 seconds.
FOURTH QUARTER
–Cole Wilson connects on consecutive big pass plays to McClane Mohon, the last one going 36 yards for a TD. They connected for 39 yards before that. Anniston called for DPI on the conversion attempt, but Anniston stops William Gunn on the retry. Anniston leads 14-9 at 3:15.
–Piedmont's onsides kick does not go 10 yards. Anniston takes over on Piedmont's 41.