Extra sweet
Updated: September 17, 2023
A year after coming up short in marathon playoff, Bussey-Montenegro win Sunny King Charity Classic in regulation … by a lip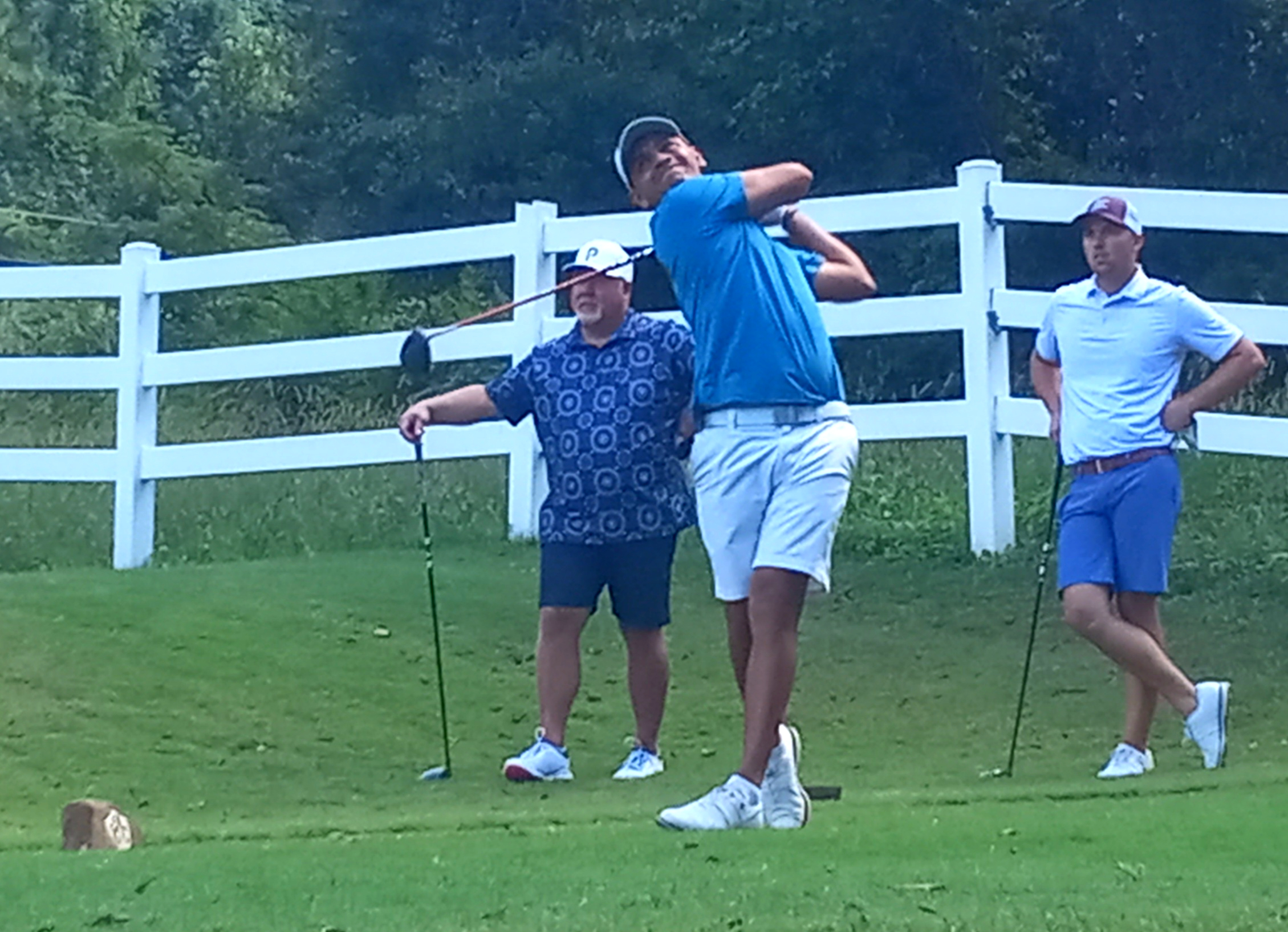 Editor's note: Story will be updated. Here's a link for scores from all flights.
By Joe Medley
East Alabama Sports Today
Anniston Country Club's No. 16 hole became Horror Hill for Layton Bussey and Jesus Montenegro in last year's Sunny King Charity Classic. Four times they climbed that hill in a marathon, daylight-defeating playoff with Ty Cole and Gary Wigington, and they lost.
A year later, Bussey-Montenegro steeled themselves while looking back at No. 16 green. As they stood on No. 17 tee and watched Jackson King putt for birdie to give himself and playing partner Freeman Fite a one-shot lead Sunday, they knew they didn't want to come back to the tournament's designated playoff hole.
"We just looked at each other, saw they made it and just said, 'Let's go,'" Bussey said.
Bussey-Montenegro birdied 17 and 18 to retake the lead then watched as Jackson's 20-foot birdie attempt on No. 18 lipped out, narrowly preventing the Sunny King's third playoff in as many years. They finished at 43-under-par and edged Fite-King and Brennan Clay-Jeremy McGatha by one stroke.
Clay-McGatha took second place on a scorecard playoff with Fite-King.
Bussey and Montenegro each scored his first Sunny King victory, claiming the prize the former Jacksonville State University teammates so narrowly and painfully missed before a nearly 300-person gallery a year ago.
"To me, it feels great," Montenegro said. "I had a really good time with my buddy, and that's what I wanted to see."
Bussey-Montenegro shot 57-56-58—171 and took the lead for the last time with Montenegro's 10-foot birdie putt on No. 18.
Playing in the next-to-last group, they looked downhill from the clubhouse and watched as King's 20-foot putt for a would-be, playoff-forcing birdie lipped out on No. 18 green.
"No relief, but it kind of closed the book on what we really wanted to do, coming back this year," Bussey said.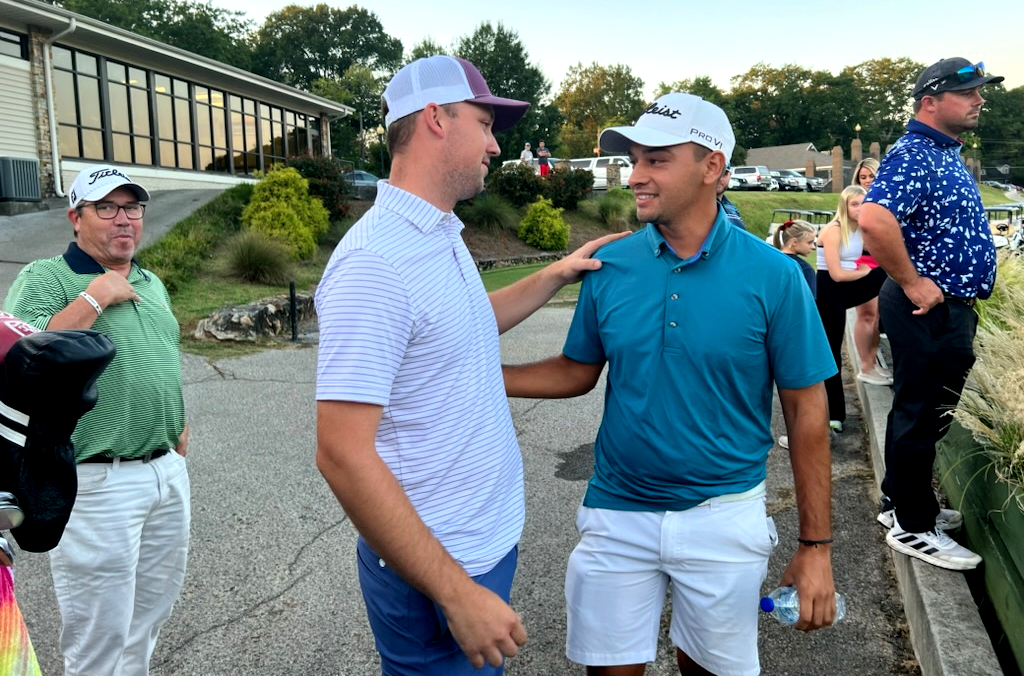 It was the final turn of events in a tournament that raised $127,000 for more than 30 charities, tournament co-chairman Brett Key announced.
Bussey-Montenegro, Fite-King and Ty Cole-Gary Wigington entered Sunday tied atop the leaderboard, at 31 under par through Friday's and Saturday's rounds at Silver Lakes and Cider Ridge. Bussey-Montenegro birdied Sunday's first three holes and four of the first six to get out to a lead.
Cole-Wigington shot 8-under 62 Sunday, but Clay-McGatha shot the day's low round at 15-under 55 to make a run at the leaders. Coming into Sunday four strokes back, they hit 42 under thanks to McGatha's eagle on the par-5 No. 17 and Clay's birdie on the par-4 18th hole.
As with all of the leading teams, Clay-McGatha reluctantly took advantage of a new charity promotion this year. The offer allowed teams to pay $100 to skip No. 12. Teams that took advantage took a zero on the hole, gaining strokes in relation to par on the par-3, 200-yard hole.
Playing ahead of the final two groups, Clay-McGatha hit 38 under after Clay's brother-in-law paid the $100. They briefly took the lead.
Clay and McGatha didn't want to pay their way out of No. 12, but other teams were doing it, partly to keep up with the side game among players.
"We had to," McGatha said.
Clay called No. 12 "a pivotal hole … that you can bogey in a heartbeat."
Skipping it and taking a zero to gain three strokes "is not golf to me," Clay said. "I get it. I love charity, and everyone else is for it, but that's not golf.
"I'm hoping next year, that doesn't happen. I mean, you can pay something and maybe hit from up tees or something like that. At least make it to where you have to do something."
Clay-McGatha's Sunday charge added intrigue coming down the stretch, as did Fite-King taking the lead with two holes to go on their home course.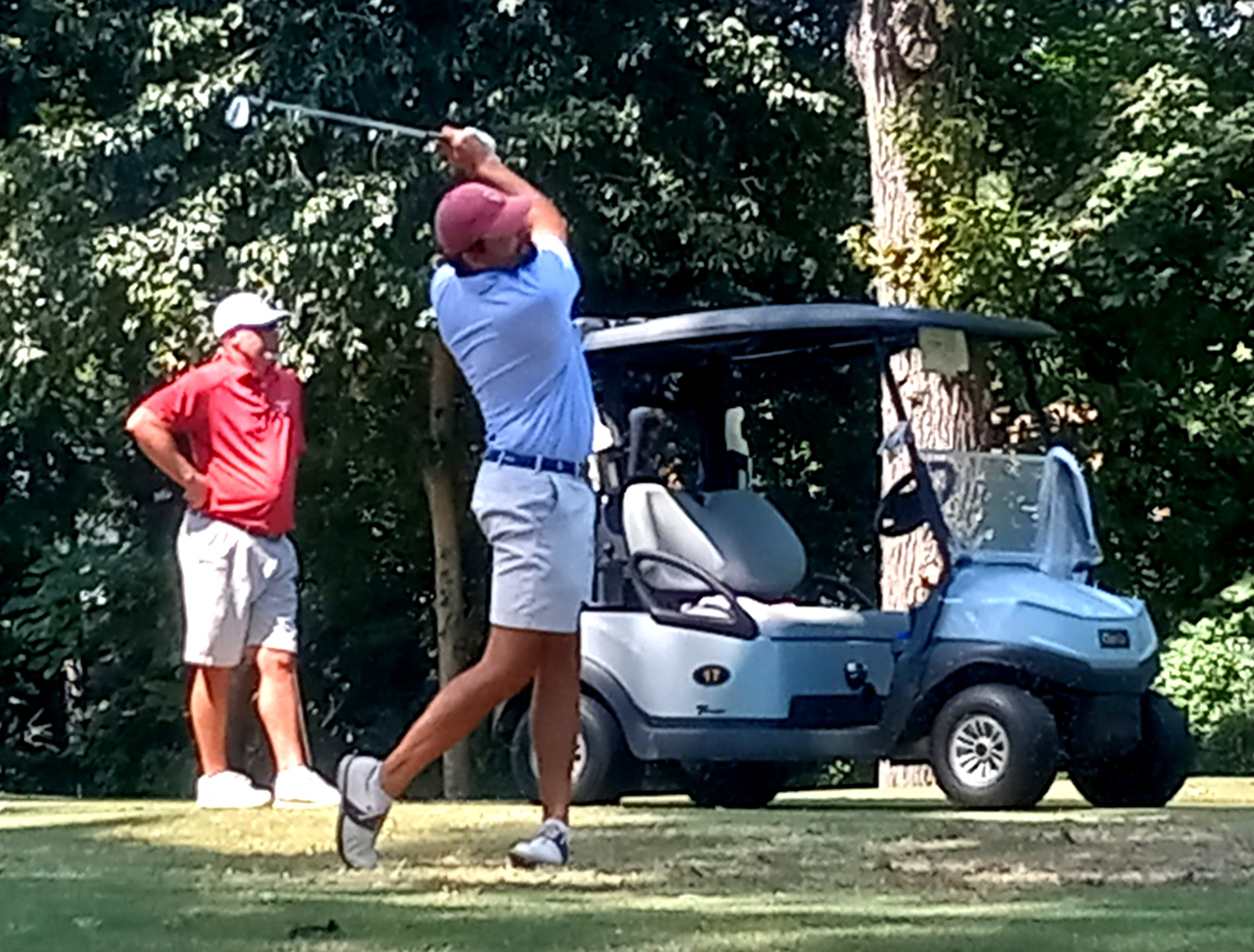 Fite-King were tied for the lead with three other teams coming out of Friday's first round at Silver Lakes and two other teams after Saturday at Cider. They stayed in the mix through Sunday.
"I just didn't drive it well today," Fite said. "The last two are going to be a problem, if you're not in the fairway. Two bad holes."
Still, King nearly holed the 20-foot birdie putt on No. 18 to force a playoff with Bussey-Montenegro.
"I thought it was center cut," King said. "I mean, it's a tough putt. You have to match speed and line, and it just caught the lip. That's all that is. I couldn't have hit a better putt."
For the victors, victory was sweet, especially after last year's agonizing outcome.
"We played hard last year and really put ourselves in a good spot," Bussey said.
Bussey is local, having starred at White Plains High School, where he finished as state Class 4A co-medalist in 2016. Montenegro, from Argentina, won the Latin-American Tour in 2022 and played on the tour this year.
The two met at Jax State and formed a friendship.
"I don't do this for a living like he does," Bussey said. "I knew it meant a lot to me, and I thought about it. I had people asking me about it all year long.
"The environment makes it so special. Even for him, it meant a lot to at least want to come back and play again. We had a great time, and we're great friends, and we've played a lot of golf together, but with a competitive environment like this, kind of a stadium environment, it's really cool."