SKCC preview?
Updated: September 10, 2023
Cole-Wigington, Bussey-Montenegro revive memories of 2022 Sunny King as Cole-Wigington wins one-hole playoff to prevail in Buddy Moore Charity Golf Tournament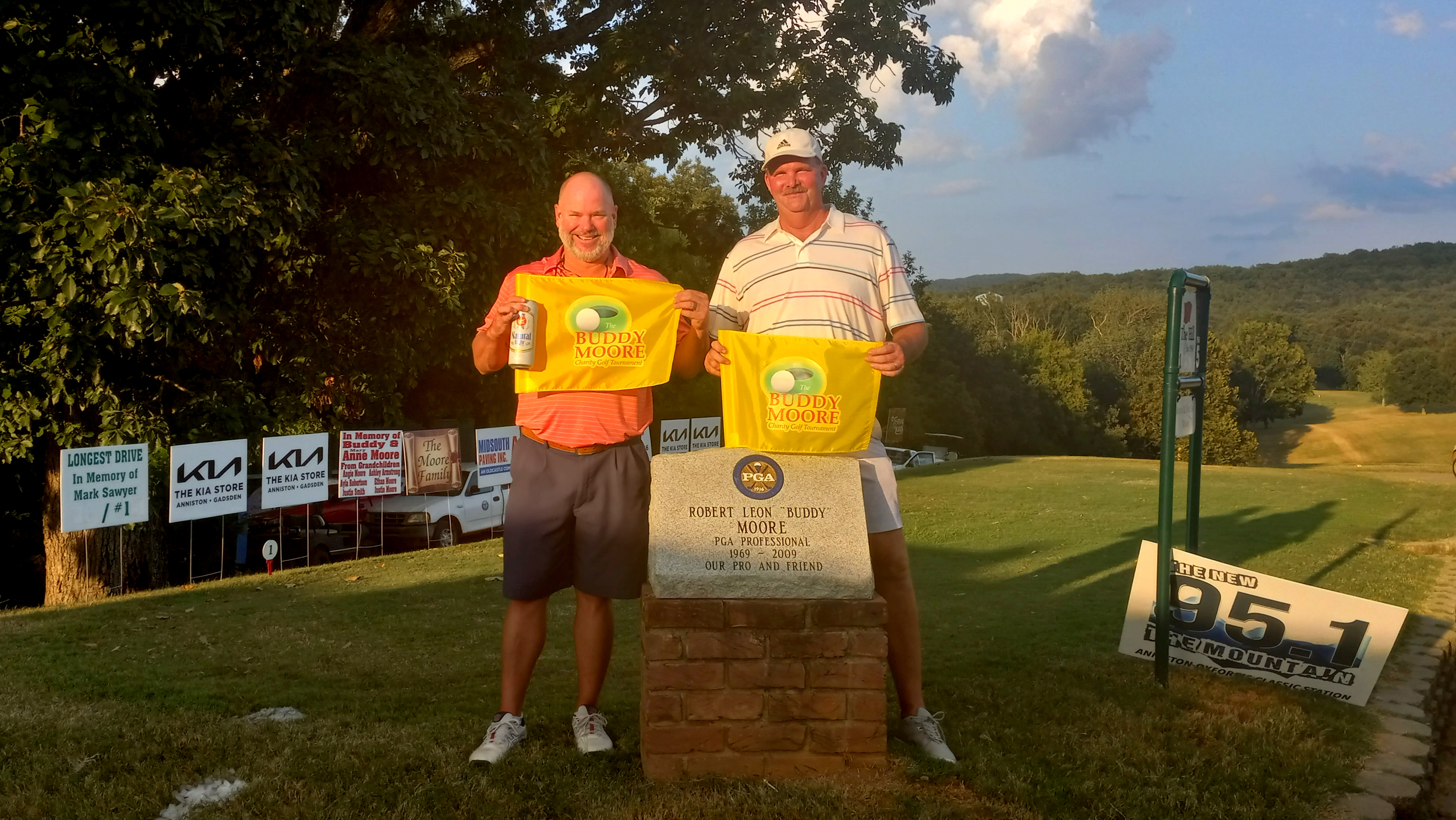 Editor's note: Buddy Moore Charity Golf Tournament scores and hyperlinks to Sunny King Charity Classic tee times below.
By Joe Medley
East Alabama Sports Today
Memories of the 2022 Sunny King Charity Classic finish rushed to mind as the teams of Ty Cole-Gary Wigington and Layton Bussey-Jesus Montenegro teed up for yet another playoff Sunday.
A few echoes away from Anniston Country Club, site of their epic four-hole playoff last year, the present and potential future of Calhoun County golf settled the Buddy Moore Classic at Anniston Municipal Golf Course.
It took just one hole this time, with Wigington finishing off an eagle with a 3-foot putt on the par-5 No. 1 hole. With this year's Sunny King set to start Friday, one can't help wondering whether the Buddy Moore was both review and preview.
When Sunny King play starts Friday at Anniston Country Club, Cider Ridge and Silver Lakes, the 54-year-old Wigington will seek his 10th title and fifth with Cole, his 48-year-old playing partner. Wigington won the other five with Randy Reaves.
"It would be great, the older we get," Wigington said. "You've got people playing on some tours and stuff like that. The competition is just crazy good. It's crazy good. Fifteen years ago, there were a handful of teams that had a chance. Now there's 15 of them, and they're younger, better and play all year around.
"The older we get, that's just not going to keep going. Let's face the facts. It just ain't. If we could get another one under our belt, it would be nice."
Bussey was the Alabama High School Athletic Association Class 4A co-medalist in 2016. The 26-year-old Montenegro, a native of Mar del Plata, Argentina, is Bussey's former Jacksonville State University teammate and a second-year pro with full status on the Latin-American Tour.
The dynamic 20-something duo's playoff with Cole-Wigington in the Buddy Moore on Sunday was one thing. The 2022 Sunny King playoff, complete with a gallery of an estimated 300 people who watched both teams take four cracks at ACC No. 16, is that ache that keeps on gnawing.
"I get asked about it every week, and up for a whole year, people asking me about it, and how crazy that was," Bussey said. "It really was.
"There's nothing I hate more than losing. It absolutely tears me up, but the joy that was, with everybody being around? It hurts, and I just want to just destroy everybody this year, but it was the most fun I've ever had playing golf. It was awesome."
The latest playoff between Cole-Wigingshow put a club-and-ball exclamation point on a tournament that raised $28,000 for charity, as of Sunday, and is expected to raise $30,000 by the time all of the money is counted.
Bussey-Montenegro entered Sunday tied with Jeremy McGatha-Matt Rogers and Tanner Wells-Kevin Daugherty after all three teams shot 16-under-par 54 Saturday. Cole-Wigington and Andrew Tyson-Guy Bradley started the day one stroke back.
Cole-Wigington and Bussey-Montenegro finished regulation play at 27 under par. Like last year, they played one playoff hole to settle it. This time, they just played it once.
Wigington teed to within 165 feet then parked an 8-iron within three feet of the hole.
"Just two good shots back to back," Wigington said. "It was the perfect number. Didn't have to hit it easy or hit it hard and just stayed down and hit a good shot."
Bussey-Montenegro approached 25 feet short of the hole, off the green and down a slight incline. With -Cole-Wigington almost certain to hole out for eagle, Bussey and Montenegro tried to chip in to extend the playoff. Both narrowly missed.
The four men shook hands, and Cole and Wigington took the winners' picture, each holding Buddy Moore stick flags. Bussey and Montenegro look forward to a potential next round, starting Friday.
"They are a joy to play with," Bussey said. "It was great, and I'm looking forward to it this year."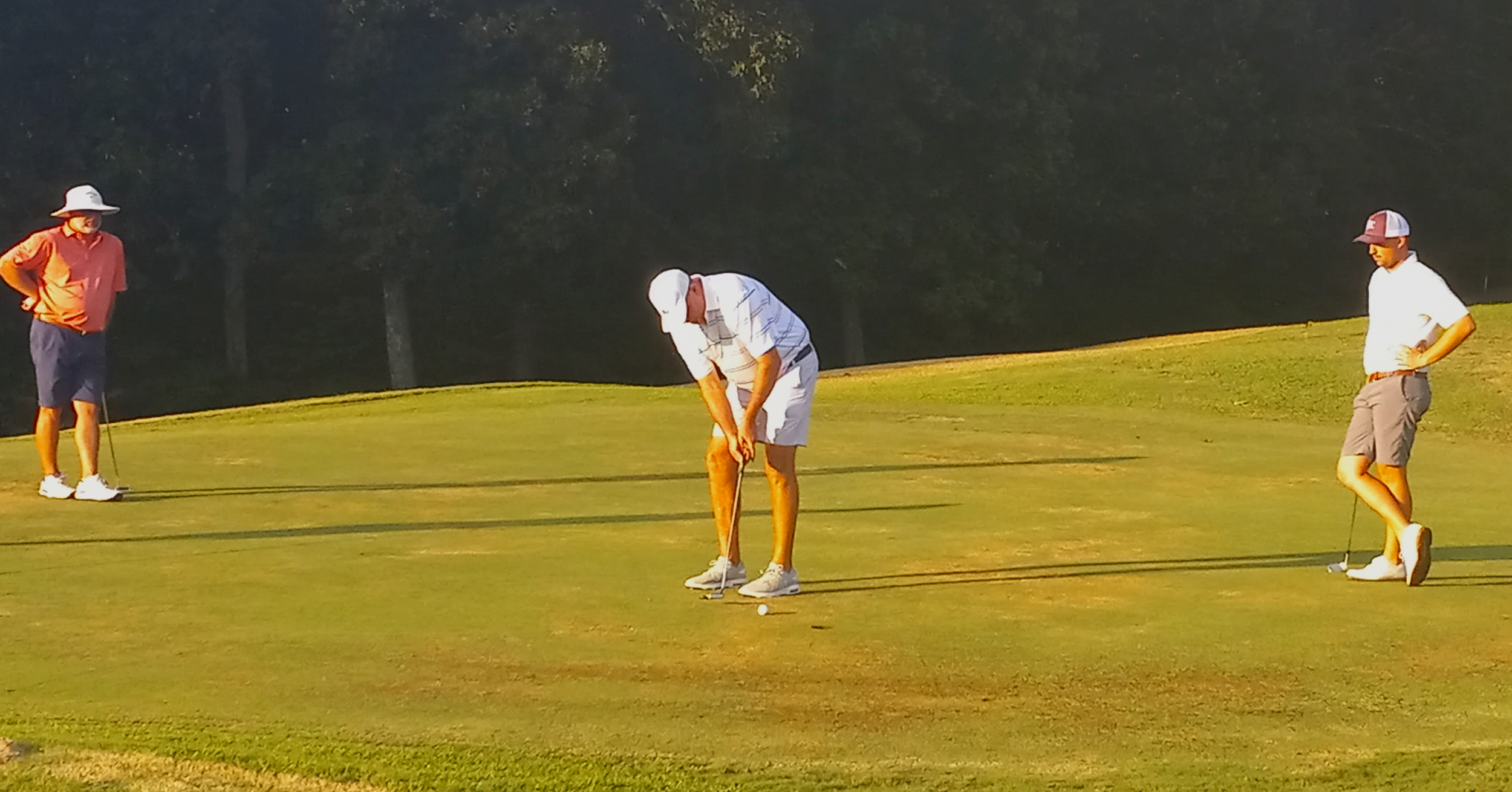 On the tee
Tee times for the Sunny King Charity Classic can be found here.
Buddy Moore Charity Golf Tournament scores
| | | | |
| --- | --- | --- | --- |
| BUDDY FLIGHT | | | |
| TEAM | RD. 1 | RD. 2 | TOTAL |
| Cole-Wigington (won in playoff) | 55 | 58 | 113 |
| Bussey-Montenegro | 54 | 59 | 113 |
| McCaig-Edwards | 56 | 59 | 115 |
| Wells-Daugherty | 54 | 62 | 116 |
| Rogers-McGatha | 54 | 63 | 117 |
| Brooks-Clay | 58 | 59 | 117 |
| Tyson-Bradley | 55 | 64 | 119 |
| Calkins-Hubbard | 58 | 63 | 121 |
| Lipscomb-Calvert | 59 | 62 | 121 |
| Thompson-Woodard | 58 | 65 | 123 |
| Carter-Black | 59 | 65 | 124 |
| MARY ANN FLIGHT | | | |
| Eaton-Elliott | 61 | 60 | 121 |
| Straub-Johnson | 62 | 60 | 122 |
| Howell-Pate | 61 | 63 | 124 |
| Heim-Heim | 63 | 65 | 128 |
| Hicks-Hubbard | 61 | 68 | 129 |
| Clonts-Key | 63 | 68 | 131 |
| Brown-Dopson | 63 | 70 | 133 |
| Barnes-Carden | 62 | 72 | 134 |
| Mullendore-Mullendore | 63 | 73 | 136 |
| SCOTT FLIGHT | | | |
| Noah-Fulmer | 65 | 63 | 128 |
| Hill-Fitzgerald | 64 | 64 | 128 |
| Braxton-Mullendore | 64 | 66 | 130 |
| Towns-Snow | 64 | 67 | 131 |
| Phillips-Hughston | 65 | 66 | 131 |
| Wheeler-McClellan | 66 | 66 | 132 |
| Ramey-Shultz | 65 | 69 | 134 |
| Jones-Jones | 68 | 66 | 134 |
| Akers-Sapp | 66 | 69 | 135 |
| Bussey-Sears | 67 | 68 | 135 |
| ANGIE FLIGHT | | | |
| Salmon-Randall | 69 | 66 | 135 |
| Strickland-Herndon | 70 | 66 | 136 |
| Jenkins-Gaines | 70 | 66 | 136 |
| Huie-Huie | 70 | 67 | 137 |
| Whitaker-Thomas | 73 | 67 | 140 |
| Stewart-Jackson | 72 | 69 | 141 |
| McGinnis-Dulaney | 69 | 77 | 146 |
| Webb-Gable | 74 | 74 | 148 |
| Rogers-Gann | 70 | 79 | 149 |
| Renfroe-Renfroe | 74 | 78 | 152 |
Cover photo: Ty Cole and Jesus Montenegro (left) and Gary Wigington and Layton Bussey shake hands after Sunday's completion of the Buddy Moore Charity Golf Tournament at Anniston Municipal Golf Course. (Photo by Joe Medley)