Talons (still) out
Donoho girls bring home another AHSAA 'red map' after dramatic jump in classification because of competitive-balance rule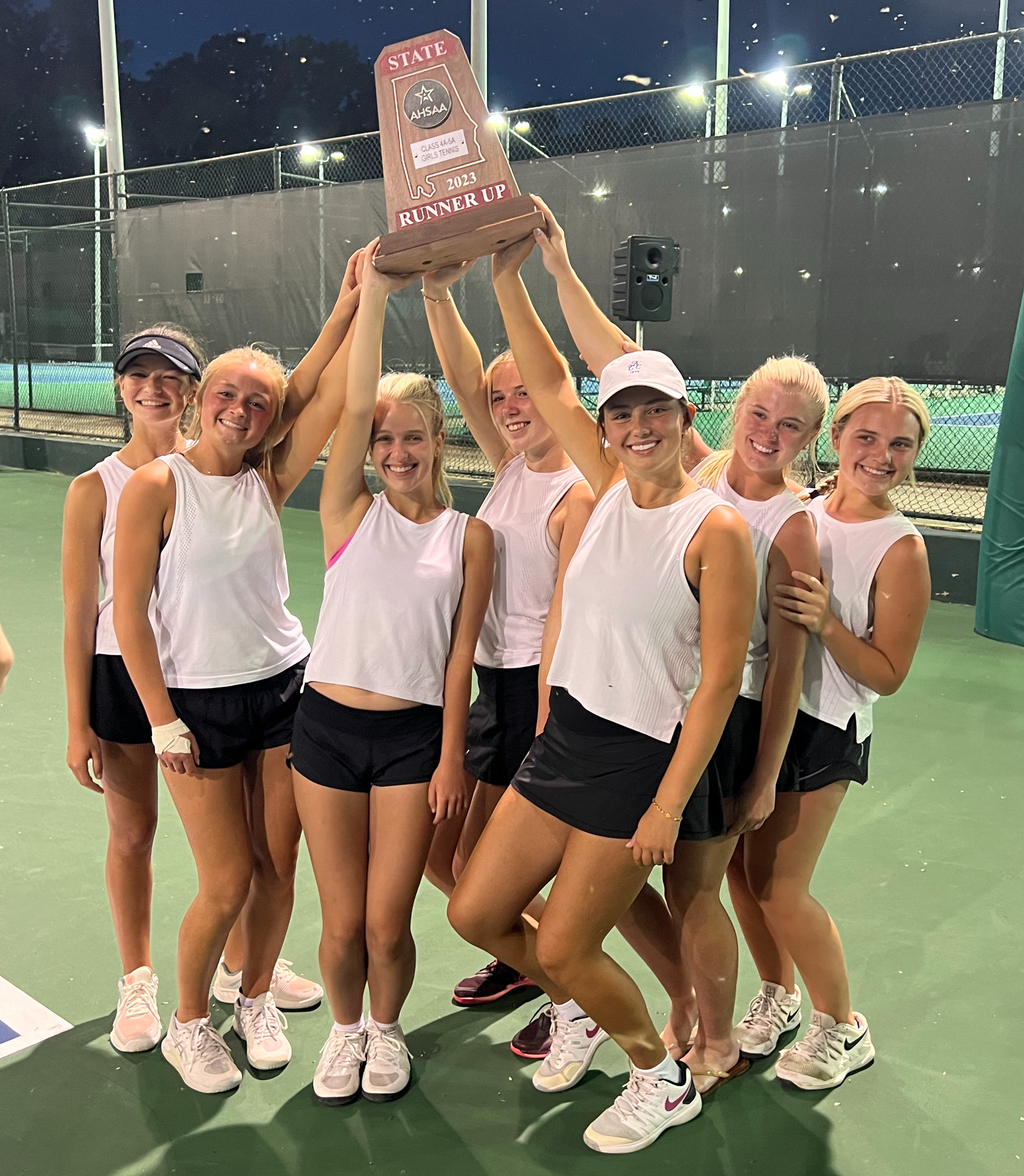 By East Alabama Sports Today
MOBILE — Donoho's girls' tennis team withstood a dramatic jump in competition this season and still brought home an AHSAA map trophy from the state tournament.
The Falcons advanced to the semifinals on four of six singles courts and all three doubles courts and came away as Alabama Class 4A-5A state runners up for the third year in a row.
Donoho was 1A-3A runner up in 2021 and 2022, and those successes earned them enough points under the AHSAA's competitive-balance system for private schools to bump to the next competition category for this season. That meant that a school with 1A enrollment had to play 4A-5A in tennis.
"I am extremely proud of our girls," Donoho coach Kristie Alderman said. "The jump from 1A to 4A-5A is a huge one, and they accepted the challenge and finished runner up in the largest classification of the AHSAA.
"The 4A-5A classification has eight sections, and so 16 teams can qualify for state. That was also a big change for us. Class 1A-3A only has four sections and, therefore, only eight qualifiers, so the brackets are much smaller. Advancing like we did in a 16-person bracket is amazing."
Lily Grace Draper, Claire Hillman, Blair Kitchen and Anne Marie Harris reached the semifinals, and Harris finished as runner up in No. 6 singles.
Hillman-Draper, Mary Marshall Perry-Avery Barnett and Kitchen-Harris made the semifinals on the three doubles courts.
Donoho rolled up 43 team points, eight more than third-place LAMP. State champion UMS Wright had 76.