ASWA All-State basketball
State champions Jacksonville, Spring Garden lead the way in selections from EASportsToday.com coverage area; eight make first team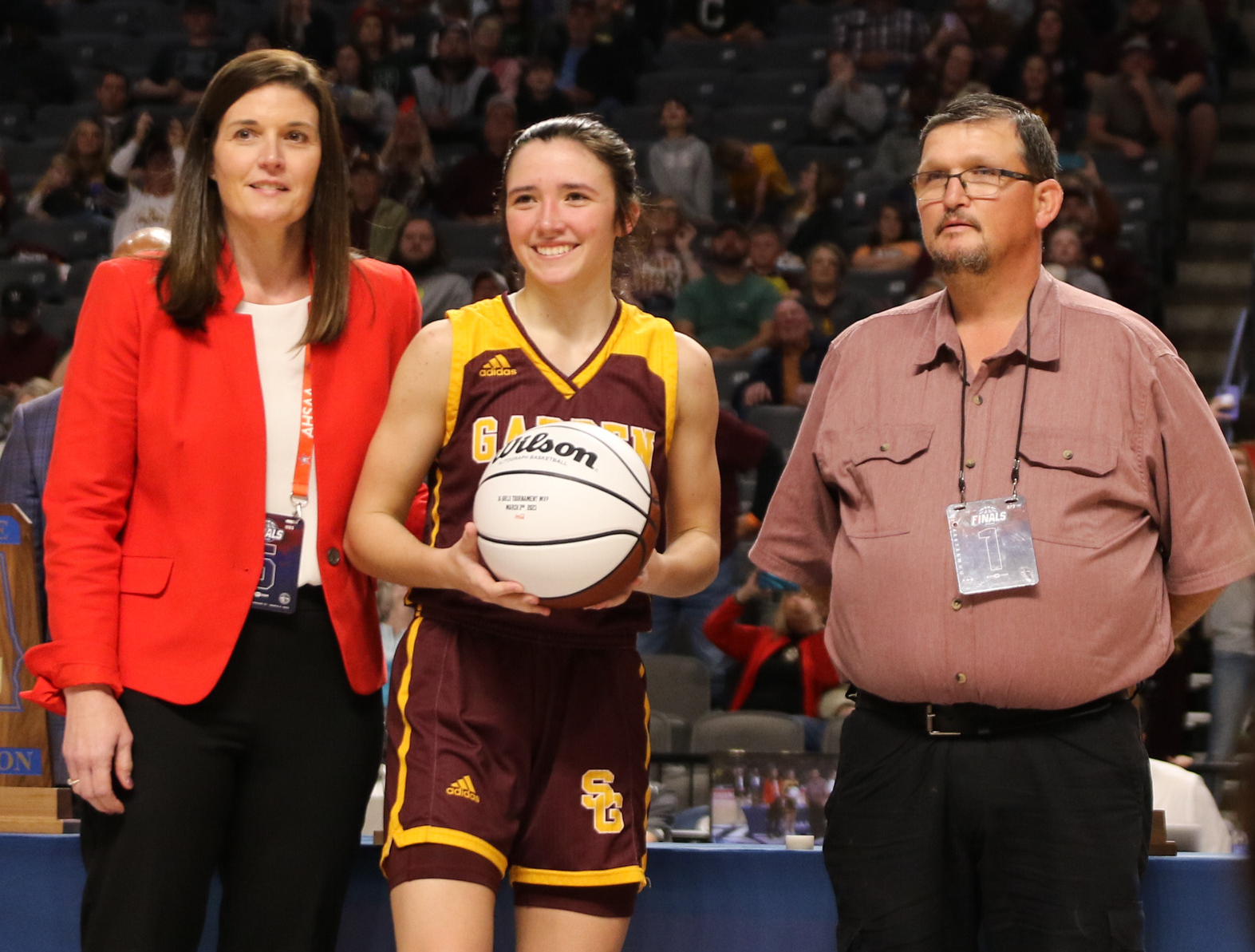 By Joe Medley
East Alabama Sports Today
State champions Jacksonville boys and Spring Garden girls led the East Alabama Sports Today coverage area on the 2023 Alabama Sports Writers Association's all-state basketball team.
For Jacksoville's boys, senior guard John Broom was voted Class 4A first team by the state's sports writers, and senior guard Caden Johnson was third team. First-year Jacksonville coach Tres Buzan was 4A coach of the year.
Spring Garden's Ace Austin was first-team all-state in Class 1A girls, and senior guard Kayley Kirk was third team. Austin's dad, Ricky Austin, was 1A girls coach of the year.
Broom, Austin, Piedmont's Alex Odam, Oxford's Xai'Onna Whitfield and Ohatchee's Jorda Crook, all player-of-the-year finalists in their classifications in 2022, repeated as first-team selections.
Sports writers gathered nominees from all over the state and voted in Montgomery on March 9. They voted for first, second and third team and a maximum of four honorable-mention selections in all seven Alabama High School Athletic Association classifications plus AISA.
Finalists for the player-of-the-year awards are planned for release Wednesday morning.
The winners, Super All-State and Mr. and Miss Basketball will be named April 6 at a luncheon banquet at the Montgomery Renaissance.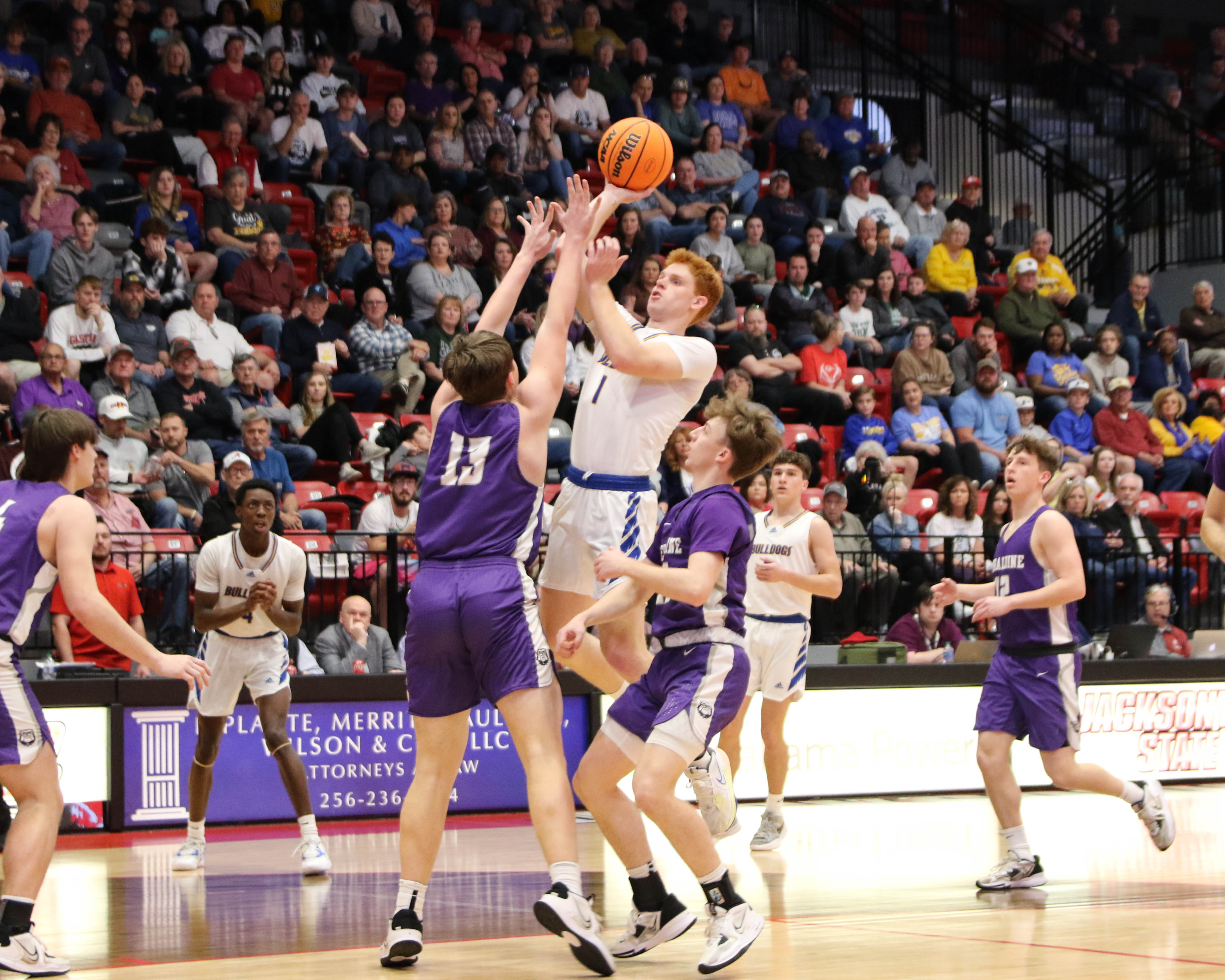 2023 ASWA All-State basketball team
The Alabama Sports Writers Association All-State basketball teams, honorable mentions and coaches of the year:
CLASS 7A GIRLS
First-team All-State
Syriah Daniels, Auburn, Jr., G, 6-0
Jordan Hunter, Hewitt-Trussville, Jr., G, 5-10
Reniya Kelly, Hoover, Sr., G, 5-8
Kennedy Langham, Sparkman, Sr., G, 5-9
Jabria Lindsey, Central-Phenix City, Fr., G, 5-8
Second-team All-State
Jestiny Dixon, Foley, Sr., G-F, 5-8
Layla Etchison, Hoover, Sr., G, 5-6
Sarah Gordon, Vestavia Hills, So., G, 5-11
Madi-Marie Grayson, Alma Bryant, Fr., G, 5-5
Ja'Kyah Smith, Bob Jones, Fr., G, 5-10
Third-team All-State
Jenice Adjessom, Davidson, Jr., G
La'Merrica Johnson, Daphne, Jr., F, 5-11
Ivy Klezmer, Mary Montgomery, Sr., F, 5-10
KeLeigh Mullens, Prattville, Fr., G, 5-4
Anna Towry, Vestavia Hills, Sr., G, 5-7
Honorable mention
Sarah Amos, Enterprise, So., C, 6-2
Brooke Hallman, Auburn, So., G, 5-8
Alanah Pooler, Hoover, Sr., F, 6-1
Raegan Whitaker, Oak Mountain, Jr., G, 5-9
Coach of the year
Jarvis Wilson, Sparkman
CLASS 7A BOYS
First-team All-State
DeWayne Brown, Hoover, So., C, 6-9
Jacoby Hill, Central-Phenix City, So., G, 6-4
Win Miller, Vestavia Hills, Sr., G, 6-3
Labaron Philon, Baker, Jr., G, 6-4
Sam Wright, Spain Park, Sr., F, 6-9
Second-team All-State
Jamicah Adair, Jeff Davis, Jr., G, 6-0
Ja'Mari Arnold, Huntsville, Sr., G, 5-10
Thomas Dowd, Dothan, Sr., G, 6-7
R.J. Johnson, Grissom, Sr., G, 6-3
Salim London, Hoover, So., G, 6-4
Third-team All-State
Zach Gray, Spain Park, Sr., G, 6-6
Matt Heiberger, Oak Mountain, Sr., G, 6-4
Will Hawkins, Sparkman, Sr., G, 6-4
Israel Miles, Grissom, Sr., G, 6-2
Spence Sims, Fairhope, Jr., G, 6-1
Honorable mention
Ja Carr, Auburn, Sr., G, 5-9
Caleb Harrison, Huntsville, Jr., F, 6-9
Paul Lanzi, Chelsea, Sr., G, 6-3
Jordyn Turner-Durley, Florence, Sr., G, 6-2
Coach of the year
Scott Ware, Hoover
CLASS 6A GIRLS
First-team All-State
Jazmyn Bigham, Theodore, Jr., C, 5-11
Leah Brooks, Hazel Green, Jr., F, 6-2
Laci Gogan, Pelham, Sr., G, 5-8
Takya Norman, Carver-Montgomery, Sr., F, 6-0
Xai'Onna Whitfield, Oxford, Jr., G, 5-8
Second-team All-State
Jareah Branch, Hillcrest-Tuscaloosa, So., G, 5-11
Lindsey Cox, McGill-Toolen, Sr., G, 5-3
Tamiria Jones, Huffman, Jr., G, 5-9
Jaylen Pleasant, Mortimer Jordan, Sr., G, 5-4
Tamirea Taylor, McAdory, Sr., F, 5-11
Third-team All-State
Kamoriah Gaines, Clay-Chalkville, Jr., G, 5-6
Saniya Jackson, Park Crossing, So., G, 5-8
Ava McSwain, Cullman, So., G, 5-10
Sydney Steward, Hazel Green, Jr., G, 5-9
Ghanaye Whitfield-Moss, Hueytown, Sr., F, 5-11
Honorable mention
Iasia Anderson, Chilton Co., So., G, 5-8
Zakieah Berry, Jemison-Huntsville, So., G, 5-7
Gracie Hill, Hartselle, So., G, 5-5
Blakeley Nixon, Hillcrest-Tuscaloosa, Fr., G, 5-8
Coach of the year
Lin Slater, Huffman
CLASS 6A BOYS
First-team All-State
Terry Coner Jr., Pinson Valley, Sr., G, 6-0
Ty Davis, Mountain Brook, Jr., G, 6-5
Caleb Holt, Buckhorn, Fr., G, 6-5
Bennett Russ, McGill-Toolen, Sr., G, 6-0
Caleb White, Pinson Valley, Jr., G, 5-11
Second-team All-State
Julius Clark, Mountain Brook, Sr., F, 6-6
Jake Dorough, Cullman, So., G, 6-2
Antonio Jackson, Blount, Sr., F, 6-5
Peyton Wiggins, Huffman, So., G, 6-2
Adrian Wooley, Paul Bryant, Jr., G, 6-5
Third-team All-State
Jayden Cooper, Pike Road, Sr., G, 6-2
Devin McCaine, McGill-Toolen, Sr., G, 5-11
Javion Taylor, Central-Tuscaloosa, Jr., G, 6-2
Keshawn Watkins, Columbia, Jr., F, 6-5
Josh Williams, Helena, Jr., G, 6-3
Honorable mention
Tucker Cagle, Cullman, Sr., F, 6-4
Kiah Key, Hartselle, Sr., G, 6-2
Devon McKinnon, Clay-Chalkville, So., G, 6-3
Luke Stephens, Fort Payne, Jr., G, 6-3
Coach of the year
Patrick Harding, Buckhorn
CLASS 5A GIRLS
First-team All-State
Makala Hobdy, Charles Henderson, Sr., G, 5-6
Julie Nekolna, Holtville, Sr., F, 6-3
Missy Odom, Jasper, Fr., F-C, 6-2
Tamya Smith, Pleasant Grove, Jr., G, 6-0
Olivia Vandergriff, Guntersville, Sr., G, 5-7
Second-team All-State
Kellyn Hunter, Faith-Mobile, Sr., G, 5-4
Lily Livingston, Arab, So., G-F, 5-8
Erin Martin, Brewbaker Tech, Jr., G, 5-10
Ramie Reid, Hayden, Sr., F, 6-0
Ella Vallas, St. Paul's, Sr., C, 6-2
Third-team All-State
Shauna Fletcher, East Limestone, Sr., F, 5-10
Ameyah Gray, Carroll-Ozark, Sr., G-F, 5-10
Kennedi McGhee, Brewbaker Tech, So., F, 6-1
Alexus Neal, Headland, Sr., C, 6-0
Liberty Shadix, West Point, Jr., F, 6-1
Honorable mention
Bryleigh Bodine, Arab, Jr., F, 5-6
Mia Hollingsworth, Jasper, Jr., G-F, 5-8
Kiara Howard, Vigor, Sr., G, 5-2
Dalyce Sanders, Marbury, Sr., G, 5-7
Coach of the year
Brad Kitchens, Arab
CLASS 5A BOYS
First-team All-State
Austin Cross, Charles Henderson, Sr., G, 6-3
Cam-Ron Dooley, Valley, Jr., F, 6-4
Brandon Fussell, Guntersville, Sr., G, 6-1
Jalen Jones, Ramsay, Sr., G, 5-10
Dasean Sellers, Wenonah, Sr., G-F, 6-5
Second-team All-State
Terrel Johnson, Vigor, Jr., G, 6-2
Kerrington Kiel, Ramsay, Sr., F, 6-6
Tyson Sexton, Scottsboro, Sr., G, 6-5
Brandon Thomas, Valley, Jr., C, 6-6
Kalib Thomas, John Carroll, Sr., G, 6-1
Third-team All-State
JB Beaty, Jasper, Sr., G, 5-10
Troy Buchanan, Central-Clay Co., Sr., F, 6-3
Milton Jones, Wenonah, Fr., G-F, 6-4
Kobe Payne, Fairview, Jr., G, 6-1
Jayden Spearman, Charles Henderson, Sr., F, 6-3
Honorable mention
Joe Brown, St. Paul's, Sr., G, 6-4
Josiah Jones, Fairfield, Jr., G, 5-11
Jamarious Martin, Valley, Sr., G, 5-10
Brittney Reed, LeFlore, Jr., F, 6-6
Coach of the year
Marshon Harper, Valley
CLASS 4A GIRLS
First-team All-State
Leslie Hames, Priceville, So., G, 5-8
Hannah Jones, Prattville Christian, Sr., F, 6-2
Naomi Jones, Jackson, Sr., C, 6-3
Ivey Maddox, Good Hope, Jr., G, 5-10
Chloe Siegel, Deshler, Sr., G, 5-7
Second-team All-State
Noel Freeman, UMS-Wright, Jr., F, 5-10
Baylor Phillips, Oneonta, Sr., G, 5-9
Raegan Rickard, Deshler, Jr., G, 5-6
CoCo Thomas, Prattville Christian, Sr., F, 5-11
Kaylee Yarbrough, New Hope, So., G, 5-
Third-team All-State
Chartavia Conwell, Bibb Co., Jr., F, 6-0
Hannah Smith, Catholic-Montgomery, Fr., F, 5-11
Aubrey Sorrells, Hamilton, Jr., G-F, 6-0
Avery Rogers, Prattville Christian, Jr., G, 5-8
Bailey Tetro, Good Hope, Jr., G, 5-4
Honorable mention
Yasmine Jackson, Hale Co., Jr., G, 5-4
Mary Hayes Johnson, Cherokee Co., Jr., G, 5-3
Jameshia Powell, Jackson, Sr., G, 5-6
Ella Watts, St. John Paul II, 7th, F, 6-0
Coach of the year
Terrie Nelson, Priceville
CLASS 4A BOYS
First-team All-State
KJ Anderson, Deshler, Sr., G, 6-0
John Broom, Jacksonville, Sr., G, 6-5
AJ Edwards, Hale Co., Jr., G, 6-1
Drake James, Haleyville, Sr., G, 6-3
Chase McCarty, Westminster-Huntsville, Jr., G, 6-6
Second-team All-State
Johntarius Green, Catholic-Montgomery, Sr., G, 6-0
Carson Muse, West Morgan, Sr., G, 6-6
Bridges Simmons, UMS-Wright, Sr., G, 6-3
Julian Whitfield, Holt, Sr., G, 6-2
Stephen Williams, Escambia Co., Jr., F, 6-8
Third-team All-State
Brayden Harris, Hanceville, Sr., G, 5-6
Caden Johnson, Jacksonville, Sr., G, 6-4
Colton Lindsey, Good Hope, Sr., F, 6-7
Joshua Palmer, Catholic-Montgomery, Sr., F, 6-5
Joey Robertson, Orange Beach, Sr., F, 6-6
Honorable mention
Chris Billingsley, Bibb Co., Sr., G, 6-4
Luke Bussey, White Plains, Sr., G, 5-11
Cannon Kyles, Handley, Jr., F, 6-0
Colin Patterson, West Limestone, Sr., F, 6-5
Coach of the year
Tres Buzan, Jacksonville
CLASS 3A GIRLS
First-team All-State
Ava Card, St. James, Jr., G-F, 5-11
Jorda Crook, Ohatchee, Sr., F, 5-9
Cali Smallwood, Susan Moore, Sr., G, 5-9
Emma Kate Smith, Trinity, Sr., G, 5-8
Ruthie Smith, Lauderdale Co., Sr., F, 6-0
Second-team All-State
Leah Childress, Clements, So., G, 5-7
Sawyer Kate Hulgan, Plainview, 8th, G, 5-9
Shila Marks, Lauderdale Co., So., G, 5-7
Jaxson Sizemore, Glencoe, Sr., G, 5-6
Maddie Smith, Trinity, So., G, 5-8
Third-team All-State
Shamaya Allison, Southside-Selma, Jr., G, 5-8
Mya Moskowitz, Trinity, So., F, 5-10
Brandy Phillips, Beulah, Sr., G, 5-9
LeLe Ridley, Piedmont, Sr., F, 5-10
Vanessa Stoudemire, Opp, Sr., G, 5-7
Honorable mention
Sky Latham, Gordo, 8th, G, 5-5
Keona Miller, Hillcrest-Evergreen, Sr., C, 6-2
Dominique Owens, Midfield, Sr., G, 5-10
Amity White, Pike Co., Sr., G-F, 5-5
Coach of the year
Shane Childress, Clements
CLASS 3A BOYS
First-team All-State
Shannon Jones, Midfield, Sr., G, 5-11
Alex Odam, Piedmont, Sr., G, 6-3
Luke Smith, Plainview, Sr., F, 6-5
Tyler Thomas, Cottage Hill, Sr., F, 6-6
Jonah Williams, Plainview, Sr., G, 6-0
Second-team All-State
DeMarreon Baldwin, Midfield, Sr., G, 6-4
Emmanuel Clarton, Sumter Central, So., G, 6-3
Rod Jackson, Houston Academy, Jr., G, 6-3
Jermonte Stallworth, Hillcrest-Evergreen, Jr., G, 6-0
Trent Thomas, Cottage Hill, Sr., F, 6-6
Third-team All-State
Cam Fields, Ashford, Jr., G, 6-1
Slate Gilbert, Winfield, Fr., G, 6-3
Dewayne Hudson, Sumter Central, Sr., F, 5-11
Moses McDowell, Daleville, Jr., G, 6-4
Josh Scott, Sylvania, So., G, 6-5
Honorable mention
Miles Edwards, Lauderdale Co., Jr., G, 6-1
Carson Huff, Indian Springs, Sr., G, 5-10
Jordan Presley, Hokes Bluff, Sr., G, 6-5
Roosevelt Towns III, Southside-Selma, Sr., F, 5-10
Coach of the year
Courtney Jones, Midfield
CLASS 2A GIRLS
First-team All-State
Ella Dickerson, Cold Springs, Fr., G, 5-10
Belle Hill, Mars Hill Bible, 7th, G, 5-11
Briley Merrill, Ranburne, Sr., G, 5-10
Macey Roper, Pleasant Valley, Sr., G, 5-6
Kallie Tinker, Pisgah, Sr., G, 5-3
Second-team All-State
Jordyn Alston, Geneva Co., Sr., G, 5-7
Maci Brown, Cold Springs, Jr., G, 5-6
Tymiah Burroughs, Washington Co., Jr., G, 5-5
Audrey Stults, Lexington, Sr., G, 5-6
Ella Wheeler, Sulligent, So., G, 5-9
Third-team All-State
Le'Naya Essex, Francis Marion, Sr., G, 5-7
Ja'mya Glover, Abbeville, Jr., F, 6-0
Nakeriona Heard, Lanett, Fr., G, 5-9
Kailyn Quails, Hatton, Sr., G, 5-8
Katelyn StClair, Sand Rock, Jr., G, 5-9
Honorable mention
Alex Brownlee, Tuscaloosa Academy, Sr., G, 5-8
Ja'Kalynn McGinnis, Vincent, So., C, 5-11
Tyla Tatum, Collinsville, Sr., G, 5-8
Emma Kate Wright, Mars Hill Bible, Sr., G, 5-6
Coach of the year
Flori Sweatt, Mars Hill Bible
CLASS 2A BOYS
First-team All-State
Jatavius Colvin, Aliceville, Sr., G, 6-0
Dyqwayshon Grubbs, Barbour Co., Jr., G, 6-3
Walker McKee, Tuscaloosa Academy, Sr., G, 6-0
Jacob StClair, Sand Rock, Sr., G, 6-2
Chandler Sullivan, North Sand Mountain, Sr., F, 6-2
Second-team All-State
Kaden Justice, Sand Rock, Sr., G, 6-6
Isaiah Matthews, Whitesburg Christian, Sr., G, 6-2
Connor Pigg, Mars Hill Bible, Sr., G, 6-4
Elijah Whitfield, Lanett, Sr., G, 5-11
Ty'Jarian Williams, Aliceville, Sr., F, 6-3
Third-team All-State
Kollin Brown, Holly Pond, Jr., G, 5-10
Noah Chism, Sulligent, Sr., F, 6-1
Hugh Hargett, Mars Hill Bible, Sr., G, 5-10
Skylar Townsend, Tanner, Jr., F, 6-3
Colton Wills, Collinsville, Sr., G, 6-2
Honorable mention
Christian Beam, Woodland, Sr., C, 7-0
Tamarion Harrington, LaFayette, Sr., F, 6-4
Micah Lampkin, Holy Family, Sr., G-F, 6-6
Tyquan Simon, Aliceville, Jr., F, 6-3
Coach of the year
Christopher Walker, Aliceville
CLASS 1A GIRLS
First-team All-State
Ace Austin, Spring Garden, So., G, 5-8
Ashlee Gann, Covenant Christian, Sr., G, 5-8
Kendall Lacoste, University Charter, Sr., G, 5-8
Timya Thurman, Linden, Sr., C, 6-4
A'Lyric Whitfield, Elba, So., G, 5-6
Second-team All-State
Sarah Davis, Shoals Christian, So., F, 5-10
Chauncey Dixon, Leroy, So., C, 6-2
Kaina King, Skyline, Jr., G, 5-2
Taylah Murph, Loachapoka, Sr., G, 5-4
Lily Robinson, Marion Co., Fr., G, 5-7
Third-team All-State
Lillie Boggan, Georgiana, So., G, 5-6
Elizabeth Cross, Red Level, Sr., G, 5-1
Kayley Kirk, Spring Garden, Sr., G, 5-6
Gracie Manley, Addison, Sr., F, 5-7
Ty'Asia McGhee, A.L. Johnson, Jr., G, 5-7
Honorable mention
A'Mya Brown, Wadley, So., G, 5-5
Haley Hendrix, Victory Christian, Jr., F, 5-6
Macy Moore, Brilliant, So., G, 5-4
Jasmyn Thomas, Loachapoka, Jr., G, 5-5
Coach of the year
Ricky Austin, Spring Garden
CLASS 1A BOYS
First-team All-State
Rayshon Coleman, Florala, So., G, 6-0
Thomas Curlee, Faith-Anniston, Sr., F, 6-0
Trey Kellogg, Covenant Christian, Jr., F, 6-4
Jaden Nixon, Autaugaville, Sr., G, 6-4
Tommy Tisdale III, Keith, Jr., G, 6-3
Second-team All-State
Joe Aldridge, Marion Co., Jr., G, 6-1
Jalen Chandler, Covenant Christian, So., F, 6-6
Jasaveion Moore, Loachapoka, Sr., G, 6-2
Jayden Parks, Brantley, So., G, 5-10
Javen Poindexter, Red Level, Jr., G, 6-3
Third-team All-State
Brady Gilbreath, Addison, Sr., G, 6-0
Treveyon Hill, McIntosh, Sr., F, 6-2
Jayden Nesbitt, Oakwood Academy, Sr., C, 6-6
John Welsh, Spring Garden, So., C, 6-2
Drew Williamson, Donoho, Sr., G, 6-0
Honorable mention
Jarrett Benson, Meek, Jr., G-F, 6-3
Nasir Cheatham, Georgiana, So., G, 6-2
Jaylen Manuel, Millry, Jr., G, 6-0
Jaquan Reeder, Hackleburg, So., G, 5-10
Coach of the year
Melvin Allen, Oakwood Academy
AISA GIRLS
First-team All-State
Bailey Brown, Morgan Academy, Sr., G, 5-6
Lindsey Brown, Edgewood, Jr., G, 5-7
Grace Davis, Clarke Prep, Sr., G, 6-0
Takayla Davis, Glenwood, Jr., F, 6-0
Chloe Helms, Lakeside, Jr., G, 5-7
Second-team All-State
Caroline Armstrong, Abbeville Christian, Sr., G, 5-7
Madison Davis, Lee-Scott, Jr., G, 5-5
Lakin Harrell, Crenshaw Christian, Sr., G, 5-2
Molly Powell, Lowndes Academy, Sr., G, 5-7
Lily VanDyke, Fort Dale Academy, Sr., G, 6-2
Third-team All-State
Jamie Ellissa Deason, Sparta, Jr., F, 5-9
Tori Patillo, Springwood, Fr., G, 5-10
Emma Poore, Coosa Valley Academy, Sr., G, 5-7
Jaylyn Strength, Edgewood, Sr., G, 5-9
Mary Grace Whatley, Sparta, Sr., G, 5-7
Honorable mention
Makenzie Gilliland, Chambers Academy, Jr., G, 5-8
Anna Grace Griggs, Glenwood, Jr., F, 5-10
Anna Glynn Lott, Macon-East, Sr., F, 5-11
Kate Wilkins, Pickens Academy, Jr., C, 5-11
Coach of the year
Darryl Free, Edgewood
AISA BOYS
First-team All-State
Jaylen Carrington, Heritage Christian, Sr., G, 6-2
Austin Champion, Edgewood, Sr., G, 6-1
Lukas Holman, Glenwood, Sr., G, 6-4
Joseph Horne, Lee-Scott, Sr., F, 6-5
Jacob Wilson, Macon-East, Sr., G, 5-10
Second-team All-State
Caden Hayley, Chambers Academy, Sr., G, 6-1
Clayton Hussey, Lowndes Academy, Jr., G, 6-1
Jay Lindsey, Patrician, Jr., C, 6-5
Campbell Webb, Southern Academy, Jr., G, 6-0
Brayden Wilson, Coosa Valley Academy, Sr., G, 6-2
Third-team All-State
Haiden Harper, Lee-Scott, Fr., G, 6-0
Kareem Harris, Snook, Sr., G, 6-0
Brandon McCraine, Glenwood, Jr., F, 6-3
Evan Peak, Autauga Academy, Jr., F, 6-4
Tobias Stoutermire, Heritage Christian, Sr., G, 6-6
Honorable mention
Kell Brown, Abbeville Christian, Sr., G, 6-0
Cooper Hall, Edgewood, Sr., F, 5-11
J.J. Jeter, Bessemer Academy, Jr., G, 5-10
Keagan Roney, Macon-East, Jr., F, 6-3
Coach of the year
Dusty Perdue, Glenwood
Cover photo: Jacksonville's John Broom was MVP of the Class 4A boys' Final Four in Birmingham. (Photo by Greg Warren)