Hayes in a blaze
Fast-paced Harrison pitches a 92-minute gem, and top seed Oxford repeats as Calhoun County baseball champion with 5-1 victory over Alexandria
By Joe Medley
East Alabama Sports Today
JACKSONVILLE — Blink and risk missing a Hayes Harrison-pitched inning.
Two blinks, and one might've missed his 92-minute outing in Wednesday's Calhoun County baseball final.
Harrison pitched a two-hitter, and Oxford repeated as county champion and won its sixth county title in eight years by beating Alexandria 5-1 on Rudy Abbott Field.
Wednesday's championship came six days later than scheduled because of rain, but Harrison didn't make anyone wait long for the outcome.
He pitched 75 pitches over seven innings, with 54 strikes and 21 first-pitch strikes over 25 batters. More than his efficiency was his pace.
"There's times when we get two outs, and I'll just say 'tempo,' and he knows to work extra fast," Oxford coach Wes Brooks said. "He already works fast. …
"Tempo is one pitch every 12 seconds, and he usually beats it every time. When we go extra tempo, we don't even give a sign. We know the pattern that we throw. We have a thing called 'Pattern 5,' and it's based off of his changeup."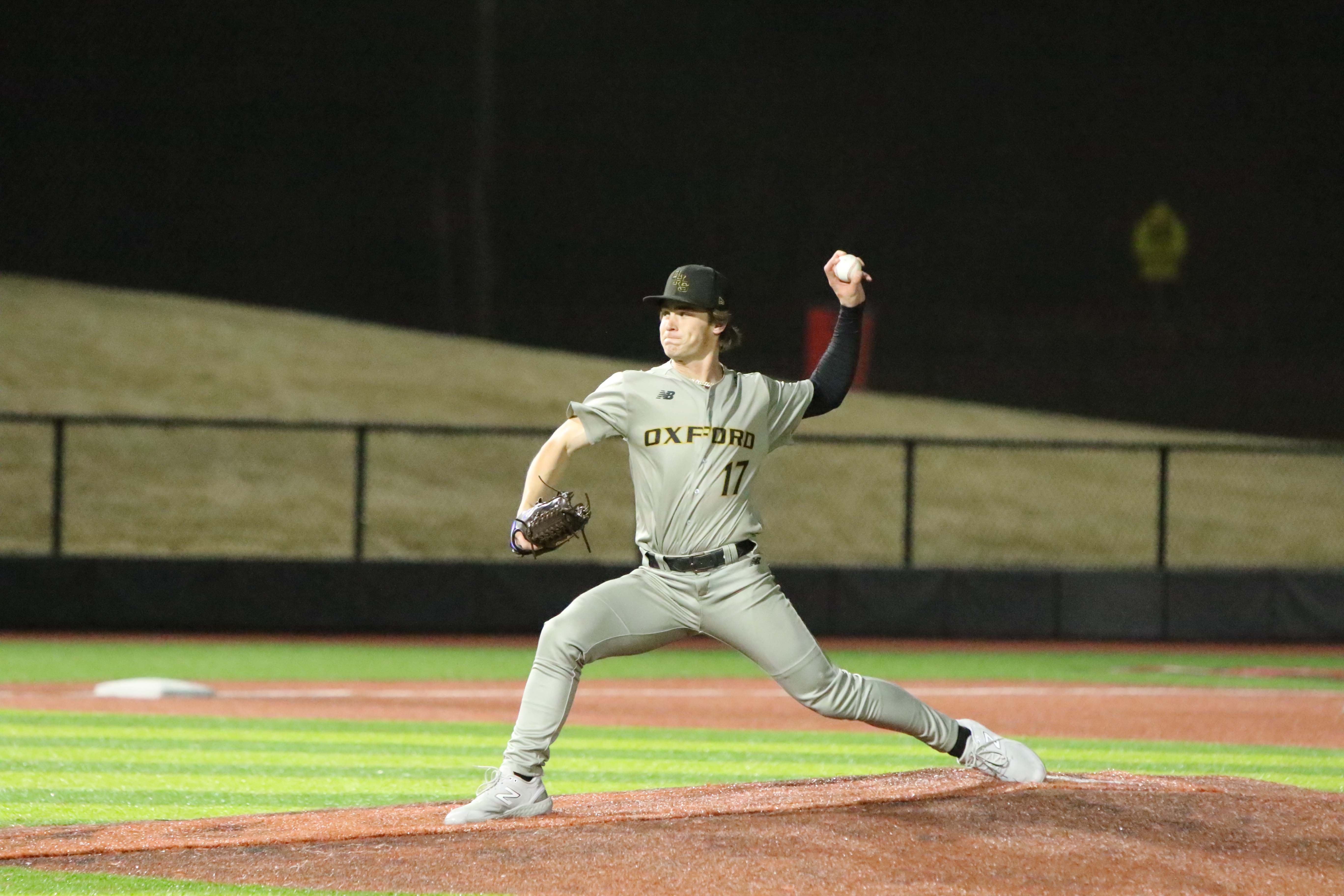 Harrison finished off the game with a three-minute, 31-second top of the seventh, which included his only walk of the game. He worked through a 12-pitch first inning.
The reigning Class 4A-6A All-Calhoun County player of the year and a Northwest Shoals Community College signee, Harrison said he patterns his game off of several Major League pitchers. He patterns most after Jacob deGrom and Nestor Cortes.
Harrison likes how Cortez mixes up time and tempo. For Harrison, there's fast and faster.
"I've always tried to keep a fast tempo," he said. "I just work fast easier. It gets the hitters off their groove, off their balance. It keeps me in the zone."
Harrison won what Alexandria coach Zac Welch called a "chess match."
"The challenge ultimately is trying to make the game be at the speed that you're comfortable at," Welch said. "They're trying to make us go faster, and we're trying to make them go slower.
"It's a good chess match. It's part of the game."
As much as Harrison dominated the game the mound, he found himself down 1-0 in the top of the third. DeShaun Foster reached base on catcher interference and wound up scoring on Seth Johnson's RBI single.
Johnson accounted for both Alexandria hits, including a double.
Oxford answered with Harrison's game-tying single in the bottom of the third then loaded the bases with the help of two Alexandria errors in the fourth.
That prompted Welch to call Andrew Allen out of the pen for starter Tripp Patterson. Allen came one batter short of a no-hitter in last year's county final but hit Nick Richardson to plate the tying run.
Tourney most valuable player Peyton Watts did the rest with a three-run double to make it 5-1.
"That's a good team across the field there, and you can't give them as much as we did," Welch said. "For six innings, we probably played good enough to win. The one inning that we didn't, they took advantage of it.
"You tip your hat to them. They got the hit when it really mattered, and they deserve it tonight."
Harrison finished as the tourney's most outstanding defensive player, and Johnson was the most outstanding offensive player.
Harrison and Watts are part of a nine-member senior class that will go out as back-to-back county champions after going two years without a county title.
"This means everything to us," Harrison said. "This is what we do. It means a ton."
All-tournament team
MVP: Peyton Watts, Oxford.
Outstanding offensive player: Seth Johnson, Alexandria.
Outstanding defensive player: Hayes Harrison, Oxford.
Oxford: Drew McCormick, Carter Johnson, Nick Richardson, Trace Adams.
Alexandria: Aaron Johnson, Andrew Allen, Tripp Patterson.
Jacksonville: WIll Greenwood, Grant Patterson.
Donoho: Lucas Elliott, Blake Sewell.
Faith Christian: Alex Almanza.
Weaver: Elijah Smith.
White Plains: Braxton Curles.
Ohatchee: Bryce Noah.
Pleasant Valley: Samuel Duncan.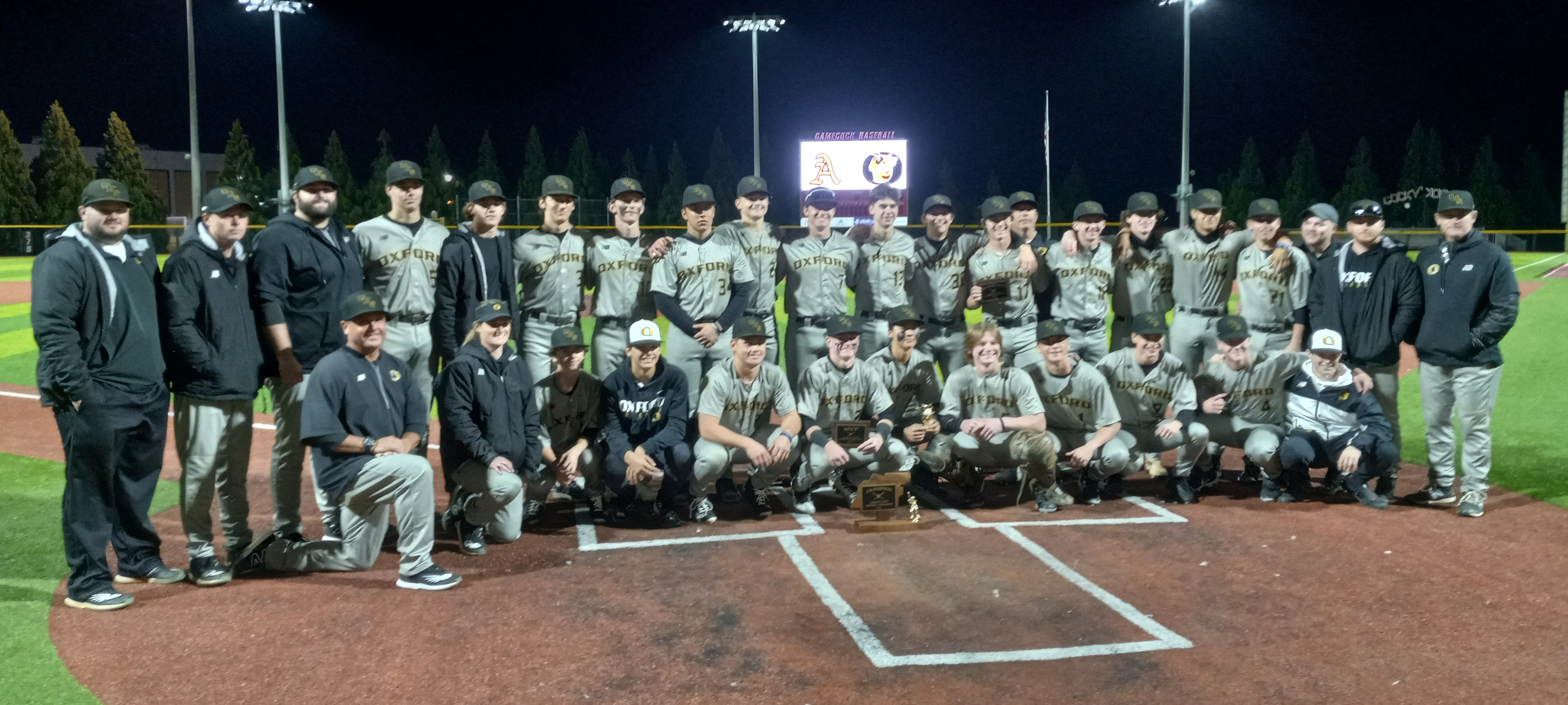 2023 Calhoun County baseball tournament results
March 4
Choccolocco Park
Signature field
No. 11 Weaver 19, No. 14 Anniston 9
No. 6 Donoho 9, Weaver 2
No. 13 Faith Christian 14, No. 12 Wellborn 9
No. 5 Ohatchee 16, Faith Christian 5
No. 8 White Plains 13, No. 9 Jacksonville Christian 8
No. 7 Pleasant Valley 13, No. 10 Saks 3
March 6
Choccolocco Park
No. 4 Jacksonville 3, Ohatchee 2
No. 2 Alexandria 8, Pleasant Valley 5
Donoho 8, No. 3 Piedmont 4
No. 1 Oxford 13, White Plains 0
March 7
Choccolocco Park
Semifinals
Signature field
Alexandria 22, Donoho 3
Oxford 10, Jacksonville 0
March 15
Rudy Abbott Field
Oxford 5, Alexandria 1
Cover photo: Oxford grabs its trophy for winning the Calhoun County baseball tournament Wednesday on Jacksonville State University's Rudy Abbott Field. (Photo by Joe Medley)