Top Dawg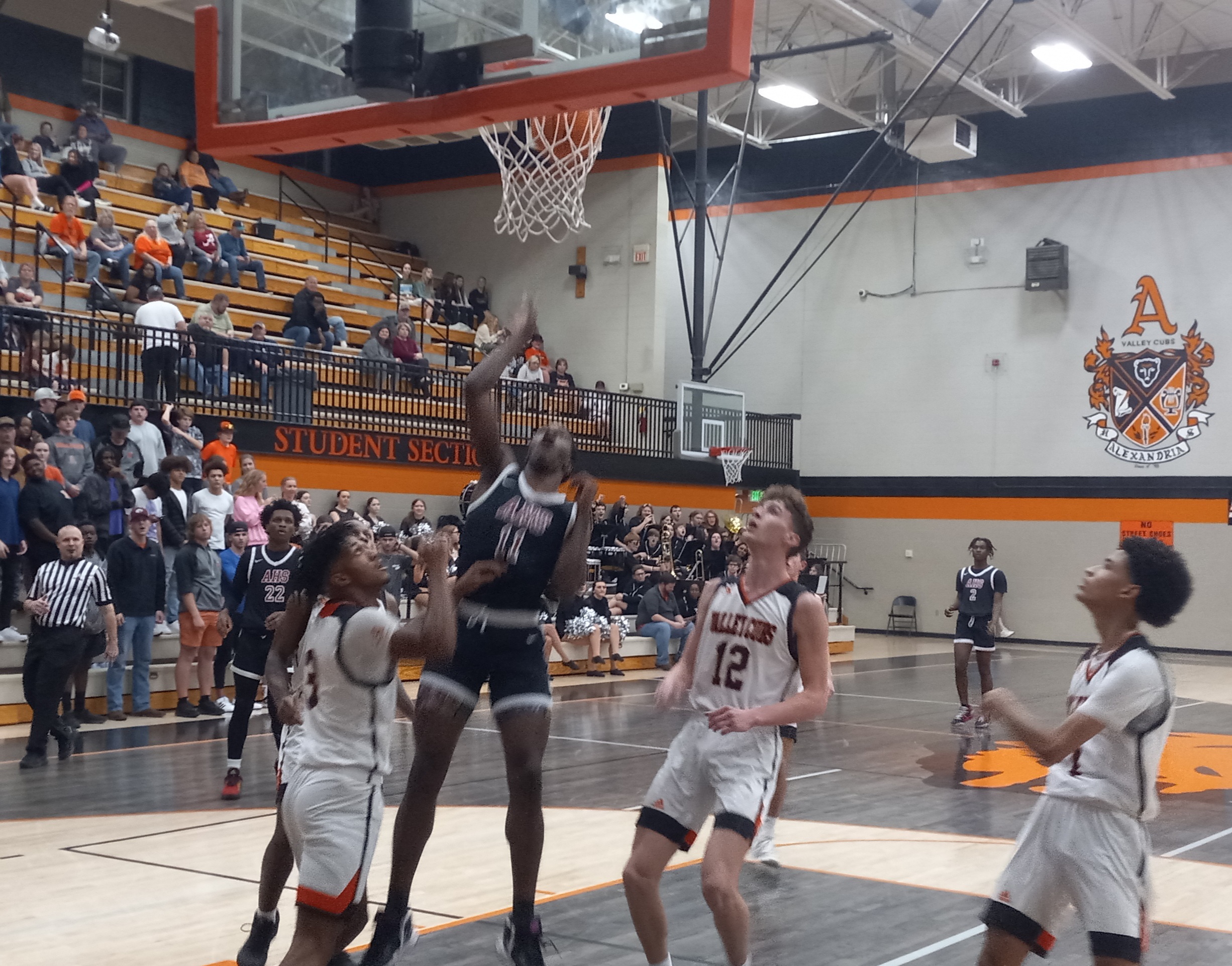 With Brown sending intensity in from the sideline, Anniston boys turn defense into offense and draw even with Alexandria 
By Joe Medley
East Alabama Sports Today
ALEXANDRIA — Anniston had a sixth man in its turnabout basketball victory at Alexandria on Monday, and he wore slacks and a pullover to go with his sneakers.
Veteran coach Torry Brown spent the fourth quarter up, one foot on the court and one foot off, exhorting his Bulldogs through every step of defense.
Defense became offense for Anniston, which gained separation in the fourth quarter and avenged a home loss to Alexandria earlier this season, 59-50, in Larry R. Ginn Gymnasium.
"We needed this game, just for our confidence," Brown said as he wiped sweat from the side of his face. "We needed it."
Anniston came off of a 44-41 loss at Handley in Friday's Class 4A, Area 8 action. The Bulldogs also suffered recent losses to White Plains in regular-season play and Piedmont in the Calhoun County tournament.
In the big picture, Anniston still prevailed in a tiebreaker to hold the area's top seed and earn the right to play host to next week's area tournament. This week is about regaining confidence and momentum going into postseason.
Anniston lost to Alexandria 61-60 in overtime on Jan. 2 at home. Monday gave the Bulldogs a script flip on Alexandria's floor.
They did it with Brown's voice outpacing even that of "No. 1 Anniston fan" in the fourth quarter.
"It motivated me," Anniston forward Javen Croft said. "To see my coach playing on the sideline with me makes me play even harder.
"Then to see my teammates, like Jayden Lewis, attacking the rim, kept my energy up."
Lewis led the Bulldogs with 21 points, with several driving buckets coming in transition.
The offense came from defense. Coaches get floor statistics from watching film, but Croft, Hezekiah Harris and Delroy Francis started breaks with several blocks.
"It was a big factor," Croft said. "We limited their threes, and they started scoring in the paint. We came back in at halftime and talked about it and stepped up."
Alexandria got off to an 11-2 start, with Drake Davis and Evan Snow combining for three 3-pointers in that opening spurt. Davis made four threes en route to a team-high 14 points.
The Bulldogs rallied for an 18-18 tie at the end of the first quarter and led 30-25 at halftime. They led 38-37 going into the fourth, and blocks and turnovers gave them separation in the fourth, leading to nine buckets in the paint in the fourth quarter. Francis scored nine of his 11 points in the fourth.
"They kind of wore on us," Alexandria coach WIll Ginn said. "They were more physical than us. They just bullied us in the first half, I felt like, on the offensive glass.
"They got 9-3 offensive rebounds in the first half, and that got us behind, and they got to the foul line more than we did."
A more physical approach might've turned some Anniston blocks into Alexandria free-throw chances, Ginn said.
"We weren't getting a lot of calls on them, but we've got to do a better job of, when a guy gets in the air, we're still playing too soft for my liking," he said. "We get a guy in the air, and we fall away and show the ball to him instead of getting contact.
"That's a lot on us, and that's just fundamental basketball. Same things with the turnovers. We have to be more fundamentally sound, if we're going to beat good teams."
ANNISTON – Jacorey Leune 3 0-0 7, Devin Coleman 2 0-0 4, Kyron Brown 1 0-0 2, Jayden Lewis 8 6-8 21, Javen Croft 3 1-1 8, Delroy Francis 5 1-2 11, Hezekiah Harris 3 0-0 6. Totals 25 8-11 59.
ALEXANDRIA – Drake Davis 4 2-2 14, Evan Snow 5 0-0 11, Antonio Ross 4 0-0 8, T.K.Downie 0 2-2 2, Jaylen Henderson 1 0-0 3, Kory Cargal 3 2-4 8, Quendavion McDowell 1 2-4 4. Totals 18 8-14 50.
Anniston           18          12          8        21 –     50
Alexandria        18          7        12          13 –       59
3-point goals: Anniston 1 (Leune), Alexandria 6 (Davis 4, Snow 1, Henderson 1). Total fouls: Anniston 14, Alexandria 16. Fouled out: Downie.
Cover photo: Anniston's Javen Croft goes up for two points as Alexandria's Antonio Ross (3) and Kory Cargal defend Monday at Alexandria. (Photo by Joe Medley)