Little big man
Cherokee County's Amos may only be 5-8 but he continually finds ways to come up big on the court; boys, girls sweep Alexandria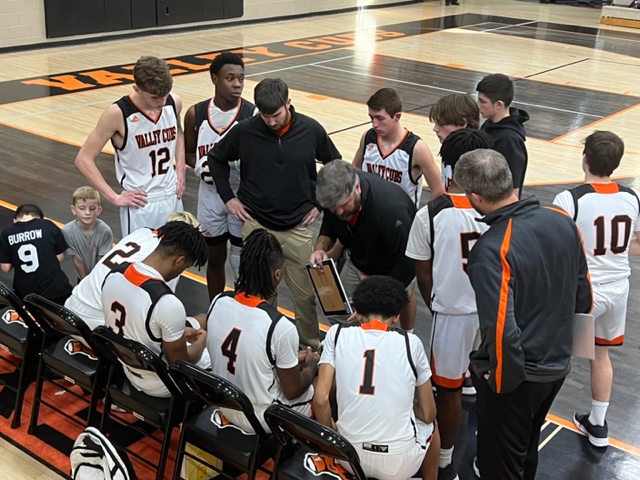 By Al Muskewitz
East Alabama Sports Today
Jack Amos made a living on the football field this fall having people underestimate him because of his size. Being the smallest guy on the basketball floor has its advantages, too.

For one, you can sneak into places unnoticed and come up with the big play.

That's what happened in the final minute of Cherokee County's matinee with Alexandria Saturday.

Amos quietly slipped his 5-foot-8 frame behind everyone when the defense was focusing on Cade Hopper shooting in the corner, easily collected the "free rebound" and even more easily laid in the putback to put the Warriors ahead for good in an eventual 61-58 victory.

"I love it, " Amos said of being the little guy making the big play. "You've just got to show more heart than the other people you're against. It's all about heart; it ain't about size. That what Coach (Caleb) Hays and Coach (Jacob) Kelley during football have been telling – it's heart over size. I've been playing with heart my whole life and it's showing now finally my senior year."

The go-ahead putback came with 54 seconds left and broke a 58-58 tie. Amos added a free throw with 14.4 seconds left for the final margin. He finished with 29 points.

It was understandable the Valley Cubs' defense gravitated toward Hopper on the initial shot. He had hit two 3-pointers from that spot in the second half, the last one with 1:35 to play that gave the Warriors a 58-55 lead. It was like he snuck in the back door to be in the right spot at the right time.

"Jack has such a fire about him," Hays said. "Everybody likes to talk about how small he is, but he's just out there to compete. If he was 6-5 he'd compete the same way. A lot of people sometimes they feel like they have to prove themselves, but Jack's fire is he wants to win so bad that anything he can put effort wise is done. Any challenge he sees on a field or a court he's not afraid of. He wants that moment."

The Valley Cubs did have a final chance to force overtime, but little time to make it happen. The Valley Cubs had the ball under the goal with 1.5 seconds to play and had to go the length of the floor.

Hays told his players in a timeout what the Valley Cubs were going to run and they did exactly what he said.

Running a play that similar to Piedmont's game-winning play against White Plains the night before – a game Hays watched on his laptop at home – Jaylen Henderson lobbed the ball to Antonio Ross at midcourt in hopes of getting it quickly to one of the wings. But they had to get it clean. The toss was a little long and Malachi Horton knocked it down as time expired.

"Did we run a play?" Valley Cubs coach Will Ginn asked. "We've worked on it in practice a couple times, but it's not like we spend a whole lot of time on it, really, and it showed.

"It was just basic fundamentals, that's what it came down to. They were more fundamentally sound that us, I felt like, and plays like that showed it. It's not one play, they got a bunch of offensive rebounds, but in crunch time everybody's got to have a butt on a man and we didn't. They got the offensive rebound and put it back."

Jacob Cornejo added 12 points for the Warriors. Drake Davis and Evan Snow had 14 points each for Alexandria.

CHEROKEE COUNTY GIRLS 60, ALEXANDRIA 40: The Lady Warriors used a big second half to score their third straight win and 20th of the season under first-year coach Richard Barton.

The game followed a familiar script for the winners. They were slow out of the gate and held a two-point halftime lead, then outscored their hosts 35-17 in the second half.
"We've had slow starts the last three games and what it comes down to, really, is defensive intensity and being ready to go when that game starts," Barton said. "I told them you're going to get every team's best at the start and if you don't come out and match their intensity of have a greater intensity they're going to be in the game with you no matter who it is.
"I think the second half we got a little bit of energy, we had a couple girls come off the bench and gave us some more. We were able to pick up and get some steals and that always gets us going. That's our game, getting steals and running the floor and we weren't doing that in the first half."
Freshmen Ellison Givens and Nevaeh Gaidurgis led the Lady Warriors in the half and in the game with 19 and 15 points, respectively. Gaidurgis had 13 in the second half and Givens had 10. Mary Hayes Johnson also scored in the double figures for the Lady Warriors, netting 13.
"We started three freshmen tonight and had one more that played," Barton said. "We actually have nine freshmen in our program right now. They're good, they're a big part of what we do. We're very young and those four have to give us a lot of minutes."

BOYS GAME
CHEROKEE COUNTY – Jack Amos 9 8-9 29, Malachi Horton 1 2-2 5, Cade Hopper 2 0-2 6, Jacob Cornejo 3 6-7 12, Jaden Wilson 2 1-2 5, Landon Caldwell 0 0-0 0, Eli Martin 2 0-0 4, Niam Dobbins 0 0-0 0. Totals 19 17-22 61.
ALEXANDRIA – Drake Davis 4 2-2 14, Evan Snow 5 2-2 14, Antonio Ross 2 0-0 4, T.K. Downie 1 2-2 4, Jaylen Henderson 1 0-0 2, Kory Cargal 3 2-3 8, Cleat Forrest 1 0-0 3, Q. McDowell 2 5-8 9. Totals 19 13-17 58.
Cherokee County 9 17 16 19 – 61
Alexandria 14 13 14 17 – 58
3-point goals: Cherokee County 6 (Amos 3, Horton, Hopper 2); Alexandria 7 (Davis 4, Snow 2, Forrest). Total fouls: Cherokee County 14, Alexandria 17. Officials: Oden, McClendon, Stringer.
GIRLS GAME
CHEROKEE COUNTY – Raechel Russell 2 0-0 6, Mary Hayes Johnson 6 0-2 13, Audrey Haygood 1 3-6 5, Mary Lea 1 0-0 2, Ava Haygood 0 0-0 0, Deannia Starr 0 0-2 0, Ellison Givens 7 3-6 19, Nevaeh Gaidurgis 6 3-5 15. Totals 23 9-21 60.
ALEXANDRIA – Jordyn Walker 5 4-5 15, Kirsten Heathcock 0 0-0 0, Jill Cockrell 1 0-0 3, Cassidy Hartsfield 0 0-0 0, Charlee Parris 2 0-0 4, Kailey Dickerson 1 0-0 3, Sumira Duncan 2 1-2 5
Brewster 0 0-0 0, Allyssa Hunt 3 4-9 10. Totals 14 9-16 40.
Cherokee County 11 14 17 18 – 60
Alexandria 9 14 11 6 – 40
3-point goals: Cherokee County 5 (Russell, Johnson, Givens 2); Alexandria 3 (Walker, Cockrell, Dickerson). Total fouls: Cherokee County 14, Alexandria 17. Officials: Stringer, Oden, Stringer.