Umpire crisis averted?
Alabama high school umpires field raise proposal, but it won't take effect until next year; umpire associations must decide whether to play ball in '23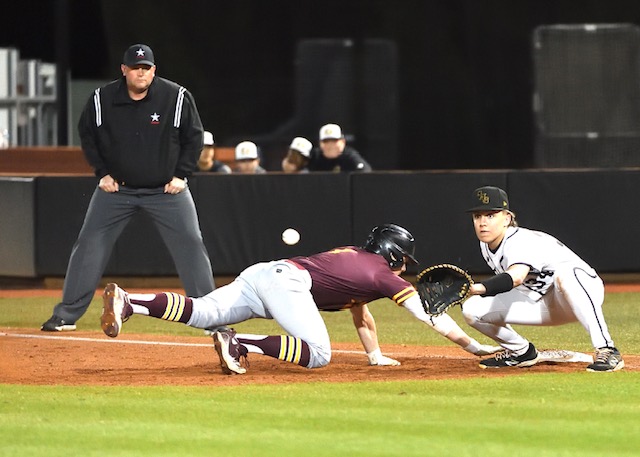 By Joe Medley
East Alabama Sports Today
The possibility of a mass work stoppage by Alabama high school baseball umpires went on hold Thursday, as they field a proposal featuring a $25-per-game raise.
The caveat? The raise would take effect next year, not for the 2023 season, as umpire associations around the state asked in November of last year and again, a letter to the AHSAA earlier this week.
The Alabama High School Athletic Association's Central Board of Control would have to approve the raise at its next quarterly meeting, in April.
Various umpire associations around the state will render their votes on whether to accept the proposal. For the East Alabama Baseball Umpires Association, that vote would come at the association's weekly meeting on Wednesday, Feb. 1.
East Alabama Baseball Umpires Association president Cecil Garrison consulted the association's board about the raise proposal, which arose from Thursday's meeting of five baseball officials representatitves, AHSAA executive director Alvin Briggs and AHSAA director of officials Ken Washington.
Garrison said officials got a promise that would keep their pay current with that of their peers in Mississippi. There was also a proposal to form a committee of current and retired officials to report to the Board of Control.
How did the East Alabama board respond?
"We're going to work, but I really don't know if we're going to have the members this year to cover the games we've got," Garrison said. "We're down about 20 percent on membership, so we're going to work the games we can work. There's no promise there will not be cancellations during the season because of a shortage of umpires this year."
Thursday's raise proposal came nearly three months after an early-November meeting between representatives from the state's eight officiating districts, Washington, Briggs and AHSAA assistant director Brandon Dean. Officials requested a raise in November.
During a Jan. 18 quarterly meeting, the Central Board tabled a raise until April, and Briggs' sent out a letter to principals and athletics directors, dated Jan. 19 letter. The letter reaffirmed that "all official fees and travel fees are set by the AHSAA Central Board of Control. Officiating fees should be agreed upon in negotiations between the local official's association and the school."
The letter also asserted that "any agreed-upon fees must be within the maximum amount the schools are allowed to pay, according to the AHSAA maximum fee schedule. The schools will not be required to pay any other fees without the approval from the Central Board. …
"Local associations are not allowed to go over the approve(d) rate set by the Central Board."
Briggs' letter touched off Sunday's statewide zoom meeting involving as many officials as could participate. They agreed on work stoppage as an option, stopping short of calling it a "strike."
The group expressed support for those who wish to continue to work, but "a majority" voted not to call games, according to Larry Stubbs, long-time game official and booking agent for the East Alabama Association. Even if the proposal is approved, several umpires have said some veteran umpires likely will boycott in a "blue flu," reducing an already thinning ranks that regularly seek to recruit new talent.
The association is one of the state's largest, with 60-65 umpires last year, though Garrison said that number is down in the 50s for this year. The association covers 29 schools.
"We might be canceling games, and I hate it," Stubbs said. "They might have one umpire. I really don't want to see one umpire, just throw them to the wolves. We might be canceling games. I hate it."
After the Sunday zoom, officials sent a letter to the AHSAA. That letter prompted Thursday's meeting.
Alabama umpires sought their fourth raise since 1985. This after association heads reported a difficult 2022, in terms of getting games covered, because of ongoing shortages of officials. Stopgap measures included some associations covering varsity games with one umpire. There was rationing, with priority given to varsity games, particularly area games, over junior-high and junior-varsity games.
"We've got guys that really don't want to call every day, and they're having to call every day because they're shorthanded," said one source with the East Alabama Officials Association.
According to numbers from the National Federation of High Schools, 50,000 high school officials, roughly 20 percent, quit between 2018 and 2022. Of those who quit, 55 percent cited verbal abuse as the top reason.
Nearly 80 percent of new officials quit after two seasons, and half of the remaining official population is at least 50 years old.
Economic pressures, including gas prices that impact travel costs for officials, add to the brew of factors prompting officials to weigh the cost and benefit of working high school games, especially when they can make more working travel ball.
High school baseball umpires in Alabama currently make $80 for a varsity game, $65 for a junior varsity or junior high game and $55 for JV or junior high games that go five innings/time limit.
By comparison, Mississippi umpires get $100 per game.
Alabama officials get travel allowance if they travel more than 60 miles to cover a game, but most games they cover fall within a 60-mile radius.
There's also time involvement, with crews covering varsity/JV sets that keep them on the field until 9-10 p.m.They typically get home from 11 p.m. to midnight.
"People think it's greed," the East Alabama Officials source said. "We're just trying to get fair pay for the time we're out there."
A state coaches committee proposed to raise officials' pay $10 per contest. Baseball umpires, for example, would bump to $90 for a varsity game.
The coaches also agreed to an additional $15 for travel costs.
Thursday's raise proposal, which would take effect next year, would keep Alabama umpires current with Mississippi umpires, which are due to make $105 per varsity game next year.
Al Muskewitz contributed information to this report.
Photos by B.J. Franklin