'Manchild'
Lewis slams his way into the Calhoun County spotlight with MVP performance as No. 2 seed Oxford overcomes top seed Jacksonville for county title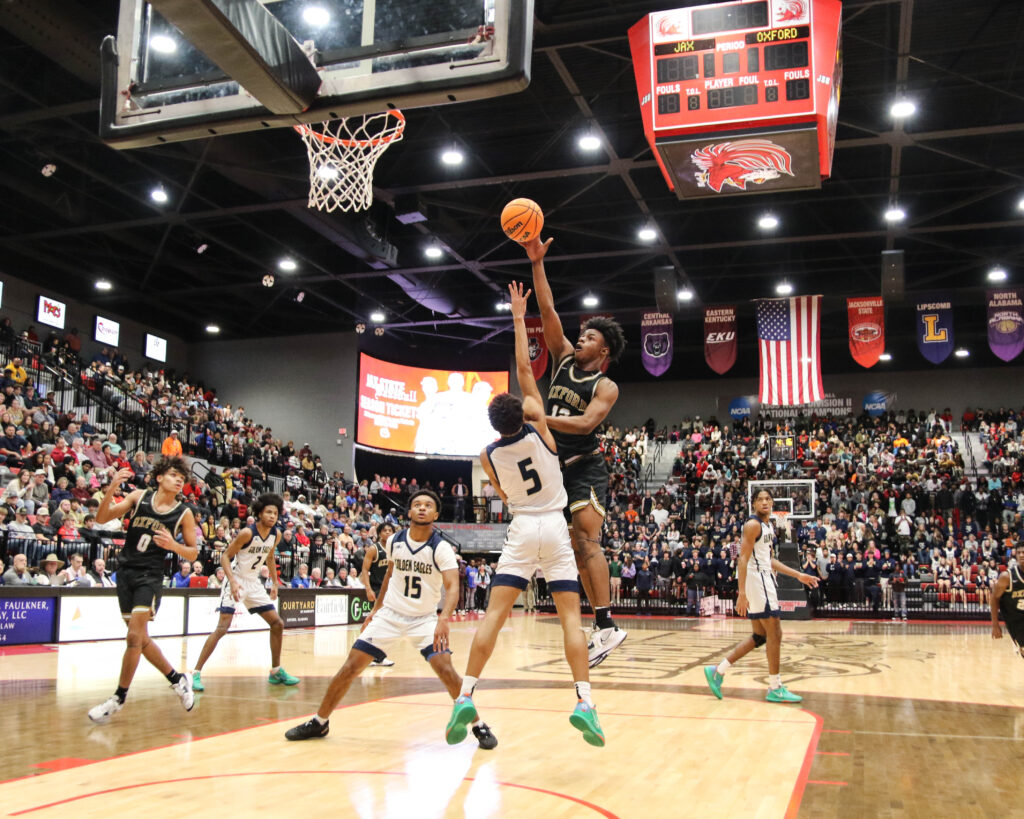 By Joe Medley
East Alabama Sports Today
JACKSONVILLE — Jayden Lewis said his coach first called him 'Manchild' after an area-tournament game at Springville last year, and Joel Van Meter repeated it after Lewis keyed Oxford's latest Calhoun County title in boys' basketball Friday.
"It gets me going," he said.
Calhoun County basketball fans will remember Lewis' real name and his nickname after his 22-point performance, including an alley-oop dunk with 36 seconds left, highlighted the second-seeded Yellow Jackets' 43-40 victory over top seed Jacksonville in Pete Mathews Coliseum.
The tournament most valuable player added seven rebounds and three steals as Oxford (11-13) won its 23rd county title in 2023, its record-setting fifth title in a row and sixth in seven years.
It's Oxford's ninth county title under Van Meter, who sees it as a bookend.
"I'll be honest with you, outside of the first one, this one and the first one might just mean a little something different because I feel like we were such an underdog," he said.
Graduation losses from Oxford's 2022 county championship team included most valuable player Rylan Houck. Kyler Wright and Michael McGraw were also starters.
Oxford also missed starting senior guard Brock Reaves, who suffered a broken jaw in the Yellow Jackets' quarterfinal victory over Faith Christian.
"We talked about it Tuesday, us being big underdogs," Lewis said.
Absent for Jacksonville was guard Jaliek Long. Jacksonville coach Tres Buzan declined to comment on Long's absence but said the player will not return.
Defense has been Oxford's calling card under Van Meter, and the Yellow Jackets held Jacksonville to its season-low point total. The Golden Eagles scored 48 in a victory over Mae Jemison and 50 in a loss to Plainview.
Jacksonville shot 34 percent from the field (15-for-43).
"You better keep them low, because if you don't, you're not going to outscore those guys," Van Meter said. "They're tremendous, offensively.
"If you turn the ball over and let them get in transition, it's a dunk. Our guys understood that, and we took care of the ball, number one, and we also got back in transition."
Jacksonville was 6-for-26 on 3-point shots. Cam Johnson, who hit six 3s in the Golden Eagles' first tournament game and three key ones in the second half of the semifinals, was 1-for-11, including one of two misses from beyond the arc on Jacksonville's final possession.
"They did a tremendous job of slowing us down and contesting all of our shots," Buzan said. "I thought we shot the ball well early. In the second half, we got good looks and good shots and wasn't able to connect on ones we normally hit."
John Broom hit 4 of 9 threes and led Jacksonville with 23 points. He appeared to hit the game-tying shot, but the shot came after Buzan called timeout with 30.4 seconds left.
Broom also had the second attempt on Jacksonville's last possession, after Caden Johnson rebounded Cam Johnson's miss and passed it out.
"We got the look we wanted," Buzan said. "We got Cam in the corner. He got a good look, and I thought it was going in. I really thought Johnson's was going in."
Broom's miss bounced off Caden Johnson and out of bounds. Oxford inbounded to T.J. Allen, who bounced the ball hard off the floor in in celebration as the final second ticked off.
Oxford made it a 3-point game on an inbounds play Van Meter calls "Box 5." He's run it several times over the years to Zondrick Garrett and Justin Moore.
"We haven't run it as much this year, because we haven't always executed great," he said. "I came out and drew something up the first play of the second half, and we executed it to a tee. I said, we've got it figured out."
Alexander lobbed to Lewis, who caught it in the air and slammed it through the hoop.
The alleyoop came after Van Meter called two timeouts on that possession, one at 47.2 seconds and another at 36.2.
"The first play was something different, and I knew we only had one timeout," Van Meter said. "We were kind of like, I don't know if we wanted to call that timeout.
"I wanted to — I'm not saying it was going to win the game — but we wanted to win the game. I knew, 'We need to score right here,' and I could feel that, if I drew something up, they were going to execute it."
Van Meter called Alexander's pass "perfect."
Alexander finished with 10 points and was named the tournament's most outstanding defensive player. Broom was the most outstanding offensive player.
As for Lewis' performance?
"Oh goodness, Manchild," said Van Meter, who also calls Lewis Big J. "Here's what I'll tell you. He's steadily grown."
Lewis grew much bigger on the Calhoun County hoops scene Friday night.
OXFORD – Jayden Lewis 9-13 3-5 22, Jaylen Alexander 3-9 4-4 10, T.J. Allen 3-6 1-2 9, Caleb Sanders 1-3 0-0 2, Cristian Gibson 0-2 0-0 0, Jordan Kelley 0-0 0-0 0. Totals 16-33 8-11 43.
JACKSONVILLE – John Broom 8-16 3-4 23, Caden Johnson 6-7 0-0 13, Cam Johnson 1-12 0-0 3, Damonte Sinclair 0-0 1-2 1, Devin Barksdale 0-5 0-0 0, Ethan Duke 0-1 0-0 0, Dee Prothro 0-1 0-0 0, Jaquan Ervin 0-0 0-0 0, Kydric Fisher 0-1 0-0 0. Totals 15-43 4-6 40.
| | | | | | |
| --- | --- | --- | --- | --- | --- |
| Oxford | 12 | 6 | 17 | 8 – | 43 |
| Jacksonville | 13 | 10 | 8 | 9 – | 40 |
3-point goals: Oxford 3-11 (Lewis 1-2, Alexander 0-2, Allen 2-4, Sanders 0-2, Gibson 0-1); Jacksonville 6-26 (Broom 4-9, Cd. Johnson 1-1, Cm. Johnson 1-11, Barksdale 0-4, Fisher 0-1). Rebounds: Oxford 24 (Lewis 7, Alexander 6); Jacksonville 25 (Broom 8, Cd. Johnson 7). Total fouls: Oxford 11, Jacksonville 10.

ALL-TOURNAMENT TEAM
MVP: Jayden Lewis, Oxford
Best Offensive Player: John Broom, Jacksonville
Best Defensive Player: Jaylen Alexander, Oxford

ALL-TOURNAMENT
PIEDMONT: Alex Odam, Rollie Pinto, Ish Bethel
FAITH CHRISTIAN: Thomas Curlee
ALEXANDRIA: Drake Davis, Antonio Ross
WHITE PLAINS: Z.J. Rosario, Luke Bussey
JACKSONVILLE CHRISTIAN: Ethan Fair
JACKSONVILLE: Devin Barksdale, Caden Johnson, Cam Johnson, John Broom.
OXFORD: Jaylen Alexander, T.J. Allen
Cover photo: Oxford players celebrate their program's fifth Calhoun County boys basketball title in a row and sixth in seven years Friday in Pete Mathews Coliseum. (Photo by Greg Warren)