AHSAA denies Hoover appeal
Central Board denies Bucs appeal to have baseball coach Adam Moseley reinstated from suspension after coaching player on USA 18U team, will consider "all possible solutions to this situation"

By Al Muskewitz
East Alabama Sports Today

The AHSAA Central Board of Control has denied Hoover High School's appeal to have baseball coach Adam Moseley, upholding the veteran coach's suspension for violating a rule against coaching one's own player in out-of-season competition.
Hoover athletics director Andy Urban confirmed the ruling. He directed questions to Moseley, who has not yet been reached for comment.

However, he wrote the following on his twitter feed:

"Today is a disappointing day. We did not receive the result we were hoping for. I am very thankful for the constant support of our Principal John Montgomery and our Athletics Director Andy Urban.

"I am disappointed that the AHSAA did not see merit in the extensive documentation from USA Baseball, which clearly states I did not take part in coaching my player during the event in question.

"I am most disappointed that we do not have the ability to make timely changes which benefit the student athletes and coaches in our state. I have tremendous respect for the proposal process in the AHSAA, and have been an active participant in that process throughout my career. However, there are unprecedented situations in which a quicker resolution is needed and the AHSAA is unwilling to employ or create that capability currently.

"I have taken every step to work through this process in a manner that is open and honest and I will continue to do so."

He concluded by saying his supporters will "consider all possible solutions to this situation."

Moseley and speedy Bucs outfielder R.J. Hamilton shared the same dugout for Team USA in the 18U World Cup in September. Today Moseley is under a one-year suspension from the AHSAA for violating a rule relating to coaching one of his players in out-of-season competition.

Moseley is effectively taking one for the team to give his Vanderbilt commitment a senior season to play.

Under the terms of the suspension, Moseley can have no contact with his team, which is expected to be one of the best the program has ever produced. It was either he or Hamilton be suspended and Moseley dove on the sword for his player.

Since the issue first came to light, Moseley and the Bucs have received an outpouring of support from the baseball community nationwide with calls for the state's athletics governing body to exhibit some "common sense" on the issue.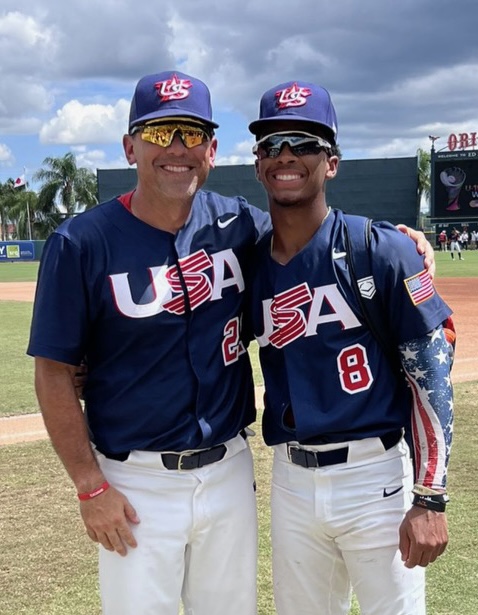 "A sad day for high school baseball," Cookeville (Tenn.) High School coach Butch Chaffin, the two-time national team coach considered by many the Godfather of high school baseball, wrote on his twitter feed last week. "(Moseley) and one of his players win a Gold Medal representing the United States and he has been told he will be suspended for one year after being led to believe it wasn't a violation. Absolute travesty. Make it right."

"Wrong on so many levels," tweeted Eric Borba, head coach of national power Orange Lutheran in California.
Another poster questioned the Alabama high school rule on out-of-season play being stricter than the NCAA rule, which allows for players and coaches from the same teams provided the national governing body administers the program and selects the coaches involved.
"Adam Moseley (is) one of my best friends," Chaffin continued. "To make him choose between being a coach for the USA in international competition or not is truly a violation of the spirit of the rule. He isn't gaining a competitive advantage by coaching. He was the pitching coach, (Hamilton) was an outfielder."
In hopes of bolstering their case, Hoover officials sought examples such as the Lions East-West All-Star baseball series where juniors and seniors play in post-season activities where their coaches are involved. There have been numerous instances of coaches coaching their own players in AHSAA summer all-star games.
Moseley was picked for the 18U national coaching staff in September 2021 – when Hamilton was one of more than 250 players being considered for the team. Hamilton made the final cut after a lengthy selection process on Sept. 3, 2022, just days before the World Cup's opening games in Bradenton, Fla.
The Central Board could have addressed the issue in its July meeting when Hoover AD Andy Urban asked to amend the verbiage of Rule III: Contests. Section 15 – Coaching Outside School Year, but it took no action.
The Alabama Baseball Coaches Committee then sent a letter of "encouragement" in support of a special exemption in September before the start of the World Cup, claiming Moseley or Hamilton were not gaining an advantage either for themselves or their team and were afforded an opportunity of a lifetime.
"(Urban) was led to believe (Moseley) could pay a fine, not suspension," Chaffin said. "This isn't right. In an age when it's hard to find coaches, they suspend for coaching and playing for Team USA … Silly rules will put state associations out of business."

Moseley took to social media early Sunday morning to acknowledge the outpouring of support he has received from his peers as he continues. Without mentioning any specifics of the case, he said he would continue, in his own way, to support the Hoover players and coaches who officially start their season Monday..

"The past few days have been extremely difficult," he wrote. "I am thankful for the countless encouraging messages, tweets, etc. Quite frankly I have been blown away by the response from so many people. I look forward to eventually being able to share more about the facts of what has happened."